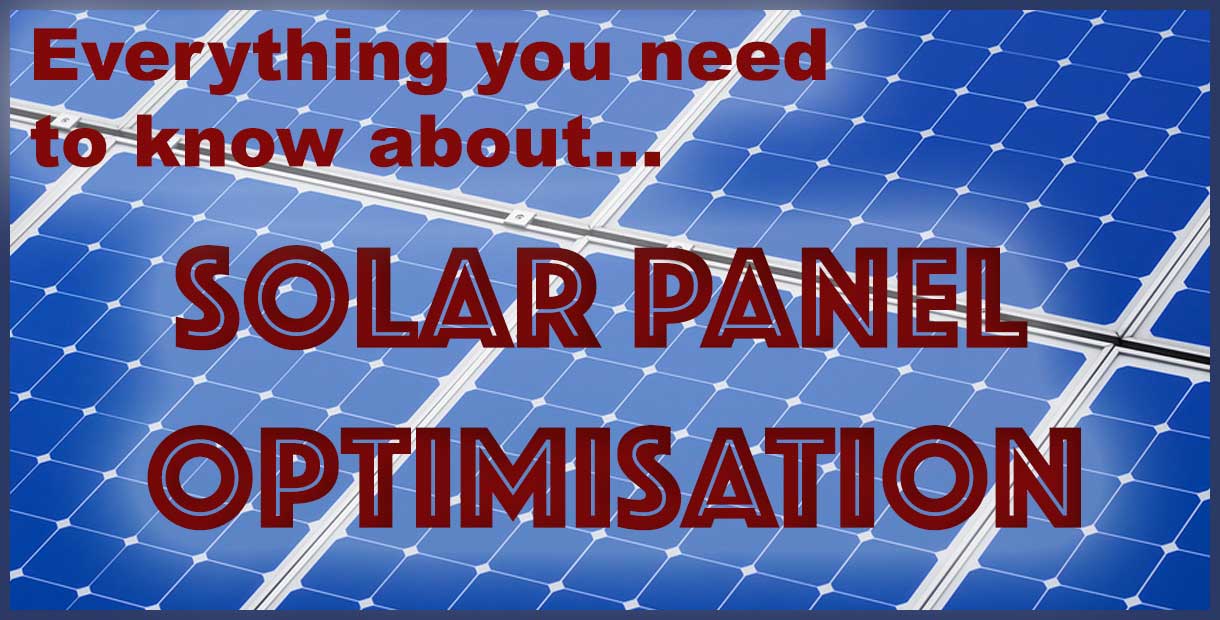 Solar Panel Optimisation is an extra feature you can pay for when buying solar that optimises the power output from each panel independently.
This feature can also be called:
Panel Level Optimisaton (PLO) and
Module Level Power Electronics (MLPE)
For the rest of this post, I'll simply call it PLO.
Most people don't realise that in a conventional solar power system if one panel is performing poorly, all the other modules it shares a 'string' with will be dragged down too.
What is a string?
In a conventional system, solar panels are connected together in 'strings'. Each string is a number of solar panels wired in series like this: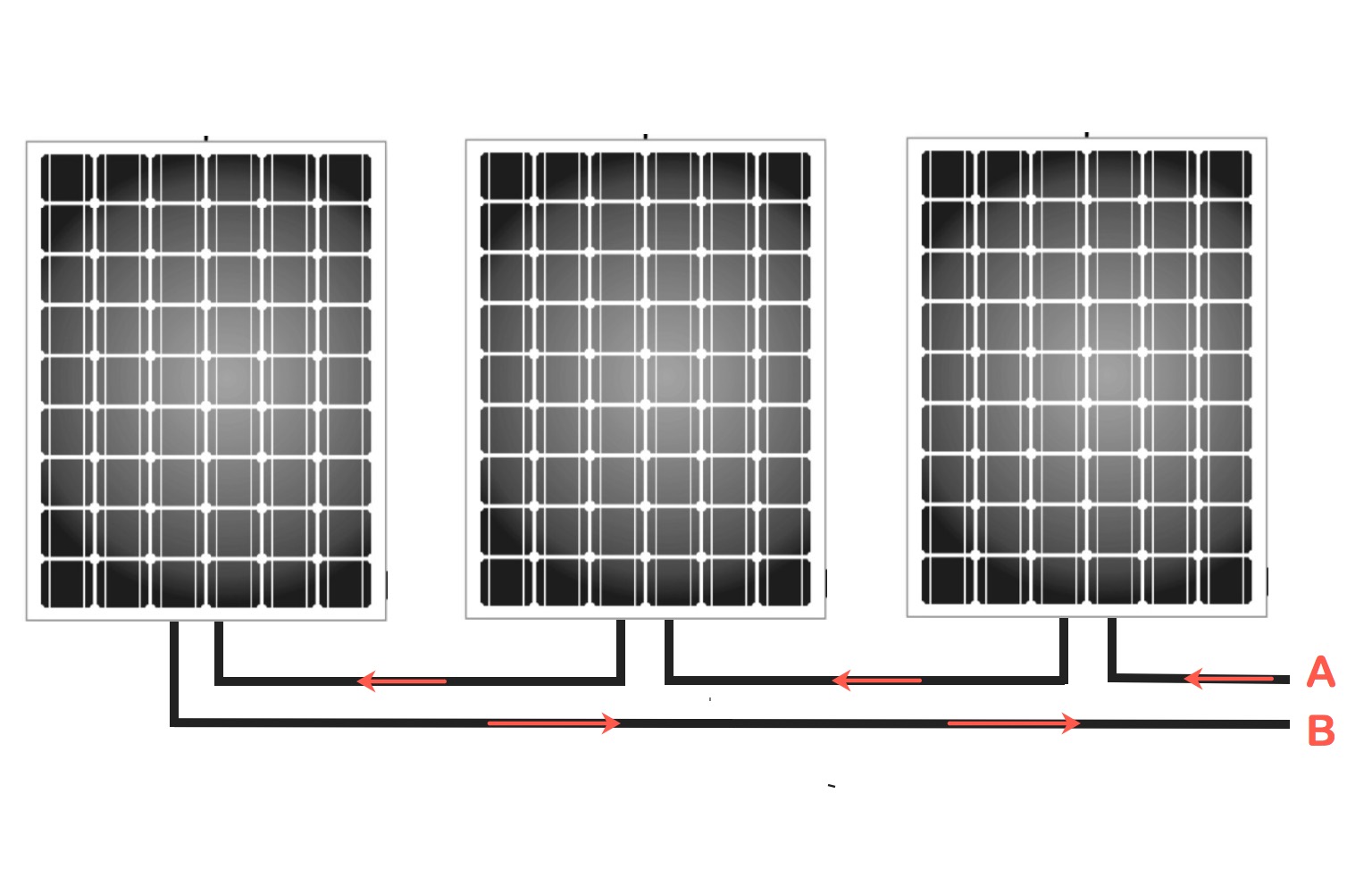 The current starts at A and then moves through all 3 panels to B. If one is shaded, that will restrict the current that can pass through the module. Any restriction in a single panel will restrict the current through all the others.
If that does not make intuitive sense to you, think of the current in the wire as water in a hose. A shaded panel will 'pinch the hose'. That means all the panels have less current through them.
The practical result of this is that if one is shaded, only operating at 50%, all the panels it its string will now operate at 50% too.
Bypass diodes?
"Ah, but Finn", the more knowledgeable reader says about now, "it's not that bad. That's why we have bypass diodes!"
Some people have suggested to me that bypass diodes solve the problem of one solar panel affecting all the others in the string. Some solar sales people wax lyrical about bypass diodes, especially if they are selling a conventional system and the competition is selling an optimised system.
Here's what you need to know about bypass diodes: they do not optimise the panels individually, the only make the situation a little less bad.
What is a bypass diode?
If we zoom into a solar panel, you can see that a typical panel has 60 solar cells. All the solar cells are wired in series. The current flows as per the red line: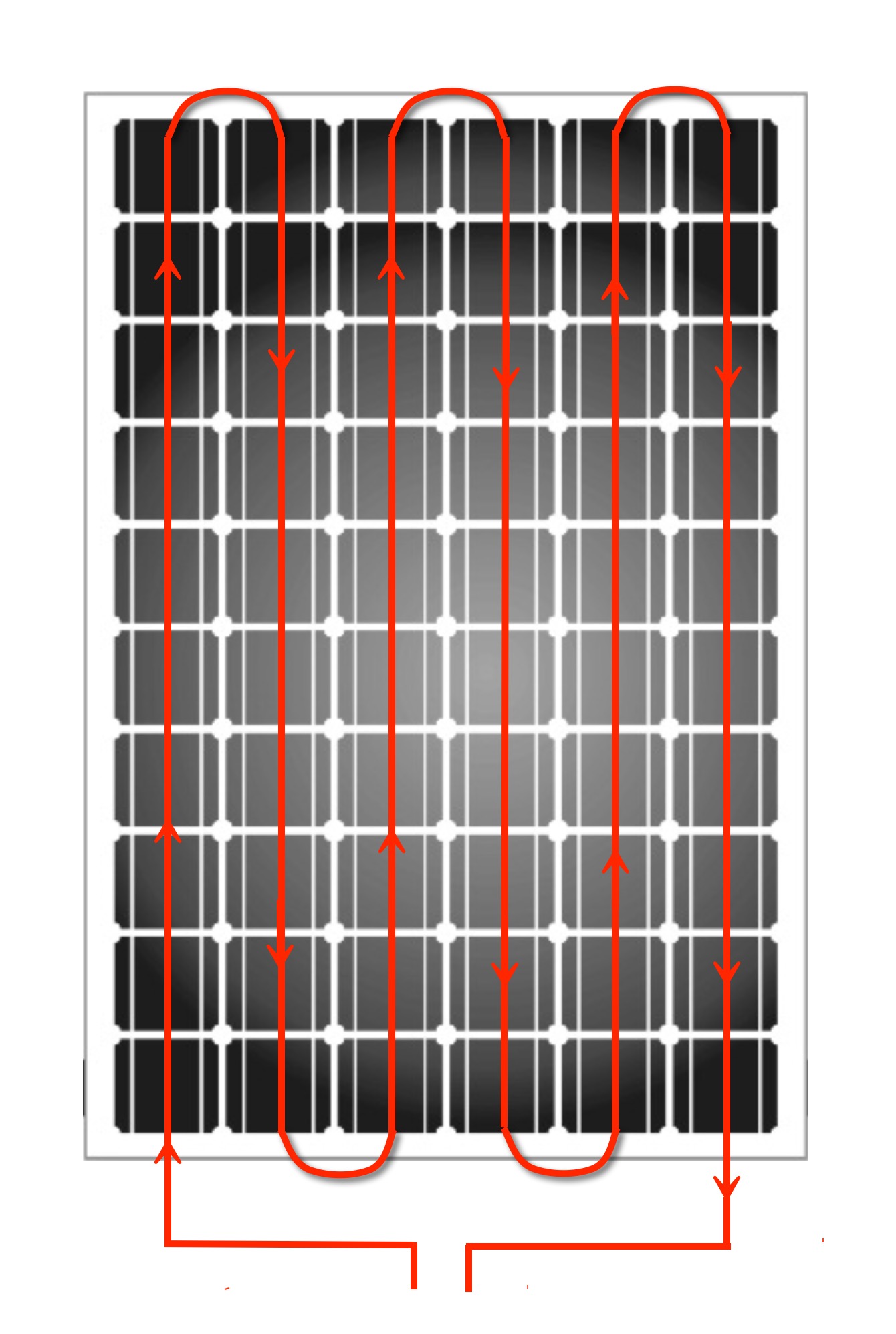 Current entering the solar panel has to go through every single cell before it gets out of the module. So if only one of the sixty cells is shaded, the current is restricted through all the cells in the panel. Bummer.
To reduce the effect of shaded cells, most panels have 3 bypass diodes that connect across the cells like this: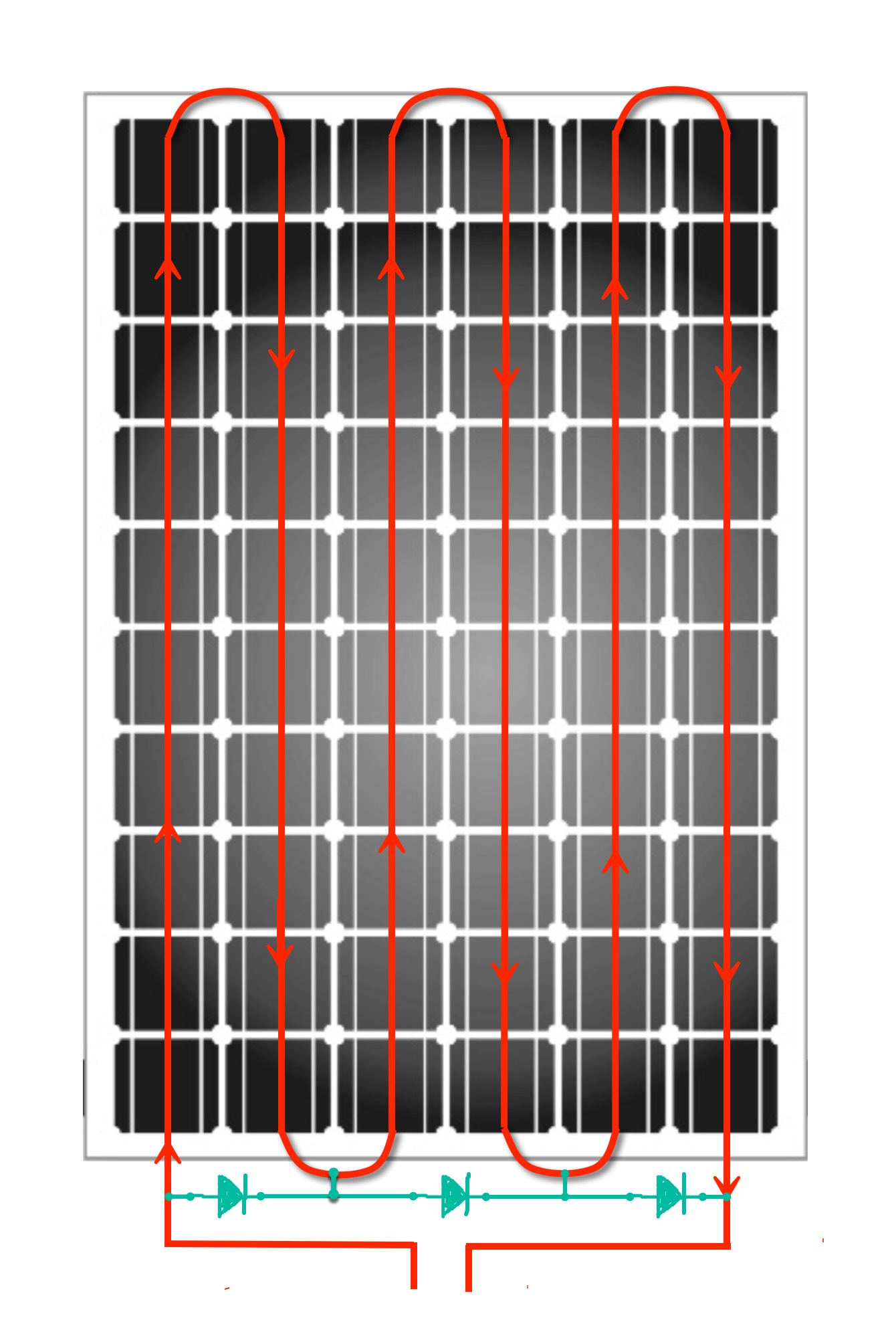 These diodes (drawn in green) are like little electronic pressure relief valves.  If a cell is blocked, the current will instead move through the closest diode, bypassing a third of the cells.
Without the bypass diode, the current would stop at the shaded cell and the panel would produce nothing.
With 3 bypass diodes, one fully shaded cell will not stop the entire panel passing current. The current will be diverted through the local diode and the solar panel's voltage and power output will reduce by one third. The panel's current will stay the same though (P=VI) so it won't adversely affect the other panels.
The problem comes when there is not enough shade to activate the bypass diode. Then power drops and the current through the panel drops with it. This drop in current affects the current in every other panel in the series string.
So although bypass diodes help – they only help when you have the 'right amount' of shade in the right place.
The solution is 'Panel Level Optimisation'
With PLO, a device is placed on each panel that ensures they can pass the maximum current no matter how badly it is shaded. So a solar panel that is shaded by 50% does not affect others in the string:

There are four ways to achieve PLO:
Discrete DC Optimisers
Smart Panels (Integrated DC Optimisers)
Maxim Panels
Microinverters
Each one adds to the cost of your installation:
For a $6,500 6.6kW solar system, typical additional cost for PLO would be:
Microinverters $2000
DC Optimisers $1600
Smart Panels $1200
Maxim Panels $500
Now let me explain what each option actually is.
Optimisation Solution #1: A 'DC optimiser' box on each solar panel
If you choose this option, your installer will attach one DC optimiser to each solar panel, optimising each module's power output under a wide variety of conditions.
The power generated by all the panels is transmitted at high voltage DC (typically 200-600VDC) and a single, string inverter, typically wall-mounted, does the DC to AC conversion.
If you want to buy your string inverter and DC optimisers together as one package, then the only game in town is either SolarEdge or the (very new) Huawei. These guys will sell you the inverter and optimisers together, which has the advantage of really schmick software that monitors and controls the whole system. SolarEdge also offer one of the best inverter warranties in Australia at twelve years.
If you don't want to be constrained to using a SolarEdge or Huawei inverter then a company called Tigo makes individual DC optimisers that work with almost any string inverter. They cost about $100 each, and if you want to monitor the optimisers, you'll also have to shell out about $600 for a central communication unit. Of course, you'll still have to buy a string inverter too.
The biggest advantage of a DC optimiser that is independent of the string inverter – like Tigo – is  you don't have to put them on every solar panel. If you have an installation in which only a few panels will get shade, then you can only add optimisers to those – saving lots of money compared to putting them on every module.  Savvy solar installers often do this to reduce the effect of stink pipes, TV aerials and chimneys on the system output.
Optimisation Solution #2: Smart panels
A 'smart panel' is a simply a regular solar panel with a DC optimiser (probably made by Tigo) pre-installed at the factory. They can be used with a string inverter of your choice and are usually cheaper than buying the optimiser and module separately.
Solution #3: Maxim smart panels
Maxim is a microchip company that in 2016 invented a little chip that can optimise the power in an individual solar panel. In fact, they claim that replacing the three bypass diodes in a typical module with three of their chips will optimise the power at the solar-cell-string level.
As you've already seen, a cell-string is typically a third of the solar panel. If the current is reduced though a cell due to shading, a Maxim panel will get as much power as it can from the shaded cell-string while still allowing the other two cell-strings to perform at full power.
So a Maxim smart panel, as well as ensuring that one shaded panel will not bring down the others in a string, will under many circumstances get more power from the partially shaded module too because it won't simply bypass a third of it, but get as much power as it can from the shaded cell-string.
The extra cost for Maxim smart panel optimisation is about $70 per kW. Maxim don't manufacture the panels; they sell their chips to module manufacturers – at the time of writing, Jinko Solar, Trina Solar, Suntech and ET Solar. This is the cheapest way to get panel level optimisation. The downside is that we are seeing major TV reception issues with Maxim solar panels, to the extent that Jinko have decided not to sell them in Australia anymore and Trina, Suntech and ET have gone very quiet on their Maxim panels in Australia.
So if you really want Maxim modules, you will struggle to find any in Australia at time of writing. Which is a shame because they are a great value and effective solar panel optimisation solution (for people who don't watch broadcast TV!).
Solution #4: Micro-inverters
Micro-inverters are a totally different approach to PLO. They take all the functions of a string inverter and miniaturise it to the solar panel level. Consequently, each solar panel has its own integrated optimiser and inverter attached either on or under each individual module on the roof:
The power generated is transmitted at 230V AC (not 200-600V DC) from each micro-inverter and connected in parallel, then connected directly to your switchboard.
They are the most expensive way to get PLO but they do have these features that the other 3 options don't:
No high voltage DC on your roof. The whole system is 230V AC
No central point of failure. If one micro fails you only lose that solar panel. If a string inverter fails you lose the whole system.
Which PLO should you choose?
Maxim panels are out of the contest, because you just can't seem to get them in Australia. So that leaves DC optimisers (integrated or discrete) vs. microinverters.
Back in 2015 I put together this infographic to help you decide (and this blog post too). If you need help deciding on a PLO solution they are a great resource.
Do you need Panel Level Optimisation At All?
If you have a simple roof facing 1 or 2 (or possibly 3) directions with no shade, then there is no pressing need to spend more on PLO.
If you have a simple roof with no shade, and want to squeeze 8-12% more energy from your solar panels, then PLO can do that by simply optimising everything better (by better coping with panel manufacturing mismatch, cloud cover, dirt etc.).
If you have a complicated roof, with lots of roof faces and/or lots of shade objects (flues, aerials, ventilation etc.) then PLO is a good idea.
If you only have one or two small shading objects that will only shade a handful of panels, then retrofitting Tigo DC optimisers to the affected solar panels is the most cost effective solution.
Microinverters and DC optimisers offer panel level monitoring, so you can see the power of each module on your monitoring. If that is important to you, then get it. But in my experience it soon gets boring!
All well-installed solar systems are relatively safe. But microniverter systems are even safer by design (no high DC voltage), and DC optimisers and microinverters both shut down the solar panels fully in fault conditions – increasing their safety. So if that is important to you, consider PLO.
What have I got? On the house I live in I chose to install microinverters.  The main reason being that the house is made of straw, and I didn't like the thought of 600V DC going through the bales. But normal people without weird homes shouldn't be too concerned – as already mentioned, a well installed DC system is perfectly safe.
So now you know everything you need to know about solar panel optimisation, or PLO, you can decide for yourself if you need or want it and if so which flavour to get. What have you chosen and why? Let rip in the comments.