It's really bucketing down here in Queensland right now.  I'm relieved because until this evening there was a remote but real possibility of everything going all orange and wavy and really hot.  I have friends coming over from Taiwan and I'd be most dreadfully embarrassed if all we had to offer them was a fine selection of ashes.
The rain pounding on the solar panels over my head is giving them a good clean.  They're at an angle of 22.5 degrees, so water easily flows off them and carries away grime.  The most common roof slopes in Australia are 22.5 and 15 degrees, but 10 degrees is enough for water to run off and prevent it pooling on the panel glass or at the bottom edge of the frame.
Panels mounted at under 10 degrees are less likely to remain clean from only rain falling on them.  Using double glass panels without frames can help, but are an expensive option as they usually require yearly maintenance to check the tension on the clamps holding them in place.1  One lower cost option is to use solar panels with corner water channel drains.
Why Installing Panels At Under 10 Degrees Is A Dirty Deed
When solar panels are laid down at an angle of less than 10 degrees they tend to get dirty.  When the angle is low, rain water can pool up at the bottom edge of the solar panel or if it's very low it can pool on the glass of the panel.  Worst of all is if the panel is installed completely flat and the frame acts as the walls of a container, creating a solar panel swamp.
Most roofs, even ones that look flat, have at least a slight slope so a swamp is unlikely to form, but pools of water can still accumulate.  This is a problem because dust and leaves and other grot can collect in them and when the water dries it will often be stuck fast.  Normally when a leaf falls on a solar panel it's blown off soon enough, but when it's sitting in a pool of water that dries up it can get firmly attached.
Dirt accumulating in this way can greatly cut solar energy production.  The Googlarians at Google headquarters near San Hose-ay in California, a location with rainfall and climate roughly comparable to Adelaide, found dirt halved the output of solar panels that were installed flat on carports after 15 months.  After giving them a good clean their output was cut by one-third after 8 months.  But for panels mounted on sloped roofs, rain was sufficient to wash them clean.
Solar Installers Must Warn Home Owners
The problem with solar panels getting dirty when they're installed at under 10 degrees is so bad the Huge Mouthful Guidelines, sorry, the Clean Energy Council Install And Supervise Guidelines For Accredited Installers, states in section 7.1.4:

When the guidelines use the word "shall" it means it's mandatory, so installers must inform homeowners about the dirt collecting propensity of panels at under 10 degrees and explain they may need regular cleaning.  This shall be done before they're installed.
Corner Channels Can Help
To keep panels clean, the best thing to do is install than at a tilt of at least 10 degrees.  If this isn't possible or desired, ways to limit dirt build are:
Use frameless panels and pay the expense of annual maintenance (re-tightening the clamps) if required.
Use panels that are particularly dirt resistant, such as ZNShine's graphene coated panels.
Use solar panels with water channel drains in the corners to let the water flow free and, hopefully, carry away dirt.
As this article is about corner water channels I'm going to concentrate on them.
Solar Manufacturers With Corner Channels
I've only found three solar panel manufacturers who have put water channel drains in the corners of their panels – and the American one appears to have stopped:
Japanese Panasonic
Taiwanese Winaico
Americanese SolarWorld
Panasonic
Panasonic's water channel looks like this: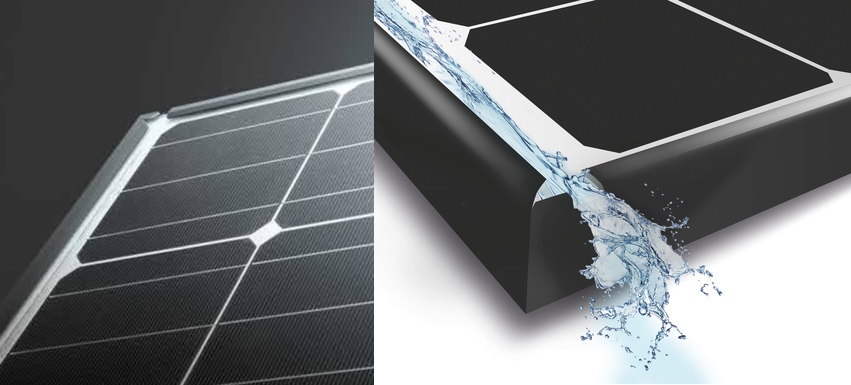 These channels may work just fine, but that is not real water in the illustration above.  Water has surface tension that prevents it from behaving that way.  Either Panasonic made a giant solar panel that allows water to pour through its channels like a river or it's just CGI bullshit.
New Panasonic panels are rarely seen in Australia these days.  Unless you specifically order some from Japan you're going to have a hard time finding solar panels with these channels.
Winaico
Taiwanese-made Winaico solar panels are available in Australia and they have an office in Sydney.  While two of the panels listed on their website don't have corner channels, I've been told only newer model panels with corner channels are likely to be available in Australia from early this year.  Unlike Panasonic's, their channel goes diagonally through the corner of a panel and looks like this: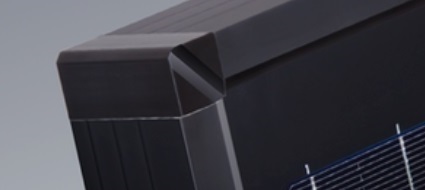 Now you might say, "Hey!  That water channel's at the top of the panel!  It won't do any good!"  But not to worry, manufacturers have done the responsible thing and put a channel in each corner rather than just having two and letting installers sort it out.  Very thoughtful of them.
Winaico's channel is part of a solid aluminium corner piece called an L-key that looks like this:
It makes the frames very sturdy and Winaico are quite proud of this, as they boast:

While they have mastered the art of sturdy solar panel corners, they haven't yet mastered the art of not using black text on top of a black background.  If you can't make it out, the last word in the image above is "typhoon".  This means they should also be resistant to cyclones, just so long as the fact cyclones blow the opposite way doesn't cause the panels to unwind.
Winaico says they have a world wide patent on their water channel.  I think they mean for their specific L-key corner piece design, because if it's for channels in general that's patenting the bleeding obvious.  After all, I dug a channel to let the rain water out from under the house this morning and I didn't have to fight off any patent lawyers to do it.
SolarWorld America
SolarWorld was a German company that went bust, came back, and then went bust for good.  The SolarWorld America factory soldiered on for a while but was bought by US based SunPower in 20182 and by early 2019 production had been changed over to SunPower P-series panels, so it appears panels with SolarWorld corner channels are no longer made.  But so few solar panels have channels I decided to include them anyway.
SolarWorld America's channel looks like this: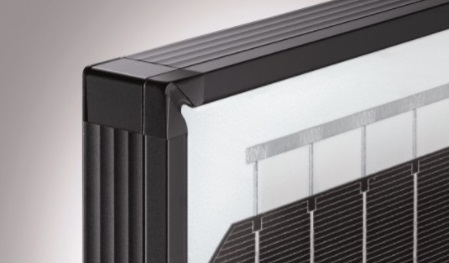 You might think that looks a lot like the Winaico panel channel, but its construction is different.  The part with the channel is plastic and sits on top of the frame corner.  Because of this, with sufficient abuse, it can come loose.  Winaico seems to think it's nowhere near as good as their design, although I suppose it is possible they are biased.
It's easier to see that it's not a solid corner piece in this picture:

Dirty Videos
Winaico has made a video of their corner water channel in action and put it on youtube:
At the moment it has a total of 102 views.  Let's see if we can get that up to at least 103.
In the video there is a long shot that shows the water flowing through the channel.  But when it changes to a close-up we see the water building up above the channel due to water tension and then it flows down the solar panel frame besides the channel instead of in it.  This is pretty normal behavior for water.  We can't predict exactly what it will do, which is why I never drink the stuff.3  But it does help water to flow off the panel and carry away dirt, even if it doesn't always flow where you'd expect.  I'm afraid I don't know what angle the solar panel is in the video.  I considered using SOH CAH TOA to work it out, but I'm not sure that would be accurate.
Update:  Winaico has told me the angle of the panel is only 3 degrees.
Note the tiny solar panel in the video is not available for purchase.  It's just a baby sized one they made for easy testing and filming of their corner drains.  Here's another video of it in action:
Corner Channel Drains And The Future
Corner channel drains are a straightforward way to improve solar panels, so I expect they'll become more common in the future.  This change may be gradual, as panel frame production probably can't be easily altered to include them.  Hopefully tests will soon be performed under real world conditions that will show just how useful they are at keeping panels clean.
Besides being a cheaper option than frameless panels on gentle slopes, they may also be useful for installation at over 10 degrees anywhere water is likely to remain at the bottom edge of a solar panel for long periods, such as damp and cloudy locations like Tasmania or where they are heavily shaded.
Footnotes
Because the clamps are on glass the tension has to be within a tight range — but not too tight. ↩
Since then, SunPower has apparently sold the factory and leased it back from whoever they sold it to.  This may have been a smart business move, but it is exactly the sort of nonsense companies engage in when they are in financial trouble.  Yingli has been leasing their own production line for years. ↩
I always freeze water into solid ice before ingesting it so it won't do anything I can't predict with Newtonian physics and a slide rule. ↩