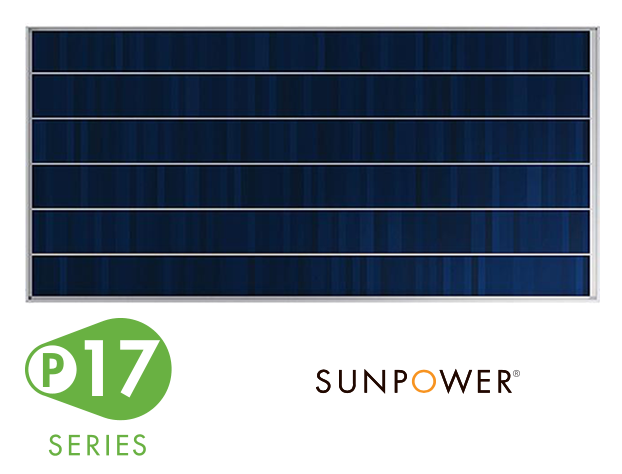 UPDATE 27th August 2018:  It has kindly been brought to my attention the warranty for SunPower's P17 panels excludes normal residential installation.  The SunPower P17 warranty says it does not apply to:
"PV Modules which have been installed on single-family homes or semi‐detached homes, including but not limited to duplexes and townhomes. For clarity, apartment and condominiums are not excluded."
UPDATE 31st August 2018:  P18 and P19 panels will be covered by SunPower's warranty when installed on residential homes.  Warranties for P-series panels can be downloaded from SunPower's Australian site on this page. 
SunPower Performance Series solar panel, or P-Series for short, are now available in Australia.  These attractive panels aren't available in a wide range of colours and are a lower efficiency but cheaper alternative to SunPower's E-Series and X-Series panels.  While sold overseas for more than a year, they've only been available Down Under for a few months and they've been on the down low, as their arrival was devoid of fanfare.
Their construction differs from most panels, as instead of being made from 60 or 72 separate solar cells, the P-series has 498 small overlapping silicon cell strips, each around the size that results from using a "laser" to cut a standard silicon wafer into 5 long pieces.  This design improves efficiency by hiding electrical contacts under the overlapping part of the above cell so they can't block sunlight.
The efficiency of the P-Series panels range from 16.0% to 17.0%.  This is below SunPower's other panels, but they come at a considerably lower price per watt.  Despite the more competitive pricing, the P-series panel is still covered by SunPower's 25 year full replacement product warranty.
What Is SunPower?
SunPower is an American solar company owned by a French oil company that makes high quality solar panels in China, Mexico, and the Philippines.  They are ancient as far as solar panel companies go being founded way back in 1985.  They make reliable panels and were the first company to introduce a 25 year product warranty.
SunPower's X-Series And E-Series Panels
SunPower is well known for their X-Series panels which are the world's most efficient, commercially available, solar panel.  Their X-22 panel is available in Australia and has an efficiency of 22.2%.  However, their high efficiency means you have to pay a hefty premium if you want to slap them on your roof.
If you don't want to pay quite so much for roof slapping, but are still interested in a high efficiency panel, their lower priced E-Series is up to 20.4% efficient.
Cogenra Developed Them And Now SunPower Owns Cogenera
The overlapping solar cell technology used in the P-Series was developed by a Californian company called Cogenera which Sunpower bought in August 2015 as part of the vast ongoing soap opera that is capitalism.  By absorbing their patents, knowledge, and people, SunPower added Cogenra's technological and biological distinctiveness to their own.
Where The P-Series Is Made
Currently SunPower produces most of their P-Series panels in Mexico, but they have also started production in China, where they plan to massively increase their manufacturing capacity to five gigawatts.  For contact, that's enough production to manufacture all the solar power ever installed in Australia in just 16 months.
Dense Cell Interconnect Technology, Shingles, Or Overlapping Cells
Cogenra, or just SunPower now that Cogenra has been well digested, called the method of overlapping solar cells used to make the P-Series Dense Cell Interconnect Technology.  I think whoever came up with this name must have been a bit dense when they could have just called them "overlapping solar cells" and made everyone's life just that little bit simpler.
Fortunately, someone realized they needed a better name. Unfortunately, this person was American and thought shingle solar panels was what they should they be called.  This actually isn't a bad name if you are American because they have a type of overlapping roofing material made of rocks called shingles, but here it's a type of herpes.  It's caused by the chickenpox virus coming back for revenge after being suppressed by your immune system.  Perhaps calling them chickenpox revenge panels would actually have been a good marketing move, as I'm sure it would get a lot of attention. But I think I'll just call them overlapping solar cell panels for now and avoid the shingle association entirely.
Shady Busbars Are A Problem
Most solar cells have wires on their surface called busbars.  A busbar is not a place where bus drivers knock back a few cold ones after a hard day's work, or if you are a very unlucky passenger — a few cold ones before a hard day's work.  Instead, it is a method of gathering electrical energy from solar cells.
The drawback of having busbars on the surface is they shade the solar cell, blocking sunlight and reducing the amount of electricity generated.  SunPower solves this problem with their E and X-Series panels by using "interdigitated back contact" which is a complicated set of words which means they don't have to put busbars on the surface1.  Unfortunately, this method increases the cost of solar cells, so most panels simply use cells with wires on top, despite the shading problem.
No Visible Busbar – No Problem
Cogenra solves the problem of the busbar shading solar cells by making them overlap. Each cell is long and narrow which means one busbar at the top is enough to gather the current it generates. This busbar is covered by the lower edge of the cell above it.  This means the only thing blocking light from hitting a solar cell is another solar cell and that's not a bad thing.
The Extra Silicon Required Is Not A Problem
This process requires extra silicon and 10 years ago when silicon cost over 20 times as much as it does now it the idea would have seemed insane.  But silicon is far cheaper now and much less is required to make solar cells.  Today one gram of polysilicon, the most commonly used sort, only costs around 1.9 cents which is quite a contrast to that terrible time back in 2008 when the price of silicon rose to 67 cents a gram and we were all convinced the world was running out of sand.
To make one watt of solar cell only requires around one gram or less of silicon.  There is about half a gram in the cell itself and about half a gram is lost in sawing silicon ingots into wafers and random breakage. So a 350 watt panel will require around $6.65 worth of silicon ingot to make. If overlapping the cells increases the amount needed by 20% that comes to around $1.30 more.
But looking at the cost of a big hunk of silicon is the wrong way to go about it. Sawing a polysilicon ingot into wafers is an expensive process and so they cost about 15 cents a watt.  This means there is around $53 dollars worth in a 350 watt panel. Increasing that by 20% will cost $11, which is well worth it if it makes for a high quality panel, which it apparently does.
Because using very thin solar cells can simplify some steps of the overlapping process, it is possible these panels may contain considerably less than half a gram of silicon per watt.  But I'm afraid I don't know the actual thickness of the cells in these panels.
They Handle Shade Well
Almost all solar panels have difficulty handling shade. Just a small amount from a TV aerial, some leaves, or a single splat of bird poo, can greatly reduce their output.  A small amount of soiling, say the result of one poorly digested bird breakfast, will reduce the output of a typical panel by 33%.  But SunPower says it will only reduce the output of one of their panels, including the P-series, by around 11%.
They Are A Large Panel
The most common type of panel installed on Australian roofs has 60 solar cells and is typically 1.65 m by 0.99 m.  But the P-Series panels are 2.067 m by 0.998 m making them just over one-quarter larger in area.  This extra size is a consideration when it comes to determining how many can fit on a roof.
P-Series Price
SunPower Australia has said the Performance series panels will be priced lower than their other two series.  Unfortunately, they haven't said just how much lower.  So I went and asked an installer and he said the P-Series is likely to cost households at least 20% less than an E-Series panel and over 35% less than their most expensive X-Series panel.  But these comparisons are very rough, so don't rely on them too much.
If you like the reliability of SunPower panels and the peace of mind that comes from their 25 year fully replacement product warranty, but you don't have a shortage of roof space that requires you to get the most efficient panels possible, then the P-Series could be exactly what you want.  A reliable SunPower panel without a hefty premium.
Footnotes
I touch upon the topic of interdigitated back contact in my article on P and N junction solar cells and completely fail to describe what it is. ↩