Sunpower solar panels review
Overall Rating From 61 Reviews: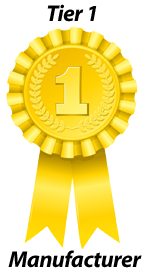 Sunpower Corporation's history goes back to the early 70's when founder Richard Swanson, looking for a way to deal with the oil crisis, looked with increasing interest at solar cell power, which at that time, was used only in satellites. Now, almost 40 years later, Sunpower Corporation has become one of the largest companies providing solar panels to utility, commercial and residential markets alike, thanks to their proprietary systems and over 200 patents for solar technology.
Sunpower solar panels are the most expensive on the market, but are they worth it? That's a great question and we answer it in depth in this blog post:
Are Sunpower Panels worth their very high price?
Over the decades, their products have proved so efficient and high quality, that they have been used to power some of the most delicate outer space exploration missions and to allow the first solar airplane prototype, Solar Impulse, to fly for 26 consecutive hours only on solar energy.
Sunpower Corporation is also aware of the importance of conducting a business that protects the environment, and the Cradle to Cradle certification, their ongoing effort in disclosing their carbon footprint along with an active participation as a Circular Economy 100 member make Sunpower Corp one of the leading companies in the solar energy industry.
You can read lots of Sunpower reviews from Australian consumers below as well as a link to reviews of the installer they bought them from. As you can see, most of the Sunpower reviews are 5 star. These really are great panels, if you can afford them.
Rating
Comments
Name
State
Postcode
Again these were top panels and expensive, but perform very well.
Bought From: Blue Mountains Solar Review Date: 4 January 2017
Gerard
NSW
2782

Bought From: Mark Group Review Date: 7 November 2016
Anon
VIC
3020

Bought From: Mark Group Review Date: 10 October 2016
Greg
QLD
4074
Some stats: The solar panel size is 2.5 kW Peak power was 2.2 kWh during the summer it is about 10kWh per day and during the winter probably close to 2-3kWh
Bought From: Solar Sunwerx Review Date: 11 July 2016
Leo
VIC
3201

Bought From: Mark Group Review Date: 13 May 2016
Alex
NSW
2069

Bought From: Solargain Review Date: 20 April 2016
Scott
VIC
3150

Bought From: Mark Group Review Date: 26 January 2016
John
QLD
4160
Very Good
Bought From: Dunne Solar and Electrical Review Date: 8 August 2015
Marianne
NSW
2230

Bought From: SolarMyHome Review Date: 13 June 2015
John
VIC
3144
Very high quality panels @ 327 watts. Well worth the added cost.
Bought From: Cola Solar Review Date: 3 March 2015
John
VIC
3280
327w Sunpower panels x 16 = 5.2 kWin total (theoretically – as not ideally positioned facing North) Routinely produces over 4.5kW during the day.
Bought From: Infinite Energy Review Date: 12 January 2015
Mal
WA
6156

Bought From: NQ Solar Review Date: 23 December 2014
Carsten
QLD
4879

Bought From: Adelaide Solar Systems Review Date: 6 December 2014
Anon
SA
5061

Bought From: Mark Group Review Date: 14 July 2014
David
VIC
3195

Bought From: Solargain Review Date: 25 May 2014
Chris
VIC
3159

Bought From: AllSafe Review Date: 24 May 2014
Graham
QLD
4671

Bought From: Eco Kinetics Review Date: 21 May 2014
Grant
QLD
4740
We paid top dollar for these and have had a performance to match.
Bought From: Mark Group Review Date: 21 May 2014
Terry
QLD
4060
185 kw pvc panels and I have 28 of them on my roof. One group are effected by the afternoon sun being blocked by trees.
Bought From: Mark Group Review Date: 7 May 2014
Raymond
NSW
2229

Bought From: Mark Group Review Date: 7 May 2014
Greg
NSW
2536
As my mum used to always say, "You get what you pay for". Avoid anything made in China as everything they make is crap!
Bought From: Planet Power Review Date: 7 May 2014
David
WA
6027
Not setup the way i wanted,, the electrician did a poor install and I discovered 1 string was not even working.
Bought From: Exel Power Review Date: 21 October 2012
Steve
VIC
3551

Bought From: Mark Group Review Date: 10 October 2012
Emil
NSW
2151
Very satisfied wth the performance of the panels
Bought From: Mark Group Review Date: 1 October 2012
Robyne
NSW
2323

Bought From: Mark Group Review Date: 28 September 2012
Justin
VIC
3146

Bought From: Camberwell Electrics Review Date: 26 September 2012
Elmar
VIC
3440

Bought From: Mark Group Review Date: 24 September 2012
Andrew
NSW
2074

Bought From: Mark Group Review Date: 23 September 2012
Greg
VIC
3156

Bought From: Solar Switch Review Date: 22 September 2012
Juliana
NSW
2154

Bought From: Mark Group Review Date: 21 September 2012
Kevin
NSW
2317
See above
Bought From: Solar Wholesalers Review Date: 19 September 2012
Craig
SA
5068

Bought From: Mark Group Review Date: 18 September 2012
Glenn
VIC
3071

Bought From: Mark Group Review Date: 17 September 2012
Brian
NSW
2770

Bought From: Solar E Pty Ltd Review Date: 14 September 2012
Justin
WA
6101

Bought From: Mark Group Review Date: 14 September 2012
Wal
NSW
2763

Bought From: Solar Switch Review Date: 13 September 2012
Robert
NSW
2566

Bought From: Gruen Energy Review Date: 12 September 2012
Gwen
VIC
3688

Bought From: Solar-Man Review Date: 11 September 2012
Denis
SA
5096
These 318w panels are probably the best on the market.
Bought From: FROGsolutions Review Date: 11 September 2012
David
NSW
2560
Sunpower are exceptional quality. These panels are performing as good as the day they were installed. They are expensive (a potential drawback), however the panels are larger with the highest wattage so if you have limited roof space, this could be a viable option. If you're interested in a consistent performer in both output and efficiency, look no further.
Bought From: Mark Group Review Date: 11 September 2012
Dennis
NSW
2219

Bought From: Mark Group Review Date: 11 September 2012
Harry
NSW
2283

Bought From: Mark Group Review Date: 11 September 2012
K
VIC
3152

Bought From: Adelaide Solar Systems Review Date: 9 September 2012
Rob
SA
5162

Bought From: Solar Switch Review Date: 8 September 2012
Ian
NSW
2153
I had to get Mark Group back to re position some panels to prevent shading. This was done free of charge and no hassle.
Bought From: Mark Group Review Date: 7 September 2012
Robert
NSW
2154
I would have loved to install 1 more panel! :)
Bought From: Mark Group Review Date: 7 September 2012
Carolyn
NSW
2085

Bought From: Solar Switch Review Date: 6 September 2012
A
NSW
2325

Bought From: Mark Group Review Date: 6 September 2012
Chris
NSW
2166

Bought From: Cablelogic previously Renewable Logic Review Date: 5 September 2012
Charles
WA
6062

Bought From: GPE Electrical Review Date: 4 September 2012
Peter
NSW
2714

Bought From: Todae Solar Review Date: 4 September 2012
Peter
NSW
2064
The Sunpower 210 Panels ( x 14) have been installed competently, neatly and securely and have been performing as I expected.
Bought From: Mark Group Review Date: 4 September 2012
Les
NSW
2118
No problems
Bought From: Solar-Man Review Date: 4 September 2012
Peter
SA
5168

Bought From: Mark Group Review Date: 4 September 2012
Dale
NSW
2099
Gave us the power ouput we needed given the limited space we had to work with.
Bought From: NQ Solar Review Date: 4 September 2012
Sebby
QLD
4870

Bought From: Solar-Man Review Date: 3 September 2012
Anon
SA
5082

Bought From: NQ Solar Review Date: 31 August 2012
Ariel
QLD
4814

Bought From: BlueSky Energy Review Date: 30 August 2012
Mahabub
NSW
2770

Bought From: Solar Shop Review Date: 30 August 2012
Trevor
WA
6210

Bought From: Solar Switch Review Date: 30 August 2012
Neal
NSW
2540
These panels seem to perform better than expectations, often generating 10 or more KWH on a sunny summer day from a 1.5kw system. The downside is that they were considerably more expensive than many other panels on the market.
Bought From: Camberwell Electrics Review Date: 29 August 2012
Dale
VIC
3163
Sunpower has 71 solar panels in our database