Sunpower solar panels review
Overall Rating From 92 Reviews:

Average Customer Rating:
( 4.46 / 5 )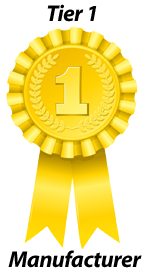 SunPower is an American company that produces high quality, tier one solar panels that are among the best available. Their panels have the highest efficiency currently available on the market, they are likely to be the best at tolerating partial shade, and they have a 25 year replacement product warranty. In addition, SunPower panels are corrosion resistant which makes them suitable for installation in any location in Australia.
SunPower have an Australian office in Melbourne.
Read All About It
I looked into SunPower panels in June 2016 and you can read what I wrote about them here.
Production Capacity
In 2016 SunPower's total solar cell manufacturing capacity was 1.65 gigawatts and they used that to make approximately 1.3 gigawatts of solar panels. I presume most of the extra solar cell production was sold to other manufacturers, rather than accidentally dropped and broken while making panels.
Their total solar cell production for 2017 is expected to decrease to 1.525 gigawatts. This is because the company is "reorganising". When used by large companies, this word means they are closing a factory and sacking a heap of people.
Manufacturing Locations
SunPower is as American as apple pie and so is majority owned by a French oil company. This makes sense because the French were eating apple pies long before Americans ever did.
SunPower's headquarters are in San Jose in California, but they do not do any manufacturing that I am aware of in the United States.
Currently SunPower has manufacturing capacity in Malaysia and the Philippines, but they are planning to shut down most of their Philippines capacity and transfer at least some of that capacity to a plant in Mexico.
Company History
SunPower was founded in 1985 by Richard Swanson. He's a great guy. He's huge in solar. He has all the best solar ideas. And his hands are at least average size.
Swanson is responsible for Swanson's Law, which states that for every doubling of production capability, the cost of solar panels fall by 20%. Despite ups and mostly downs in prices, it's proven to be reasonably accurate and I hope the effect will continue into the future.
As it has managed to stick around for 32 years so far, SunPower is one of the oldest solar panel manufacturers in existence.
SunPower's 25 Year Replacement Product Warranty
SunPower provides their panels with a 25 year product warranty. This is far superior to the 10 or 12 years offered by most tier one panels. This makes the product warranty equal to their 25 year performance warranty. The only product warranty superior to this that I know of is Solarwatt's 30 year product warranty.
But unlike almost all other product warranties SunPower's is a replacement warranty. This means that if one of their panels fails, SunPower won't just give you a refund or a replacement, they will send someone out to replace it free of charge. Because replacing a solar panel can cost considerably more than a panel does, this replacement warranty is very useful.
SunPower can afford to offer a replacement warranty because their failure rate is so low. They have told me it is only 1 in 37,000. Unfortunately, this doesn't mean there is only a 1 in 37,000 chance of a panel failing during its 25 year warranty, but it still suggests they are extremely reliable. While I can't be certain of this, it suggests the chance of 1 panel out of an array of 20 failing within 25 years is less than 1 in 1,000.
SunPower's X Series Efficiency Is The Highest
The efficiency of SunPower's X series panels is the best. It's huge. They have the best efficiency of any panel on the market. It's 21.5%. You'll love it. Especially if you're trying to get the most electricity out of a limited amount of roof space.
SunPower Panels Tolerate Partial Shade Well
Partial shade can cause a major reduction in the performance of solar cells as one badly performing solar cell can drag down the performance of others, so just one bird poop can have a major effect. But SunPower panels can bypass individual cells that are performing poorly and so reduce the effects of partial shade better than any panel I am aware of.
Note that if SunPower panels are connected to a string inverter the worst performing panel will still drag down the performance of other panels on the string. This problem can be overcome by using microinverters or DC optimisers.
SunPower Has Financial Difficulties
Unfortunately, SunPower is currently experiencing financial difficulties. The good news is that at the moment it looks like the company is unlikely to go bust and will still be around in the future to honour their 25 year replacement warranty.
One thing SunPower has said they will do to deal with their financial difficulties is reduce their inventory of solar panels in 2017. This means we can expect the price of their panels to fall.
But even if I was certain SunPower wouldn't be around in the future to honour their warranty, I would still be fine with installing them on my roof because their high reliability means the chance of me needing their warranty should be extremely small.
My Recommendation
I would have no problem installing SunPower panels on my roof, and this would be the case even if I expected SunPower to go bust and not be around to honour their warranties.
Their high efficiency makes them very useful for people who have limited space to install panels and combining them with microinverters or DC optimisers may be the most effective method of coping with partial shade.
But while SunPower panels are very high quality, they do carry a hefty premium and so it will be necessary to decide if they are worth the extra expense.
Rating
Comments
Name
State
Postcode

Bought From: Infinite Energy Review Date: 13 October 2018
Tim
WA
6159
Very pleased I spent more money to buy quality Sunpower solar panels. The performance of the panels has been really fantastic. Very, very pleased with them. Will likely add additional Sunpower panels in the future to take the system up to 15kw
Bought From: Green Sky Australia Review Date: 25 September 2018
Clarke
VIC
3015

Bought From: Helioenergy Review Date: 13 September 2018
Ian
NSW
2047

Bought From: MC Electrical Review Date: 22 August 2018
Eric
QLD
4305
I paid a bit more for what seemed to be best quality , so still hoping over time they perform
Bought From: Solar Smart Review Date: 14 August 2018
Kerry
VIC
3942

Bought From: Blue Mountains Solar Review Date: 5 August 2018
Renee
NSW
2779
Marketed well. 25 years product warranty is impressive. However, after sales support could improve. Out of all my panels, half of them have scratch lines and a few of them have deep scratches. All these are under the surface layer (on the cells themselves). The rest of them exhibit some strange spot markings on random parts of the cells. This can only be caused by poor quality control at the manufacturing end. Warranty claim process has dragged on for months and I am still waiting on a satisfactory outcome.
Bought From: Glen Clark and Co Review Date: 18 June 2018
Anon
VIC
3155
Incredibly efficient panels and very lightweight for installation
Bought From: Energy Matters Review Date: 7 June 2018
Keith
SA
5006

Bought From: MC Electrical Review Date: 13 May 2018
Jim
QLD
4179

Bought From: Infinite Energy Review Date: 7 May 2018
Rosalie
WA
6111

Bought From: Save Energy Pty Ltd Review Date: 13 April 2018
Chris
WA
6284
Produced a continual amount of power even on really overcast cold days.
Bought From: Perth Solar Force Review Date: 8 April 2018
Barry
WA
6260

Bought From: Blue Mountains Solar Review Date: 31 March 2018
Edward
NSW
2782

Bought From: Australian Solar Designs Review Date: 22 March 2018
Mark
NSW
2533

Bought From: Blue Mountains Solar Review Date: 14 March 2018
Marie Ann
NSW
2790
Panels were fitted in a swift and thoroughly workmanlike manner and quite unobtrusive to the eye. Everything about the installation was neat, inverter included.
Bought From: EnviroGroup Review Date: 19 February 2018
Anon
VIC
3350
No issues at all, good output.
Bought From: Cola Solar Review Date: 26 December 2017
Paul
VIC
3350

Bought From: Solar Wind Renewables Review Date: 21 December 2017
John
NSW
2530
I had a 5.23 kW system installed using 16 Sunpower panels which all fitted neatly on my north facing roof. I received two other quotes for a similar sized system, however they both required 20 panels which would have meant panels on a different part of the roof. The sunpower panels gave me the same output with less panels and they are performing exceptionally well, even on wet overcast days.
Bought From: MC Electrical Review Date: 17 December 2017
Graham
QLD
4060

Bought From: Infinite Energy Review Date: 13 November 2017
Cheryle
WA
6018
planned to produce 60kwh/day; currently doing better than that
Bought From: LG Energy Review Date: 25 October 2017
John
NSW
2085

Bought From: ClimateCare Electrical Review Date: 7 September 2017
Paul
QLD
4701

Bought From: Solargain Review Date: 4 August 2017
Dave
NSW
2153

Bought From: MC Electrical Review Date: 3 August 2017
Richard
QLD
4505

Bought From: Infinite Energy Review Date: 17 July 2017
John
WA
6210
Very good so far and they look great.
Bought From: Solargain Review Date: 5 July 2017
Thomas
WA
6006

Bought From: Cola Solar Review Date: 22 April 2017
Anon
VIC
3556
I have 4 facing east, 8 facing north and 4 facing west - gives great production times.
Bought From: Blue Mountains Solar Review Date: 13 February 2017
John
NSW
2785
Again these were top panels and expensive, but perform very well.
Bought From: Blue Mountains Solar Review Date: 4 January 2017
Gerard
NSW
2782

Bought From: Mark Group Review Date: 7 November 2016
Anon
VIC
3020

Bought From: Mark Group Review Date: 10 October 2016
Greg
QLD
4074
Some stats: The solar panel size is 2.5 kW Peak power was 2.2 kWh during the summer it is about 10kWh per day and during the winter probably close to 2-3kWh
Bought From: Solar Sunwerx Review Date: 11 July 2016
Leo
VIC
3201

Bought From: Mark Group Review Date: 13 May 2016
Alex
NSW
2069

Bought From: Solargain Review Date: 20 April 2016
Scott
VIC
3150

Bought From: Mark Group Review Date: 26 January 2016
John
QLD
4160
Very Good
Bought From: Dunne Solar and Electrical Review Date: 8 August 2015
Marianne
NSW
2230

Bought From: SolarMyHome Review Date: 13 June 2015
John
VIC
3144
Very high quality panels @ 327 watts. Well worth the added cost.
Bought From: Cola Solar Review Date: 3 March 2015
John
VIC
3280
327w Sunpower panels x 16 = 5.2 kWin total (theoretically – as not ideally positioned facing North) Routinely produces over 4.5kW during the day.
Bought From: Infinite Energy Review Date: 12 January 2015
Mal
WA
6156

Bought From: NQ Solar Review Date: 23 December 2014
Carsten
QLD
4879

Bought From: Adelaide Solar Systems Review Date: 6 December 2014
Anon
SA
5061

Bought From: Mark Group Review Date: 14 July 2014
David
VIC
3195

Bought From: Solargain Review Date: 25 May 2014
Chris
VIC
3159

Bought From: AllSafe Review Date: 24 May 2014
Graham
QLD
4671

Bought From: Eco Kinetics Review Date: 21 May 2014
Grant
QLD
4740
We paid top dollar for these and have had a performance to match.
Bought From: Mark Group Review Date: 21 May 2014
Terry
QLD
4060
185 kw pvc panels and I have 28 of them on my roof. One group are effected by the afternoon sun being blocked by trees.
Bought From: Mark Group Review Date: 7 May 2014
Raymond
NSW
2229

Bought From: Mark Group Review Date: 7 May 2014
Greg
NSW
2536
As my mum used to always say, "You get what you pay for". Avoid anything made in China as everything they make is crap!
Bought From: Planet Power Review Date: 7 May 2014
David
WA
6027
Not setup the way i wanted,, the electrician did a poor install and I discovered 1 string was not even working.
Bought From: Exel Power Review Date: 21 October 2012
Steve
VIC
3551

Bought From: Mark Group Review Date: 10 October 2012
Emil
NSW
2151
Very satisfied wth the performance of the panels
Bought From: Mark Group Review Date: 1 October 2012
Robyne
NSW
2323

Bought From: Mark Group Review Date: 28 September 2012
Justin
VIC
3146

Bought From: Camberwell Electrics Review Date: 26 September 2012
Elmar
VIC
3440

Bought From: Mark Group Review Date: 24 September 2012
Andrew
NSW
2074

Bought From: Mark Group Review Date: 23 September 2012
Greg
VIC
3156

Bought From: Solar Switch Review Date: 22 September 2012
Juliana
NSW
2154

Bought From: Mark Group Review Date: 21 September 2012
Kevin
NSW
2317
See above
Bought From: Solar Wholesalers Review Date: 19 September 2012
Craig
SA
5068

Bought From: Mark Group Review Date: 18 September 2012
Glenn
VIC
3071

Bought From: Mark Group Review Date: 17 September 2012
Brian
NSW
2770

Bought From: Solar E Pty Ltd Review Date: 14 September 2012
Justin
WA
6101

Bought From: Mark Group Review Date: 14 September 2012
Wal
NSW
2763

Bought From: Solar Switch Review Date: 13 September 2012
Robert
NSW
2566

Bought From: Gruen Energy Review Date: 12 September 2012
Gwen
VIC
3688

Bought From: Solar-Man Review Date: 11 September 2012
Denis
SA
5096
These 318w panels are probably the best on the market.
Bought From: FROGsolutions Review Date: 11 September 2012
David
NSW
2560
Sunpower are exceptional quality. These panels are performing as good as the day they were installed. They are expensive (a potential drawback), however the panels are larger with the highest wattage so if you have limited roof space, this could be a viable option. If you're interested in a consistent performer in both output and efficiency, look no further.
Bought From: Mark Group Review Date: 11 September 2012
Dennis
NSW
2219

Bought From: Mark Group Review Date: 11 September 2012
Harry
NSW
2283

Bought From: Mark Group Review Date: 11 September 2012
K
VIC
3152

Bought From: Adelaide Solar Systems Review Date: 9 September 2012
Rob
SA
5162

Bought From: Solar Switch Review Date: 8 September 2012
Ian
NSW
2153
I had to get Mark Group back to re position some panels to prevent shading. This was done free of charge and no hassle.
Bought From: Mark Group Review Date: 7 September 2012
Robert
NSW
2154
I would have loved to install 1 more panel! :)
Bought From: Mark Group Review Date: 7 September 2012
Carolyn
NSW
2085

Bought From: Solar Switch Review Date: 6 September 2012
A
NSW
2325

Bought From: Mark Group Review Date: 6 September 2012
Chris
NSW
2166

Bought From: Cablelogic previously Renewable Logic Review Date: 5 September 2012
Charles
WA
6062

Bought From: GPE Electrical Review Date: 4 September 2012
Peter
NSW
2714

Bought From: Todae Solar Residential (now discontinued) Review Date: 4 September 2012
Peter
NSW
2064
The Sunpower 210 Panels ( x 14) have been installed competently, neatly and securely and have been performing as I expected.
Bought From: Mark Group Review Date: 4 September 2012
Les
NSW
2118
No problems
Bought From: Solar-Man Review Date: 4 September 2012
Peter
SA
5168

Bought From: Mark Group Review Date: 4 September 2012
Dale
NSW
2099
Gave us the power ouput we needed given the limited space we had to work with.
Bought From: NQ Solar Review Date: 4 September 2012
Sebby
QLD
4870

Bought From: Solar-Man Review Date: 3 September 2012
Anon
SA
5082

Bought From: NQ Solar Review Date: 31 August 2012
Ariel
QLD
4814

Bought From: BlueSky Energy Review Date: 30 August 2012
Mahabub
NSW
2770

Bought From: Solar Shop Review Date: 30 August 2012
Trevor
WA
6210

Bought From: Solar Switch Review Date: 30 August 2012
Neal
NSW
2540
These panels seem to perform better than expectations, often generating 10 or more KWH on a sunny summer day from a 1.5kw system. The downside is that they were considerably more expensive than many other panels on the market.
Bought From: Camberwell Electrics Review Date: 29 August 2012
Dale
VIC
3163

Bought From: Absolute Energy Solutions Pty Ltd Review Date: 8 October 2018
Noel
QLD
4165
Seem to operate in very low light conditions..have a modest 3.27kw system i.e. 10 E series panels...very pleased so far and Fronius Inverter an added bonus.
Bought From: Mildura Solar Review Date: 29 May 2018
Rod
VIC
3496
Fantastic is a word of mythological proportions and too easily bandied about. Very Good is how I would rate our 10 Sunpower E series panels recently installed by Mildura Solar.
Bought From: Mildura Solar Review Date: 4 April 2018
Rod
VIC
3496
Sunpower has 71 solar panels in our database