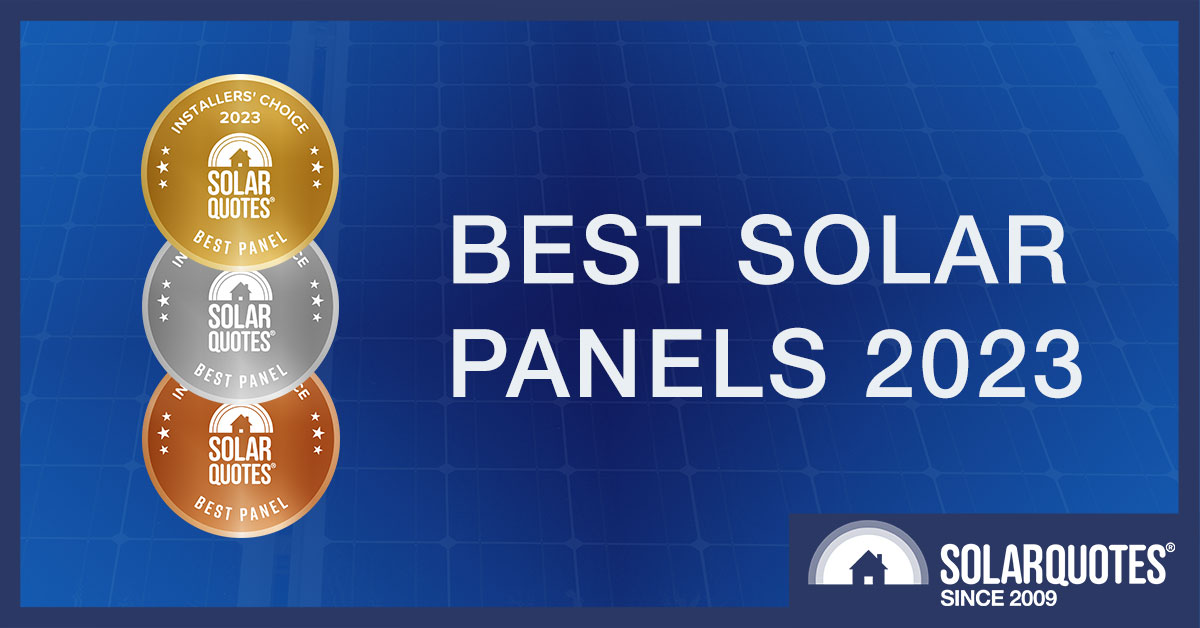 For three years now, we've asked our network of 500+ solar installers what brands of solar panels they'd choose to install on their own homes.
We ask which brand they'd choose if 'money were no object' and the brand they'd go for if they were on a tight budget and 'every dollar counts'.
The idea is to discover the solar panel brands the installers rate in two important categories:
The best solar panels, full stop.
The best value solar panels.
For 2023, I added a third category:
The brand with the best Australian after-sales support.
Good support means: if anything goes wrong over the multi-decade warranty, the installer will get prompt and fair warranty service, which means any failed panels are replaced faster and with less hassle.
Here are the results1 for the SolarQuotes 2023 Installers' Choice Awards :
Best Solar Panels In Australia: 2023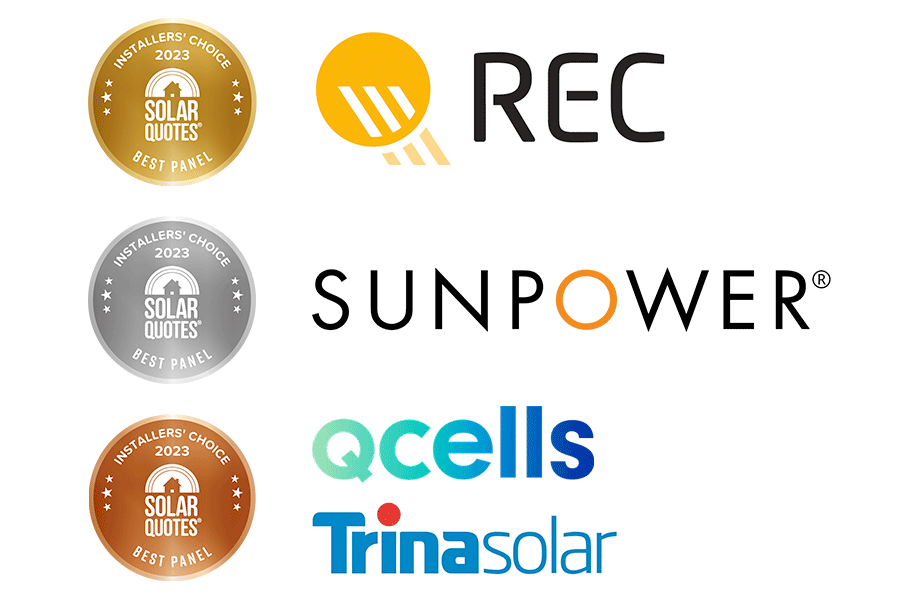 Best Solar Panels 2023: REC
REC scored bronze in 2021 and silver in 2022; finally achieving gold in 2023 with 36% of all votes.
Funnily enough, I have 14kW of REC Alpha Pure 410W panels on my roof, installed in late 20222. I chose them for their energy density – I wanted to fit as many kilowatts as possible on my north-facing roof – and I also liked their warranted low-degradation.
Since my installation, REC has released their Alpha Pure R series, which are even more energy dense – up to 430W in a 1.1 x 1.7m all-black panel and an efficiency of 22.3%.
Alpha Pure R's other specs are also fantastic:
One thing I really like about all REC solar panels is their two extra framing struts. A panel that flexes less will last longer and have less stringent clamping zones. It's great to see a solar panel manufacturer that is not afraid to beef up the often scrawny frames:
Our REC solar panel reviews give a 4.8 star average from 779 reviews (4.9 star average in the last six months), and here's a recent comment:
"I'm surprised by the level of electricity still generated even in overcast and rainy conditions. Not being a high-power consumer, it has been enough in those conditions for my home to run during the day."
My experience concurs, with impressive power output at dawn and dusk.
REC Alpha Pure R modules retail for about $1 per watt5.
Best Solar Panels 2023: Second Place – SunPower
SunPower lost their 2022 top spot despite winning an impressive 29% of all votes.
In my opinion: although SunPower panels are fantastic, it can be hard to justify the price premium for their flagship Maxeon panels – unless you want the insane 40-year product warranty and factory-installed Enphase microinverters.
How do SunPower's key specs compare to REC? Compared to REC's Alpha Pure R, the SunPower Maxeon 6 panels are:
22.8% efficient, 0.5% better than the best REC
0.25% warranted annual degradation, same as REC
-0.29%  / °C Temp coefficient of Pmax, 0.03 worse than REC
40-year product warranty – 15 years longer than REC
Interestingly, SunPower (Maxeon) is one of the only panel manufacturers who have not transitioned to half-cut solar panels, preferring their whole-cell technology – each beermat-sized wafer sitting on a slab of expensive and robust copper.
Our SunPower reviews show an average score of 4.8 stars from 863 reviews (4.9 in the last six months). Here are two recent comments from Australian reviewers:
"Bought the Maxeon 6 for their 40 year warranty and reliability, even though they cost more. This is an installation to last me through my retirement so I wanted to do it just once."

"These black panels with integrated Enphase micro-inverters look nice on the roof and also fitted our small and articulated roof well. The panels have been installed for a month now and I am happy with the production which meets up with what was predicted with the quotes."
Sunpower Maxeon 6 solar panels with built-in Enphase microinverters retail for about  $1.74 per watt. That's about $1.23 per watt for just the panel (with the cost of the microinverter removed).
Best Solar Panels 2023: Joint Third Place – Qcells / Trina
Qcells and Trina Solar share the third spot. Qcells were third last year, whereas Trina has climbed from 8th place in 2022.
Qcells has three 'tiers' of solar panels – the Q.PEAK series, their flagship product made in South Korea. Then there's the Q.BOOST series, their midrange offering made in Malaysia, and the Q.MAXX series, Qcells' most affordable panel made in China.
I believe many installers favour Qcells because of their range – there's something for every customer's price point, and they're all backed the same.
Qcells reviews have an average score of 4.8 stars based on 1245 reviews. One recent customer review:
"We thought we would go with a better brand of panels and the Qcells surely didn't disappoint. Great all round system."
Qcells flagship Q.Peak panels are up to 21.1% efficient; with these key specs:
0.5% warranted degradation
-0.34%  / °C Temp coefficient of Pmax
25-year product warranty
…and retail for about 90c per watt.
Trina, meanwhile, only makes its panels in China (and boy, does it make a lot of them – around 50GW of panels in 2022, compared to Qcells' ~12GW), and they all sit around the same price point.
Trina Solar's reviews on SolarQuotes score 4.8 from 1,596 reviews (4.9 in the past six months). One recent reviewer told us:
"Its hard to tell this early, but now in summer they always produce max output and surprisingly high on cloudy days which struck me as amazing."
Trina Vertex S solar panels are up to 21.8% efficient with:
0.55% warranted degradation
-0.34%  / °C Temp coefficient of Pmax
25-year product warranty
…and retail for about 60c per watt.
Best Value Solar Panels In Australia 2023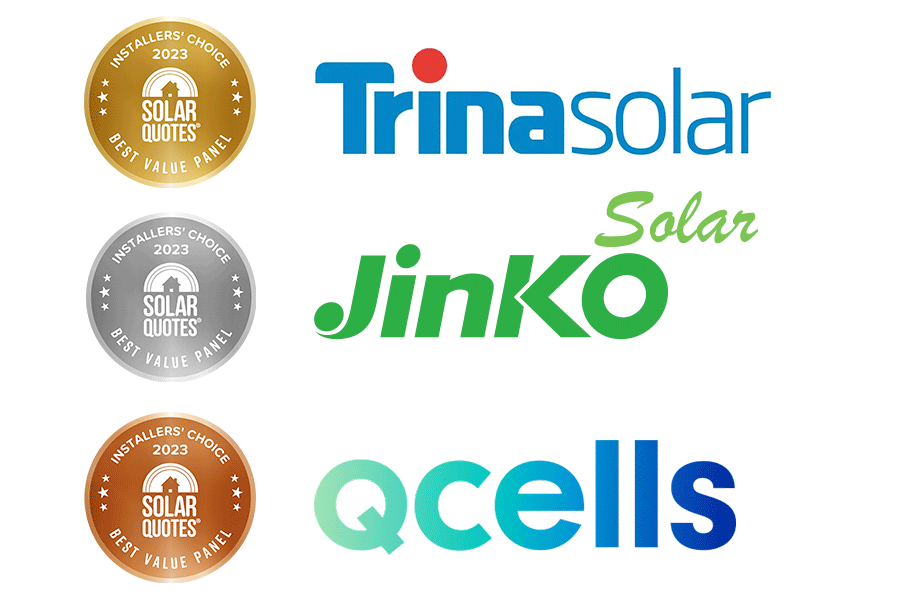 Best Value Solar Panels 2023: First Place – Trina
Trina is still the undefeated king of great value solar panels, having won this category in 2021 and 2022.
Winning third in 'best solar panel' and first in 'best value panel' is a vote of confidence in Trina and its Australian operation6.
As mentioned, Trina Vertex S panels retail for about 60 Australian cents per watt.
Best Value Solar Panels 2023: Second Place – Jinko
Hanging on to second place in the 'best value solar panel' category for the third year in a row is Jinko Solar.
Jinko's Tiger Pro panel is up to 20.77% efficient with:
0.55% warranted degradation
-0.35%  / °C Temp coefficient of Pmax
25-year product warranty
Jinko reviews give an average score of 4.8 from 2036  reviews (4.9 in the past six months), and one reviewer recently updated us on his decade-old install:
"I have 13 Jinko Panels installed at my old house for 10 years – absolutely trouble free."
Expect to pay about 60c per watt retail for Jinko solar panels.
Best Value Solar Panels 2023: Third Place – Qcells
Qcells keep their third place from 2022.  Their cheaper Q.MAXX and Q.BOOST panels are more expensive than Trina and Jinko's, with almost identical specs:
0.5% warranted degradation
-0.35%  / °C Temp coeffient of Pmax
25-year product warranty
Q.MAXX solar panels retail for about 75c per watt.
Solar Panels: Best After-Sales Support
Good support with a solar panel means the installer gets a fair and prompt response when they file a warranty query.
Here are the results – all familiar names by now!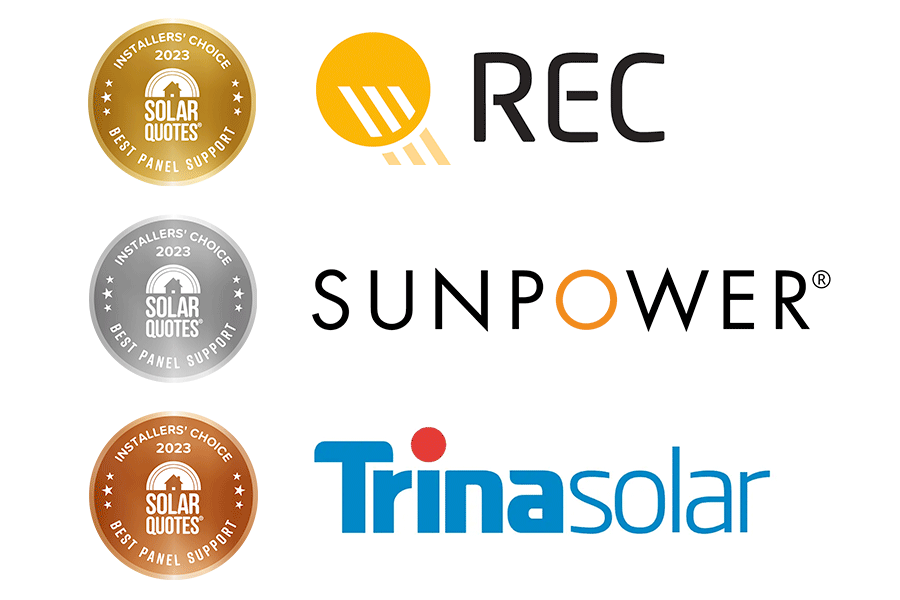 With REC winning both the 'best panel' and 'best support',  I'm feeling warm and fuzzy that I chose them for my own roof six months ago. Well done, REC!
If you are thinking of a new or upgraded solar power system for your home – any of these award winners is a safe bet. If you are wondering whether to go premium or more budget, it comes down to energy density, degradation and personal preference.
If you want higher energy density, low annual degradation and the best possible high-temperature power output – and don't mind paying for it – REC or SunPower is for you.
If you are on a budget and happier with a little less energy density, a little less energy on hot days and a bit more performance loss over the years, any of the budget solar panels on the podium should give you decades of cheap electricity in the harsh Australian sun.
See SolarQuotes recommended solar panel brands here. 
Also check out: SolarQuotes Installers' Choice Awards 2023 – Best Solar Inverters | Best Home Batteries | Best EV Chargers.