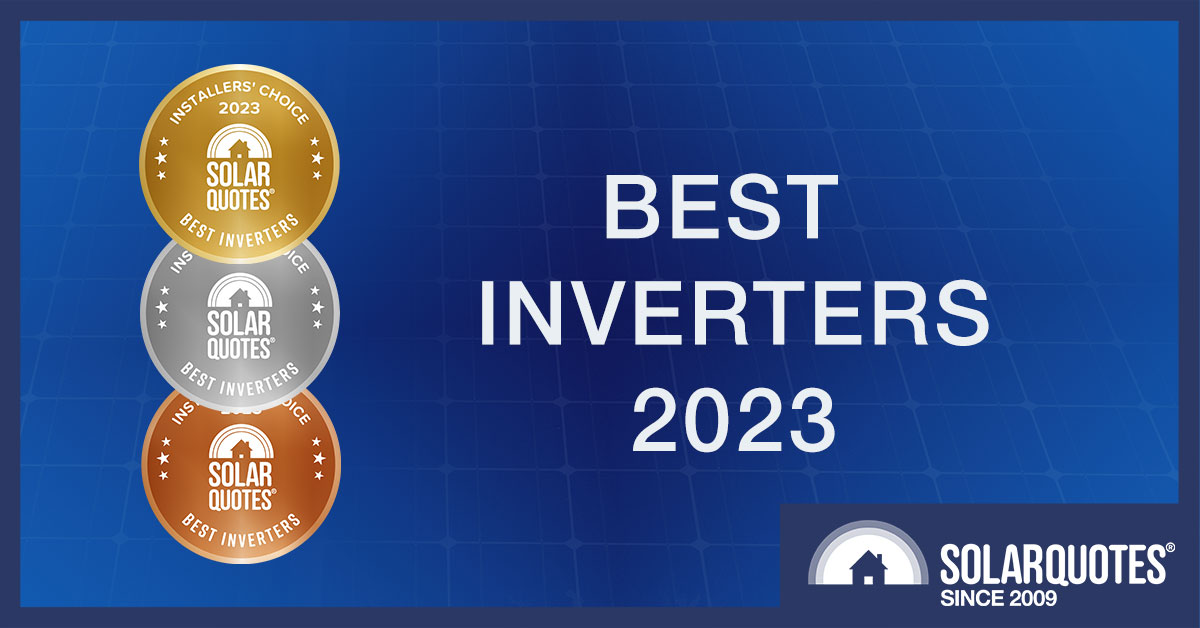 The solar inverter is the hardest working component in your solar energy system. In a well-installed system, it is the component most likely to fail first – well, it is now we've got rid of roof-top DC isolators.
But what inverter brands are best?
Every year we ask installers in the SolarQuotes network to vote for the 'Best Inverter' and 'Best Value Inverter'. This year we added a new category: 'Best Inverter Support'.
Here are the results.
Best Solar Inverters In Australia 2023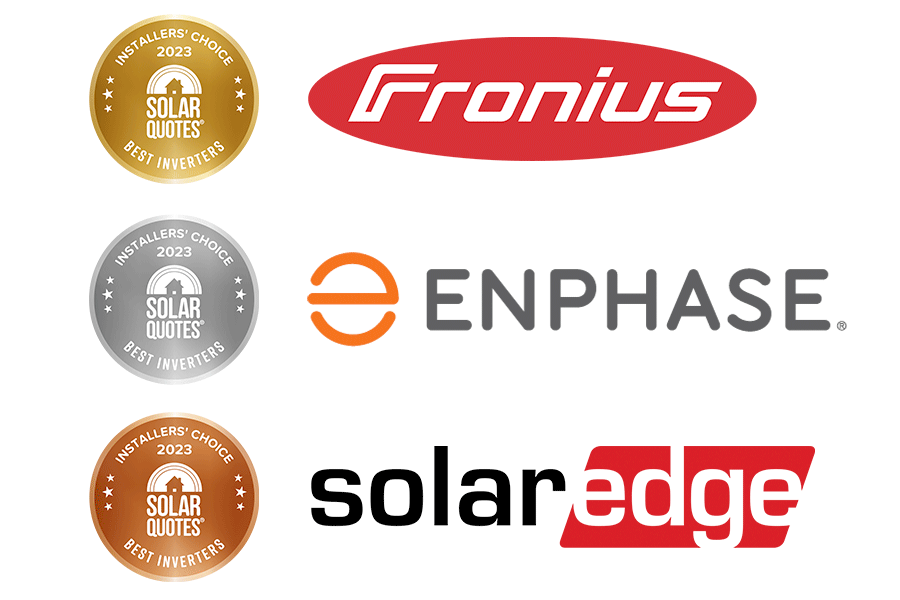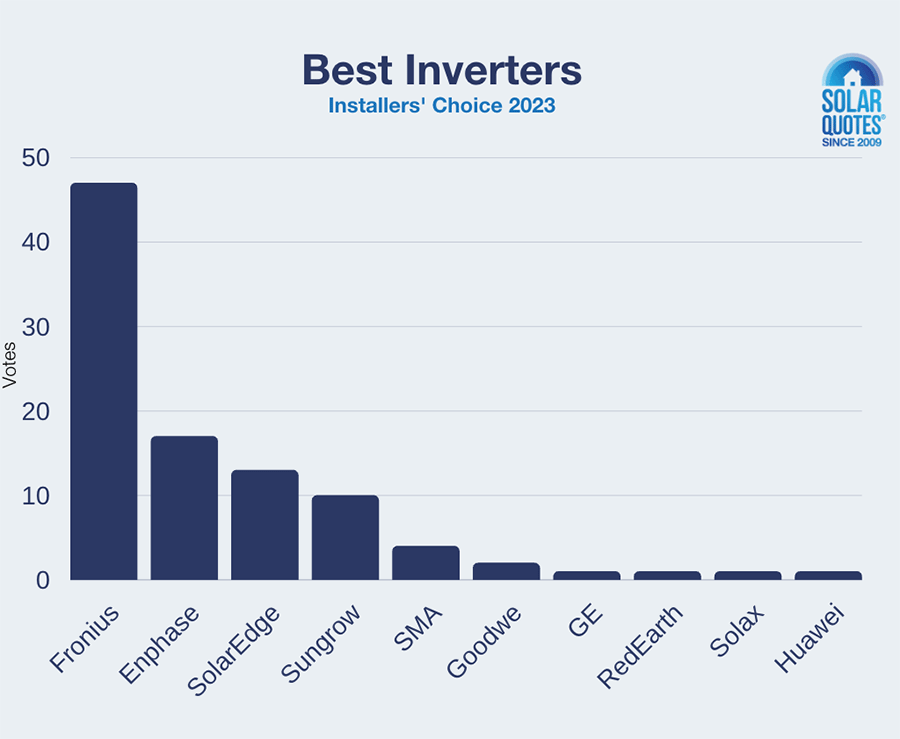 Best Inverters 2023 Winner: Fronius
Fronius wins the top spot for the third year in a row with an incredible 48% of all votes cast.
Fronius keeps getting more popular with Australian installers, growing their share of the vote every year: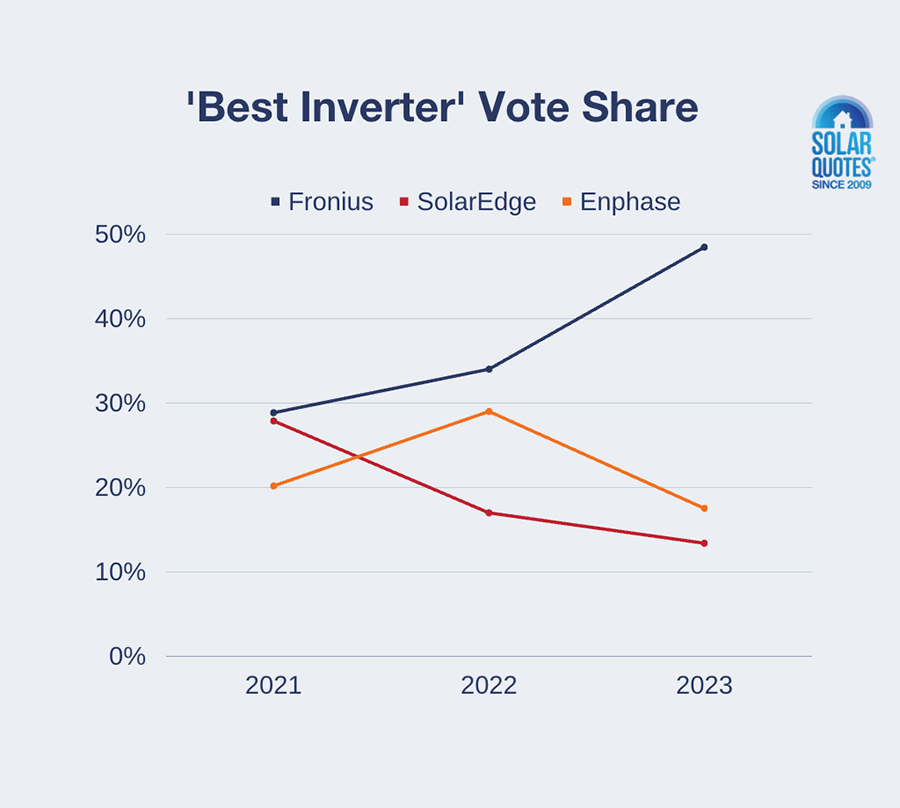 If you buy a Fronius inverter in Australia in 2023, you will almost certainly be offered their new Gen 24 Model rather than the old 'SnapINverter' design – which is getting phased out.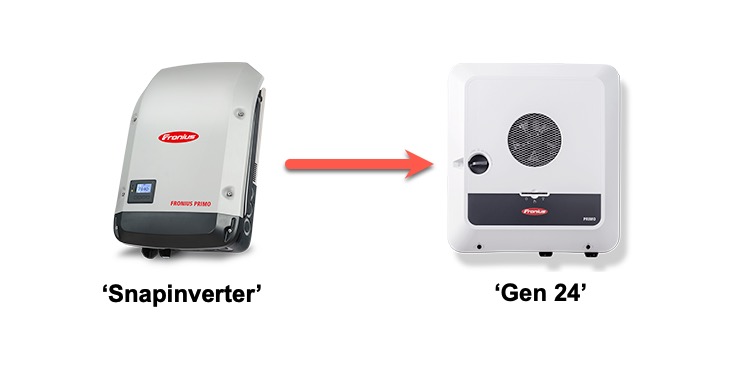 And that's good news. The Fronius Gen 24 is a worthy successor with two headline benefits:
It is much quieter. The only problem with the SnapINverter design was how noisy it could get at high power. While the Gen 24 is not silent, I think it is quiet enough not to worry about. I like how Fronius has kept the forced cooling with a fan, as forcing the heat out must be good for the longevity of the electronics, especially in hot Australia.
All Gen 24 inverters can be upgraded to control a battery with an over-the-air, paid upgrade. This means you can buy the solar-only inverter for about the same price as the old SnapINverter, and if you decide to add a battery later, pay about $1,000 to upgrade. This is cheaper, greener and better than replacing the inverter or adding a second inverter just for the battery. But be aware that your only battery option at present is a BYD battery.
If you want a robust, high-quality inverter with an easy upgrade path to BYD batteries, Fronius is a great choice.
I have a Fronius Primo SnapINverter that has performed faultlessly for five years and counting.
Watch for an in-depth post on the Fronius GEN24 hybrid from our installer-in-residence, Anthony, soon.
Best Inverters 2023: Second Place –  Enphase
Keeping its second spot from 2022, but with its lowest ever percentage of votes (17.5%), is Enphase.
Enphase makes microinverters, with their current flagship product in Australia being the IQ7A that can work with panels up to 465W.
Enphase's big advantages for me are:
The voltage on your roof is kept at 230V AC – no high-voltage DC
Individual panel monitoring
Great on complex roofs
Very reliable microinverter hardware
Their disadvantages are:
They cost more than a Fronius GEN241.
The warranty on the Envoy communications box is a stingy 5 years (10 years on microinverters).
Their monitoring software is awful.
The company is reportedly a big meanie when allowing third-party access to its APIs. So some of your favourite apps won't be able to talk directly to your Enphase solar for monitoring, control or curtailment.
I have 35 IQ7As on my roof. I chose Enphase because I don't want high-voltage DC running through my straw-bale walls2, I like the hardware, and thankfully I can use the Tesla app for monitoring instead of the mediocre Enphase one. One thing that is very frustrating though is I can't find a third-party app that can curtail the Enphase solar when the wholesale price goes negative. I suspect this is because Enphase HQ reportedly make API access too expensive to be viable for a lot of developers. Hopefully, they'll change this self-defeating stinginess soon.
Their upcoming IQ8 microinverters, which Enphase claims can run happily without a grid connection or battery, have been imminent for as long as I can remember. The current promise is the second half of 2023 for their Australian release. Let's see.
Best Inverters 2023: Third Place – SolarEdge
SolarEdge came third despite losing vote share since we started counting. From 28% of votes in 2021, to 17% in 2022 and 13% in 2023. The numbers tell me that more and more Australian installers are moving away from SolarEdge. Funnily enough, many Aussie installers are telling me that too, with frustrations around support and inverter availability in Australia running high recently.
But having said that, 13% of installers in our network are very happy with SolarEdge, and their new EnergyHub inverter with built-in consumption monitoring is a smart move. The 12-year warranty is nice too.
And if you want to upgrade to a battery in the future, then the SolarEdge Energy Hub can happily control the 10 kWh SolarEdge battery with no other hardware required other than an optional backup box.
Best Value Inverters In Australia 2023
If money is tight and you want to reduce the upfront cost of your solar power investment by about $1,000, then you may consider a lower-cost inverter than the three above. We asked the installers which inverter they'd recommend for folks on a budget – here are the results: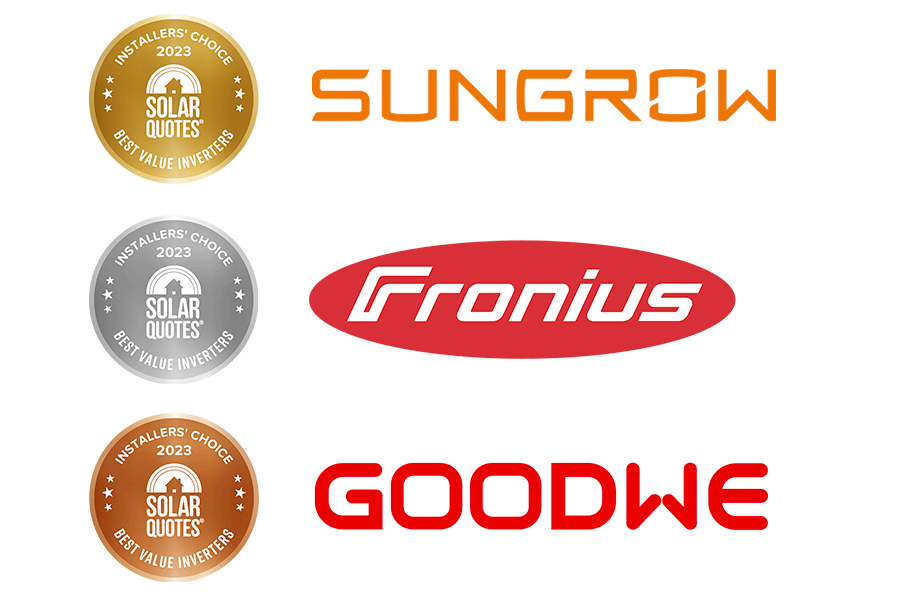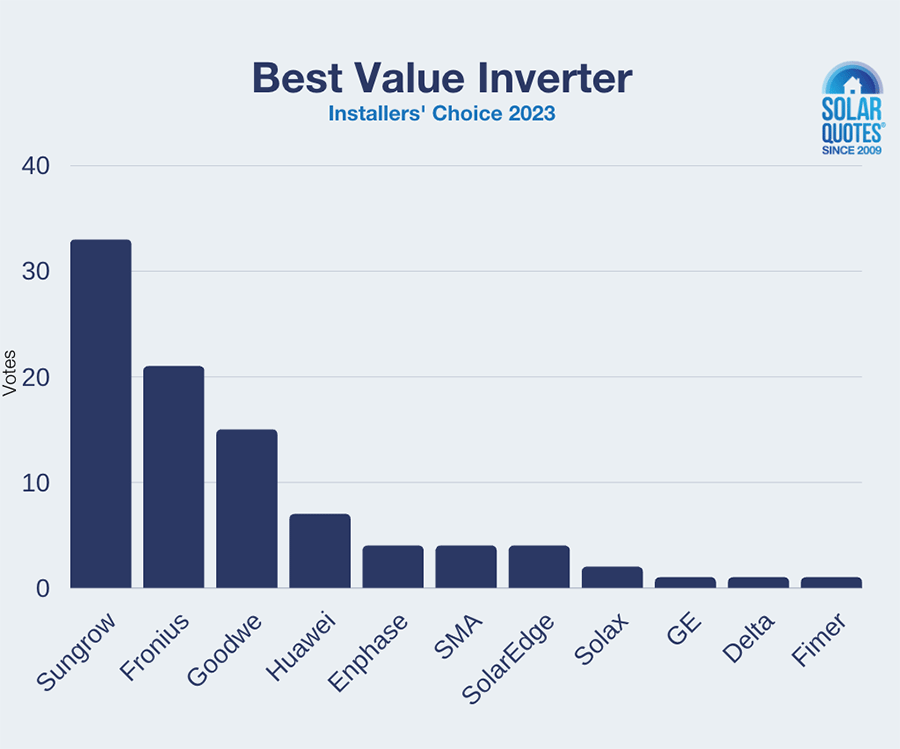 Best Value Inverter: First Place  – Sungrow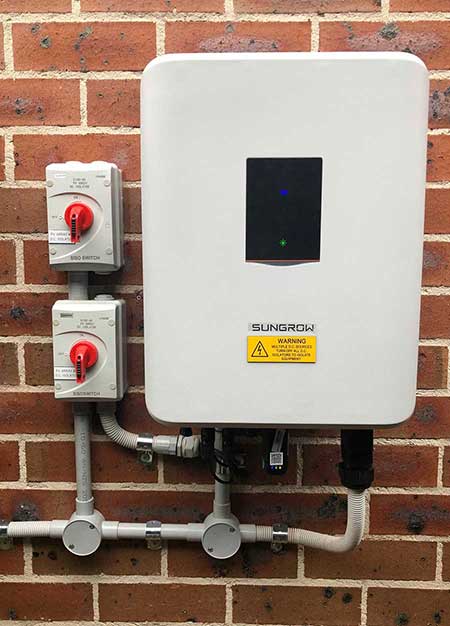 Sungrow takes the top spot for best value inverter for the third year.
Whatever you need, Sungrow makes it: single-phase solar, three-phase solar, and single and three-phase hybrid inverters with full backup.
Their solar inverters come with an industry-standard 10-year warranty – but their hybrids are a disappointing five years.
Reviewers are very happy with the hardware, often less so with the monitoring app. These reviews are from just one week ago:
"The phone app is a bit sketchy at times, poor connectivity, drop outs. The unit itself looks fine and is quiet "

"The wifi for isolarcloud can not be connected for some reason which is very frustrating. "
If you a looking for a cheap, but not too cheap, solar inverter, Sungrow is a solid choice. If you are looking for a hybrid inverter, the Sungrow hybrids let you use the great value Sungrow battery, with full backup – even on 3-phase.
If you want an alternative to the Sungrow app for monitoring – Solar Analytics can talk to Sungrow inverters without any other hardware required.
Best Value Inverter: Second Place – Fronius
Funnily enough, Fronius do not make a budget inverter. So what's going on? It's simply that many installers don't believe in installing anything other than a Fronius. Many will claim that saving money upfront is a false economy when Fronius is so reliable and well-supported. It's a strong argument.
Best Value Inverter: Third Place – Goodwe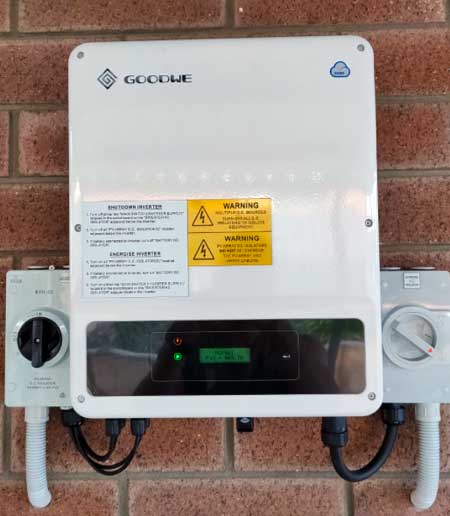 GoodWe seems to be a hardware maker on the up, developing a solid reputation for good products that are straightforward to set up properly, do what they say on the tin and are a little cheaper than Sungrow.
Recent reviewers generally like the hardware, but as with most budget brands, the app could use some improvement:
"So far, so good. The app gives good information but is basic. Have seen others that provide a bit more detail – this is definitely not a deal breaker though. "

"This inverter is fine, the monitoring portal is average, it does what it needs to but could be much nicer to use and consume info from. "
The good news is Goodwe is now compatible with Solar Analytics software – so you – if you pay the licence – you can use that for monitoring instead of Goodwe's app.
One reviewer says his fanless unit makes a lot of noise – which is puzzling – and reported temperature monitoring errors are a worry:
"The inverter (Goodwe GW5000-EH) does make a noise when solar production is high. It is supposed to be fanless and <35dB, however Sunrun + Goodwe have come back to say it seems normal. It does measure at ~45dB but that's without a sophisticated noise meter. The inverter app also tells me that the inner temperature seems to run from 4 to 7 degrees (yes that's right) which doesn't seem correct."
Goodwe warranties are good, recently increasing to 10 years3 for parts and labour. As with many manufacturers, there are also exclusions on some of the accessories, such as internet dongles, which I think is a rort if you're supposed to have the internet to maintain the warranty in the first place.
Inverters: Best After-Sales Support
Support is super important with an inverter because it's the brains of the system; there is a lot to be configured, and most problems down the track will involve the inverter.
Here are the winners: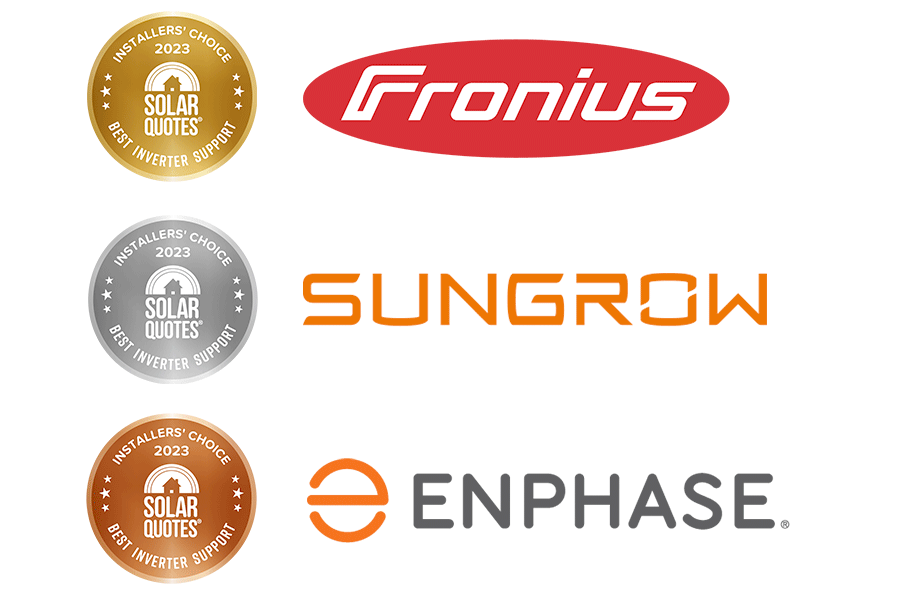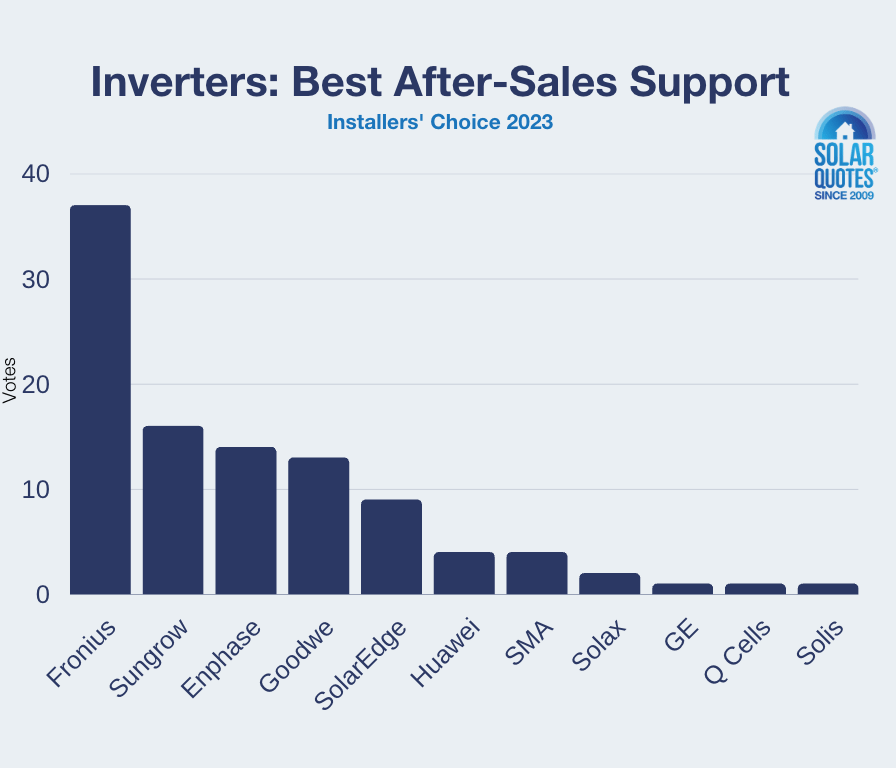 With Fronius winning again, Australian installers are making a compelling case to install a Fronius, with Sungrow as a great budget option and Enphase if you like microinverters. All three have solid Australian support presence staffed with local, knowledgeable and helpful staff.
See all SolarQuotes recommended solar inverter brands here.
Also check out: SolarQuotes Installers' Choice Awards 2023 – Best Solar Panels | Best Home Batteries | Best EV Chargers.