REC solar panels review
Overall Rating From 55 Reviews: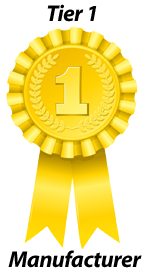 REC
REC is short for Renewable Energy Corporation. The company was founded in Norway and and its headquarters are still there, but but its solar panels are produced in Singapore.
They produce tier one panels with 10 year product and a 25 year performance warranties that are certified as corrosion resistant. REC has an Australian office in Melbourne.
A US Company Has A Similar Name
There is a company in the United States called REC Solar that installs commercial scale solar for businesses. They do not make their own solar panels. It is easy to confuse the two when looking for information on REC.
Manufacturing Capacity
REC is medium sized producer of solar panels. Their manufacturing capacity was around 1.3 gigawatts at the end of 2016. This means it would take them only 4 years to produce as much solar capacity as the whole of Australia had installed at that time.
Company History
REC was founded in Norway in 1996 under the name Fornybar Energi AS and produced its first silicon wafer in 1997. It became REC after merging with another company in 2000. By taking advantage of Norway's comparatively cheap hydroelectric power, for a period at the start of the century, they become the world's largest producer of multicrystaline silicon wafers used to make solar cells.
In 2008 and 2009 REC opened two new multicrystalline wafer factories in Norway. Then the company run into financial difficulties and shut them down permanently a few years later in 2011 and 2012. In retrospect it wasn't a very bright move, but these are the sort of mistakes companies make when for some reason they decide not to predict the future with 100% accuracy.
In 2010 they started production of solar panels in Singapore, and currently in December 2016 that appears to be where all their panels are produced. REC is expanding capacity at this facility.
REC is building a factory in China as a joint venture that should become operational in mid-2017.
REC Solar Panels
REC produces two series of panels that are of standard size and likely to be used on residential roofs.
The first are called the REC Peak Energy Series. Their efficiencies range from 14.8% to 15.8%. They are certified as corrosion resistant, making them suitable for installation in coastal areas.
The second are called the TwinPeak Series. They are 16.1% to 17.3% efficient and certified as corrosion resistant. They are an interesting design because they are divided into top and bottom halves and if one half is shaded it won't affect the output of the other. This makes them more tolerant to partial shade and soiling than many other panels. But if they are installed where there is no shade it is of little benefit. And like all solar panels they perform terribly when fully shaded.
I don't know the details of how Twin Peaks panels are packaged, but if they come wrapped in plastic that would make me as happy as that gum I like coming back in style.
REC Panel Failure Rate
On the REC site they state:
"...out of 4 million panels manufactured each year, just 400 might come back as product claims."
Apparently they like the number 4, because that is the same as saying their failure rate is around 1 in 10,000. But the number 4 and death are often associated in Singapore.
While those seem like good odds, they don't say this is the predicted failure rate over the panel's lifespan. It instead appears to be their failure rate when they are new, which isn't nearly as impressive as if it was over 25 years.
REC Is Not Very Bright When It Comes To Warranties
On their internet site there is a video that proudly proclaims they have:
"...the highest quality solar panels on the market."
But despite this, they only offer a 10 year product warranty.
You'd think with the highest quality panels on the market they'd be able to offer a longer warranty, wouldn't you?. After all, Solarwatt panels are on the market which means they must be of worse quality, yet they have a product warranty of 30 years. You would think that since REC panels are of higher quality they could manage at least 20 years. But, despite the beneficial effect it would have on their sales, they seem to be sticking with 10 years. This is despite the fact that a 12 year product warranty is becoming the norm for tier one panels.
REC Is Ranked As Most Financially Secure Solar Panel Manufacturer
Solar panel manufacture is a very competitive business and many companies have gone bust, leaving customers without warranty support. Currently dark clouds hang over the futures of many panel producers.
But the clouds over REC are extremely tenuous. They're more of a light mist, really. Because of the company's current financial stability, REC has been ranked as the panel producer least likely to go belly up.
But things can turn around very quickly. Just 5 years ago REC couldn't afford to keep their fjord factories open and shut down production in Norway. It's hard to predict what things will be like in another 5 years.
High SVTC Rankings For Sustainability And Ethical Behaviour
The Silicon Valley Toxics Coalition, or STVC to its friends, produces an annual scorecard where they rank panel producers on environmental sustainability and ethical behaviour.
REC came 4th out of 32 manufacturers in their latest report which was for 2015. In 2014 they came 5th and in 2013 they came 6th.
My Recommendation
REC produce quality tier one solar panels and I would have no problem installing them on my roof.
Rating
Comments
Name
State
Postcode
Make sure you install optimisers if you have shading to get max performance out of each panel and if (I believe) if you have intentions of installing batteries in the future.
Bought From: Solahart Review Date: 16 August 2016
Neil
TAS
7253

Bought From: Solahart Review Date: 26 January 2016
Jeff
NSW
2444
The panels (3.5kw nameplate) are generating full capacity for the Fronius inverter even when the sun hasn't gotten far enough across the sky to directly face the (NW) panels.
Bought From: Local Power Review Date: 10 April 2016
Alwyn
QLD
4285

Bought From: Solahart Review Date: 24 January 2016
Max
NSW
2463
Operating as expected
Bought From: Infinite Energy Review Date: 4 December 2015
Rob
WA
6076

Bought From: Green Energy Options Review Date: 20 November 2015
Diane
VIC
3228

Bought From: Infinite Energy Review Date: 12 November 2015
Brett
WA
6280

Bought From: Infinite Energy Review Date: 7 November 2015
Steve
WA
6030

Bought From: Local Power Review Date: 28 October 2015
Richard
QLD
4069
I Can't really assess the performance of the panels other than to sat the system overall is still working.
Bought From: Energy Matters Review Date: 7 February 2016
Andrew
VIC
3145
No problems at all.
Bought From: Greenlife Solar Energy Review Date: 29 September 2015
Frank
SA
5070

Bought From: Greenlife Solar Energy Review Date: 16 September 2015
Janet
SA
5086

Bought From: Infinite Energy Review Date: 12 September 2015
Peter
WA
6015

Bought From: Infinite Energy Review Date: 28 July 2015
Martin
WA
6225
Faultless after 9 months
Bought From: Infinite Energy Review Date: 25 July 2015
Neil
WA
6210

Bought From: Infinite Energy Review Date: 3 July 2015
Chris
WA
6316
It has only been 9 months of service but all is working well. No issues.
Bought From: Infinite Energy Review Date: 10 June 2015
Joel
WA
6158

Bought From: Green and Gold Solar Australia Review Date: 21 May 2015
Andrew
QLD
4203
Despite having a total of 5.71kw on the roof, we never got much more then 5kw peak output. Probably due to the heat?
Bought From: Infinite Energy Review Date: 9 May 2015
Soren
WA
6167

Bought From: Infinite Energy Review Date: 8 April 2015
Peter
WA
6210

Bought From: LG Energy Review Date: 15 March 2015
Phil
NSW
2487

Bought From: Infinite Energy Review Date: 3 December 2014
Garry
WA
6023
Never had another set of panels so cant compare it performance wise but seems to work well. Have a 5.5KW system and regularly get 4.5kw - 5kw of power from them.
Bought From: Green and Gold Solar Australia Review Date: 14 July 2014
Conor
QLD
4557

Bought From: Solahart Review Date: 7 May 2014
Anon
QLD
4154
Too early to tell yet as the system is only 6 months old
Bought From: Energy Aware Review Date: 9 April 2014
Kim
NT
810

Bought From: Energy Matters Review Date: 21 March 2012
Tim
QLD
4563
Have cleaned them once in the first year.
Bought From: Energy Matters Review Date: 19 June 2011
Vik
ACT
2602

Bought From: V Solar Review Date: 23 May 2011
Errol
QLD
4223

Bought From: Energy Matters Review Date: 1 March 2011
Steven
NSW
2715

Bought From: Solar Solar Review Date: 7 October 2011
Patrick
QLD
4034
We added 10 more panels in August to bring the system up to capacity. The initial 7 worked very efficiently, our power bill was almost halved so we hope to at least break even.
Bought From: Energy Matters Review Date: 4 June 2011
Bob
TAS
7304

Bought From: Sunshine Coast Solar Review Date: 27 June 2011
Ian
QLD
4557

Bought From: Energy Matters Review Date: 30 April 2011
John
SA
5255

Bought From: Sunshine Coast Solar Review Date: 12 September 2011
Bob
QLD
4565

Bought From: Assured Class Electrical Review Date: 8 May 2011
Ramon
SA
5352
They seem to be performing just fine so far.
Bought From: Energy Matters Review Date: 5 September 2011
Don
QLD
4815

Bought From: Energy Matters Review Date: 20 June 2011
Amelia
VIC
3057
Very happy with the performance, wish I had gone for maximum 5kw, on sunny day like today, we generate over 20kw, summer about 24kw.
Bought From: Energy Matters Review Date: 2 August 2011
Ginny
VIC
3451

Bought From: Solar Centre Review Date: 16 April 2011
Lindsay
QLD
4550
As above, they work in well with the inverter.
Bought From: GWM Solar Review Date: 5 June 2011
Murray
VIC
3518

Bought From: Energy Matters Review Date: 9 June 2011
Gregor
VIC
3162

Bought From: RK Solar And Consulting Review Date: 16 May 2011
Dennis
NSW
2170

Bought From: Energy Matters Review Date: 13 April 2011
MICHAEL
SA
5043

Bought From: Energy Matters Review Date: 22 August 2011
Irene
WA
6171

Bought From: Energy Matters Review Date: 6 September 2011
Max
SA
5556
No dramas at all - they seem to be performing fine. Added an additional 13 235w panels for the upgrade. Installer manufactured a framework on-site so we could utilise both pitches of our second roof area - great work!
Bought From: Mode Electrical Review Date: 1 May 2011
Graeme
TAS
7250
235w x14 =3.3 im in credit from approx $450 p/qtr
Bought From: Nicholls Solar Review Date: 3 May 2011
Charles
QLD
4069

Bought From: Solaris Solar Energy Review Date: 29 November 2010
Anon
QLD
4300

Bought From: Energy Matters Review Date: 13 December 2010
Grant
QLD
4564
rec and et panels excellent quality and excellent performers,
Bought From: Energy Matters Review Date: 4 November 2010
Mark
TAS
7250
I have 14 rec panels which provide a nominal 3.3 kva they seem to produce about 2.7 kva in good sun conditions with occasional spikes to 3 kva.
Bought From: Sunshine Coast Solar Review Date: 26 August 2010
Denis
QLD
4557
Again, haven't even given them a thought. they just sit there and do their job. Today, eg, sunny day with some clouds, early spring, yet we still generated 2.85 kW with a 3 kW system. Can't help smiling.
Bought From: Energy Matters Review Date: 13 October 2010
Donna
TAS
7307

Bought From: Omega Solar Group Pty Ltd Review Date: 23 September 2010
R
QLD
4211

Bought From: Energy Matters Review Date: 20 February 2011
Brian
SA
5096
Just need to be aware that you need to clean the solar panels, especially after rain that leaves your car looking dirty
Bought From: Energy Matters Review Date: 7 December 2010
Jan
VIC
3018