What are the best solar panels to put on an Australian roof in 2022?
I think the best people to answer that question are professional, Australian installers.
Installers:
a) work with the different panel brands every day.
b) must support those panels for the duration of their 10-40 year warranties.
Australian Consumer Law says the company selling you a product has ultimate responsibility for honouring the manufacturer's warranty. So any installer planning on being in business for the long term should only sell panels they are very confident in.
We started surveying installers in the SolarQuotes network about their favourite solar panel brands last year. This year – in 2022 – we asked them again.
The SolarQuotes Installers' Choice Awards 2022
We asked the 400+ installers in the SQ network two questions:
What solar panel brand would you put on your own roof in 2022 – if money was no object?
What solar panel brand would you put on your own roof in 2022 – if money was tight – and every dollar counts?
The results demonstrate what brands the installers trust for both top-of-the-range solar systems and – just as importantly – for quality budget systems.
Note: Choosing good brands is important, but you also need to ensure the system is well installed. The difference between a good and bad solar installation makes all the difference. 
Here are the results:
Best High-End Solar Panels In Australia: 2022 (Money No Object)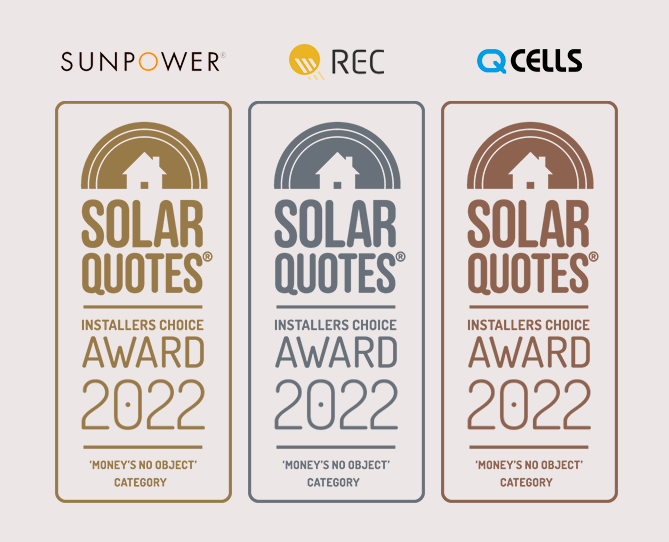 We asked SolarQuotes installers:
What solar panel brand would you put on your own roof if money was no object?
Here's what they told us their favourite 'top of the range' brands are in 2022:
First Place: SunPower (27% of votes)
SunPower has always been one of the go-to premium panels for Australian solar installers, storming up from 3rd place last year to first place this year.
Just last month, SunPower announced an astonishing 40-year product warranty on their Maxeon panels. As a publicly listed company, to make such a courageous move, it would be a good bet that they have a lot of empirical evidence those Maxeon panels will last well beyond 40 years.
Personally, I love SunPower panels. However, their top-end Maxeon panels are very pricey. Expect to pay three times more per watt than a good budget panel.
If you still want the SunPower brand – but prefer to spend a little less money – their P Series 'shingled' panels are worth consideration at almost half the cost of the Maxeon. And if you are a micro-inverter fan, you can get AC versions of all the SunPower models with an Enphase IQ7 micro-inverter preinstalled at the factory.
You can see 706 user reviews of SunPower panels here.  Australian homeowners are pleased with their SunPower modules – with many commenting on their aesthetics:
"So far the panels have been working brilliantly and generating plenty of power, even on cloudy days. As a bonus, the panels look great, very sleek!"
Second Place: REC Solar (18% of votes)
Keeping their well-deserved second place from 2021 is REC Solar, whose line of Alpha panels peaks at 410W and are revered amongst those who install them. 
New for 2022 is the REC Alpha Pure promising lead-free construction. You can see 652 ratings for REC solar panels from Australian homeowners here. You'll see that they have an average of 4.8 stars and comments such as:
"We got Alpha black panel and we are really pleased they look great and they are performing really well."
Third Place: Hanwha Q-Cells (12% of votes)
Q-Cells is new to the 'Australia's Greatest Solar Panel Brands' podium for 2022.
Hanwha Q-Cells started in Germany but is now owned by giant Korean conglomerate Hanwha. Q-Cells has several panel models available in Australia, from cheapest to dearest: Q.Maxx, Q.Boost, Q.Peak and Q.Peak Duo.
Expect to pay about 20% more for the flagship Q.Peak Duo than the Q.Maxx or Q.Boost panels.
Q-Cells solar panels currently have 1194 Australian reviews with an average 4.8 stars. A common theme among reviews is their excellent low-light performance:
"Appear to work well, good production even on cloudy days."
"The system is producing power from very early in the morning to late in the afternoon and is performing well."
Best Value Solar Panels In Australia: 2022 (Every Dollar Counts)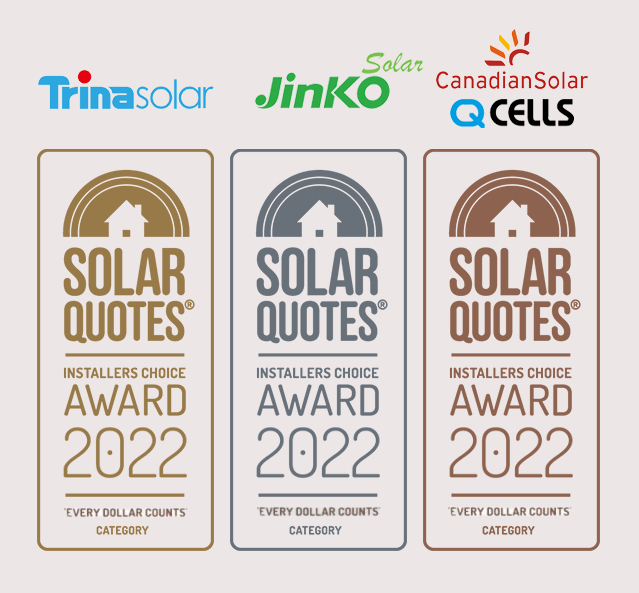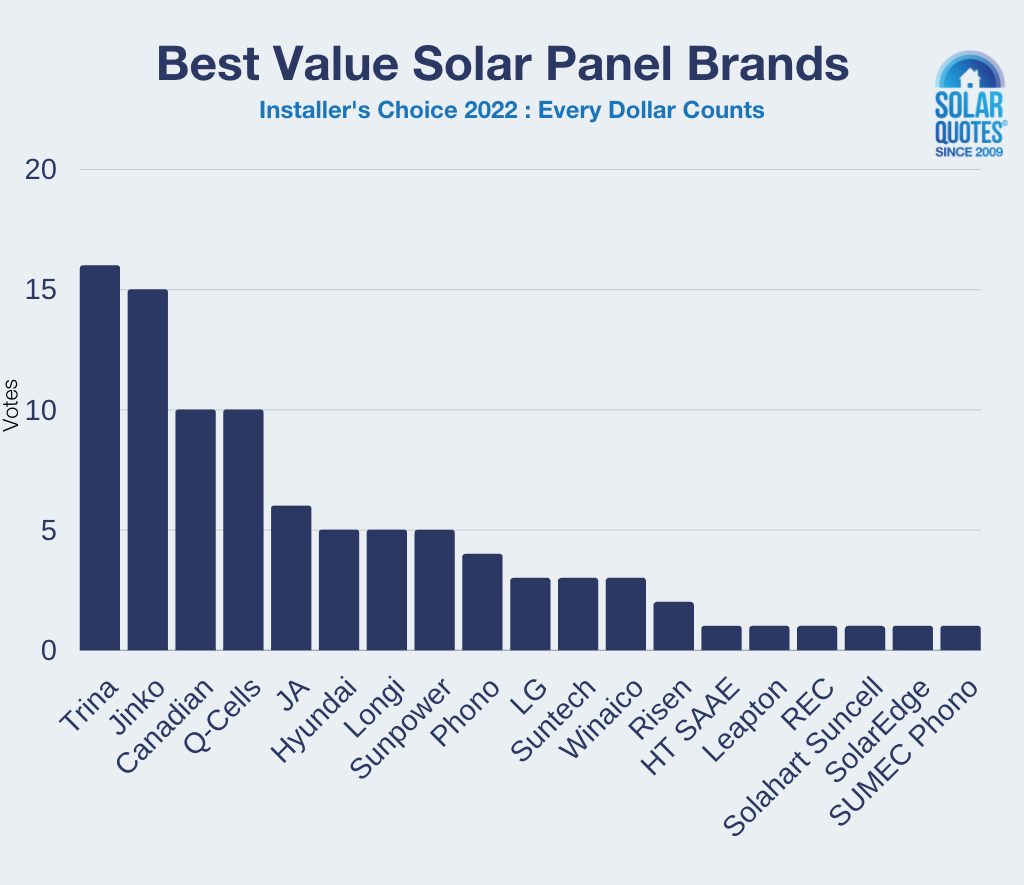 We asked installers:
What solar panel brand would you put on your own roof in 2022  if money was tight – and every dollar counts?
Here's what they told us their best value brands are:
Best Value – First Place: Trina Solar (17% of votes)
Trina must be doing something very right. Last year they climbed from fourth to joint second-largest solar panel manufacturer globally.
And in 2022, they held on to the top spot for 'Best Value Solar Panel in Australia' according to SQ installers.
Australian consumers rate Trina well, with 4.7 stars average from 1305 Trina solar panel reviews.
Best Value – Second Place: Jinko Solar (16% of votes)
Jinko is the fourth biggest solar panel manufacturer globally and holds on to their second place for 'Best Value Solar Panels' from 2021.
Jinko solar panel reviews average 4.7 stars with 1649 ratings from Australian owners at the time of publishing.
Best Value – Joint Third Place: Canadian & Q-Cells (10% of votes each)
Q-Cells & Canadian Solar tie for third place, kicking Longi off the podium – which took 3rd in 2021.
Q-Cells have the unique honour of a podium in Best Top-End, and Best Value solar panel. Quite the achievement when Q-Cells' cheaper Q.Maxx or Q.Boost product lines cost about 25% more than a Jinko, Trina or Canadian.
Canadian Solar also scored a well deserved 3rd place with their (not-made-in-Canada) panels having a good reputation in Australia. However Canadian Solar reviews score an average 4.7 stars compared to Q-Cells' 4.8.
Longi Not Very Strongi In 2022?
It was interesting to see the world's largest manufacturer, Longi, dropping down the rankings from 3rd last year to joint 6th in 2022.
We received this comment from an installer:
"Initially I would have installed the Longi in the Budget system but lately the quality of the frame has been slipping."
Footnote on LG solar panels:
We surveyed our installers in January 2022. LG Solar received enough votes for second place in the 'money-no-object' awards. But in February 2022, LG Electronics announced it will stop manufacturing solar panels. In Korea, some faceless accountant must have decided a rapidly heating world really didn't need more top-quality solar. Perhaps LG needed the money to improve the cyber security of their internet fridges?
So I removed LG panels from the podium, as you won't be able to buy them for much longer. Happily, the company has confirmed LG will honour all warranties – as they should.
Next week I'll reveal which inverters Australian installers voted for as the best in 2022.