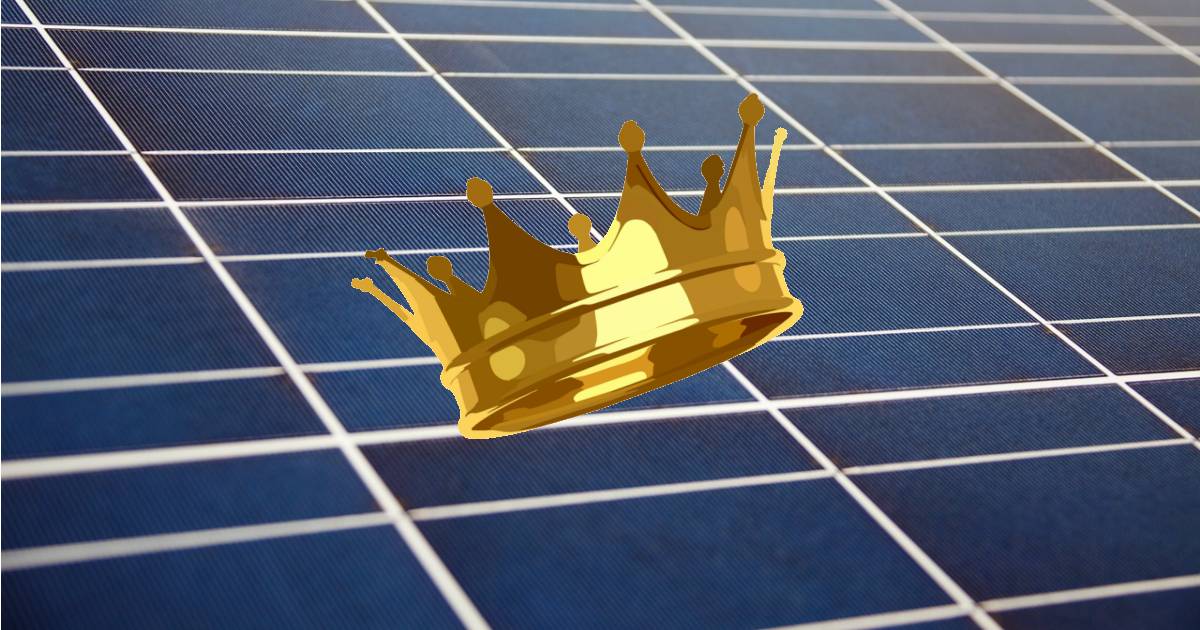 In spite of various challenges during 2021, shipments of solar panels and cells continued at a rapid clip. Here's who the top manufacturers were in each category.
Solar Panel Shipment Rankings: 2021
Chinese solar panel manufacturing giant Longi held on to the distinction of the top position in module shipment rankings for 2021 according to a recent report from PV InfoLink.
How the top ten rankings looked for 2021:
1. Longi
2. Trina/JA Solar
4. Jinko
5. Canadian Solar
6. Risen
7. Hanwha Q-Cells
8. First Solar
9. Suntech (Wuxi + Changzhou)
10. Astronergy
Capacity shipped figures weren't provided. Another company, GlobalData, used to publish top 10 rankings including estimated capacities, but I haven't seen a list from them for a couple of years.
PV InfoLink notes Longi shipped 10 GW+ more modules thanTrina and JA Solar, so its lead was by quite a margin. The research firm says the top ten manufacturers collectively shipped a total of more than 160 GW of modules, accounting for more than 90% of 172.6 GW of demand; far exceeding the previous 70% to 80%. The top 5 companies all shipped more than 10GW each – no surprise there as all were exceeding that or closing in on it a couple of years ago.
"Increasingly high concentration will make it even harder to medium and small-sized module makers to survive," says PV InfoLink.
Some smaller solar panel manufacturers focusing on high-end modules such as REC may beg to differ. And locally, Tindo Solar seems to be going gangbusters, capitalising on its Australian-made street cred.
As we've seen throughout the history of the SolarQuotes auSSII report series, there is a significant proportion of solar buyers looking for top-shelf gear. In the January 2022 auSSII report we noted 12% of quote requests in December selected the "top quality" (most expensive) system option.
Looking back at PV InfoLink's rankings for 2020, the changes in 2021 were:
Trina climbing from 4 to the equal second spot
JA Solar moving from 3 to equal 2nd
Jinko slipping from 2 to 4
Risen and Q-Cells switching places
Astronergy dropping from 8 to 10
First Solar up a spot from 9 to 8
Suntech moved up from 10 to 9
Solar Cell Shipment Rankings: 2021
Over to solar cells now, and PV InfoLink says the top 5 companies in 2021 for shipments (mono and multicrystalline cells) were:
1. Tongwei
2. Aiko
3. Runergy
4. Solar Space
5. ShanXi Lu'An
The rankings remained the same as in 2020.
I'm not familiar with any of those companies aside from Tongwei, and on a related note China's Tongwei also manufactures solar panels.
Tongwei panels have been sold under its own brand here in Australia since mid-2019 and are also produced for other companies, including South Korea's Hyundai Energy Solutions. Hyundai solar panels are also available in Australia –  the company exited the Australian solar market in 2011, but began re-supplying modules here in 2018 and they seem to have been pretty popular with local solar buyers.