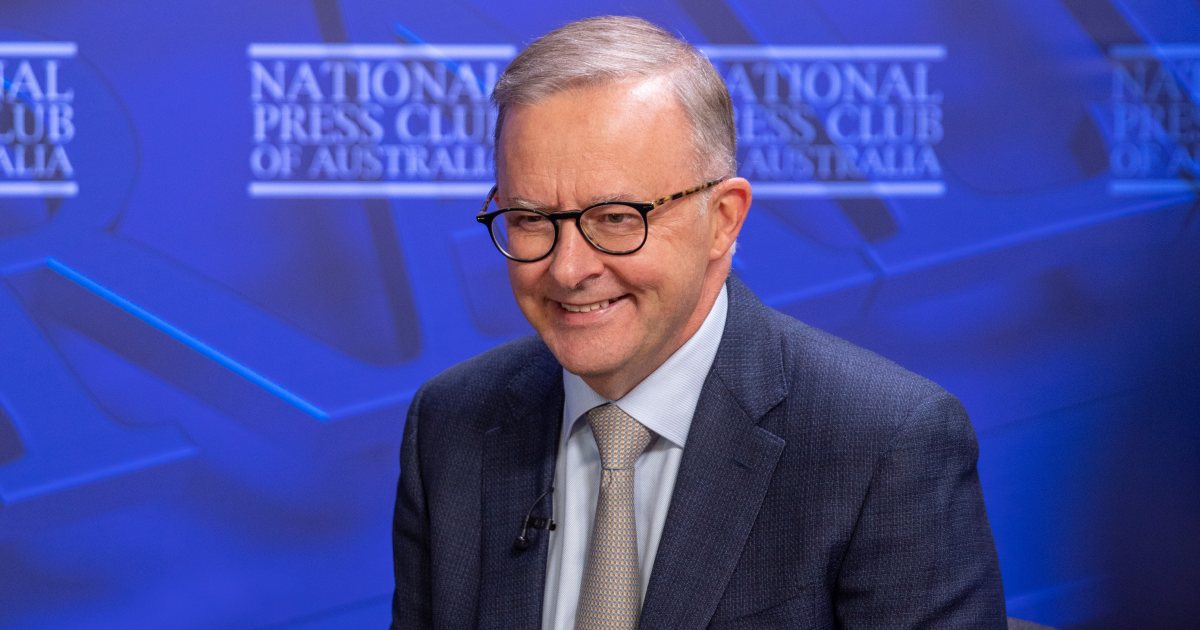 Australia's best days are ahead of us said Labor Leader Anthony Albanese in his National Press Club speech and Q&A yesterday that covered everything from rats (the test kind) to renewable energy.
Mr. Albanese unveiled Labor's Powering Australia Plan last month, which features initiatives including shared solar banks (aka "solar gardens") and community batteries.
In his address yesterday, there wasn't anything new mentioned – it was just a rehash of the plan's main highlights and his desire for Australia to become a renewable energy superpower.
He said more than 600,000 jobs will be created under Labor's plan
$52 billion of private sector investment
Power bills reduced by $275 by 2025 for the average family
"Unlike Mr Morrison's glossy pamphlet, Powering Australia is underpinned by the most extensive independent expert modelling ever done for any policy by any Opposition," said Mr. Albanese.
The "glossy pamphlet" Mr. Albanese was referring to is the Morrison Government's publication titled "The Plan to Deliver Net Zero – The Australian Way"1.
Putting The "Climate Wars" Behind Us?
Mr. Albanese said his party's plan has the support of the Business Council of Australia, Australian Industry Group,  Australian Chamber of Commerce and Industry, ACTU, National Farmers' Federation and a bunch of other NGOs; alluding to Labor also being the "broad church" former Prime Minister John Howard was fond of mentioning.
In summing up his comments on renewable energy, Mr. Albanese stated:
"We can – finally – put the climate wars behind us."
The sentiment is admirable, but while there's coal in the ground and gas beneath our feet, the price of peace will be eternal vigilance – well, for quite a while anyway. And it doesn't matter if those fossil fuels are being burned here or overseas; the end result will be the same for Australia.
A transcript of the speech can be found here, and the Q&A that followed here.
Chris Bowen Already Giving Away Batteries
On a related note, Shadow Minister for Climate Change and Energy Chris Bowen has been busy lately spruiking solar batteries of sorts; pledging various towns a community battery. There is a catch of course – Labor winning the upcoming election.
Maldon is a small town in Victoria in the Shire of Mount Alexander local government area that has seen strong solar power system uptake. Mr. Bowen was there on Monday, whipping up an energy storage frenzy.
"Half the houses in the lovely town of Maldon have solar panels," he said. "But there is not one battery in the town. Perfect place for a Community Battery!"
Still in Victoria, Torquay residents were also promised by Mr. Bowen they'll be able to store energy generated by their solar panels in a community battery. And so were residents of Coorparoo in Queensland.
So, that's at least three community batteries already spoken for and around 397 to go. Get in quick, contact Chris today with your community's pre-order.
Footnotes
"National identity is too often the refuge of scoundrels and populists feeding on fear and anxiety." – Stan Grant. Just saying. ↩