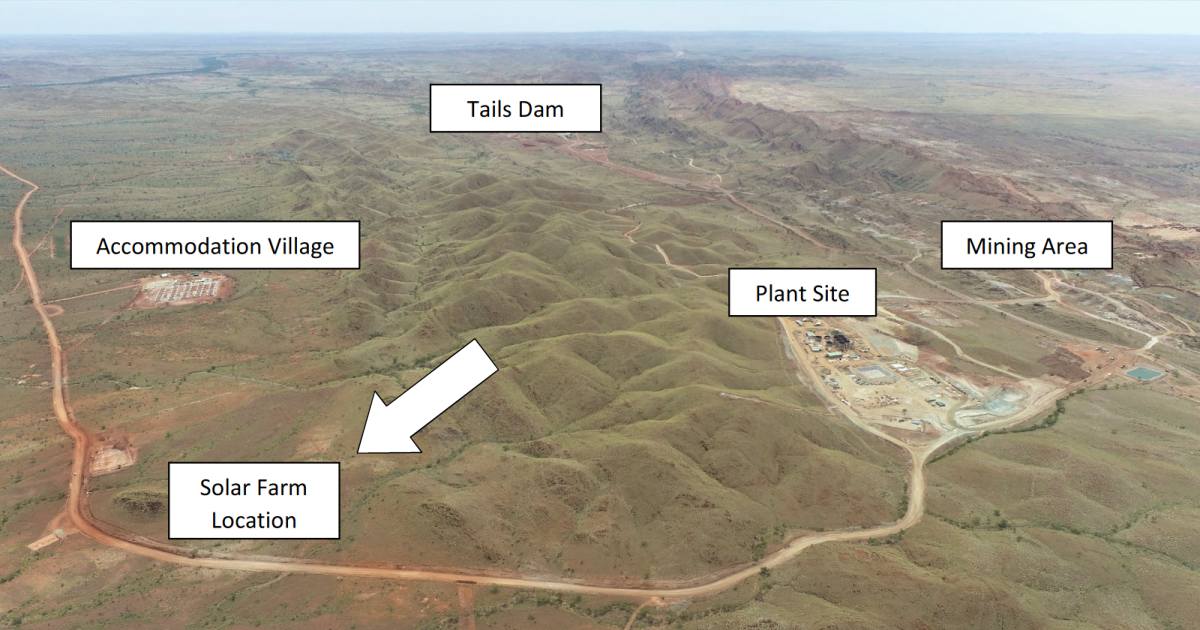 Calidus Resources has inked an agreement with Zenith Pacific for the construction of a solar + battery storage facility that will help power the Warrawoona Gold Project in Western Australia.
The Project is located in the Warrawoona region, approximately 150km southeast of Port Hedland and around 25km southeast of Marble Bar. Gold was first discovered at Warrawoona in 1897 and many of the tenements were owned by single prospectors or small local syndicates until 2016-17, when they were consolidated into a contiguous package by Calidus.
Calidus Resources commenced construction of the Warrawoona Gold Project early last year.
Zenith Pacific is constructing an 11MW gas fired power station at Warrawoona and will also build a 4MW solar farm with a 3.5MW1 battery energy storage system in the second half of this year. The PV facility will feed into the distribution line between the power station and accommodation village.
5B Maverick?
The announcement was accompanied by an image of a "comparable solar facility to what will be installed". The photo shows a 5B Maverick installation; but whether this is the solution that will be used isn't entirely clear. 5B Maverick is a portable and relocatable modular, pre-fabricated, pre-wired and pre-configured solar panel and racking system including ballast shipped in blocks that can be very rapidly deployed.
The mine's solar farm is quite a step up from what was originally envisaged, which was a 2MW "double-sided" (assumed to mean bifacial solar panels) facility.
The solar farm will come under the same Power Purchase Agreement (PPA) covering the gas-fired power station, meaning Calidus won't own either but buy the electricity the facilities generate from Zenith.
"Calidus is committed to carbon reduction as part of its ESG policy," said Calidus Managing Director Dave Reeves. "This renewable micro grid is a cornerstone to our carbon reduction plan which includes the use of LNG not diesel and the ability of the LNG gensets to use up to 25% hydrogen."
Other Australian Gold Mines Gone Solar
This won't be the first Australian gold mine to be partly powered by solar energy.
Among others is Australia's largest hybrid renewable microgrid situated at the Agnew gold mine in Western Australia, which commenced operations last year. The Agnew Renewable Energy Microgrid project consists of an 18MW wind farm, a 4 MW solar farm and a 13 MW / 4 MWh battery storage system, underpinned by a 16 MW gas engine power station (reported elsewhere as being a 21MW gas/diesel engine power plant). Other features of the project include predictive solar forecasting technology and demand-side load management.
It's expected the renewables aspect of the Agnew hybrid microgrid  project will provided equivalent to 60% of the mine's electricity consumption annually and reduce its carbon emissions by approximately 40,000 tCO2e/year.
Another gold mining operation in Western Australia to turn to solar and storage is Gold Fields' Granny Smith mine east of Laverton. It has an 8MW solar farm along with a 2MW /1MWh battery system integrated with an existing gas fired power station.
Footnotes
MWh capacity not mentioned ↩