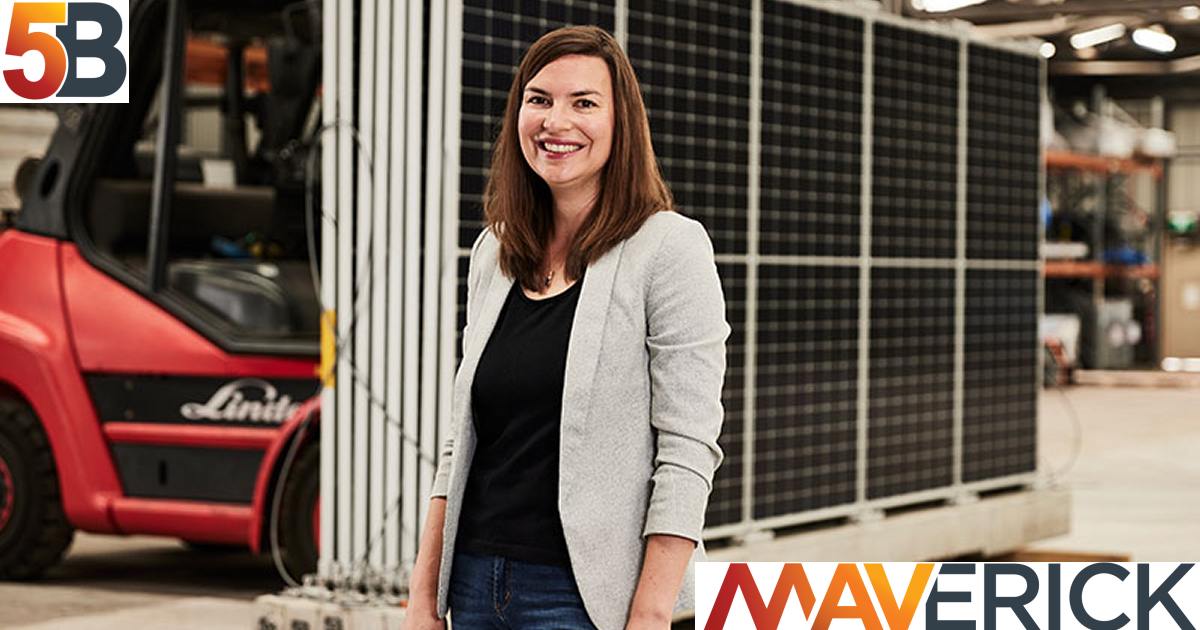 Australia's 5B is aiming to slash the capital costs of producing and deploying its revolutionary Maverick "solar farm in a box" solution by more than a third – and has received a helping hand from ARENA to do so.
5B Maverick  is a modular, pre-fabricated, pre-wired and pre-configured solar panel and racking solution including concrete ballast shipped in blocks that unfold, also known as "MAVs". The MAVs, each containing up to 90 x 540-550W solar panels, can be very rapidly deployed with minimum labour – in September last year 5B said  two crews of three people were able to install 578kW in a single day.
5B has received a lot of attention, particularly following Maverick being selected as the preferred technology for the massive proposed Sun Cable solar farm project in the Northern Territory. Among the operational 5B Maverick projects in Australia is an impressive installation at SA Water's Happy Valley water treatment plant in Adelaide's southern suburbs consisting of 30,000 solar panels.
As well as a bunch of positive attention, 5B has received a significant amount of cash backing too, with companies including major US energy company The AES Corporation investing in the firm.
Robots To Rev Up Maverick Rollouts
5B is keen to make Maverick even faster to roll out – and much cheaper.
The company has scored $14 million in funding from the Australian Renewable Energy Agency (ARENA) to support a $33.4 million project involving the development of a high volume, scalable and mainly automated manufacturing, assembly and deployment process line for Maverick.
"We are grateful for ARENA's support – investment like this is essential to realise the opportunity to build Australia's reputation as a clean energy superpower, exporting cutting edge clean technology to the world," said 5B Chief Operating Officer Nicole Kuepper-Russell (pictured above).
The goal is to reduce the capital cost of producing Maverick from AUD$0.88 a watt to AUD$0.56/W by the end of the project. Looking further ahead, 5B is pursuing an installed cost of AUD$0.29/W by 2030.
"5B is an Australian success story at the forefront of solar innovation," said ARENA CEO Darren Miller. "Having started in 2013, they are now becoming leaders in locally manufactured ultra low cost solar products that could reshape our solar industry and achieve our important aim of 30 cents per installed watt at utility scale by 2030."
In November last year, Federal Minister for Industry, Energy and Emissions Reduction Angus Taylor released the Low Emissions Technology Statement 2021 (LETS 2021), which contained a stretch goal of achieving 30% module efficiency at 30 cents per installed watt by 2030 – Solar 30 30 30. Last week, ARENA announced up to $40 million in funding to support research and development towards that goal.
Part of the 5B project includes development of a GPS guided field robotic system to automate and further accelerate the process of deploying Maverick. This is where 5B's relationship with The AES Corporation could be particularly handy – recently AES unveiled a robotic solar panel installer, and AES's robotics know-how could be valuable to 5B.