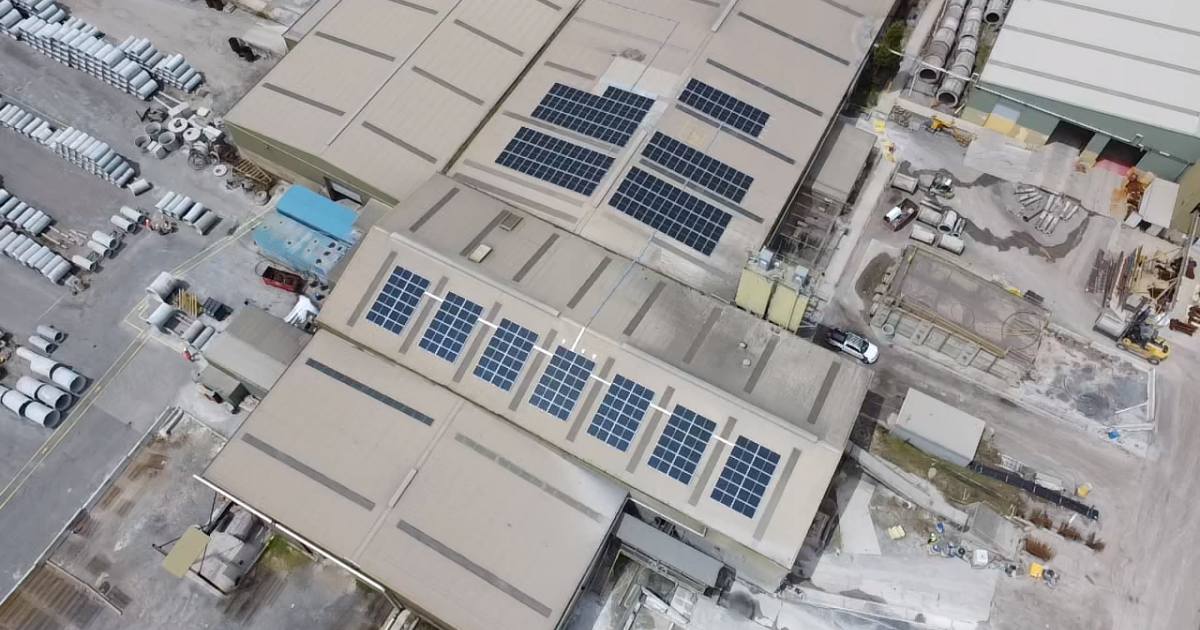 A major supplier of aggregates, readymix concrete and concrete pipe and products in Australia is in the midst of  a significant rooftop solar rollout.
Humes' parent company Holcim Australia announced on Sunday that as part of its efforts to lighten the company's carbon footprint, Humes will have solar power systems installed across ten sites by the end of March this year.
"With a total annual capacity of 1,100,00 kWh, the combined systems will generate enough energy to offset the electricity demand of Blacktown in Western Sydney, which is the location of one of Hume's largest production facilities," says Holcim.
There appears to be a missing zero and I don't think they meant the whole suburb, just their Blacktown facility. And by "capacity" it's assumed Holcim meant output. Total kW capacity of the systems wasn't mentioned, but images accompanying the news item show a couple of solar power installations already in place as part of the rollout with "99kWh capacity" each. It's also assumed Holcim meant 99 *kW*.
kWh – kilowatt-hour: a measure of energy produced, stored or consumed over time.
kW – kilowatt: a measure of power, the rate at which energy flows.
Learn more about the difference between power and energy – it's a handy thing to know when discussing solar.
All that aside, it's a great move by Humes/Holcim. The systems have been/will be installed at Humes locations in:
QLD: Townsville, Rockhampton and Ipswich
NSW:  Tamworth and Blacktown in NSW
VIC: Laverton (pictured above) and Echuca
SA: Pooraka
NT: Darwin
WA: Welshpool
If all the systems are 99kW, that would make for 990kW total capacity, which would (really roughly) generate about 1.46 million kilowatt-hours annually.
Why 99kW Systems?
If there are more 99kW solar systems involved, this likely isn't just some sort of really odd coincidence or Holcim's lucky number. Well, it is in a way.
Commercial solar systems 100kW or under are eligible for a very generous financial incentive in Australia known as the Small-scale Technology Certificate (STC) scheme. This is more commonly known as the "solar rebate" that is also available across Australia to households. But it's not actually a rebate; rather a generous up-front discount on the purchase of a system.
As Blacktown was mentioned, a 99kW system installed in Blacktown this year would attract 1,231 STCs. At a current market value of around $36 a pop after fees, the subsidy would be worth more than $44,000.
Once systems are over the threshold capacity, STCs can't be claimed – but Large-scale Generation Certificates (LGCs) can be. However, LGCs aren't as financially attractive as they once were, are a much more complex setup and must be accurately tracked, reported and claimed each year.
Holcim – Towards Net Zero
Holcim is a pretty big deal both here and abroad, with a bunch of brands under its wing and 70,000 people employed directly or indirectly (3,700 in Australia and New Zealand). The company considers itself a global leader in innovative and sustainable building solutions.
Where cement is involved, that's quite a statement in relation to emissions. According to CarbonBrief:
"If the cement industry were a country, it would be the third largest emitter in the world."
But Holcim has already been working on addressing this and says by 2030 it will have reduced its CO2 intensity by 40% since 1990 (Scope 1 and Scope 2 emissions). It has also committed to reducing scope 1 and 2 GHG emissions 95% per ton of cementitious materials by 2050 from a 2018 base year, and absolute scope 3 GHG emissions 90% by 2050 from a 2020 base year.