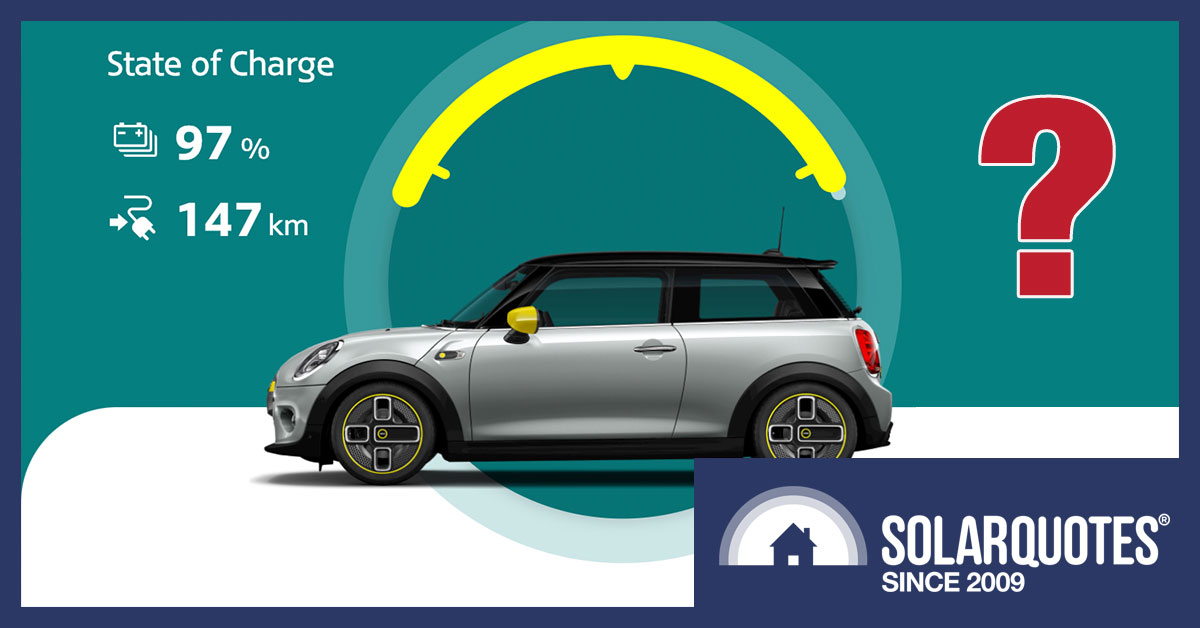 Electric car manufacturers know exactly how much range drivers get on average from a full charge.  Despite this, they continue to give inflated figures based on unrealistic tests rather than a realistic real-world range.
This annoys me so much I'm almost peeved. 
I decided to look up the real-world ranges of EVs and compare them to manufacturers' official figures to get to the truth. 
Unfortunately, I couldn't find good information on real-world ranges.  Not for Australia.  We're not exactly a hub of EV activity here.  At least, not compared to places like Norway or China. 
I found the ranges of EVs given by the European Electric Vehicle Database for when they are driven on a pleasant day without any heating or air conditioner use1.  This does not represent typical driving in Australia.  While we have more pleasant days than Europeans, right now, in the middle of summer, it's hard to remember such things even exist. 
The EV Database also has figures for real-world range that include heating and cooling, but because they may not reflect Australian conditions, I decided to give EV manufacturers a huge break and start with the figures that don't take cabin comfort into account.  This decision made me feel like I was bending over backwards to make EV manufacturers look good, but I needn't have worried because none of them actually managed to do that. 
The EV database does have "worst-case" figures for driving at -10 degrees that takes heating into account, but I'll ignore them as they may only apply to the very small number of Australians who drive in the Snowy Mountains or are in the habit of chucking laps around ice rinks. 
Electric Car Selection
The Australian Electric Vehicle Council site gives 33 fully electric and plug-in hybrid vehicles available down under — although some are easier to get your hands on than others. 
I'm only going to look at full EVs under $100,000.  I see little point in considering vehicles out of reach of normal Australians. If you spend over $100,000 on a car, it's not a form of transport, it's a statement to the world you weren't hugged enough as a child.
This means I'm leaving out the Tesla Model S, but you can read my review of the Tesla Model S here.  It's a great car, as it should be because it cost my boss over one hundred…  Oh. 
Maybe I shouldn't have brought this up. 
EV Manufacturer Website Ranges
Here are electric vehicle ranges taken from manufacturers' Australian websites2: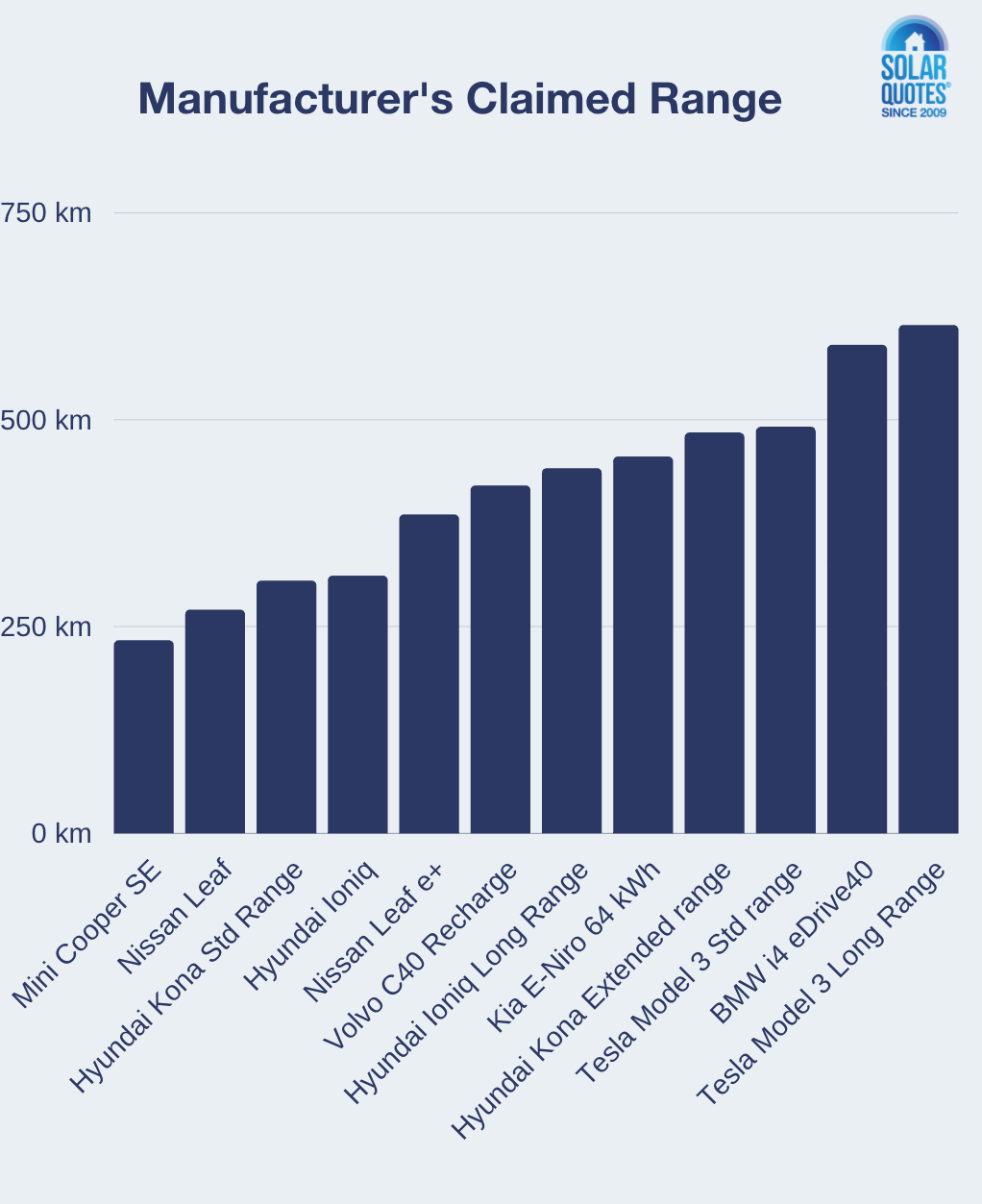 | | |
| --- | --- |
| EV Model | Claimed Range (km) |
| Mini Cooper SE | 233 |
| Nissan Leaf | 270 |
| Hyundai Kona Std Range | 305 |
| Hyundai Ioniq | 311 |
| Nissan Leaf e+ | 385 |
| Volvo C40 Recharge | 420 |
| Hyundai Ioniq 5 Long Range | 441 |
| Kia e-Niro 64 kWh | 455 |
| Hyundai Kona Extended Range | 484 |
| Tesla 3 Standard Range + | 491 |
| BMW i4 eDrive40 | 590 |
| Tesla Model 3 Long Range 75kWh | 614 |
In the graph above, the ranges don't look too bad.  When I drive around town, I average under 45 km per hour, so it appears even the shortest range electric vehicle — the Mini Cooper SE — is good for over 5 hours of city driving.  Unfortunately, appearances are deceiving.
Some of the manufacturers indicate their EVs aren't likely to have as much range as the figures they give:
The expression "up to" was used for the Hyundai Ioniq, Kona, and Kona Extended Range; as well as BMW i4 and Volvo XC40.
The more alarming phrase "maximum range possible" was used for the Electric Mini Hatch.
The Hyundai Ioniq 5 Long Range was given a range from 430 to 451 km.  I used 441 km because that's in the middle.
While it's a good thing they indicate their cars aren't likely to do that well in real life, I'm still annoyed because they could have easily given the actual range people get, but instead chose to keep that information from their potential customers.  Keep this in mind if you ever consider trusting them.
EV Database Figures
When I add the figures the EV Database gives for real-world ranges — without the use of any heating or cooling — to the graph, all vehicles lose range, but the results are better than I expected: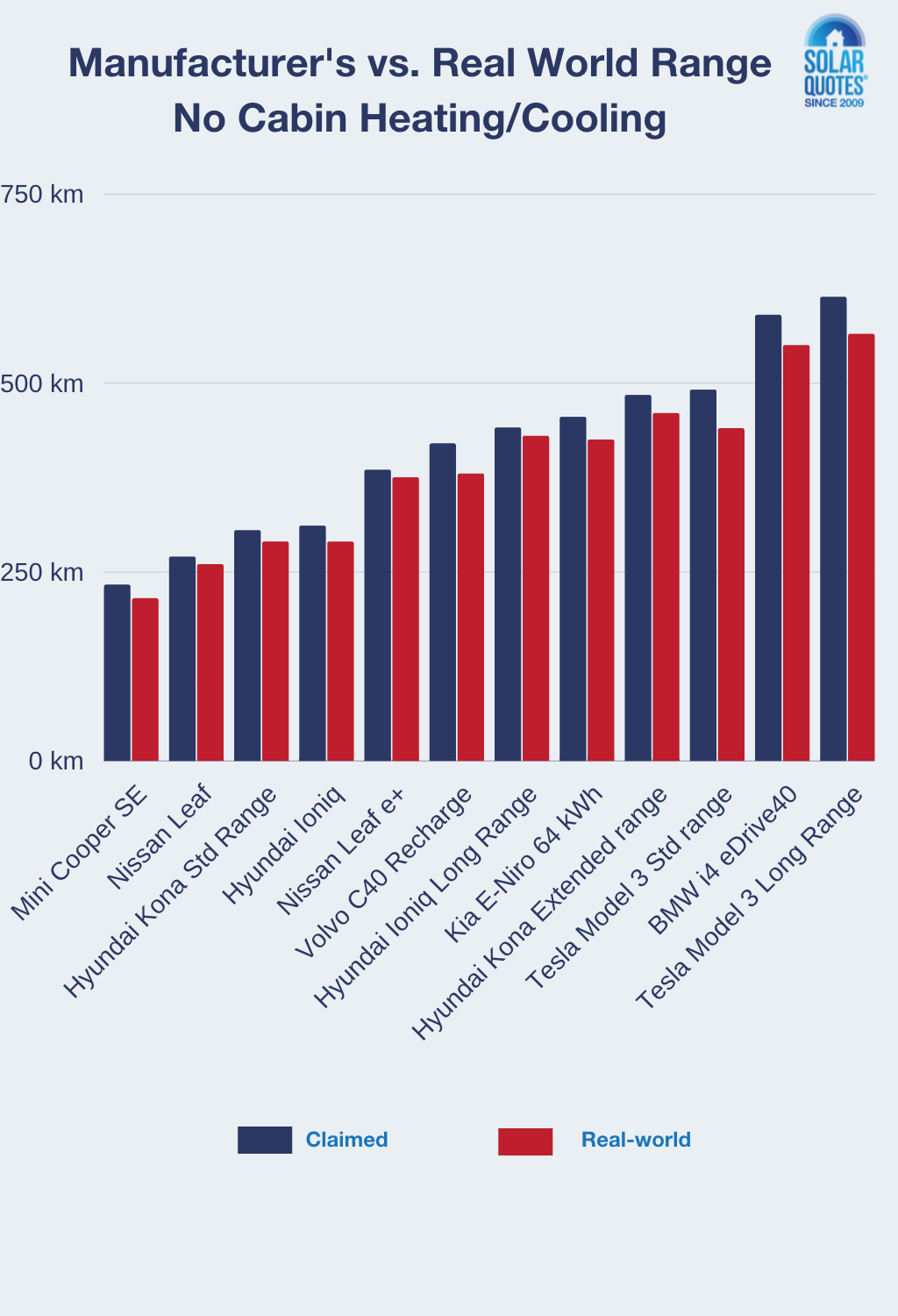 EV Model
Claimed Range
(km)
Real Range
(no AC or heating)
 
Mini Cooper SE
233
215
92%
Nissan Leaf
270
260
96%
Hyundai Kona Std Range
305
290
95%
Hyundai Ioniq
311
290
93%
Nissan Leaf e+
385
375
97%
Volvo C40 Recharge
420
380
90%
Hyundai Ioniq 5 Long Range
441
430
98%
Kia e-Niro 64 kWh
455
425
93%
Hyundai Kona Extended Range
484
460
95%
Tesla 3 Standard Range +
491
440
90%
BMW i4 eDrive40
590
550
93%
Tesla Model 3 Long Range 75kWh
614
565
92%
The most honest electric vehicle manufacturer was Nissan, with Hyundai close behind.  Both had real-world range figures that averaged 95% or more compared to those given on their websites.   
Volvo and Tesla were the least honest manufacturers with the lowest real-world ranges.  I'm not particularly surprised those two ended up at the bottom.  The car that fared the worst was the Tesla Standard Range Plus.  When I reviewed this vehicle I complained about how much its actual range differs from Tesla's figure.
The MG ZS EV Is Missing
If you are looking for the MG ZS EV — possibly the cheapest new EV available in Australia — you won't find it on the graphs above.  This is because the version sold here has a 44.5 kilowatt-hour battery pack that is 5.8 kilowatt-hours smaller than what the European MG ZS EV Standard Range has.  You'd think they'd try to sell the longer-range version in Australia, wouldn't you?  In Europe, they think down the road to the chemist is a long way.  This kind of rubs in how Australia really is an EV backwater. 
Update 15:25 17th Jan 2022: Mark Byrne has pointed out in the comments all 2020/21 model MG ZS EVs have a 44.5 kilowatt-hour battery, while the the 2022 model has the larger battery pack.  It's available now in Europe, but we will have to wait until the 2nd half of the year for it to arrive.  So we will eventually get the longer range 2022 version here.
If you are interested in how well the 50.3 kilowatt-hour Euro version did, its official WLTP range is 320 km, while the EV Database real-world figure without heating or cooling is 300 km.  This is 94% and fairly typical for the EVs on the graph above.  
What About EV Air Conditioning And Range?
If you do turn on the heater or air conditioner while driving an EV, it will reduce the range.  How much depends on many factors, but running the air conditioner can cut the range by over 20%.  Cold temperatures are less of a problem in Australia, but in the unlikely event you find yourself driving in -10 degree weather, the EV Database says it typically reduces range by close to 30%.  
EV Database Ranges With Heat & Air-Con
So far, I've only looked at the EV Database figures for real-world range without heating or air conditioning.  This is not realistic, but it does show how much range an electric vehicle is likely to have on a day when neither are required. 
The EV Database also has figures for vehicle range when those inside it use heating or cooling for comfort like normal human beings3.  These figures involve a lot more heating and a lot less cooling than for Australian driving.  Hopefully, with our far more reasonable weather, ranges will be better here, but more EVs may need to arrive in this country before we can be certain.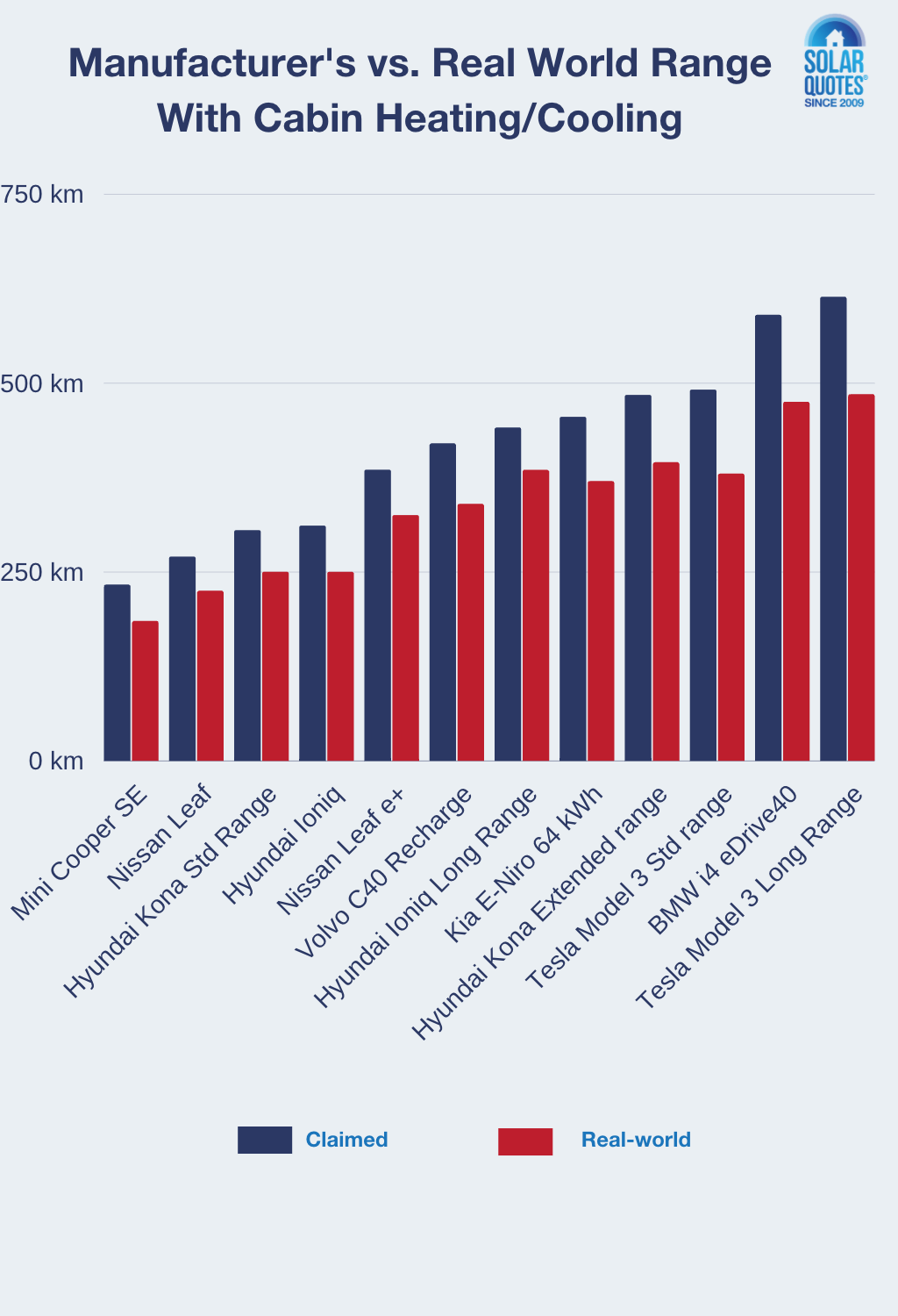 EV Model
Claimed Range
(km)

Real Range (with
heating & cooling)
 
Mini Cooper SE
233
185
79%
Nissan Leaf
270
225
83%
Hyundai Kona Std Range
305
250
82%
Hyundai Ioniq
311
250
80%
Nissan Leaf e+
385
325
84%
Volvo C40 Recharge
420
340
81%
Hyundai Ioniq 5 Long Range
441
385
87%
Kia e-Niro 64 kWh
455
370
81%
Hyundai Kona Extended Range
484
395
82%
Tesla 3 Standard Range +
491
380
77%
BMW i4 eDrive40
590
475
81%
Tesla Model 3 Long Range 75kWh
614
485
79%
As the graph above shows, in Europe normal driving reduces the range given by electric vehicle manufacturers by around 20%.  These are average figures and likely to be worse on an especially cold or hot day.  
Once again — as a percentage — Nissan and Hyundai EVs lose the least range, while Volvo and Tesla are at the bottom again. 
A Simple Solution
There's a simple solution to the problem of manufacturers giving unrealistic ranges for EVs.  Simply give the actual range people get on average with their vehicles.  Because manufacturers know this figure precisely, it's not something that will be difficult.
When calculating the average range, we can eliminate outliers by leaving out the bottom 10% least efficient drivers and the top 10% most efficient drivers from the calculation.  This is reasonable because getting rid of the weirdos at the top and bottom can give a figure that slightly better represents the range a typical Australian is likely to get.

Ideally, it should be based on actual use in Australia, but for EVs that haven't yet been sold here — or perhaps anywhere — manufacturers can provide an estimate.  The government can give an incentive to get it right in the form of a hefty fine if it's just a little too high and a massive fine if it's much too high.  If electric vehicle manufacturers want to play it safe, they can always lowball it and bump it up when real-world results come in.
If EV producers want to provide additional information on how much extra range fans of sweating and/or shivering can get from not using air conditioning or heating, that's fine.  But the actual range Australians actually get on average should be front and centre because that's what's most useful to normal Australians.  

I'd be happy with this applying to internal combustion engine vehicles as well, as they can also be massively deceptive when it comes to range.  But it may be simpler to just phase them out entirely. 
Footnotes
Yes, I know you can use reverse cycle air conditioners for heating — but that's not important right now. ↩
Except for the Volvo C40 Recharge, which the XC40 Recharge replaced on the Volvo website.  As no real-world information is available for it yet, I used the older, C40, model. ↩
Yes, that's right.  As hard as it may be to believe, Australians and Europeans are — technically — the same species. ↩