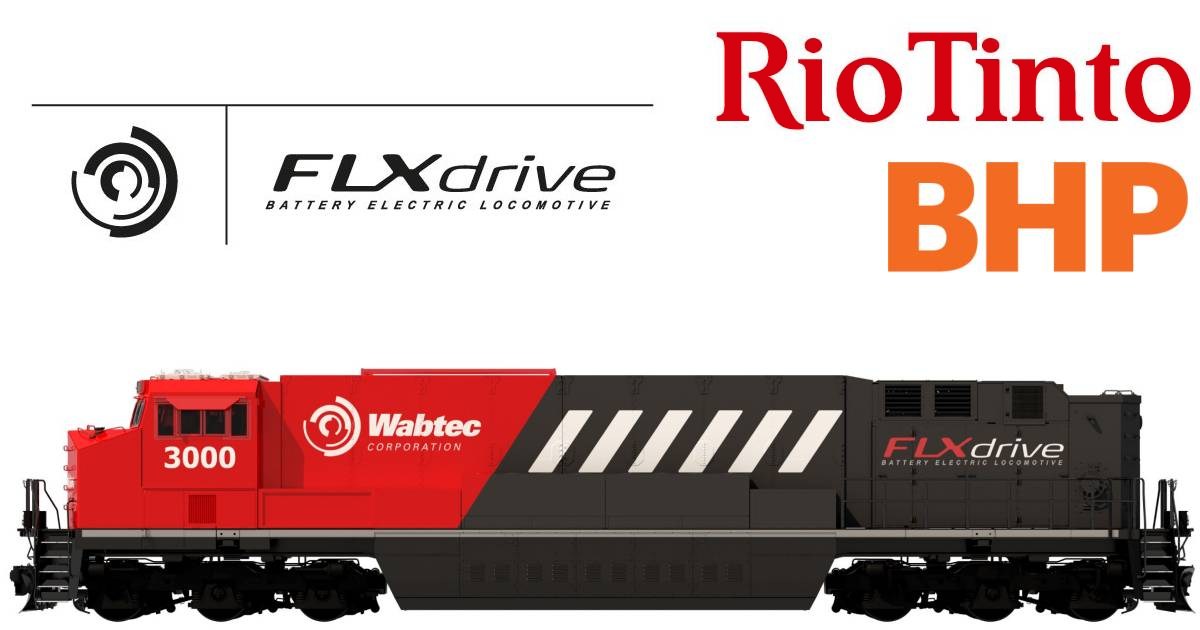 More major Australian iron ore producers have recently signed on the dotted line for delivery of battery electric locomotives.
Iron ore trains are pretty darned long and incredibly heavy. A fully-laden iron-ore train in Western Australia might consist of four diesel-electric locomotives pulling approximately 270 cars carrying a total of 38,000 tonnes of iron ore1 – which isn't far off the weight of the steel used in the arch of the Sydney Harbour Bridge (39,000 tonnes).
Just over a week ago, we reported Australian iron ore producer Fortescue Metals Group was following fellow miner Roy Hill's lead in purchasing battery-electric locomotives.
More were about to join them.
Rio Tinto Tinkering With Battery-Electric Rail
Just after FMG's announcement, Rio Tinto also signalled it was acquiring four battery-electric locomotives. All four will be 7MWh FLXdrives (2.4MWh model pictured above) from Wabtec Corporation, which is also supplying Roy Hill's.
Production is due to commence in the United States in 2023 ahead of initial trials in Western Australia's Pilbara region in early 2024.
"Battery-electric locomotives offer significant potential for emissions reduction in the near term as we seek to reduce our Scope 1 & 2 carbon emissions in the Pilbara by 50 per cent by 2030," said Rio Tinto Managing Director of Port, Rail and Core Services Richard Cohen.
Scope 1 includes direct emissions from sources a company owns or controls, while Scope 2 are indirect emissions associated with generation of energy purchased.
In October last year,  Rio Tinto announced it was bringing forward its target to reduce scope 1 and 2 emissions by 15% to 2025, and boosting its 2030 target to a 50% reduction.
BHP On The Battery-Electric Bandwagon
Then yesterday, BHP announced it will purchase four battery-electric locomotives – two 14.5MWh vehicles to be supplied by Progress Rail (same model as FMG) and two 7MWh FLXdrives from Wabtec.
The locomotives will be put through their paces delivering iron ore from BHP's mines in the Pilbara to the company's Port Hedland export facility.
Pending results of the trial, there should be many more battery-electric locomotives to come as BHP plans to electrify its iron ore fleet of more than 180 locomotives. By transitioning to battery-electric, BHP says it could slash its WA iron ore diesel-related carbon emissions by approximately 30 per cent annually.
"Rail is the fundamental link in our pit-to-port value chain, and the power required to deliver fully-laden iron ore wagons from the Pilbara to Port Hedland is significant," said BHP Asset President Western Australia Iron Ore, Brandon Craig. "Trialling battery-electric locomotives in collaboration with Progress Rail and Wabtec has great potential to support our operational emissions reductions targets and goals."
Company-wide, BHP has set a target of achieving net zero operational Scope 1 and Scope 2 emissions by 2050, with an interim target of at least 30 per cent from FY2020 levels by FY2030.
BHP has previously said it will be securing renewable energy to power fleet electrification. As Western Australia is blessed with abundant sunshine, both companies should be tapping the state's significant solar energy resources to charge these beasts at the mines. BHP also mentions the locomotives will be able to capture energy that would otherwise be lost from braking on downhill slopes on the way to port, and use the stored energy to help power the unladen trains on their trips back to the Pilbara.
Footnotes
According to Guinness World Records, the  record for the longest freight train is held by BHP. The train, which travelled from the company's Newman and Yandi mines in Western Australia to Port Hedland, was 7.353 km long and consisted of 682 ore cars plus 8 diesel-electric locomotives. I read elsewhere it was carrying 82,000 tonnes of iron ore. ↩