Allow me to transport some information to your eyes that is simply electrifying.  Finn, my boss, has bought a Tesla Model S electric sports car.  It is AWESOME.  I know this because he let me drive it for two days.  This joy ride convinced me the Tesla Model S is the best car in the world.  I'll even go further and say that — with the information I currently have at hand — it is the best car in the universe.
Its performance is flabbergasting, with acceleration so rapid it will be at least a least a week before my flabber catches up with me.  No petrol burning car in its price range comes anywhere close.  Revheads reading this may be able to name million dollar internal combustion cars that do better, but those don't emit zero emissions from the vehicle or have the option of running completely off clean renewable energy, including solar power from your own panels.
It is, by far, the best car I have ever driven and there is one thing I am absolutely sure of — with a starting price of $149,000 it's definitely not worth it.  Not for me.  It was fun to drive but not over $100,000 worth of fun.  I could get an awful lot of enjoyment out of 100 grand.  I would use it to swim with hotels and stay in fancy dolphins.
But your mileage may vary.  If you already spend this kind of money on cars I'm certain you're doing yourself a disservice if you don't get a Tesla.  And if you normally spend much more than this on cars, then get a Tesla Model S anyway.  You'll probably like it and if you don't a moneybags like you hasn't really lost anything.  (If you don't like it, just give it to me and I promise you'll never see it again.)
You Can't Trust Tesla
I was going to tell you driving the Model S has convinced me to buy one of Tesla's lower cost cars.  Maybe the Model 3 when it falls in price or possibly the still under development Model Y that should be even cheaper.  But then I checked the Tesla website and was instantly reminded of the kind of company they are and came crashing back down to earth.
The site is deceptive and I'm pretty confident it breaks Australian consumer law.  So while I can recommend their product to anyone in the market for a luxury car, I can't recommend the company.  I wouldn't leave Tesla alone with my grandmother because I don't trust them not to sell her something she either doesn't want or doesn't need.  If you deal with Tesla you always need to double check what they say or imply is actually true.
Remember, just because they're not lying capitalist pigs making money from destroying the planet doesn't mean they're not lying capitalist pigs.  But then lying communist pigs produce sports cars like the 2-stroke Melkus RS 1000, so it could be worse.
But enough depressing talk about Tesla's perfidy.  Let me instead tell you how awesome their Tesla Model S electric car is!
Finn Is Way Too Trusting
Finn is very environmentally aware and so he's eager to convince people to make the change to electric cars.  As a result, all I had to say to convince him to lend me his Tesla was:
"In all my years of driving I've never had an accident or a ticket."
And it worked!  A more suspicious person might have asked:
"But how many accidents did you directly cause?"
Or possibly:
"Exactly how many years have you been driving?  Is it more than zero?"
But he didn't ask and all I can say is thank god for trust.  It lets me get away with so much!  I was surprised it worked since I had previously let it slip I only see in two dimensions and didn't know humans were supposed to see in 3D before I saw Avatar.1
Tesla has reduced the number of variants of the Model S so now there are only two types available in Australia:
The Model S Long Range version with a starting price of around $149,000.
The Model S Performance version with a starting price of around $174,000.
Finn got the Standard Range version that Tesla discontinued just after he placed his order. The Standard Range has a 75 kilowatt-hour battery instead of a 100 kilowatt-hours, which is the only size available now.2  Then he blew a big chunk of those savings away by paying for some "special features" such as the actual colour he wanted3 as well as $8,500 for the very incorrectly named, "Full Self-Driving Capability".
So Much Acceleration!
At 8:20 on a beautiful Sunday morning Finn handed over the plastic doodad that can let you hop in and drive off without worrying about keys, although Finn has activated an extra safety feature where you need to enter a code number as well.  (He was very clever as he chose 1368 — the number of watts of sunshine energy per square meter at the top of the atmosphere.  No one will ever guess that!)  Then I picked up my son…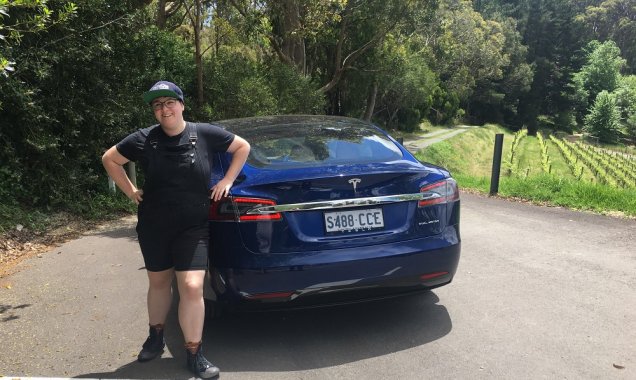 …and Sam, my lives-a-bit-too-far-away-to-be-a-neighbour and went for a spin.
I tried to resist at first, but it wasn't long before I gave in to temptation and used more than just mild pressure on the accelerator:
RONALD:  Tell me what you think of the acceleration.  (Applies modest pressure to accelerator pedal.)
SAM:  GWARRRRRRRRRRRRAAAAAAAAAAAAAHHHHHHHHHHHHHHH!   It's…  It's good.
RONALD:  Only good?  Let's try that again.
SAM:  GWARRRRRRRRRRRRAAAAAAAAAAAAAHHHHHHHHHHHHHHH!  I knew it was coming, but I can't stop making that sound!
RONALD'S SON:  Dad, was everything supposed to go dark except for a small circle in front of me where all the colour shifted to a blue haze?
RONALD:  That's just the blood pooling in the back of your brain.  As you get older and start running low on blood you'll see like that all the time.
SAM:  That's not a normal part of aging.  That's called tunnel vision and you shouldn't be driving if you have it.  GWARRRRRRRRRRRRAAAAAAAAAAAAAHHHHHHHHHHHHHHH!
RONALD'S SON:  I think I want to get out of the car now.
RONALD:  Well, I'm not stopping, so you're only allowed to jump out if we pass a hospital.
After subjecting my passengers to several dozen more bursts of insane acceleration, we stopped in the German-themed hamlet of Hahndorf to recover with some beer, but since I was driving a $150,000 car I drank hardly any litres at all.
The non-performance Tesla Model S can go from 0 to 100 kilometres an hour in 3.8 seconds.  This understates how well it accelerates in normal use around town because, thanks to the way electric motors work, the 0 to 50 time is under half that.  So whenever I wanted to merge into traffic and was wondering if a gap was large enough, the answer was always yes.  Maybe if I drove the Tesla long enough my perception of what counts as a gap would change and the answer wouldn't always be yes, but that would take some time.  (In the interest of science I'm willing to see just how long it will take if someone wants to lend me their Tesla.)
The Model S battery is built into the floor and weighs 590 kilograms, giving a low centre of gravity.  With its all-wheel drive each tyre felt as though it was stuck to the road with an entire horse race worth of glue.  I felt more road traction stomping on the Tesla's accelerator in the wet than when I'm parking my Hyundai.
The Performance version of the Tesla Model S goes from 0 to 100 in 2.6 seconds.  If you put the pedal to the metal it will accelerate faster than my Hyundai would if I drove it off a cliff.  That's equal to the best a cheetah can manage and for a greyhound to beat that you'd have to glue two of them together.  It's simply ludicrous.
Going For Speed
Both versions of the Tesla Model S have a top speed of 250 kilometers an hour.  So I've been told.  I don't know because I didn't go that fast.  It was easy to accidentally exceed the speed limit, but not that easy.  I only intentionally exceeded the speed limit one time and that was when I was overtaking.  All I know is the acceleration showed no sign of tapering off.  With the maximum legal speed being 130 kilometers an hour in the Northern Territory, the Tesla Model S's top speed is irrelevant to Australians unless you have a racetrack handy.
Going For Distance
The thing people people are usually most worried about when it comes to electric cars — range — is not an issue.  Unless you're a traveling salesperson or something, the problem is fixed if you drive a Tesla.
When fully charged the Tesla Model S Long Range version can travel around 560 kilometers.4  I didn't have enough time to determine if this figure is spot on, but apparently it's what the average driver gets.5 That's roughly 7 hours normal highway driving for me, although it might only be four and a half hours if you're doing 130 on a Northern Territory highway.  In 15 years I've only taken my Hyundai Getz on two trips where that involved driving more than 7 hours a day.  And sitting behind the wheel that long is not something I recommend.  Over seven hours is too long on the road for a single driver.
But if you do want to drive more than 560 or so kilometers, Tesla has you covered.  Or they do in the majority of places people actually want to go.  This is because they have installed a heap of electric car chargers around the place that come in two main types:
Destination Chargers:  These can take over an hour to provide 100 km range.
Superchargers:  These can take less than a dozen minutes to provide 100 km of range.
Tesla is also bringing out ultrachargers that are even faster than superchargers.  There is also a third type of slow Tesla charger, which I'll tell you about it in a bit.
Destination Chargers
Here is the Destination Charger I briefly used at the Fox Winery:
And here is the Tesla Model S display showing the car charging from it: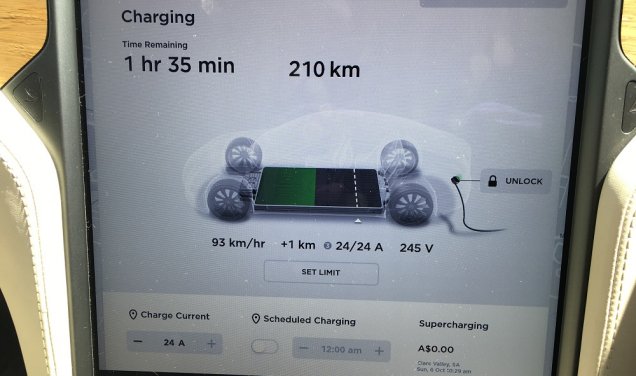 If shows the destination charger would provide 93 kilometers of range per hour of charging.  It would take hours to fully charge a mostly flat battery pack, but for topping up while relaxing it's very convenient.  The exact rate will depend on how much charge is already in the battery.  Like a mobile phone it will be moderately faster when nearly empty and moderately slower when nearly full.
Note:  You need to check your charging cable is pushed all the way in.  I discovered power can flow at lower rate when it isn't.  I doubt it was dangerous, but the fact this is possible in the Model S surprised me.
The location of Destination Chargers can be found online.  There's a considerable number scattered around.  There wasn't one shown online for the McCracken Country Club6 where I spent Sunday night, so I was surprised to see what looked like one as I drove up.  I plugged the Tesla in and came back when I thought it would be nearly fully charged.  The car told me there were still nine and a half hours to go.
The reason why it wasn't listed online was obviously because it's not fast enough.  The lesson is — just because it looks like a destination charger, it isn't necessarily one.  But if you are staying overnight a slow charger like this is likely to be all you need.  The wonderful receptionist there told me she'd never seen anyone else use it before, so get your Tesla down to the Country Club and goddamn stay there for at least nine hours.7
Tesla Destination Chargers and slow chargers are free to use.  Tesla will pay for their installation but the location pays for the electricity.  This is fine for businesses trying to attract customers, but I do wonder about the morality of Councils installing them, since most Tesla drivers are rich and shouldn't need to be subsidized by common folk.  But, given the harm vehicle pollution causes, it may be worthwhile.  And when you get down to it, isn't that what society is all about?  Bribing the rich not to hurt us?
Tesla Supercharging
Here is the Tesla Model S connected to the Supercharger in the centre of Adelaide: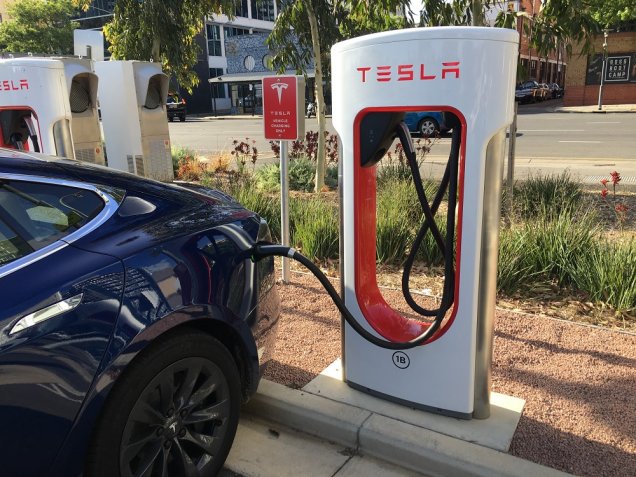 And here is the display showing it charging furiously: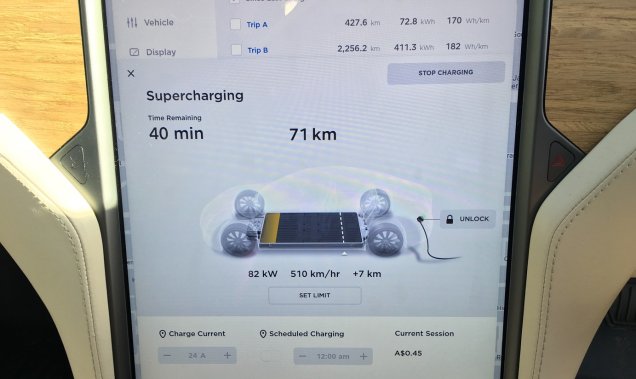 The Supercharger is zapping the Tesla full of 510 km worth of range every hour.  In under 12 minutes it will be able to drive an additional 100 km.
There aren't a huge number of superchargers in Australia at the moment, but there are enough so you can exclusively use them to drive from Adelaide to the Sunshine coast north of Brisbane.  Generally, you will have to pay to use them, but I didn't bother to look into the costs because I figure if you can afford a Tesla you can bloody well afford the supercharger fees.
Charging In a Pinch
If you have the right connector you can charge the Model S at any public electric car charger, although you'll also need the right app or credit card or whatever they require.  You can also charge from a normal power point or a 15 amp socket such as those found in caravan parks.  Note you'll only get about 12 kilometers of range per hour from a normal power point.
Problem Solved
You could still claim a Supercharger isn't nearly as good as a petrol pump that can slosh a car full of 500 km of range in just minutes.  But, overall, most people will spend less time fueling a Tesla than a petrol or diesel car.  This is because when Finn gets home he just plugs in his home charger, which takes seconds, and it automatically tops up his car with surplus solar electricity.  The only time he ever has to do anything more is if he's taking a long trip.  But a typical driver has to spend at least 10 minutes a week going to a service station, which comes to about 9 hours a year.  Finn will spend less than an hour annually plugging and unplugging his Tesla and then maybe a few more hours on long trips using a supercharger or topping up with a destination charger when he would be relaxing anyway.  So, when you add it all up, he's coming out ahead on time.
Note:  I'm not talking to the person who is going to turn up in the comments and tell us how charging an electric vehicle will never work for them because of their particular circumstances.  That's fine!  They can buy a hybrid!  I'm talking about normal people.  The average person is going to spend less time charging an electric car than they currently spend putting petrol in their tank.
Comfort
The Tesla Model S is the worst car I have ever driven when it come to climbing in and out.  I was surprised.  It's a large car, but it's a lot easier to jump in and out of my little Hyundai Getz.  Someone like my father could never use a Tesla Model S on account of his bad back.  Not unless they make one that rises up off its wheels.
But this is a normal problem for sports cars.  They're designed for movie stars and models, not massively overweight people like me.8  If you want the stupid high speed that goes with low aerodynamic drag, then a low roof is a necessity.
My friend Sam is 190 cm (six foot three) and while he didn't feel cramped, I'm not sure he would have fit if he was much taller.  Both of us had trouble getting the buckles of our seat belts in and his belly is considerably smaller than my own.  (Obviously, he hasn't hasn't developed his stomach muscles as much as I have.)
Once you're actually in the car and buckled up it's fine.  But I have to admit I'm not a great judge of comfort.  After all, I do find Finn's taste in music to be bearable.
Brakes?  Who Needs Brakes?
Normally when you take your foot off the accelerator a car it will start to slow down.  When you take your foot off a Tesla's accelerator it will slow considerably more.  This is intentional and makes driving easier because you only need to brake when something unexpected happens.  It's also a little bit of a safety feature, as the car will already be de-accelerating in the time it takes to transfer your foot from the accelerator to the brake.  It may seem strange when you're reading about it, but it all feels natural when you try it.
A Big Display
The Tesla Model S has a large touchscreen that handles everything that isn't vital.  This includes music, navigation, and a billion other things I didn't bother checking.
This was the first time I had used car navigation with a screen large enough to actually see what was going on.  I had heard this can make your ability to navigate without it worse and it's true.  The map rotates to the direction you're traveling so north doesn't stay at the top and this fried my ability to orientate myself.  Lately, I've been trying to use the North Queensland trick of always using a compass direction instead of left and right to improve my sense of direction and the car navigation system blew all that hard work away.
The Model S screen turns into a big rear view display when the car is put into reverse, which is very useful.  At first I had trouble believing what the screen showed me was "real", but it didn't take long to get used to it.
Voice Activation
If you hit a button on the steering wheel you can tell the car what to do, such as display navigation or play music.  For these two things it works pretty well, unless you go out of mobile phone reception range, in which case it understands English about as well as your deaf Croatian Aunt after she decides to make your life hell for not marrying a nice Croatian girl.9
Robodriving
Finn paid extra so his Tesla would have "Full Self Driving Capability", which is named about as accurately as the Democratic Republic of the Congo.  It can't self-drive and it will be the Department of Transport and Main Roads that decides if it will ever be allowed to do that, not Tesla.
But it's still pretty funky.
My understanding is every Tesla Model S has cruise control, can steer itself to stay in its lane, and warns you if you come too close to an obstacle.
If you spent the extra $8,500 the package of lies costs, then — depending on whether or not it feels like it — the Tesla Model S can do automatic lane changes, park and unpark itself, and stop you from doing something stupid like sideswiping a truck.10  In the future — according to Tesla —  it will be capable of driving itself.  But they've already been sued for lying about what it would be able to do, so don't believe what Tesla tells you and understand that you're just throwing the dice when you pay for this.
I tried the cruise control and the lane keeping and I gave up on them because they were just too stressful to use.  I was worried I'd stop paying attention to the road and have a prang.  In Japan they fully understand this problem and make their train drivers constantly do a little dance to keep them alert.  But there wasn't much room for dancing in the Tesla Model S, so I was scared I'd space out.  I'm fine with the fact there are no gears to change, but cruise control and lane keeping seem to make it too easy to fall asleep at the wheel.  However, I know some people like these features and they're not dead yet, so each to their own.
It's Oh So Quiet!
When I first started driving the Tesla Model S, I didn't realize how quiet it was because I was feeling super stressed about driving a $150,000 car.
It didn't really sink in until I turned on the stereo and thought there was something wrong with the speakers.  It took me a while to figure it out, but I realized the problem was I could actually understand the lyrics to the song.  I had never been able to do this before with my usual driving music.  It turned out, much to my surprise, that at no point is Meatloaf saying…
"Like a cattle bell I'll be corn when the morning gongs."
I never realized Meatloaf was using language before.  I thought he just had some kind of musical word salad brain injury.
Because I have highly refined and sophisticated musical taste, I think it might be worth $10 an hour for me to be able to appreciate the more subtle aspects of music, such as lyrics, when driving.  If I drove an average of an hour a day then an electric car would provide me with around $3,652.50 a year in enhanced musical pleasure.11  This is one aspect of electric vehicles I've never really considered.
It's also a lot easier to have a conversation.  When I had passengers I could clearly hear everyone in the vehicle, including my  son in the backseat.  None of us were "autoshouting" which is the mode of communication we unconsciously slip into when inside an internal combustion engine car.
Best Tesla Model S Music
Here are some of the best tracks to listen to in a Tesla Model S.  Finn might add a few of his own, but don't trust him.  My picks are far superior:
Harder, Better, Faster by Daft Punk
Tell Laura I love her by Ray Peterson.
Back in Bow River by Cold Chisel
I Regret Nothing by Dead French Chick
Finn's Selections:
Here Comes the Hotstepper by Ini Kamoze
I Like to Move It by Reel 2 Reel
Around the World in a Melkus Communist Sports Car by ATC
Enhanced Sexiness Quotient
Now we get to the real information you're all hanging out for that the other car reviewers just won't reveal.  Exactly how sexy does driving a Tesla Model S make you?
I'll put some figures to this by telling you how many sexy men and sexy women approached me over a two day period of driving it:
Sexy Men ?
Sexy Women 1.5
I don't know how many sexy men approached me because I can't tell if they're sexy or not.  If you're a dude and you ask me how sexy you are I'm just going to base it on how much you look like a woman.
You may think 1.5 is a low figure for the number of sexy women, but I've adjusted it to allow for my natural background sexiness.  I know this adjustment reduces the figure's reliability, but it's not my fault I'm god's gift to women.  (And feminine looking men.)
But because a German woman I spoke to about the car was so sexy I'm going to have to adjust the figure upwards by at least an order of magnitude and boost it to 15.  So by my calculations I would say driving a Tesla Model S will roughly double the sexiness of the average human being, while having little or no effect on someone who is already as sexy as myself — if such a person exists.12
A Glorious Driving Experience
I really glad I got the opportunity to drive a Tesla Model S.  It was a lot of fun.
Unfortunately, the fun doesn't last for that long.
When I started driving the Tesla at 8:20 in the morning, at first I couldn't stop cackling like a maniac every time I put my foot down on the accelerator.  But, at exactly 1:25 pm, I did stop.  I tried cackling like a sane person for a while, but sane people are horrible at cackling, so that wasn't nearly as much fun.
It's a great car but the amount of mad cackling enjoyment you'll get out of it just isn't worth the expense.  Even if — unlike me — it significantly boosts your sexiness, in the long run paying for a lot of alcohol is going to be a cheaper option.  (Either for yourself or your date.  It works both ways.)  The Tesla 3 starts at $73,000 so if you get that instead, you'll have a Tesla car plus at least $75,000 left over.  Invest that in the share market and with the return you can spend an average of $6,000 on fun every year for the rest of your life.13  Or you could just buy a bicycle, save almost all the money, and instead of becoming sexier via association with a metal shell, your own body would become sexier from the exercise.14
When Finn said he was getting a Tesla I just assume he meant a Tesla 3 because I couldn't see how the extra expense of the Tesla Model S would ever pay for itself, even if it is superior to every other car on the road.  In all the time I've known him, I've only once seen him waste money on something that had no hope of ever paying for itself.  And when I got into his Tesla it was like he was getting a package deal.