I've got some bad news about vehicle efficiency in Australia.  It's going backwards.  And I don't mean cars are now driving in reverse, sucking up smog and spitting out petrol.  Despite the fact that we urgently need to slash our emissions, the average fuel efficiency of Australian vehicles has been getting worse.
I'm pretty confident about this because I have a report here on my desk1 by Robin Smit from Transport Energy/Emissions Research (TER).  Robin's report has 5 main findings:
Average new vehicle efficiency improved from 2008-20142
New vehicle efficiency3 stopped improving in 2014 and has gotten worse since 2015.
Efficiency has worsened as cars have got bigger, heavier and more likely to be diesel-powered.
The rate at which car efficiency is getting worse is increasing.

Although diesel is more efficient than petrol, the average size of diesel cars is bloody huge. So diesel cars burn more fuel and emit more CO2 than petrol ones.
I've put the main findings from the report below in case you want to check my summary of them is accurate.  If you enjoy reading it you can check out the whole report here.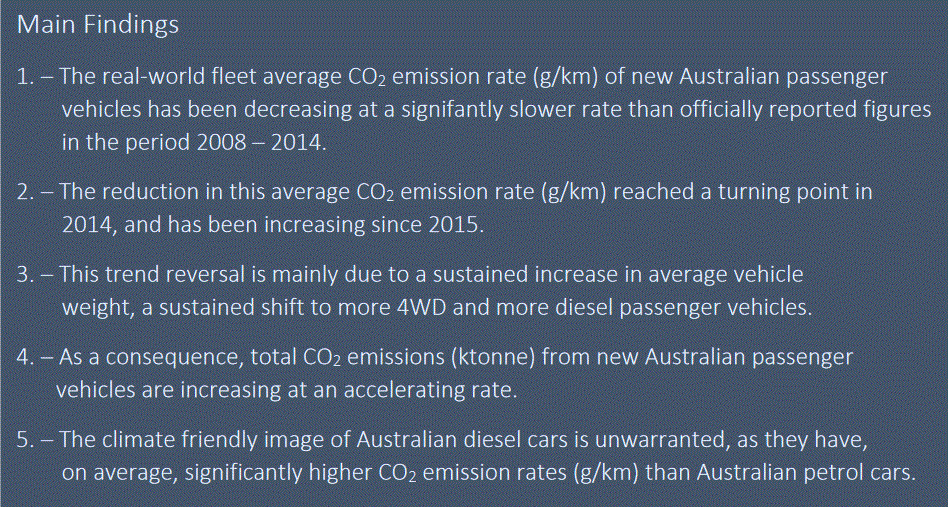 The fact that the average Australian car today gets fewer kilometres per litre than it did 5 years ago is both embarrassing and shocking. Especially given the opposite is occurring in every comparable economy.
How did we earn this badge of dishonour?  By having no vehicle fuel efficiency standards. This sets us apart from every other OECD country with the partial exception of New Zealand — which sometimes copies us way too much. 4
As Australia has committed to cutting emissions by at least 50% per person from 2005 levels by 2030, this is a serious problem for the government.
Or it would be for a government that gave a shit.5
4 Reasons Poor Fuel Efficiency Is Bad For The Nation
Four months ago, when it was an election issue, I wrote about why Australia should adopt fuel efficiency standards.  Four big reasons are:
So we won't die so much:  Vehicle emissions are deadlier than coal power station pollution because they

pump their pollution

directly

into the air we breath

. While we can't be certain of the exact numbers, vehicle pollution results in thousands of excess deaths per year.
So we won't cook the planet:  The less petrol, diesel, and autogas we burn, the less we warm the earth with CO2 and other greenhouse gas emissions.6
We'll be richer:  If our vehicles use less fuel per kilometre (or use electricity, which is much cheaper) we will have more money to spend on other things.  Since we will be getting the same amount of transport at less cost we will, effectively, be richer.
We'll be safer:  Australia imports about 90% of the oil used by vehicles.  Thanks to very limited reserves, if imports were interrupted we'd only have autogas and a very small number of electric vehicles available for private transport. Oil would be restricted to "essential services" such as getting food to cities.  Even with no oil for private transport, Australia's production only covers a fraction of the demand from heavy vehicles, agriculture, mining, and shipping.  So next time a politician says Easter eggs or whatever are a threat to national security, just remember they're doing bugger all about this real life problem.
22% Or More Of Australian Emissions From Vehicles
According to the report, the percentage of Australia's net CO2 emissions7 that came from road transport8 in 2000 and 2017 was:
2000: 16% of net CO2 emissions.
2017:  22% of net CO2 emissions.
From 2000 to 2017 Australia's population increased by 28%, so a 22% increase over that time means emissions declined per capita by over one fifth.  But one-third of that decline was simply due to the number of kilometers driven per capita declining.  This means the actual reductions in emissions per kilometre driven were only around 14%. This all occurred before 2015.
Smitty Found New Vehicles Doing Worse
Smitty did a lot of research and used calculations so complex I couldn't even manage them with 12 fingers. He found that — contrary to the figures used by the government — the fuel efficiency of new passenger vehicles stopped improving in 2014 and have been getting worse since 2015:
This means in 2018 the fuel efficiency of new vehicles was as bad as it was back in 2010 and, by extrapolation, new cars are now probably about as bad as they were in 2008:
The results Smitty obtained are estimates, as detailed information doesn't exist; but I find them convincing.
Car Manufacturers Are Dishonest Arseholes And Our Government Doesn't Seem To Care
There are two main reasons why we ended up in a situation where new car fuel efficiency was getting worse, but didn't know about it:
The government stopped vehicle emission testing in 2008.
Car manufacturers are lying, cheating, thieving bastards.
No Publicly Available Oz Emission Testing For Over 10 Years
Australia doesn't have vehicle fuel efficiency standards, but we do have emissions standards.  Testing CO2 emissions also measures fuel consumption because the only place the carbon can come from fuel.  But Australia stopped testing vehicle emissions in 2008.
This means that in the same year oil hit its highest price ever, $147 US a barrel, Australia decided to stop keeping track of things like vehicle emissions and fuel consumption.  But I guess it's our own fault since I have no recollection at all of anyone complaining about the price of petrol or the security of future oil supply in that year.  So I suppose it's only fair they assumed there would be no downside to saving a few bucks by ending emission testing.9
Car Manufacturers Engage In Fuel Efficiency Fraud
I am so old I can remember the days when you could buy a car and actually get the fuel efficiency promised by the sticker on the windshield.10  But those days are long gone for internal combustion engine cars.
In 2001, the average driver would get about 90% as far per litre as the sticker promised.  But in 2017 you'd only get about 70% as far.  This is atrocious and the result of car manufacturers being lying, cheating bastards.
Despite some of these lying cheating bastards paying billions in fines for faking emission test results, fuel efficiency fraud is still rampant. Fortunately it's easy to fix.
Australian Consumer Law Prohibits Fraud
Australian Consumer Law says manufacturers can't lie about their products. This includes vehicles. Car manufacturers should be required to specify the number of kilometers per litre they believe their vehicle will get when driven normally in Australia. If it turns out to be less than this they must compensate everyone who bought one of their vehicles.
Properly enforced, our existing laws could end fuel efficiency fraud.
Government Action Not Expected Soon
Four months ago I strongly suggested Australia should introduce vehicle efficiency standards.  I thought it was downright rotten of the Coalition to oppose them.  I don't expect politicians to always do what's good for the country, but this was a very blatant example of them picking soundbites over sound action.
I hope Scomo realizes the US is approaching 100% self sufficiency in oil while we're approaching 0%. Expecting Trump to protect our access to overseas oil is like expecting Brazil to protect our access to nuts.
Electric Vehicles For The Win
It doesn't matter how fuel efficiency is improved, just so long as it happens.  But I'm not going to kid you.  There is only one technology that's going to significantly cut Australia's transport emissions and oil dependency. Electric vehicles11.
It's cheaper to go electric than to squeeze further efficiency out of internal combustion engines.  This is why Toyota developed electric-hybrid technology for their Prius  22 years ago, rather than use some other fuel saving technology.
In the four months since the Federal election and the Coalition's ridiculous scare campaign about fuel efficiency standards and electric cars, Volvo has revealed they pay under $150 per kilowatt-hour for battery cells.  Presumably any EV manufacturer that buys enough can get them for a similar price. Tesla may even be producing them for less.
With costs falling and production increasing it's clear where the main improvements in fuel efficiency and air quality will come from.  Any technology-neutral fuel efficiency standards are going to effectively be pro-EV.  I understand this may scare some politicians who think cars that don't run off fossil fuels must be powered by witchcraft, but they are the way of the future.  Or rather, they are the way of the now.
If you're the type who's fine with dropping $40,000 on a new car I strongly suggest you look at getting an electric vehicle.  You may need to pay more than $40,000 at the moment, but it's likely you'll find the extra performance and low fuel cost make it worthwhile.  Because our current government has made it clear they don't want to do anything, it's up to the rich and the reasonably well off to lead the way.  With luck, it won't be long before the pretty average will be able to do the same.