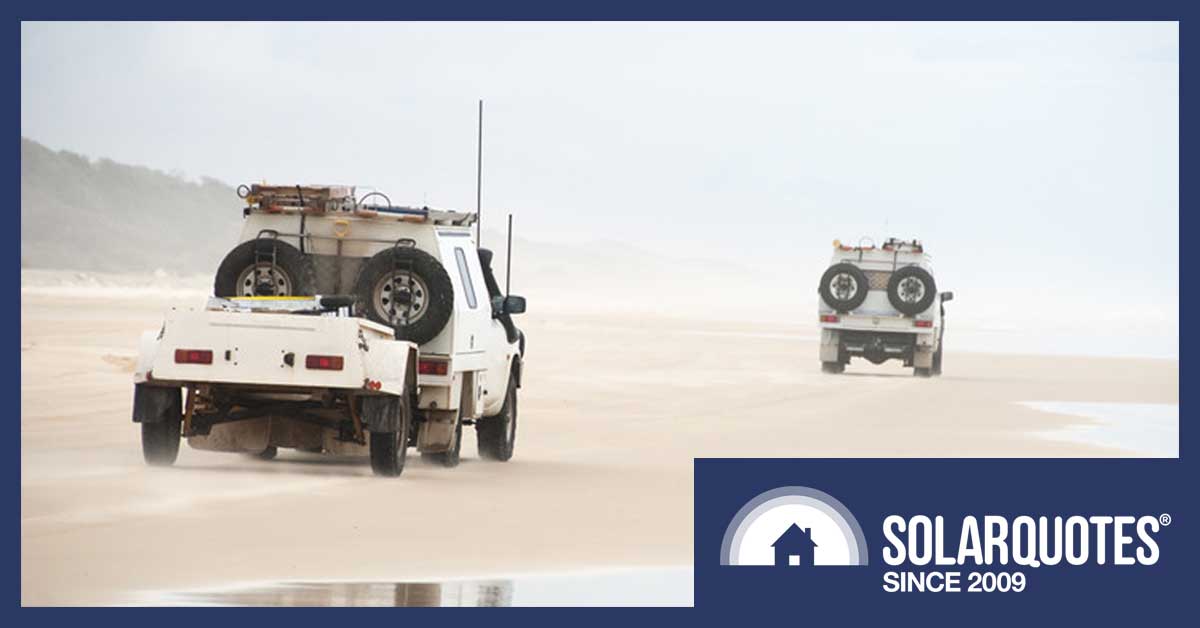 A month ago Federal Labor announced that, if elected, they would introduce fuel efficiency standards for light vehicles that would be phased in by 2025.  As a direct result some people completely lost their shit.  But despite what you might have heard:
It's not a tax.
The fuel efficiency standards will save Australians money, not cost them more.
It promotes fuel efficiency but won't restrict what type of vehicles can be sold.
You won't be required to buy an electric car.
You will still be able to buy a ute.
There are currently at least 35 countries with fuel efficiency standards of one sort or another, including India and China, and utes exist in every single one of them.  They just don't call them utes.  And if India doesn't find fuel efficiency standards costly, I think Australia — where the average income is 25 times higher1 — can afford it.
Australia no longer has a car industry producing petrol guzzling continental siege machines like the Commodore V8, so it's a perfect time to introduce fuel efficiency standards.  All political parties would support the idea If they had any sense and the only thing they should argue about is whose fuel efficiency scheme is the best.
But for some reason the Liberal Party is dead set against it.  I don't know why.  They can't be in the pocket of Big Oil because we only have Small Oil in this country and it's getting smaller all the time.  Australia's oil production is only equal to 13% of our consumption and the figure is falling fast.
6 Good Reasons To Have Fuel Efficiency Standards
There are plenty of good reasons to introduce fuel efficiency standards.  Here's 6 to start with:
Reduced greenhouse gas emissions.
Reduced death and illness from air pollution.
Money saved from reduced spending on petrol and diesel.
Improved vehicle affordability for low income Australians.
Encourages car manufacturers to improve efficiency more rapidly than otherwise, as they won't be able to dump inefficient vehicles in Australia.
Improves national security through reduced dependence on imported fuel.
Zero Good Reasons Not To Have Fuel Efficiency Standards
There are no good reasons not to have fuel efficiency standards.  There will be fewer fuel hogs on the market, but you will still be able to buy a car that's fast, sporty, grunty, or suitable for towing or trade work.  There is nothing people want they won't be able to get, so there won't be a problem.  If the only thing you want in a car is lousy fuel efficiency then you have a problem with your brain and I recommend you see a brainologist to have your brain examined.  Either that, or become Energy Minister for the Liberal Party.
It's Not A Tax!
One of the first things that happened after Labor's announcement was the Liberal Party paid for Facebook ads saying Labor wanted to tax your ute.  This is an interesting interpretation because by reducing the amount of fuel excise that will be collected it's kind of the opposite as it will decrease government revenue.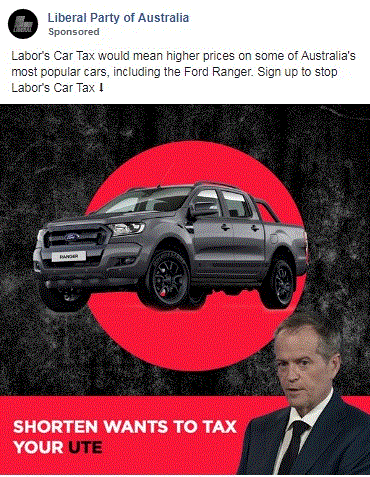 It would be nice if political parties weren't allowed to straight out lie like this and not suffer any real consequences.  Democracies, like markets, need information to function and our bullshit to info ratio is way off.  Can't we take baby steps?  We could make it so next year politicians won't be able to outright lie but we'll still let them mislead us for a couple of years and we'll let them slander each other on a personal level as much as they want.
Regulation Can Be The Best Option
Fuel efficiency standards are not a tax but are a type of regulation.  Some people don't like regulations and say they'd rather let the market work things out.  The problem with this is markets only give efficient results when they take into account all relevant costs.  We don't want greenhouse gas emissions warming the planet and we don't want people dying from air pollution.  We need to include those costs for the market to operate close to optimally and the only way to do that is through some form of regulation.  Doing nothing is an anti-market stance as it allows market imperfections to continue.
Correcting these market failures is not on the cards at the moment, so I will support fuel efficiency standards.  But if the Liberal Party ever comes out in favor of carbon pricing and pollution fees I'll reconsider my position.
How Fuel Efficiency Standards Work
Labor has not revealed details about their fuel efficiency standards plan.  This is probably because as soon as they release the details journalists expect them to explain them and they are far too busy trying to win votes to worry about things like swotting up on their plans to run the country if they happen to win.
But back in 2014 the Climate Change Authority worked out a plan and Labor is unlikely to attempt to reinvent the wheel.  But if they did it would be interesting/horrifying to see what it looked like.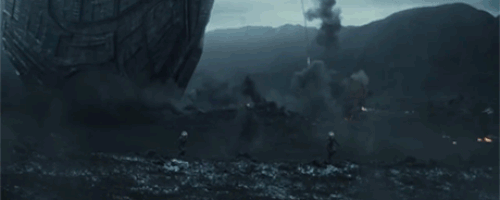 Labor says in 2025 they will require new light vehicles — which includes passenger cars, SUVs, vans, and utility vehicles — to on average emit only 105 grams of CO2 per kilometre driven.  This is down from the current average of around 180 grams per kilometre for new light vehicles.
This is not a strong standard compared to the rest of the world.  It is difficult to compare the figure with Europe, as they measure fuel efficiency differently and badly.  But in 2025 the average emissions for new light vehicles in the United States will be 102 grams per kilometre.  We used to always have better fuel economy than the United States and it's a bit weak we're not aiming to beat them now.  I can remember a time when we used to take more pride in our country.  When it came to international competition we weren't satisfied with coming last.  We would get out there put our heart and soul into coming third.
It's A Fleet Average
The 105 grams of CO2 per kilometre is an average for all light vehicles sold in 2025.  It's not a limit no car can exceed.  This means manufacturers can still sell high emission vehicles if they want, but they'll also have to sell enough low emission ones so the average emissions of what they sell will meet the 105 gram fuel efficiency standards figure.  Either that, or they'll have to trade with a company that does produce low emission cars to make up the difference.
Selling emission credits is a major source of revenue for Tesla.  Fiat-Chysler in Europe says they will pay Telsa over $3 billion to "pool" Tesla's electric vehicles with their own for the purposes of determining their average emissions.
An Estimate Of Average Fuel Savings
If a family has a petrol car that emits the current average of 180 grams of CO2 per kilometer and then changes to a petrol car that emits 105 grams per kilometer — which is equal to the 2025 fuel efficiency standard — it will burn 42% less petrol per kilometer.  The law of conservation of matter guarantees it. The car would need to be powered by Mr. Fusion for it to be any different.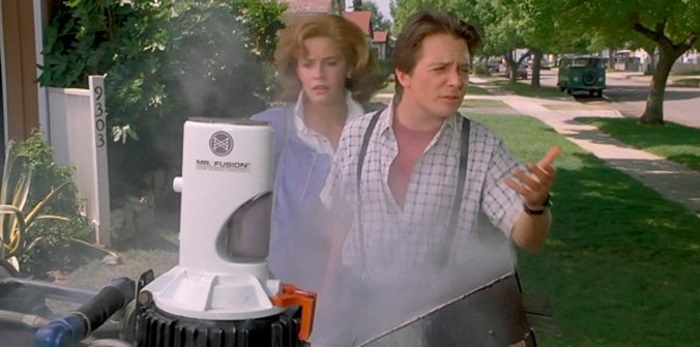 Assuming they drive the average annual distance for a passenger car of around 14,000 kilometers, because petrol releases 2,310 grams of CO2 per litre when burned their fuel consumption per year would be:
Old car: 1,091 litres
New car:  636 litres
If petrol costs an average of $1.40 a litre, their annual fuel bills would be:
Old car:  $1,527
New car:  $890
They would save $637 a year by switching to the more fuel efficient car.
The Climate Change Authority has their own estimate which is in the graphic below:

As you can see, their estimated annual savings are considerably higher.  They use a 2013 figure for emissions since they came up with their plan 5 years ago and also seem to have used a much higher average cost for petrol.
Lives Will Be Saved
One estimate is that — statistically speaking — roughly 2,000 Australians die from vehicle pollution each year.2  That's more Australians than were killed in wars in the past 70 years or by dingos in the last 6 months.
If terrorists were killing 2,000 Australians a year, or just 100 Australians per year, you can bet the Morrison government would move heaven and earth to put a stop to it.  But in this case, because the terrorists are vehicle exhaust pipes they're like, "Eh, terrorists will be terrorists.  What can you can do?  Sure, we'd like it if they killed less Australians, but it's not as if it's worth going against the interests of oil refineries to save innocent lives."
Because we place a value of around $200,000 on each year of life lost, lives saved from cutting pollution could make fuel efficiency standards worthwhile even if there were no other benefits.
It May Help Lower Income Australians Afford New Cars
If your income isn't very high but you still scrape together enough to buy new cars, then those you buy are likely to already be small and fuel efficient.  For example, the Mitsubishi Mirage is one of the cheapest new cars available and, depending on the variant, can have a drive away price of $15,000 and emissions as low as 109 grams per kilometer.  It would not be a problem for Mitsubishi to reduce that below 105 grams in five and a half year's time.
I know it won't be a problem because there are already small cheap cars overseas with lower emissions than this.  In the UK there are low cost cars with emissions of around 92 grams per kilometer.  While these cars are small, because the British are so fat we know they'll have no trouble hauling our densely muscled Australian bodies.
An easy way for car manufacturers to lower their average fleet emissions would be to make Australian versions of these kinds of cars available.  This will result in a greater choice of cheap new cars and because the portion of their emissions below the fuel efficiency standard could be traded, this may lower their price further.
It Can Help Second Hand Car Drivers
If you can only afford to drive second hand vehicles or just have better things to spend your money on, you might think these fuel efficiency standards won't do you much good.  But — with help from other countries — you may have the most financial benefit of all.
Currently the world produces around 81 million barrels of crude oil a day3 at a market price of around $70 US a barrel.  Up until now — apart from a few hiccups — world oil production has trended up.  But thanks to a few factors:
Stronger fuel efficiency standards.
Growing electric car and hybrid sales.
Oil production may be at or close to its peak and soon decline.  Because it only takes a small decrease in oil demand to produce a large decrease in price, by 2025 the cost of petrol and diesel may be much lower than they are now.
Oil is an internationally traded commodity and Australia's fuel efficiency standards will only play a very minor role in lowering prices, but it will make owning second-hand cars cheaper, and it will make operating a highly efficient new petrol or diesel vehicle very cheap — but not as cheap as the running costs of an electric vehicle.
Fuel Efficiency Standards Improve National Security
Australia's oil production is now only around 13% of our oil consumption.  The situation is actually worse than it seems because most of the oil Australia produces is exported while almost all the petrol and diesel we use is imported.  I know that sounds nuts but if the only consideration is cost, given the oil grades and refining prices and capacities, it is the cheapest way to do it.
I think a disruption in the supply of refined oil products from overseas is very unlikely, but it does seem odd our government is spending at least $17 billion on jet fighters that seem pretty crap, while actively opposing fuel efficiency standards that would save money and make our oil supply less precarious.
Fortunately, as fuel efficiency standards will encourage sales of electric vehicles, we'll have more transport we'll still be able to use if there is a disruption the oil supply from overseas.
LPG Allows Low Cost Emission Reductions
Australia is probably third after Turkey and Italy for number of LPG fueled vehicles per capita.  Perhaps 8% of kilometers driven in Australia are LPG powered.  Vehicles designed to use LPG and not simply conversions can have CO2 emissions that are 15% or more less per kilometer compared to petrol.  This would be a simple and low cost way for manufacturers to meet or beat fuel efficiency standards.  I doubt it will be popular compared to electric vehicles, but it is an option.
Electric Vehicles Will Make It Easy
I'm sure there will be no difficulty in meeting the fuel efficiency standard because electric vehicles will make it easy.  They're taking off around the world and will take off in Australia.  We may even have self-driving cars by 2025 and any autonomous taxis will be electric to keep fuel and maintenance costs low.
Many people don't pay much attention to fuel consumption when they buy a car.  Instead, they're interested in how much "VROOM!!!" it has.  Fortunately, most electric cars have plenty of "VROOM!!!"  Except they're very quiet, so it's more like, "vroom".  By 2025 I'm sure the sort of people who pay $40,000 or more for a new car now will mostly want to buy electric cars thanks to their excellent performance.  And the more electric vehicles sold the easier it will be to lower average vehicle emissions.
Electric Vehicles Cause Emissions
The fuel efficiency standard is likely to consider electric cars to have zero emissions.  But when electric cars are charged with grid electricity or with clean electricity that otherwise would have been sent into the grid, it results in CO2 emissions.  These will decline as the grid becomes cleaner, but I think it's reasonable for an electric car to have an estimated CO2 emissions per kilometer figure based on the emissions it's expected to cause over its lifetime.
I also think it would be reasonable to include emissions from extracting, refining, and transporting oil to be factored in the figures for internal combustion vehicles, as well as making them pay for the health costs of their pollution.
None of these reasonable things are likely to happen any time soon.
Car Manufacturers Cheat
Car manufacturers can be massive cheats when it comes to the real life fuel efficiency and pollution emissions of their cars.  But this is easily fixed.  Car manufacturers can use the fuel efficiency results given by tests if they like, but we will warn them that a random selection of cars will be monitored and if their real world fuel efficiency is significantly worse they will be significantly fined for every car sold.  They will, of course, also have to compensate the owners of these cheat-mobiles.
Fuel Efficiency Standards Will Be Easy To Implement
Because other countries are doing the heavy lifting for us in improving vehicle efficiency and because the prices of electric cars are falling and their excellent performance and low operating costs will make them popular, I am very confident it will be easy for Australia to meet Labor's mild fuel efficiency standard and we will all be richer, healthier, and less likely to be killed by ridiculous, climate change induced, dingo-nados.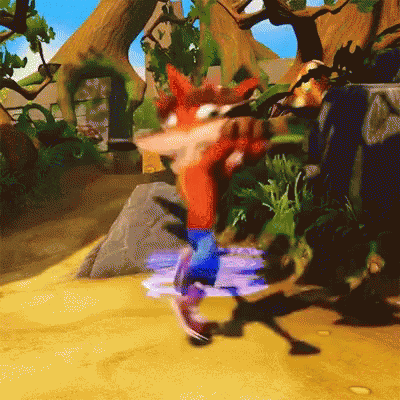 Footnotes
India's per capita GDP is around $2,300 US while Australia's is around $57,000 US. ↩
These kinds of estimates can give the impression that 2,000 people die while everyone else is okay, which isn't really the case.  What actually happens is all our lives are made worse by vehicle pollution but some are mildly affected while others cop it tough and die young. ↩
You may see figures that are higher than this, but those include things that aren't crude oil such as LPG. ↩