The Electric Car Revolution Is Coming And Cannot Be Stopped
Electric cars are approaching a major milestone.  Soon they will reach 1% of total world vehicle production.
If you don't think that's a big deal, consider how quickly things changed once 1% of people had the internet or 1% had smartphones.  This might not seem like a reasonable comparison, as a brand new electric car costs more than twice as much as the latest iPhone, but things are definitely taking off.
These countries have electric vehicles as the following percentage of new car sales:
Norway 35%
Iceland 8%
Sweden 4.6%
China 2.6%
Germany 1.3%
USA 1.1%
Australia is above 0% but not by much.  I tried to graph it, but setting Australia at one pixel high meant I couldn't fit Norway, Iceland, or Sweden on the page1.
Because Australia is behind the curve most people here haven't even seen an electric car, let alone thought about buying one.  But I am expecting sales to boom.  One prediction is 40% of new cars could be electric within 20 years time, but I think that figure could be reached earlier.
Soon I'll write an article about charging electric cars with rooftop solar and just how much extra solar panel capacity you may need.  But it doesn't change the conclusion I've already reached that you should install as much solar as you can.  The fact your car is likely to be electric in the future only makes this more important.
I'm writing this article to convince you an electric car revolution is coming.  There are a number of reasons why I think this including:
performance
environmental benefit
depleting oil supplies
possible government subsidies.
But the main reason electric cars will rule the roads is because they will be cheaper to own and run than petrol or diesel vehicles.
To be clear — I am not saying as battery prices come down electric vehicles will become cheaper than petrol and diesel burning vehicles in the future.  I am saying that even if battery prices never become cheaper than they are today, electric cars will still be more cost-effective once they are produced on a large-scale.  Electric cars beating the competition is already baked into the cake.
Cost Of Petrol Per Kilometer
To compare the cost of careening across the country between conventional cars and electric vehicles, we need to look at how much the petrol required to drive 1 kilometer costs.
Australian passenger vehicles only get an average of 9.4 kilometers per liter.  At its current price of around $1.25 a liter, this means we spend an average of 13.3 cents on petrol to drive 1 kilometer.
While this is much more than the cost of electricity required to drive an electric car the same distance,  we must also consider the cost of wear and tear on battery packs.
The Current Cost Of Vehicle Batteries
I've already stated battery prices are low enough for electric cars to soon out compete conventional ones, so you are probably expecting me to tell you how much they cost.
The trouble with that is I don't actually know their cost.  It's a secret.  But I do have a pretty good idea.
Looking at the example of Tesla battery packs used in Tesla S sports cars and new Model 3, the CEO of the company, Elon Musk, has said their cost is:
"Below $190 per kilowatt-hour."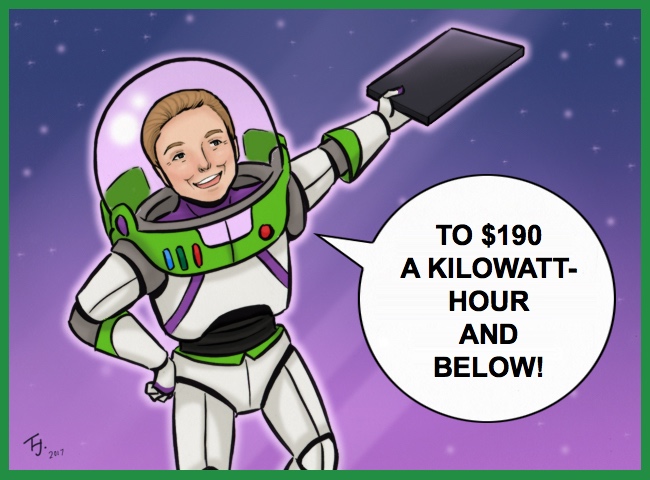 That comes to under $241 Australian at today's exchange rate.
Battery Pack Lifespan
Unfortunately, battery packs, which are multiple battery cells all wired together in a sound and sturdy structure and ready for use in an electric car, won't last forever and eventually need to be replaced.  The good news they is they look like they'll last the average driver for over a decade.  Tesla's now have a warranty of 8 years with unlimited kilometers.
Australian passenger cars are only driven an average of around 14,000 kilometers a year, so a typical driver will have only done 112,000 kilometers by the end of the warranty.  But if the battery can handle someone driving over 30,000 kilometers a year for 8 years without a problem, hopefully it can handle someone driving 14,000 km a year for a little over 14 years.  This will give an average of 200,000 kilometers before it needs replacing.
The standard Tesla Model 3 has a 50 kilowatt-hour battery pack.  If it costs $240 Australian per kilowatt-hour it's total cost will be $12,000.  If it can offer 200,000 kilometers of driving before it needs replacement then the cost of wear and tear on the battery will come to 6 cents per kilometer.
Cost Of Electricity Per Kilometer
According to the US Environmental Protection Agency the Tesla Model 3 gets almost 7 kilometers per kilowatt-hour.  While US figures are far more realistic about car ranges than European or Japanese ones, I am still going to knock it down to 6 kilometers per kilowatt-hour to allow for charging losses and real world driving conditions.
The cost of residential grid electricity varies according to location and retail plan, but a fairly typical price after discounts are applied is 25 cents a kilowatt-hour which comes to 4.2 cents per kilometer.
Cars can also be charged with electricity from rooftop solar if they are at least sometimes parked at home during the day.  If a home has a feed-in tariff of 11 cents and charges a car with 50% solar and 50% grid electricity it will come to 3 cents a kilowatt-hour.
Those who have a time-of-use tariff can charge with off-peak electricity and it is also possible to use a controlled load.  Special rates for charging electric cars may also be available.
Battery Cost + Electricity Beats Petrol's Per Kilometer Cost
With battery pack wear and tear coming to 6 cents per kilometer the cost of electricity can be added to see how well it compares to petrol's average cost of 13.3 cents per kilometer.
Under the following charging conditions, the total cost of driving 1 kilometer in an electric vehicle is:
100% grid electricity at 25 cents per kilowatt-hour = 10.2 cents per kilometer
50% solar with an 11 cent feed-in tariff + 50% grid electricity at 25 cents = 9 cents per kilometer
100% solar with an 11 cent feed-in tariff = 7.8 cents per kilometer.
100% off-peak or controlled load electricity at 12 cents per kilowatt-hour = 8 cents per kilometer
So even if completely charged with 25 cent grid electricity electric cars are much cheaper per kilometer than a conventional car that gets 9.4 kilometers per liter and is still cheaper than a conventional car that gets 12 kilometers per liter.
If an electric car is completely charged with solar electricity that would have received an 11 cent feed-in tariff if it was instead sent into the grid, then it would be cheaper per kilometer than a conventional car that gets 15 kilometers per liter, which is far more fuel efficient than average.
In addition, electric cars have other cost advantages.
Electric Cars Are Cheaper To Make Than Conventional Cars
Before the cost of batteries are included an electric car should be considerably cheaper to manufacture than a comparable petrol or diesel car.  Some reasons why are:
An electric motor is far simpler and cheaper than an internal combustion engine.
There's no exhaust so there is no muffler or catalytic converter.
There's no fuel tank
Minimal soundproofing is required.
Electric vehicles have additional features, such as regenerative braking, but overall the savings should be substantial.  I'm not a rev-head, so I can't really estimate how much cheaper it is likely to be.  If it was a horse it would be easy, as I know exactly how much their different components are worth per pound, but as it's a car I can only make the guess that it would be a couple of thousand dollars less.  If this is correct, then a $12,000 battery pack would result in an electric car only costing $10,000 more than a comparable conventional one.
Mass Production Is Required To Bring Costs Down
Electric cars will cost less to make than internal combustion ones, but only once they are mass produced in large numbers so the per unit cost will be low. Nissan and Tesla are now doing this with their cars, and there are large manufacturers in China doing the same to supply their domestic market, but it is still early days and in general electric vehicles have a long way to go to reach the high volume, low cost, level of manufacturing seen in the conventional auto industry.
Because it costs a vast amount of money to develop an electric car and build a production line, manufacturers are charging early adopters a premium to defray these costs.  This premium has fallen considerably, but there is still a long way to go before we see the very small mark-up per unit of non-luxury conventional cars.
Electric Cars Require Less Maintenance
Another useful source of savings is due to electric cars requiring less maintenance. There's no oil to change, no muffler to wear out, nothing to tune, no spark plugs to replace, and even the brake pads last longer thanks to regenerative braking2.
If you look at the maintenance schedule of a Nissan Leaf you'll see it recommends maintenance every 12,000 kilometers, which is not very impressive compared to my Hyundai Getz's 15,000 kilometer service cycle.  But when you look at what needs to be done, it's considerably simpler than for a petrol powered car.
I expect in the future, as manufacturers iron out the bugs from their electric vehicles, they will become more confident about extending their service cycles and further reducing the amount of maintenance required.
Fortunately, in Australia you can have your car serviced by a competent third party without it affecting your warranty and this can potentially save money over having it serviced by the manufacturer.
Electric Cars Have Awesome Performance
Now that I've covered the cost advantages of electric vehicles, it's time for me to address the elephant in the zoom…
Electric cars can have astounding acceleration and a lot of people are going to want to buy them simply for this reason.  Because of the way electric motors operate, any electric car that can do highway speeds — which will be all of them in Australia — will have excellent 0 to 60 acceleration and awesome 0 to 40 acceleration.  This is even true for even the Japanese Nissan Leaf, which is not designed to be sporty3, but can still go from 0 to 60 in under 5 seconds.
While rapid acceleration shouldn't be very important to sensible people, it appears not many of us are very sensible and good acceleration is a poplar feature.
Another advantage of electric vehicles is their extremely smooth ride, as the motor is metal spinning smoothly in an electromagnetic field, and not a series of controlled explosions repeatedly pounding pistons.  Many people find the smooth ride of electric cars extremely satisfying, but I own a horse, so anything with wheels feels like a smooth ride to me.  (You know, I probably never should have nailed those car springs to poor Tonto 4's hooves.)
Electric vehicles are also extremely quiet.  So quiet that in some countries they are required to generate noise when moving at low speed so people will know they are there.
Environmental Benefit
Humanity really needs to stop releasing greenhouse gases into the atmosphere from burning fossil fuels and it would also be nice if we could stop filling the air in our towns and cities with toxins.  Fortunately, electric cars can assist with both these problems.
Because an electric car motor is around 90% efficient and petrol engines are only around 25% efficient, it is possible for an electric car charged from the grid to result in less greenhouse gas emissions per kilometer driven than a petrol powered one, even if around 73% of electricity is generated from coal, as it is in Australia.
A conventional car that gets 9.4 kilometers per liter will emit around 300 grams of CO2 per kilometer, including the CO2 emitted during the petrol's refining and transport.  An electric car using grid electricity will only result in around 140 grams of CO2 emissions per kilometer.  So even compared to a very efficient conventional car that gets 15 kilometers to the liter, an electric car running off grid power will produce fewer emissions.  But a hybrid car that gets 30 kilometers to the liter will only result in about 94 grams of CO2 emissions, coming out well ahead of a grid powered electric car.
Some states, such as South Australia and especially Tasmania, have very low emission grids.  However, because their grids connect to Victoria, which is the Mordor of Australia, charging in those states doesn't make a large difference to a car's emissions as charging it will either result in less clean energy being sent to Victoria or more dirty energy being sent out.
The interconnected nature of the grid means if you charge your car using rooftop solar it is not as green as it may seem, as you will be sending less clean energy into the grid as a result.  But if you have intentionally installed enough extra solar panel capacity for your car then I think you're entitled to consider it as running off clean electricity.
The good news is the amount of renewable energy capacity being built in Australia is currently undergoing a mini-boom after may years of delay.  I hope this will keep up, allowing an electric car bought now to have greater emissions reductions over its lifespan than an efficient hybrid.
When it comes to toxins directly released into the atmosphere by a vehicle, electric cars emit none.  Well, that new car smell is probably mildly toxic, but it is nothing compared to burning oil products.
Oil Prices
On the 11th of July 2008 the price of oil went over $155 a barrel.  At the start of 2016 it was down to $37 a barrel.  Today it is around $72.  As you can see, there can be a lot of ups and downs.  If oil prices rise the economics of electric cars will improve while the opposite will happen if they fall.
Because the discovery of new sources of oil has not kept up with the rate of depletion in old oil fields, we are definitely set to see higher prices.  This will increase the uptake of electric vehicles and as their numbers grow, oil use will fall and the price of oil will plummet.  Lower oil prices should then slow their uptake, but by that time electric vehicles should be considerably cheaper and environmental protection is likely to be stronger, so my guess is the uptake of electric vehicles will continue mostly unabated.
But don't put too much faith in what I say about future oil prices.  If I could accurately predict them I assure you I wouldn't be living in this crummy 30 room palace.
Range Anxiety
Electric vehicles have one drawback.  Their single weakness, their Achilles wheel, is their lack of range.  My Hyundai Getz is capable of driving over 500 kilometers in town on a full tank of petrol.  If I compared that to the ranges given by the US Environmental Protection Agency (EPA) for a number of electric cars: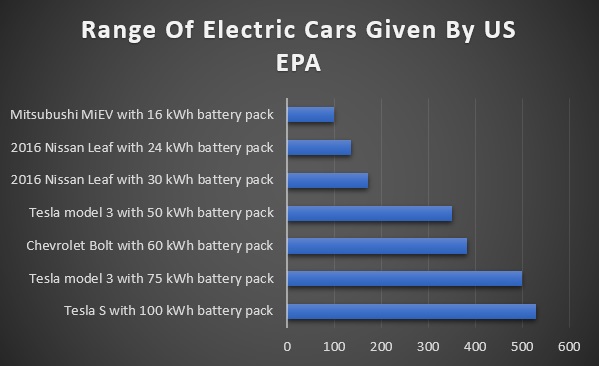 The bottom two on the graph aren't that bad compared to my Getz.  For some electric cars at least, the range problem seems to be overstated.  But their inability to rapidly fill up on liquid fuel does make them unsuitable for some purposes.  If you are constantly traveling long distances between country towns then even the longest range electric vehicle may not be for you.
But the range problem is not as big a deal as many people think it is.  While we all seem to think that at any moment we could jump in our cars and drive beyond the black stump, it's really surprising how few of us actually get around to doing that.  And on the rare occasions we do get around to it we could always borrow or rent a suitable vehicle.  The savings from an electric car might be more than adequate to pay for the occasional rental.
At the moment many families will solve this by having multiple cars.  My parents have two and they usually drive the most fuel-efficient one.  If they bought an electric car they would use it for most of their driving and they'd keep a petrol powered one for long trips in the country.
Also, Tesla has mostly solved the problem, in countries like the US anyway, by producing long range cars than can use a network of superchargers that can get a battery pack from almost flat to 50% in as little as 10 minutes and to 80% in 30 minutes — although usually it won't be that fast.  While superchargers are pretty quick, it is still possible that cars in the future to be charged at an even faster rate.
Another option to extend range is to use a plug-in hybrid that has batteries but can use an internal combustion engine for long distance driving and can refuel rapidly with petrol.  The very pricey BMW i8 is an example.
Government Subsidies
Around the world governments have given subsidies to encourage the uptake of electric cars to help usher in a more environmentally safe form of transport.  In order to assist this transition the Australian government has done nothing.
Well, this isn't true.  Electric cars do receive an indirect subsidy in the form of the fuel excise on petrol, diesel, and LPG that they don't have to pay.  There is a risk the government will declare this to be unfair and place some kind of charge on electric vehicles while ignoring that it is unfair to allow internal combustion car owners to emit greenhouse gases and toxins without paying to clean up the mess.
Personally, I think the ideal situation would be for the Australian government to give no subsidy at all to electric cars.  Instead, I think internal combustion cars should pay the full cost of removing their CO2 emissions from the atmosphere and for the cost of the health problems they cause.  It makes more sense to raise the cost of what we don't want, than to lower the cost of electric cars.  This is because someone who might have been happy with a bicycle and occasional taxi trips (or horse rides) might decide to buy an electric car they don't really need if it is cheap enough after subsidies.
Increasing taxes on fuel burning cars will require brave politicians. Which we don't have on either side. So I will accept subsidies on electric cars as a second best solution.
Self Driving Cars
One development I haven't mentioned yet that has a huge potential to rapidly eliminate oil use from ground transportation is autonomous vehicles.  If people start giving up private car ownership because self driving electric taxis are cheap and convenient, then each one could potentially replace 10 private vehicles.
There are now over 1.2 billion internal combustion engine vehicles in the world.  Replacing them all will take decades.  But if one self driving car take the place of 10 it literally makes the task an order of magnitude easier.
There are people who say self driving cars are still decades away and the reason they give is that making a car drive itself is really hard.  And that is true, but I don't think it will take long for them to be ready for unsupervised use4.  One reason is self driving cars don't have to be perfect, they only have to be better than humans, and most humans don't realize how bad they are at driving.  They literally don't know.  And while teaching computers to drive is really difficult, computers are becoming disturbingly good at teaching themselves.  If you don't believe me, go find out who the world champion at Go is.  I won't tell you whether or not the champion is human, but I'll give you a hint – if you prick him, he won't bleed.
Hope For The Future
I used a figure of $240 per kilowatt-hour for battery packs based on Elon Musk's statement that they cost under $190 US.  But he has promised further declines in the future and says he will be disappointed if they don't fall to $100 US a kilowatt-hour by the end of the decade.
Now when Elon says he will do something, he often will do it.  But not on time.  So I think there is a good chance he will be disappointed.  But fingers crossed there will only be joy joy joy down in his heart come the end of 2019.
But we don't need to rely on Tesla to lower battery prices.  In China they have been soaring in reverse for some time now.  While most Chinese battery back production isn't as high performance as Tesla's in the US, Nissan's in Japan, or LG Chem's in South Korea, it competes well on price using a safer and easier to handle lithium chemistry.
I also think there is an excellent chance Australia will get some kind of subsidy for electric cars within the next few years.  The Coalition may come up with one as an environmental fig leaf to cover up its sins, while ignoring the fact that a fig leaf is normally only good for covering one penis and they have a hell of a lot more dicks than that.
But even if Australia does nothing at the policy level we will still benefit from developments overseas where entire countries are planning to eventually ban internal combustion engine cars and this will only spur electric vehicle development.