Every year, more solar inverter brands arrive on the Australian market. But which one should you choose for your solar power system?
I think the best people to answer this question are the people that have to install, commission, maintain and support those inverters every day: the solar installers.
SolarQuotes Installers' Choice Awards For Inverters: 2022
Every year we ask the installers in the SolarQuotes Network what solar inverter brand they'd put on their own house in 2 scenarios:
If money is no object
If every dollar counts
We collate the results in our Installers' Choice Awards to give you some guidance as to the best inverter brands available in Australia – whether you want the best-of-the-best or simply a great, budget system.
The awards are in their second year, and here are the results for 2022:
Note: Choosing good brands is very important when buying solar. But you must still ensure the system is well installed. If you choose an installer through SolarQuotes, we guarantee you'll get a good installation.
Best High-End Solar Inverters in Australia (Money No Object):
First, we asked the installers:
What solar inverter brand would you put on your own house if money was no object?
Here's what they told us their favourite 'high-end' brands are: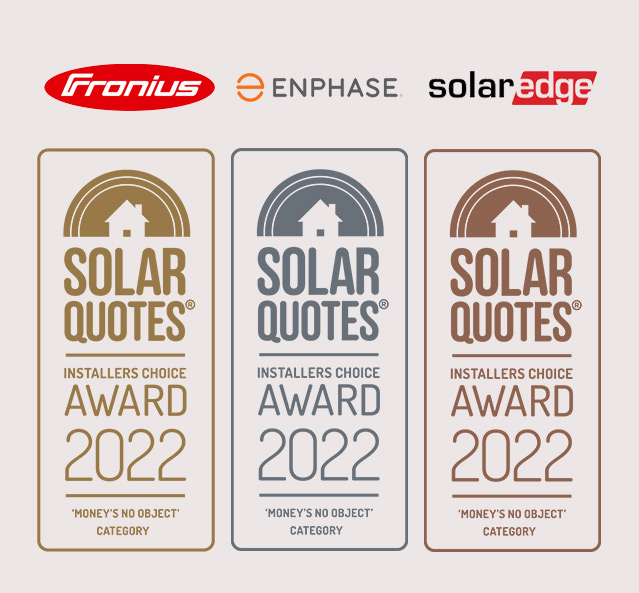 Best Inverter – First Place: Fronius (34% of votes)
Taking the gold medal for the second year in a row is Austrian manufacturer, Fronius.
Fronius Primo solar inverters and Gen 24 hybrid models have long had a great reputation in Australia for:
Build quality
Reliability
Ease of installation
Robust MPPT software (i.e. they can handle multiple orientations on one input surprisingly well)
They are not cheap – typically adding at least $1,000 to your system price compared to a good budget inverter – but many installers are wary of using anything else.
I know one solar engineer who likes Fronius so much they even had the Fronius logo tattooed on their calf.
There are 6,033 Fronius inverter reviews on SolarQuotes at the time of writing with an average score of 4.8 stars. One issue flagged in those reviews is that the Primo cooling fans can be noisy. Thankfully the newer Gen 24 hybrid inverters run much quieter.
"Great so far…Be warned though the unit can be quite noisy as the cooling fan spools up though out the day."
Best Inverter – Second Place: Enphase (29% of votes)
Enphase moves up one place in 2022 to take silver after taking bronze in 2021.
If you want Enphase, you'll need one microinverter per panel and one Envoy base unit on the wall by your switchboard. Enphase is the generally most expensive solution – expect to pay at least $175 per microinverter, per panel for their IQ7 series.
A trend in Enphase's favour is the increasingly larger panel wattages. With 400+ watt panels becoming common, you need fewer panels in your system and fewer microinverters.
Advantages of Enphase microinverters include:
Fault tolerance
Individual panel monitoring
Individual panel optimisation
Almost no limits on roof complexity
And you can drive over them in a forklift:
Australian Enphase owners are a happy bunch, giving an average of 4.8 stars from 1,376 Enphase microinverter reviews on SolarQuotes.
Best Inverter – Third Place: SolarEdge (17% of votes)
SolarEdge drop from silver in 2021 to bronze in 2022 with their per-panel optimiser and string inverter solution.
The clear favourite SolarEdge inverter model with installers was the new Energy Hub hybrid inverter with a built-in consumption meter. The Energy Hub is also compatible with the new SolarEdge Battery when it is released in Australia later this year.
SolarEdge owners in Australia rate the brand 4.7 stars from 1,472 SolarEdge inverter reviews. Reviewers commonly praise the SolarEdge monitoring app:
"The associated app is excellent and we have been able to better manage our electric use by checking solar power being produced and running appliances accordingly."
But there are also multiple recent complaints about the slow response of SolarEdge's Australian warranty support:
"Worked well initially, but suddenly stopped after about 8 months. Has been out of action now for over 7 weeks, with no response from SolarEdge despite numerous attempts by me and the installer."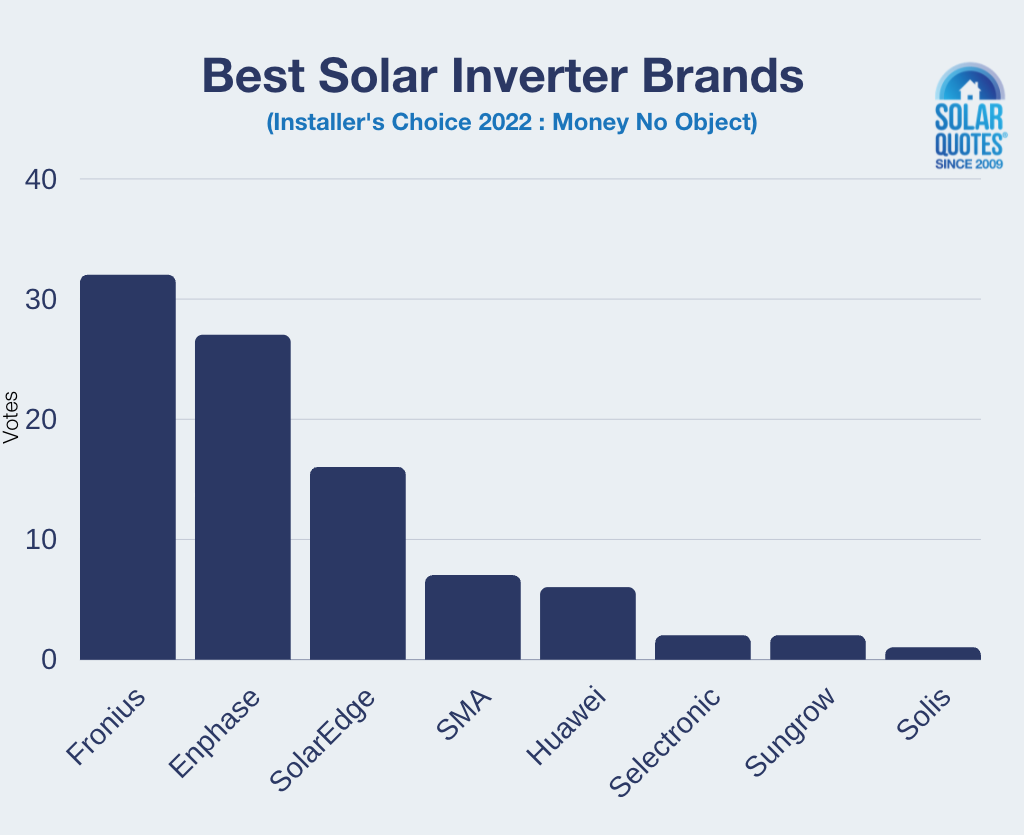 Best Budget Solar Inverters in Australia (Every Dollar Counts):
We also asked the installers:
What solar inverter brand would you put on your own house if money was tight and every dollar counts?
Here are their favourite budget brands: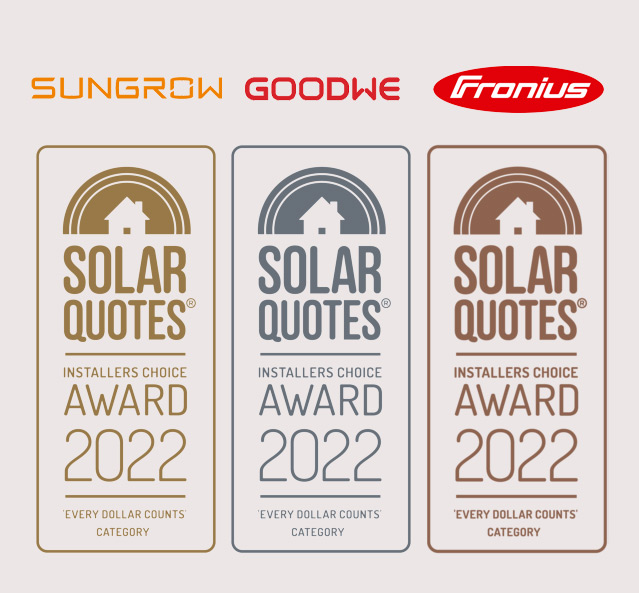 Best Budget Inverter – First Place: Sungrow (33% of votes)
Sungrow romped to victory for the second year in a row, winning more than double the votes of any other brand in this category.
Sungrow makes high quality, reliable, well-supported and feature-packed inverters that cost about $1,000 less than the equivalent Fronius.
Australian reviews of Sungrow inverters rate them at 4.6 Stars from 1,553 reviews.
Some reviews criticise the Sungrow monitoring app, the interface of which I also find clumsy. But the good news is Sungrow were the first to integrate their hardware with the Australian Solar Analytics app, which is a much better experience.
Best Budget Inverter – Second Place: GoodWe (15% of votes)
Moving up a spot from third place in 2021 to second in 2022 is GoodWe, who just seems to get better and better. As well as their own brand, GoodWe makes inverters for Redback and General Electric (GE); among others.
GoodWe's most recent 'MS' solar inverter has 3 MPPTs compared to the 2 MPPTs in most, and has rave reviews from at least one expert installer. Three MPPTs allow for more complex roofs, stepping on the toes of the much more expensive Enphase.
GoodWe inverter reviews score 4.6 stars from 955 reviews on SolarQuotes at time of writing. But be aware a number of those reviewers warn high ambient temperatures cause GoodWe inverters to significantly derate. For example:
"It is important to keep the inverter away from heat exposure. On hot days the output will be restricted as to not overheat the inverter. We had a number of 40+ C days and the capacity was significantly reduced between approx 10am-3pm."
Best Budget Inverter – Third Place: Fronius (15% of votes)
Fronius – winner of Best Inverter for 2 years running, also gets a podium for Best Budget Inverter for 2 years in a row.
Considering Fronius don't make a budget inverter, this result only goes to show that many good Australian installers love Fronius so much they can't countenance the thought of installing anything else – even when on a tight budget. Great result for a great brand.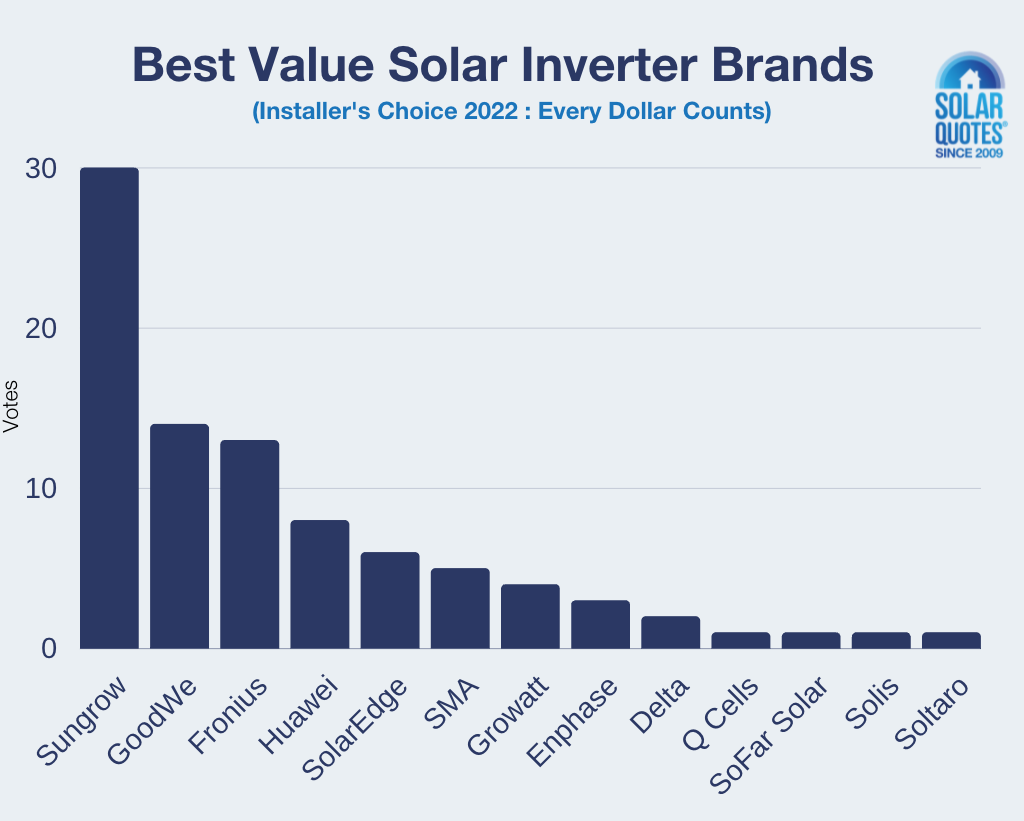 So, those are the results for inverters – now discover the best home batteries in 2022 as voted by Australian solar installers, and also the voting results for the best solar panel brands in 2022.