Shade is the number one enemy of a high performance solar power system.
If your roof has substantial shading between 9am and 3pm then installing solar panels is probably going to be a really bad investment.
If you are confident that your roof roof has absolutely no shading, then solar can be a great investment thanks to the current handouts by the Federal and State governments in terms of Solar Rebates and Solar Feed In Tariffs.
But what do you do if you suspect that your roof may get only a little shading throughout the day? Most roofs will get some shade from trees, power poles and neighbouring multi storey buildings.
How do you definitively work out how much shade your roof gets throughout the whole year?
And how do you use this information to get an accurate figure for how much power you can expect from a solar power system on your roof?
Because that is the figure you need to make an informed derision as to whether solar panels on your particular roof are going to give you the financial payback that you are looking for.
Well, the obvious answer is to get an accredited solar installer round to your house to have a look at your shaded roof and advise you.
So how will a reputable solar installer/designer work out the shade on your roof and how this translates to electricity output?
Well, unless your roof is very obviously free of any shading issues whatsoever, if he simply looks at your roof and says
"Hmmmmmmm… I reckon you'll lose about [insert random (but low-sounding) number here] percent. She'll be right!"
…then thank him for his time and throw his business card in the recycling bin.
Hopefully he'll get on your roof and use a specialist instrument to conduct a full "Solar Shade Analysis".
This is usually a camera with a fish eye lens that can amazingly take just 1 picture of the panorama around your roof and then crunch the resulting image data and tell you very accurately when and how much your roof will be in shade at any time of year.
Pretty cool eh?
So how does it work? What is this magic device?
One of the best systems on the market is called the SunEye.
It looks like this: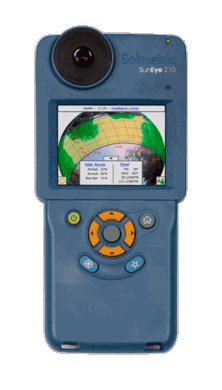 The fisheye lens is top left.
The installer places it on your roof and presses the button.
He will get a picture like this: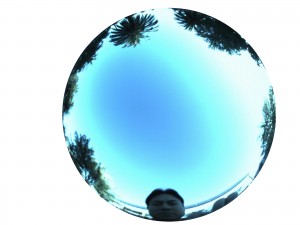 Which shows the obstructions to the sun around the circumference of the fish eye.
The software then superimposes a "sun path" onto the picture like this (the speech bubble annotations are mine):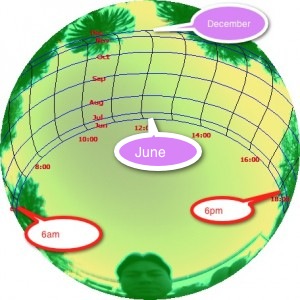 To read this picture you need to know that 6am starts at the LHS through to 6pm on the RHS.
The horizontal lines denote the month of the year, June at the bottom through to December at the top.
(The display can only show 6 months at a time – you can toggle the display with the device software to show toggle to the other 6 months of the year.)
If there is an obstruction inside the hatched area, you can see what time of day the shadow occurs and which month of the year.
So in this example, at 10am there will be shade, but only in Dec and November. At 6pm there is shade for the whole 6 months (June-Dec)
In a perfect world there will be absolutely no obstructions in the hatched area.
The installer will then download this image to his laptop and the software will crunch the data and provide a very accurate estimate of what your power production hit will be due to the shading issues for your roof.
You can then decide if you are happy with the reduction in power from the shading issues on your roof and make a fully informed decision on whether to install Solar Power on your home.
If you have any shading at all on your roof and you don't use a similar method to measure the effect on solar power output, you are just making a "Wild Assed Guess" as to whether your multi thousand dollar investment will give you the returns you are looking for.
Finally if you do have minor shading issues, then consider a micro inverter based solar system. Whilst micro inverters are not a magic bullet for shade issues, they can stop minor shading issues from becoming major power killers.