A recent solar panel test by German outfit "The TEC Institute for Technical Innovations" which put 15 Solar Panels under identical conditions for a month had some surprising results.
The test measured the power output of the following brands of solar panels:
ANTARIS AS M 185 AI
CSI CS 5A 180 M
ULICA 180 (34) D-UL 800
Jiangyin Jetion JT 175 (35)
ANTARIS AS M 175 AI 1
SolarGate SG 2200
Yunnan Tianda TD 175 M5
180 Sharp NU-180 E1
aleo S16
asola 185W/48
CSI CS6P-230P
Kyocera KC 175 GHT-2
Sym. Energy SE-M231
bpSolar 3210 N
Here are the results: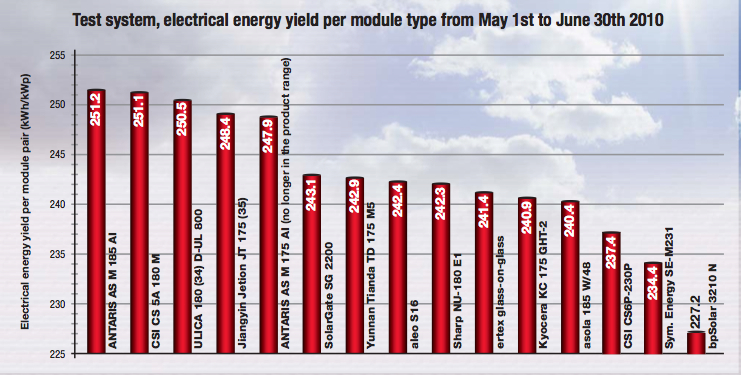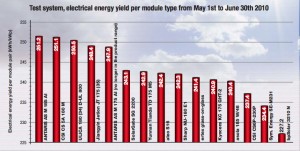 (click  here for full size image)
Basically the lesser known (and cheaper) brands like Ulica and the funny sounding Jiangyin Jetion produced more power in the test than the better known and generally more expensive brands such as Sharp, Kyocera and BP Solar in over their 1 month under the German Sun.
Of course your panels have to keep producing power over 25 or more years and the test doesn't help measure the longevity of the panels, but the results are pretty interesting nonetheless.