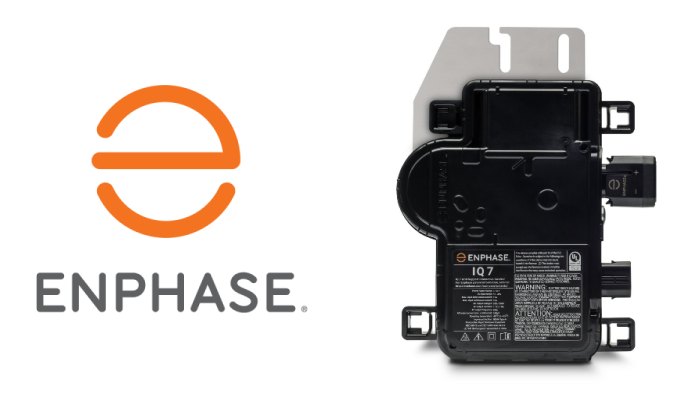 Microinverter manufacturer Enphase Energy (NASDAQ:ENPH) has announced it has started shipping its seventh-generation family of devices, the IQ 7, to Australia and New Zealand.
Up until now, the latest microinverters from Enphase available in Australia through official channels were the company's fifth-generation product line, the S-Series.
"We are pleased to deliver IQ 7 microinverters to our customers in Australia and New Zealand," said Nathan Dunn, general manager, Enphase Energy Asia Pacific. "The IQ platform is ideal for these solar markets as it delivers larger system sizes on a smaller footprint thanks to its increased efficiency, creating further value for our customers."
What Is A Microinverter?
A microinverter is a miniaturised inverter that attaches to the back of or next to a solar panel – one microinverter per panel – rather than the more common arrangement of a single large inverter (called a string inverter) used with multiple solar panels. Microinverters offer advantages including redundancy, more flexible system design, panel level monitoring and reducing the impact of panel shading. The use of microinverters in a solar power system is considered a form of Panel Level Optimisation (PLO).
When integrated directly into a solar module at the point of manufacturing, this results in what's known as a "AC solar panel". You can read more about AC solar panels and microinverters here; along with their advantages and disadvantages.
More On The IQ 7
The IQ 7 weighs just over a kilogram and measures 212 mm x 175 mm x 30 mm. Boasting a claimed 96.5% efficiency, Enphase says the IQ 7 produces up to 23% more power at nearly half the weight of Enphase's S-series microinverters.
The 250W AC Enphase IQ 7 Micro and the 295W AC Enphase IQ 7+ Micro are the first units available here and will be followed by a new 320W AC variant, the Enphase IQ 7X Micro, which is expected to be in Australia during the final quarter of this year. Further details on the Enphase IQ 7 microinverter family can be found here.
Given oversizing panel capacity 133% compared to inverter capacity is permitted in relation to Australia's major solar subsidy, this means the IQ 7 can be utilised with all solar panels (as far as we're aware) currently being used for commercial and home solar installations in Australia. For the IQ 7, that would be up to ~330W panel nameplate capacity, ~390W for the  IQ 7+ Micro and 425W for the IQ 7X Micro.
In other recent Enphase news, earlier this month it was announced the company had signed a definitive agreement to buy SunPower's microinverter business, which could result in SunPower's AC solar panels finally being available in Australia.
Enphase microinverters are an increasingly popular choice for module manufacturers wanting in on the AC solar panel scene. The company's AC solar panel partners include Solaria Corporation, Panasonic, JinkoSolar (Eagle AC) and LG (NeON 2 ACe).
Enphase products have been well received in Australia, scoring an average 4.5 out of 5 in SolarQuotes' Enphase microinverter reviews.
The company states it has shipped approximately 17 million microinverters to various destinations around the world during its history, and more than 760,000 Enphase-based systems have been installed.