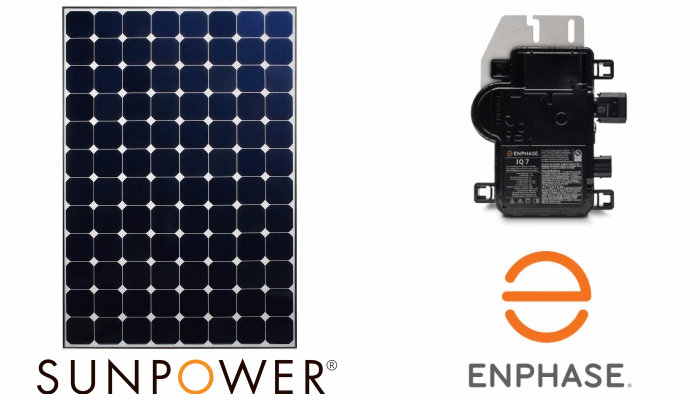 A deal between Enphase Energy and SunPower could turn out to be good news for Australian SunPower fans who've been itching to get their hands on the company's AC solar panels.
An AC solar panel is a module that has been fitted with a microinverter so that it produces Alternating Current (AC) instead of Direct Current (DC).  A microinverter is a miniature inverter that operates at the per-panel level instead of the more common arrangement of a single string inverter being used with multiple panels.
You can learn more about AC solar panels and microinverters here; along with their advantages and disadvantages.
SunPower entered the microinverter sector through its acquisition of SolarBridge Technologies back in 2014 and has been using these microinverters on its AC Modules (ACMs) since.
That's all about to change after the announcement yesterday Enphase Energy had signed a definitive agreement to buy this part of SunPower's business for USD $25 million in cash and 7.5 million shares of Enphase common stock.
"We are pleased to become the microinverter supplier for SunPower's AC Modules," said Badri Kothandaraman, president and CEO of Enphase Energy. "The IQ 7XS 320W AC microinverter in an ACM strongly complements SunPower's high efficiency solar cells, communication and racking to create a high performance, high quality and easy-to-use Equinox™ Home Solar System, providing exceptional value to homeowners, dealers and architects."
The IQ 7 is the seventh-generation Enphase microinverter and the IQ 7XS was designed specifically for SunPower's X Series 96-cell solar panels.
SunPower AC Solar Panels In Australia Soon(ish)?
SolarQuotes founder Finn Peacock says the news may have interesting consequences from an Australian perspective. SunPower AC panels have never been available here as the latest generation SolarBridge microinverters were not designed to operate at Australian AC frequency and voltage.
"Now Enphase are the inverter supplier for SunPower's AC modules, the company may begin selling these panels in Australia," he stated.
Australia's Tindo Solar originally started out incorporating early generation SolarBridge microinverters in its AC panels some years ago, but after the acquisition SunPower only installed the devices on its own solar panels destined for the U.S. market.
Enphase's move is quite a coup as the company has now eliminated what Finn believes was Enphase's only serious competitor, while scooping up SolarBridge's business at the same time.
SunPower, one of the world's longest-established solar panel manufacturers, says its customers will continue to see a high quality and performance product.
"As a result of this strategic partnership, SunPower looks forward to benefitting from Enphase's expertise, allowing us to continue containing costs, leveraging R&D support and helping streamline our business priorities," said SunPower CEO, Tom Werner.
Enphase microinverters are increasingly appearing on various flavours of AC solar panels. The company has partnered with other manufacturers including Solaria Corporation, Panasonic, JinkoSolar (Eagle AC) and LG (NeON 2 ACe).
In other recent news from Enphase, the company announced the appointment of Eric Branderiz to the roles of Vice President and Chief Financial Officer, effective from June 4. Mr. Branderiz previously served as vice president, corporate controller and chief accounting officer at Tesla, Inc.