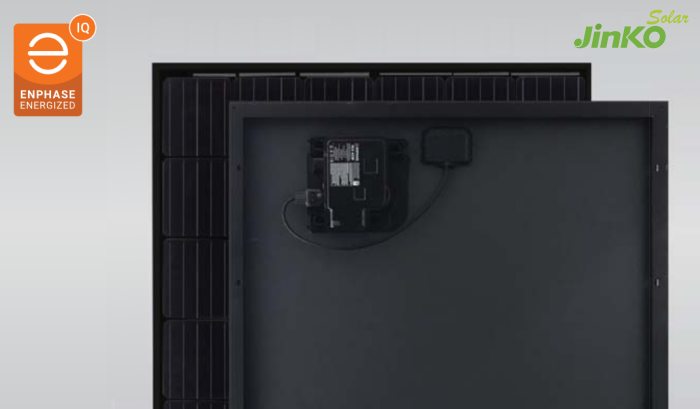 JinkoSolar has formally announced its new Eagle AC solar panel, a monocrystalline PERC PV module incorporating Enphase Energy's IQ6 microinverter.
JinkoSolar says the "plug and play" Eagle AC will simplify logistics, with fewer components needing to be stocked, transported and installed.  The panel/microinverter pairing also provides a single point of contact for warranty.
Once the panel is in place, the installer pulls the microinverter into its elevated installed position, creating a 15 millimeter gap to ensure sufficient air-flow and cooling. In the event of a microinverter failing, it can be easily replaced.
"We are excited to work with Enphase on the Eagle AC, as Enphase's microinverters already have broad appeal in the market," said Nigel Cockroft, General Manager of JinkoSolar (U.S.) Inc. "The Eagle AC is the logical next step in the evolution of residential solar, and we are pleased to offer it to our customers. "
According to the Eagle AC data sheet, conversion efficiency under standard testing conditions ranges from 17.11% to 18.33%, depending on the model. The 60-cell solar panel offers a temperature coefficient (Pmax) of -0.39%/°C. The 280-300 watt range of Eagle AC 60 panels have a positive power tolerance of 0 ~ +3%.
The IQ6 is the sixth generation of Enphase microinverter devices and Enphase says it is the most efficient microinverter it has developed (97% efficiency).
Pricing and availability details of the Eagle AC solar panel for the Australian market wasn't available at the time of publishing from JinkoSolar.
Another AC solar panel that will feature Enphase microinverter technology is the LG NeON 2 ACe.
17MW Jinko Solar Panel Supply Deal
In other news from JinkoSolar, last week the company announced its Canadian subsidiary will supply approximately 17 MW dc of its modules (48,500+ panels)  for the construction of the Brooks Solar 1 Facility in Alberta, Canada. The facility will be the first utility-scale solar farm in the nation and the first significant Canadian project to use Passivated Emitter and Rear Cell (PERC) technology.
JinkoSolar Module Shipments Up 39.5% QoQ
Also last week, JinkoSolar announced its unaudited financial results for the second quarter ended June 30, 2017
The company says solar module shipments reached 2,884 megawatts; an increase of 39.5% from 2,068 MW in the first quarter of 2017 and a jump of 68.1% from 1,716 MW in the second quarter of last year.
JinkoSolar's Chief Executive Officer, Mr. Kangping Chen, said demand in China was very strong during the quarter, driven by companies rushing to beat the feed-in-tariff cutoff at the end of June.
Mr. Chen says demand in emerging markets accounted for a greater share of JinkoSolar's shipments during the quarter and he expects this to continue.
JinkoSolar's products are also a common sight on Australian residential and commercial rooftops. You can read reviews of JinkoSolar panels here; from Australians who have had the modules installed.