Update 16th April 2019:  Many PERC panels have suffered from LeTID deterioration problems since this article was written.  This article here goes into the problem and this article on the MC Electrical blog covers it in detail and gives information on which PERC panels are resistant to LeTID.
Solar panel manufacturers crave efficiency.  I'm not talking about the labour efficiencies they receive from building new production lines that are robot-heavy and people-light, although they like those too.
The efficiency I am referring to is turning light into electricity.   The higher a solar panel's efficiency, the more watts of power you can get from the same amount of silicon.  As solar panels are sold by the watt, mo' watts means mo' money.
This is why the holy grail of the PV industry is increased solar cell efficiency.
One of the most cost effective methods of improving efficiency that has caught on this decade is PERC.  While it's not quite a holy grail, it has to at least count as a holy beer stein and is definitely better than a mere holy shot glass.
PERC stands for Passivated Emitter and Rear Cell1.  It improves efficiency by allowing electrons to flow more freely and also by increasing the reflectiveness of the back of solar cells.  I'll explain how it works later in the article.  (Provided I actually understand it myself by the time I get to that point.)
Currently, around one quarter of new solar panels are PERC and the figure may reach 50% in 2020.  The reason it has become popular is because it adds little to the cost of solar panels while increasing their efficiency by around one whole percentage point.  That is, it can turn a boring old 16% efficient panel into an exciting 17% efficient one.2
In this article I will explain, or possibly fail to explain, just what PERC is, why the majority of panels may be PERC in the future, and if you should give a damn whether your panels are PERC or not.
Spoiler Alert:  Frankly my dear, you shouldn't give a damn.
PERC Is An Australian Invention
PERC was invented in Australia because we're so awesome.  Or at least that subset of us who were working on solar cell technology in the University of New South Wales in the 80s, many of whom came from overseas, are awesome.  But that's okay.  I'm sure it is a kind of contagious, nationalistic awesomeness that has since spread to us all.
Sure, some Americans deserve a quantum of credit for producing the first actual paper on the topic, but that's okay, we can just make them honorary Australians in much the same way we claim Russell Crowe is Australian, right up until the point he starts pegging his phone at people,
And how we used to say Mel Gibson was Australian until he went freaking nuts.
How PERC Works
If you want to read an in depth and detailed description of how PERC solar cells work then I recommend this article by Australia's master of green technology, Martain A. Green.
If you want a simplified and possibly laughably botched explanation, then don't stop reading now.
How Solar Cells Work
Most solar panels use P-type cells while some high efficiency and higher cost panels use N-type cells.  You can read about the difference between the two in P and N's excellent article here.
When light hits silicon atoms in a solar cell it can knock electrons free.  These electrons are negatively charged and the atoms that lose them become positively charged.  Since opposites attract the two want to recombine to make themselves whole again. But solar cells are made so electrons gather on one side and can't reach the positive atoms on the other side.

In P-type cells, the most common sort, the base of the cell is positive and the top is negative.  The top layer of silicon where the electrons gather is called the emitter.  Since the negative electrons at the top are blocked from taking the shortest path to the positive atoms below, they pass through a fine grid of wires on the surface of the cell and keep traveling until they arrive at the bottom of the solar cell.  As they travel on their merry way we can exploit them to provide power to run lights, laptops, solar inverters, and potentially many other things.
But if electrons and atoms recombine under the metal contacts on either the surface or rear of the cell, it reduces the voltage and limits the cell's output.  This effect can be reduced by passivation, which is what the first letter in PERC stands for.
P is For Passivation
Passivation involves creating a layer of oxidized material.  The layer under the grid of wires on the surface of the cell is usually aluminium oxide.  On the rear of the cell it is either aluminium oxide or silicon oxide, followed by a layer of silicon nitride.  And that's all the four letters in PERC — Passivated Emitter and Rear Cell.
On the rear of the cell, the metal contacts still need to touch the silicon of the cell, so a "laser" is used to cut holes in the passivation layer on the back for the metal contacts to enter.
Passivation Makes Bottoms Shine
Helping electrons flow is not the only advantage of passivation.  It also increases the amount of light reflected from the bottom of the cell.  This is useful because if light missed hitting a silicon atom and knocking an electron free on its way in, reflection will give a second chance on the way out.
Almost all solar cells have a reflective layer on the bottom3 which is normally aluminium.  But because the refractive index of silicon is higher than glass4 the resulting reflectivity of around 89% isn't as high as a normal aluminium backed glass mirror.  But placing the passivated layer with a lower refractive index between the silicon and the aluminium can increase reflectivity close to the maximum possible of 98%.  This gives a slight boost to the panel's efficiency.
Reflecting more light and reducing the amount absorbed by the back of the panel makes it a little bit cooler and this also results in a small increase in efficiency.
Light Induced Degradation Can Be Worse Than Average
Light Induced Degradation, or LID, reduces the efficiency of P-type solar panels by around 3% after their first few days in the sun.  To be clear, this is 3% and not 3 percentage points, which would be far worse5.  In PERC panels LID can be worse than average, but it's not nearly enough to cancel out the benefits of PERC.
LID can be avoided by using N-type solar cells, but as they are more expensive than conventional P-type cells, costs will have to come down before there is a major shift to them.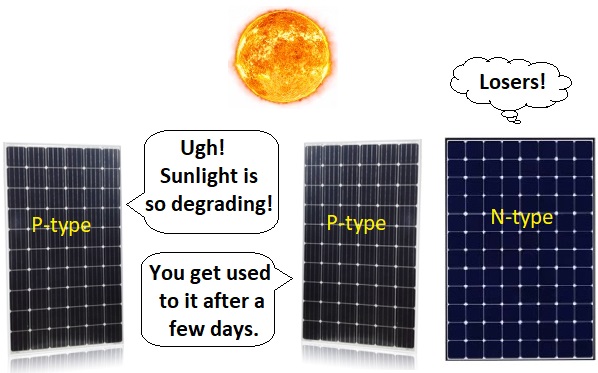 We're In For A World Of PERC
PERC solar panels first appeared around 2012 but it took manufacturers several years to refine the process and bring down costs.  Over the past year or two PERC panels have really taken off and perhaps one quarter of new panels produced are PERC.  This may reach 50% in 2020.
While manufacturers have become pretty good at making PERC panels, it is still possible there is room for improvement and we may see further cost decreases and efficiency improvements making PERC even more popular.  But I wouldn't expect huge improvements.  After all, even though the process involves strange words and unseen forces, it's not magic.
It Doesn't Matter Whether Or Not Your Panels Are PERC
While PERC makes panels more efficient and is becoming more popular, you don't need to worry about whether or not your panels are PERC.  So if a salesperson tries to convince you you have to have PERC you can tell her to go jump.  Or maybe just smile and nod while ignoring her if you are feeling polite.
There are important things you do need to worry about when it comes to selecting solar panels and the main ones are:
Are the panels tier one or made by a manufacturer that is known to produce reliable panels?
How long are the panel's warranties?
Do the panels have special features such as panel string optimization or the ability to bypass individual cells that are soiled, as many of SunPower's panels can?
The efficiency of panels is only important if you have a limited amount of roof space or you want to keep some space free for future use.  Just looking at a panel's efficiency is sufficient if you are looking for high efficiency ones.  The panel you choose may well turn out to be PERC, but there is no need to actively seek it out.