I am very happy.  I just found out there is a battery testing centre in Canberra.  Who would have thought there would be something useful in Canberra?  Besides, of course, for the Federal Government and the bureaucracy that's necessary for the functioning of a modern representative democracy.1
The full name of the facility is the Lithium Ion Battery Test Centre.  But since that's a bit of a mouthful and because they test a few batteries that aren't lithium, I will just refer to them as the Battery Test Centre.  They independently test batteries with the aim of providing the public with information and since they've stated that's their goal I will be lifting images and graphs from their reports without remorse.
So far they have attempted to test a total of 18 different batteries.  At the moment only 16 can be tested, which is not a good sign.  They installed the first 8 in the middle of 2016 and they acquired another 10 one year later.  They publish a report on their results roughly every 6 months.
The reports clearly show that many batteries have been inadequately tested before being put on sale.  Problems have included:
Difficulty physically installing and connecting batteries.
Problems with communication between batteries and inverters.
Parts vital for installation that are not "off the shelf" haven't been supplied with batteries.
Instructions for installation were often not included with batteries or were inadequate.
The majority were not delivered on time.
Testing has shown some batteries losing capacity or "fading" rapidly.  This may result in many future warranty claims for currently installed battery systems.
One area identified as being desperately required is standardised protocols for communication between batteries and inverters.
This would reduce installation times, decrease the number of faults, and should increase the number of compatible inverters per battery pack.
The Battery Test Centre is run by ITP Renewables, a company that consults on and manages renewable energy projects.  It is funded by taxpayers through a grant from ARENA.
What Is ARENA?
ARENA is what you get if you cheat when making an acronym.  It stand for Australian Renewable ENergy Agency.  Somehow the N in energy managed to be included in defiance of all that is good and holy when it comes to acronym construction.  They didn't even try to justify it by calling themselves the Australian Renewable Energy Ninja Agency.
AREnA's goal is to increase both the supply and competitiveness of renewable energy in Australia.  Home batteries currently increase emissions but have the ability to support renewable generation, so AREnA funds testing.  Besides assessing potential benefit, the testing also provides useful consumer information.  Low cost access to accurate information is vital for the efficient functioning of markets – a fact many companies and politicians are either unaware of or selectively forget when it suits them.
The Battery Test Centre Website Is A Bit Thick
On the Battery Test Centre site they give their explanation of why batteries need to be researched:
"The ability of wind and solar PV to meet instantaneous electricity demand is limited by the fact that they are intermittent generators – dependent on the instantaneous weather conditions at the site of their installation. For these clean, low-cost generators to provide significant contributions to total energy use on an electricity grid, they must be deployed in conjunction with an energy storage technology."
It is gobsmacking to see something so wrong written on an Australian battery test site.  Haven't people in Canberra heard of South Australia yet?  I'm sure they have because I can remember Federal politicians complaining about us.  One-third of the electricity consumed in South Australia was generated from rooftop solar and wind turbines before the Tesla Big Battery was built and the Big Battery is an extremely tiny battery compared to the state's average daily electricity use.
Since one-third is a significant contribution2 to anyone who isn't my second wife3 the Battery Test Center clearly don't know what they are talking about.  It is the cost of intermittent renewable generation that determines how much is used and fortunately is now relatively cheap.  Energy storage can definitely help but it is 100% not necessary.
The 18 Batteries They Test
They say a picture is worth 1,000 words.  In this case it is worth 41 words as that's how many I'd have to write to list all the batteries they have attempted to test instead of just showing the picture below I stole from the Battery Test Centre site: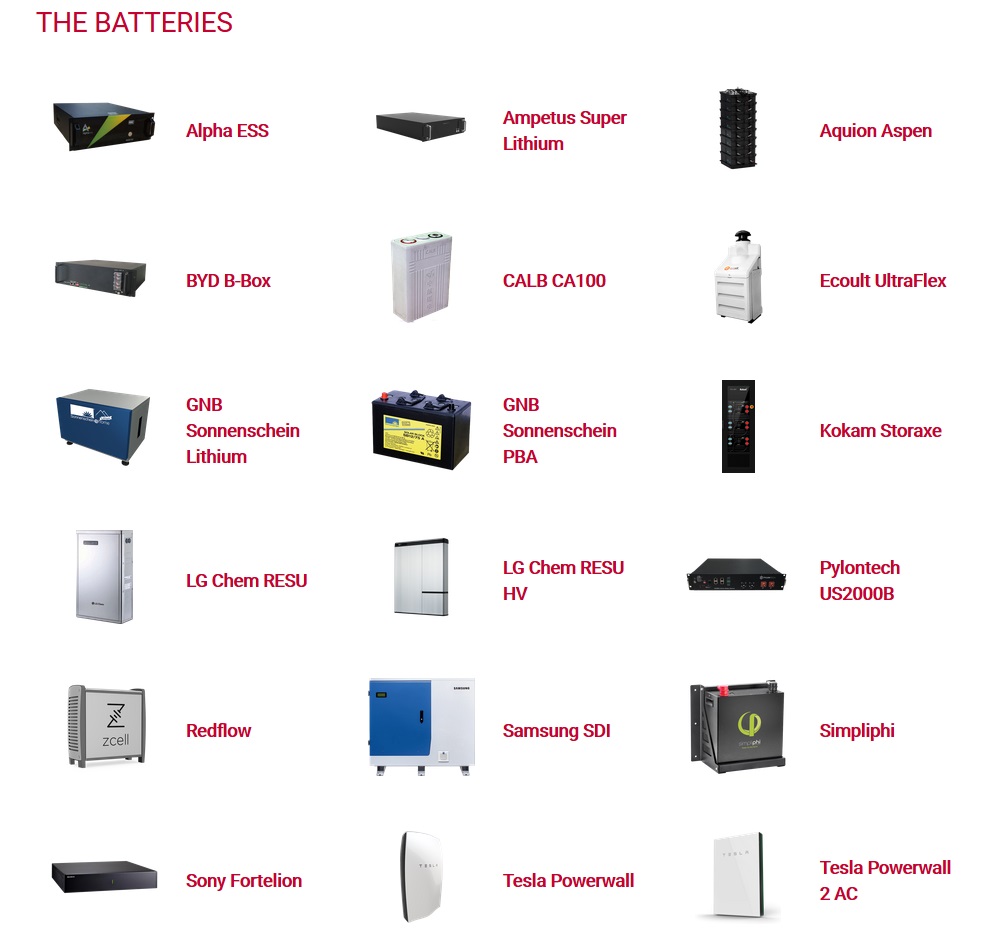 Not All Batteries Are Available
About one-third of the batteries shown above are now unavailable or at least difficult to obtain.  Some specific ones I will mention are:
Ampetus has recently gone bust, though it is possible another supplier will start importing the same Sinlion batteries from China.
Aquion has gone bankrupt.  While they were bought up by another company, the Battery Test Centre says warranties for their batteries are not being supported.
The Samsung SDI is now the Hansol AIO.
The Kokam StoreaXe no longer appears to be available.
The original Tesla Powerwall is no longer available and has been replaced by the Powerwall 2
The Powerwall 2 is currently not available and Tesla says it won't be until "early next year"4.
If you want to know what battery systems are available, we regularly update our Battery Comparison Table that lists all the home battery systems currently available for purchase in Australia we are aware of.  If it's not on the table then there's probably no Australian supplier.  But if a battery is available and it's not on our table, let us know.  If we can get information on it, we'll add it.
They Try To Buy Batteries Like Average Australians
To keep the test fair and avoid manufacturers sending their best batteries or even one that contains higher quality components than what the average punter gets, the Battery Test Centre attempts to buy their batteries retail as though they were a normal Australian household5.  But at times they have had no choice other than to buy directly from the manufacturer.
How The Testing Is Done
The battery testing center has a climate-controlled room where the lithium batteries are cycled three times a day; with each charge and discharge cycle taking 6 hours.  This is nominal cycling where they are fully discharged to the limit the manufacturer allows and not a full 100% discharge, which would be bad for all of their batteries except the Redflow ZCell.  The idea is to simulate nine years of once a day cycling over a 3 year period.  This won't perfectly match real world conditions because time has a destructive quality all of its own and causes additional decay over that caused by use.  But use is the main factor and so long as people remember that real life results are likely to be slightly worse, it is a reasonable compromise for getting information soon enough for it to be useful.  While it would be possible to cycle the batteries at an even faster rate, this would make the test unrealistic as it would cause them to get hotter than they would in residential use.
The two lead-acid batteries being tested are not cycled as often as lithium batteries due to their different characteristics.  Looking at test results they appear to be cycled once per day.
Outdoor Temperatures Are Simulated
Most home batteries are installed outside.  While they should definitely be placed under shade, they will still be exposed to outside air temperature — known as "ambient" temperature to people who like fancy words.  The Battery Test Centre uses a climate controlled room to simulate outdoor temperatures they expect the typical battery system to be exposed to.
They have a high and a low temperature for each month of the year.  For the six warmest months, two of the three daily cycles are at the higher temperature and one is at the lower temperature.  For the six coolest months one cycle is higher temperature and two are lower:

Some batteries aren't suitable for outdoor installation and so may not be exposed to the same temperature extremes but it's reasonable to use the same temperatures for all the batteries.  Identical conditions allow for fair comparison and many indoor batteries are in garages and sheds where they will still be exposed to large swings in temperature.  They can even be worse than for outdoor batteries and I recommend placing a minimum/maximum thermometer in any location you are planning to install batteries in the future so you can get an idea of what kind of temperatures they'll be exposed to.6
They Have Published 4 Reports
The Battery Test Centre publishes a report every 4 to 8 months.  The four reports so far cover:
I'll give some highlights from their first two reports, but I will mostly give you information from reports 3 and 4 for the following reasons:
Their Phase 2 batteries were installed less than a year ago and the problems they experienced should be more relevant to people getting batteries today.  Unfortunately, there wasn't a huge improvement from the Phase 1 installations.
The batteries had been tested for a longer period by the time Report 4 was published.
Some batteries are now unavailable — though this is also true for some Phase 2 batteries.
All their reports can be downloaded here.
Report 1:  September 2016
As they'd only been testing for around 3 months, this report mostly focuses on the installation of their eight Phase 1 batteries — six lithium (two lithium iron phosphate and four nickel manganese cobalt) and two lead-acid (one traditional lead-acid and one lead-acid carbon):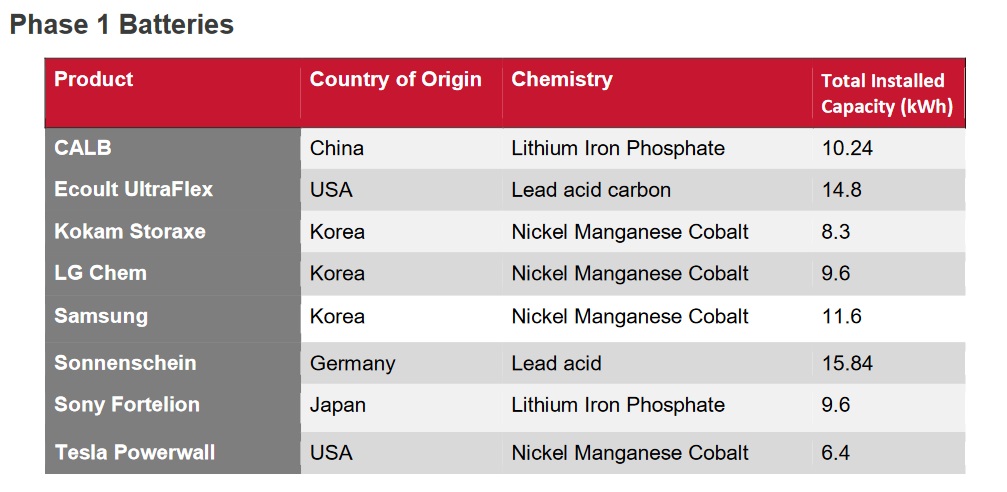 Report 2:  March 2017
Their second report was released 6 months after the first in March 2017.  I'll only mention 2 points from this report and save the results of testing for later:
 Three months after testing started the StoraXe battery pack failed and permanently damaged its battery cells thanks to a faulty built-in Battery Management System (BMS) that failed to prevent its charge falling too low.  I don't know of any other StoraXe system installed in Australia and, as far as I am aware, they are no longer available.
The CALB battery pack had a defective cell that was detected soon after installation.  The manufacturer replaced it in one week, which is reasonable as these things go, but while it continued to operate acceptably the battery pack developed problems that made it difficult to measure its output accurately and its test results weren't used.
Report 3:  November 2017
The Battery Test Centre says they publish reports every six months, but this one came out eight months after their last one.  In this report they cover the installation of their Phase 2 batteries, which consist of eight lithium batteries, a Redflow ZCell zinc bromide battery, and an Aquion saltwater battery bank.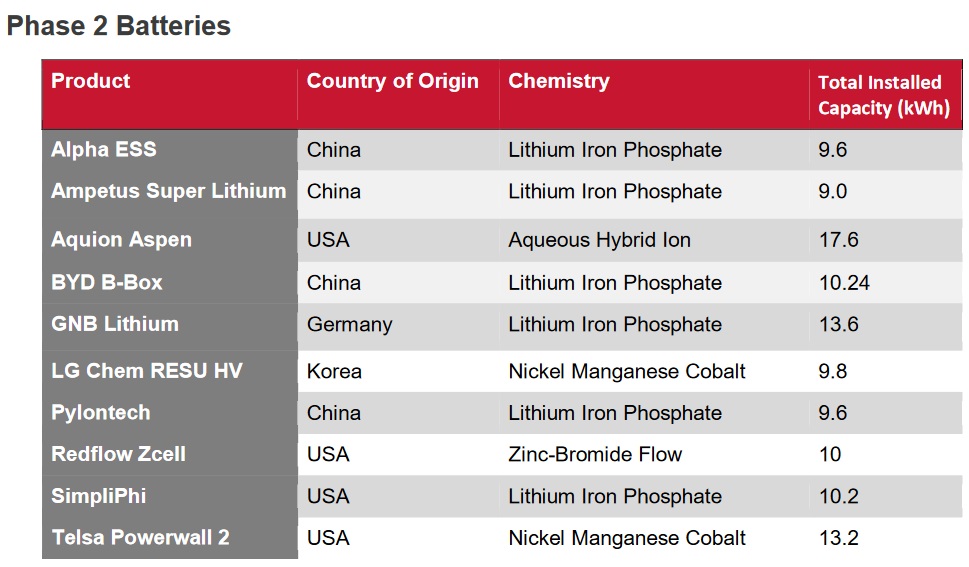 2 Out Of 10 Companies Went Bust Within 1 Year
Unfortunately, buying home batteries can be a risky business.  Two companies — Aquion and Ampetus — went bust in under a year.
Only 8 Out Of 10 Batteries Could Be Tested
Due to bankruptcy, no support was given for the Aquion saltwater battery and its installation could not be completed.  Also, the Tesla Powerwall 2 lacked functionality that would allow it to be charged and discharged as required for testing although it would have work if used for a home installation.
The Odds Are Not Good
Two out of 10 suppliers going bust within a year with one of their batteries being uninstallable from the get-o are not good odds for someone looking to buy an untried new battery.  Buying from a large established company can protect against this but still won't guarantee they'll be around in 5 years time to honor their warranty.
Installation Issues
Only four out of the 10 Phase 2 installations went smoothly or at least as smoothly as could be expected.  The six others had problems ranging from arriving late to its manufacturer going bust and the battery being unable to be installed.  I have listed all Phase 2 batteries below, the inverters they were installed with, and problems had obtaining and installing them.
Alpha ESS
It was originally planned to use this battery pack for Phase 1 testing, but the company cancelled the order and returned the money with the explanation it needed further development.  While definitely annoying, this is more ethical than releasing a product that isn't ready.
Installed with an SMA Sunny Island inverter which is no longer available for grid connection here due to updated Australian standards.
Purchased directly from the Chinese company EVE7 and communication was difficult.
Arrived more than 2 months after ordered.
Installation documentation provided with the batteries was not sufficient.
Simple to install.
Ampetus Super Lithium
Ampetus recently went bust and is no longer around to give support.  The battery packs were produced by the Chinese company Sinlion and may become available through another supplier or suppliers.
SolarX X-Hybrid inverter used.
Arrived 1 month late.
No documentation came with batteries but Ampetus was able to supply information.
No cables used for battery communication with the inverter were supplied.
Batteries had communication problems and Ampetus advised changing the cables used to fix it.
Aquion Saltwater Battery
Aquion has gone bankrupt.  While it was bought out, the Battery Test Centre says they are not supporting previous warranties.  I am not aware of any saltwater batteries being sold in Australia since they went bust.
A Victron Multigrid inverter was unsuccessfully used.
Arrived 2 weeks late and company went bust soon after.
Cables to inverter were not supplied.
No documentation came with batteries but was available online.
Because of Aquion's bankruptcy, no installation assistance was available and the installation was unable to be completed.  I am certain the Battery Test Centre has a lot of technical expertise, so you can imagine how difficult it must be for an inexperienced installer to cope with a new battery system that's a cow to install.
BYD B-Box
The BYD B-Box is produced by BYD, which is a giant Chinese manufacturer of batteries and electric vehicles.
An SMA Sunny Island inverter was used.  (No longer available for grid connection in Australia.)
It arrived on time.
The instruction manual was clear and comprehensive.
It was easy to install.
GNB Lithium
These are produced by the German battery company BMZ GmbH which is based and manufactures in Bavaria.
Used SMA Sunny Island Inverter.  (No longer available for grid connection in Australia.)
Batteries arrived in Australia 4 days late, but they are installed in a cabinet that arrived 3 weeks late.
Extra breaker boxes were delivered which had to be returned.
The batteries came with no documentation but it was provided by email and was clear and easy to understand.
A program necessary to install the batteries had to be requested and was delivered on a USB thumb drive.
When it comes to delivering home batteries, it appears not even Germans can be on time.
LG Chem RESU HV
LG Chem RESUs are produced by the giant South Korean Corporation LG.  They are Australia's most widely installed home battery.
Used with SMA Sunny Boy Storage battery inverter.
Arrived on time.
Higher voltage meant cables were thinner and so easier to install.
It came with clear installation documentation.
Easy installation overall.
Pylontech
Pylontech is a Chinese producer of lithium iron phosphate batteries.  They claim 5,000 homes around the world have installed their batteries.
Used with SolaX X-Hybrid inverter.
It was not made clear the interconnecting battery cables would need to be purchased separately.
Arrived on time.
Came with documentation.
Easy to install.
Redflow ZCell
The Redflow ZCell is an Australian designed battery that uses a zinc bromide solution that makes it unique among home batteries.
A Victron inverter was used.
Purchased directly from Redflow rather than through a distributor and arrived before the given date.
The original ZCell battery was replaced by Redflow due to contamination of the zinc bromide electrolyte solution and was later replaced with a third unit due to an electrolyte leak.
Its 290kg of weight requires lifting equipment which complicates installation.
Once in place, Redflow's technician had no problem with installation.
SimpliPhi
SimpliPhi batteries are produced in the US and in wide use by that country's military8.
A SolaX X-Hybrid inverter was used.
Arrived from United States on time.
Did not come with battery connection cables.  Does not require inverter communication cables.
Not providing cabling complicated installation, but apart from that was easy.
Tesla Powerwall 2
The Battery Test Centre originally planned to use the DC version, but Tesla cancelled its production even though they had already taken deposits for it, so the AC version was used.
The Powerwall 2 is AC coupled and so does not require a separate inverter to function as it has its own built in battery inverter.
It was supposed to be available in January 2017 but did not arrive until May and this was one of the first units in the world to be delivered.  That's 4 months late.
Tesla said they would provide a technician to assist with installation, but this did not happen.
Installation was much quicker and easier than with the Powerwall 1, so this is a clear example of a company learning from experience.
The Powerwall 2 also requires the installation of a Gateway box (a fact Tesla does not advertise) and its installation was also easy.
Did not come with installation documentation and it had to be accessed online.
After charging for the first time, no problems were experienced but a burned out terminal block was discovered and replaced.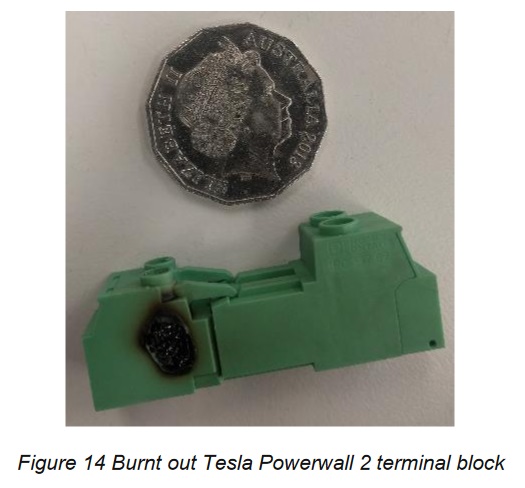 While the Powerwall 2 would work if installed in a home, it lacks the functionality to be charged and discharged as required for testing.  This ability was expected to come with the Powerwall 2, but did not.  The Battery Test Centre hopes to be able to get it running for their next report that will be released in a few months time.
Batteries Tend To Be Tardy
Goods don't always arrive on the delivery date a company gives.  It's a fact of life.  But half the Phase 2 battery systems were late and that is pretty shoddy.  While some manufacturers have have got their acts together and delivered on time, Tesla was not one of these and has earned a reputation for tardiness.  On average the Phase 2 batteries arrived one month late or 2 weeks late if you ignore Tesla.  Only BYD, LG Chem, Pylontech, and SimpliPhi arrived on time while Redflow was able to install earlier than the given date.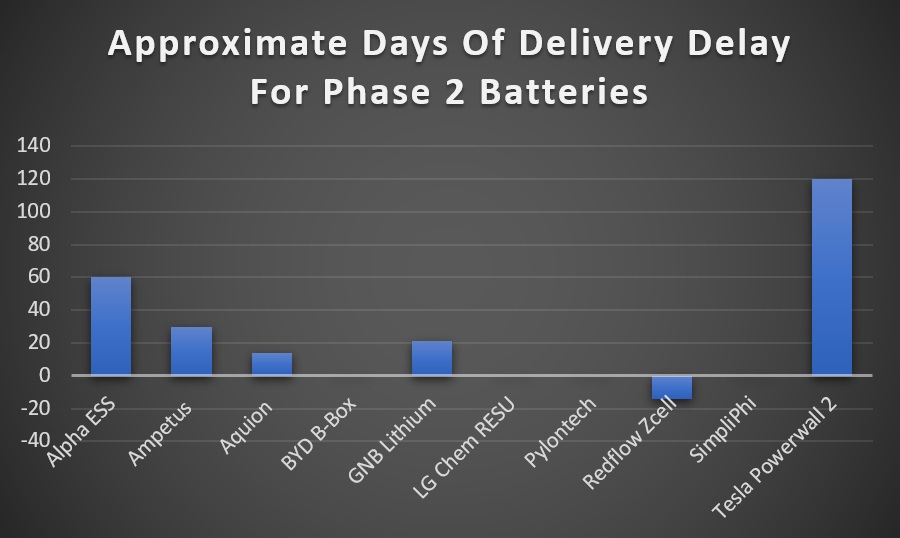 Report 4: March 2018 — Their Latest Report
This report has the latest test results on battery capacity deterioration.  It also reviewed problems suffered by test battery packs.
Battery Pack Issues
The CALB battery pack is operating acceptably, but has developed some problems that make its test results unreliable and so isn't included in test results.
Three of the eight Ecoult Ultraflex lead-acid batteries were under-performing and Ecoult replaced all eight under warranty.
The GNB lead-acid battery has degraded, apparently due to sulfation, which is a common problem for lead-acid batteries.  Attempts to reduce the problem were unsuccessful.
The Ampetus Super Lithium battery was returned to Ampetus in Queensland due to communication problems between the battery and the inverter.  It was given a firmware update and returned.
Redflow replaced their ZCell soon after installation due to electrolyte contamination during manufacturing.  Early this year the replacement developed an electrolyte leak.  Redflow determined it was due to damage during transport and replaced the unit under warranty.
Tesla still have not provided the support that would enable the Powerwall 2 to be tested, but the Battery Test Centre hopes to have it operating soon.
All 14 of the lithium batteries tested would have functioned if used for home installations.  Two of them required servicing and fortunately one was serviced before its importer went bankrupt.
Of the two lead-acid battery packs, one was replaced under warranty while the other has suffered capacity degradation.  While lead-acid batteries have their fans, this is not a good result for them.  Currently lithium batteries are the only major contenders for on-grid home energy storage.
Capacity Deterioration Of Phase 1 Batteries
The capacity of lithium and lead batteries declines or "fades" with time and use.  By their fourth report, the Battery Test Centre had one year of capacity data for the six phase one batteries they were able to accurately test.  Capacity fell rapidly over 3 years of simulated use, as this graph shows: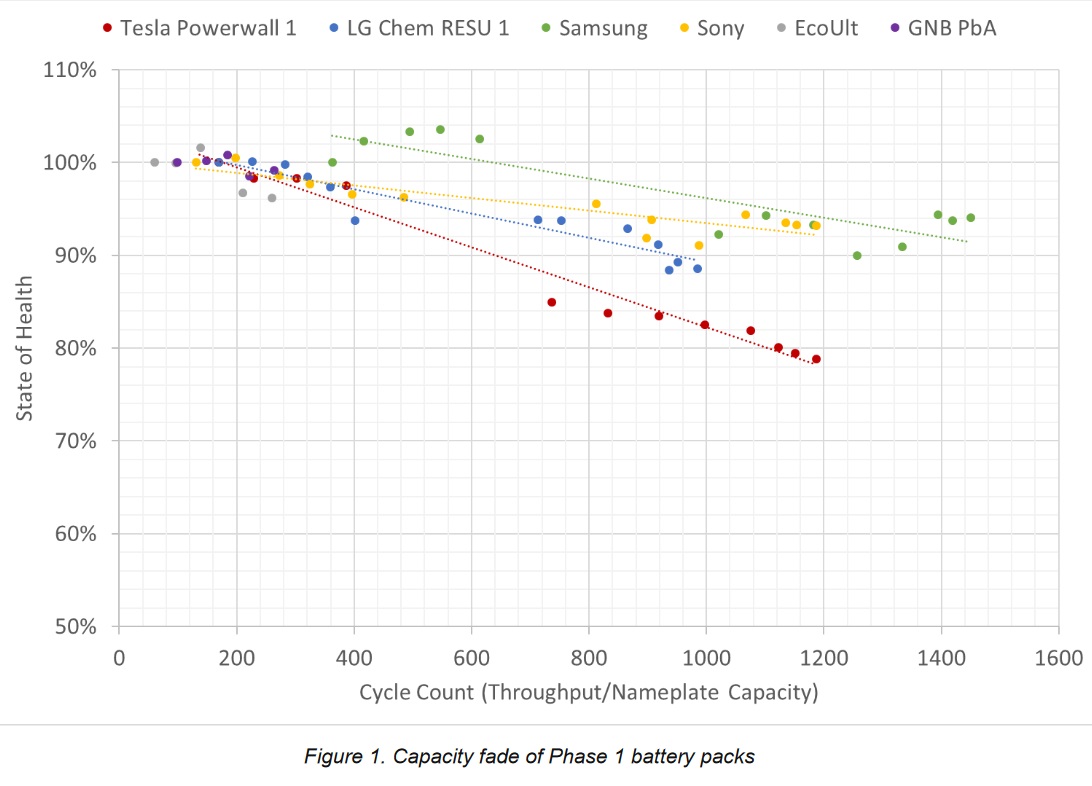 This fast fall in capacity was probably due to the realistic temperatures they were exposed to.  The original Tesla Powerwall suffered the worst but its testing conditions were not the same as the others because the SolarEdge inverter it was installed with charges and discharges the Powerwall over 4 hours rather than the 6 hours of the other lithium batteries and can't be adjusted.  While battery warranties normally allow for a considerable amount of capacity fade, it looks like many currently installed home batteries will need to be replaced under warranty9.
The best performer was the Samsung SDI (now available as the Hansol AIO), which suffered only a 4% decline in nominal capacity and 5% actual.
Capacity Deterioration Of Phase 2 Batteries
The graph below gives the capacity fade for the Phase 2 battery packs they were able to accurately test.  The six months of testing represents a simulated 18 months of use:
The Pylontech had no deterioration while the LG Chem RESU HV had little to no deterioration, so they are the clear winners.  The surprise loser is the SimpliPhi, which is rapidly losing capacity despite having a warranty for 10 years or 10,000 cycles.  The GNB suffered almost identical deterioration.  Since there have only been a limited number of test cycles for Phase 2 batteries it's not possible to draw firm conclusions about capacity fade, but it's still not looking good for SimpliPhi or GNB.
UPDATE 8TH AUGUST 2018: I have some excellent news.  The Battery Test Centre says they screwed up the testing of the SimpliPhi battery, so there is no reason to believe it will deteriorate as these results suggest.  I have not yet received information on if they also made a mistake with the GNB or other batteries.   
Efficiency
The Battery Test Centre has examined the efficiency of their test batteries, but as this is difficult to measure they have only determined it for battery packs that give consistent results.  The following graph gives the measured DC power in to DC power out round trip efficiency for 8 batteries and does not include inverter losses.  The figures are the average of their first 5 tests and so represents efficiency when new.  Over time it is likely to decline: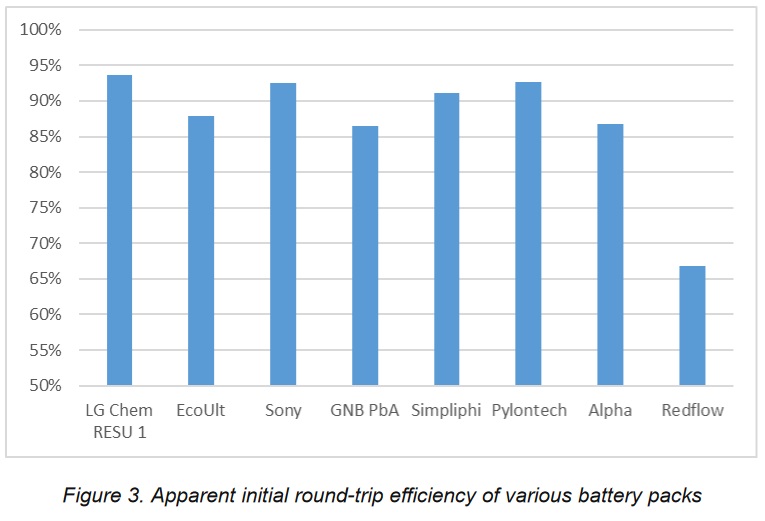 Lithium battery packs were the LG Chem RESU1, Sony, SimpliPhi, Pylontech, and Alpha.  I would expect new lithium batteries to have an efficiency of over 92% when used for home storage, although the figure will depend on the exact type of lithium battery chemistry used.  The Alpha ESS did surprisingly poorly for a lithium battery.
UPDATE 8TH AUGUST 2018:  The Battery Test Centre has said they didn't test the SimpliPhi battery correctly.  I assume this would have affected its measured efficiency. 
The EcoUlt and GNB PbA are both lead-acid batteries and did very well for that type.
The Redflow has the lowest efficiency due to its zinc bromide chemistry.
The Home Battery Industry Has Many Problems To Overcome
Only 10 out of 18 batteries bought for testing have worked without problem.  But of those, four are suffering from what I would call rapid deterioration in capacity.  So if you picked one at random your chances of getting a battery that would function without problem and looks likely to continue to do so would be one in three.  Those are lousy odds.  You can improve your chances by going with a large proven manufacturer such as LG Chem, but even they have had problems with batteries arriving on site with too little charge to be installed.  Fortunately, they appear to have eliminated this problem, but it goes to show that even if the customer does everything they can to ensure a smooth installation there is no guarantee that will happen.
Here's a graph I made of the odds if you installed one of the 18 batteries at random: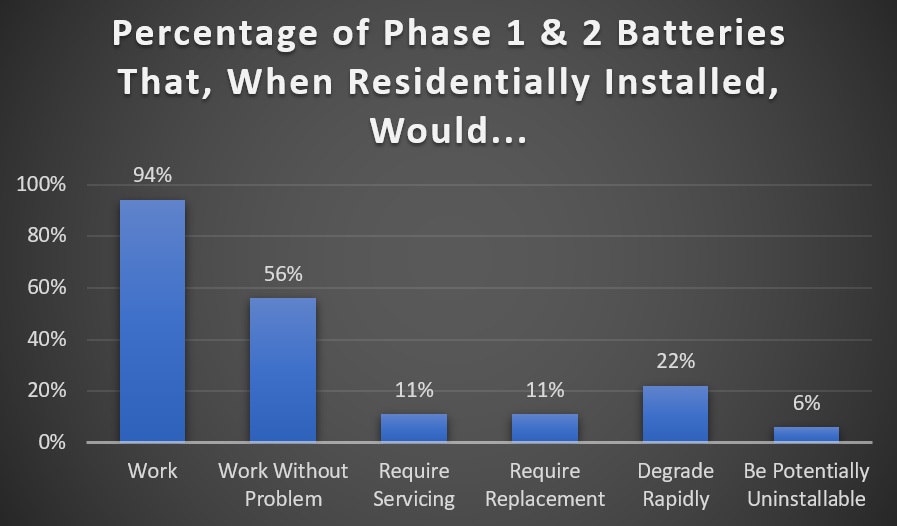 The "Work Without Problem" category is over 50% because I didn't include battery deterioration as all the working batteries are within their warranty limits for now, although it doesn't look like they'll all remain that way.  Also, while the Tesla Powerwall 2 may well have worked without problem if it had been residentially installed, because it couldn't be tested I haven't included it in that category as it may have developed problems.
These figures are pretty awful.  I am thinking about buying one of those fancy TVs with more pixels than you can poke 8,294,399 sticks at10.  Even if I can get the cheapest one, I am 98% certain it will work when I get it home and plug it in and about 95% certain after that it will last till the end of its warranty period.  While I don't expect new battery systems to have that level of reliability, it is clear that many manufacturers are saddling customers with inadequately tested batteries and making them pay for the privilege of being beta testers.
Besides providing batteries that actually work, companies also need to master the art of not going bust immediately after delivering batteries — or worse, after taking your money but before delivering the batteries.  (Remember folks: 10% is a deposit, 50% is an insult.)
Very Basic Things Battery Suppliers Have To Do
There are five very basic things I would expect from any manufacturer or supplier of an electronic product that needs to be professionally installed.  But when it comes to home batteries many companies fail to:
Deliver on time.
Provide all components necessary for the product to function.
Provide clear installation instructions on paper with the product and not just online.
Provide videos on how to install the product online.
Be available to provide technical support.
Battery Test Centre Recommendations
The Battery Test Centre reports make a number of recommendations for improvement in the home battery industry.  Three things in particular they point out as being sorely needed are:
Battery Management Systems need to be fully compatible with their batteries and reliable to ensure batteries aren't damaged, as occurred with the StoreaXe battery.
Inverters need to be exhaustively tested by battery manufacturers to ensure that inverters claimed to be compatible are actually fully compatible.  Suppliers need to be prepared to help troubleshoot any problems that may arise.
Communication protocols between batteries and inverters need to be standardised.  This is probably the Battery Test Centre's biggest gripe.
Standardisation Is Required
I can use a HDMI cable to make what is on my laptop screen appear on any modern TV.  It's a miracle.  When I was young, we had difficulty making TV appear on TV.  But now, regardless of the brand of the laptop or TV, I can plug it in and expect it to work.  So far it always has.  This is the advantage of having standard communication protocols and they are desperately needed to allow simple, reliable communication between batteries and inverters.  This should result in:
Lower costs, as companies will be spared the expense of developing their own.
Fewer faults, as communication should be less buggy and more functional.
An increased number of compatible inverters for battery packs.
Future Reports
Going by their past publication history, the Battery Test Centre's next report should be out in 1 to 5 months.  I will definitely write about it when it's available and I look forward to seeing how their Phase 2 batteries perform after 3 years of simulated use.  It should be a useful indicator of what are the better battery systems to buy.  Also there's the drama of seeing if all the currently functional battery systems will still be up and running.  It's even possible they will have the Tesla Powerwall 2 ready for testing and we'll see some test results for it — but that's mostly for the benefit of my personal curiosity, as they seem very hard to get at the moment.