A new report confirms what many already know – the most prevalent driving factor in Australia for adopting solar power appears to be reducing current electricity bills and acting as a hedge against further potential price rises.
A study just published in the journal Renewable And Sustainable Energy Reviews indicates households most likely to join Australia's solar revolution are those with the means to make the investment, but not affluent to the point they don't fret over future electricity bills.
The findings are based on a survey of more than 8,000 households in Queensland that investigated various factors among households intending to install solar versus those who have already installed systems.
Motivational factors confirmed by households that have adopted solar (in descending order):
Reduce bills
Concern over future electricity prices
Environmental concern
Energy technology of the future
Good investment
Increase home value
Self-sufficiency
Government rebates on offer
Friend influence
An offer too good to refuse
Media influence
Other
Don't know
One of the interesting points to come out from the research was while the concept of self-sufficiency ranked strongly for getting people to the point of considering installing a solar power system, this dropped away among those that eventually did so. This is probably due to the realisation during the discovery process the grid will still be needed to supplement/as backup considering commercially available full off-grid solutions are prohibitively expensive.
Approximately a third intending to buy solar panels cited environmental concerns as a reason for doing so. However, this didn't boost the odds to any great degree of this intent turning into a purchase.
"This suggests that when it comes to the crunch, household finances are often the crucial determining factor," said study author, Adam McHugh.
The differences between "intenders" and "adopters" with regard to motivation: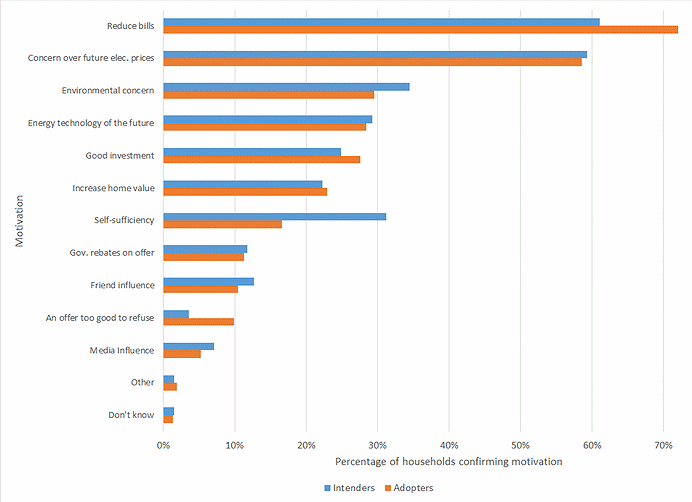 In order to expand uptake among the less affluent, the authors suggest removal of the barriers related to upfront costs (no surprises there). To get more solar panels on the rooftops of the wealthy, promotion is likely to require a focus on portraying high-end PV systems as a desirable, high-status acquisition.
The full research paper can be downloaded here at no cost until August 1, 2018 (after that point, access may set you back $38). If you're reading this article past that time, details of its contents can be read on The Conversation.