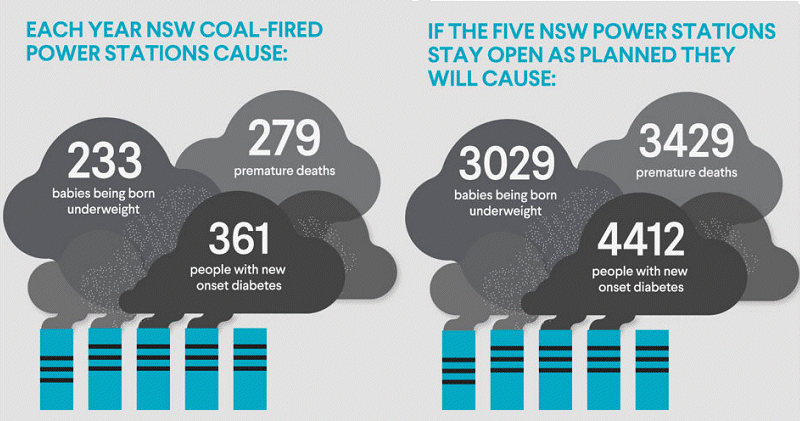 A new report claims air pollution created by coal-fired power stations in New South Wales causes hundreds of premature deaths in the state every year.
An independent study of the health impacts of this "silent killer" was carried out by epidemiologist and researcher Dr Benjamin Ewald, and is said to be the first of its type in Australia.
Dr. Ewald's analysis found that in addition to 279 deaths in the state every year from coal power related air pollution, 233 babies are born with a low birth weight and 369 people develop Type 2 diabetes.
The form of pollution that has the strongest effect on health is fine particles (PM 2.5). These particles are around thirty times smaller than the width of a human hair; small enough to enter the bloodstream via the lungs and then going on to inflame organs.
In Sydney alone, coal power has been blamed for 153 premature deaths, 147 instances of underweight babies and 199 people with new onset diabetes annually.
Coal Power And Diabetes – Huh?
We've mentioned the reported link between coal power and diabetes before. Previous research has estimated fine particulate pollution was responsible for 3.2 million new diabetes cases globally in 2016. While coal power isn't the only source of fine particulates, it's a major contributor.
The Future NSW Coal Power Death Toll Could Be Thousands
If air pollution from coal power isn't addressed, Dr. Ewald says thousands more New South Wales residents will die prematurely in the years ahead.
"It's shocking to think that based on the current operating life of the five power stations, the air pollution they produce will kill 3,429 more people."
The report, titled "The health burden of fine particle pollution from electricity generation in NSW" was commissioned by Environmental Justice Australia and can be viewed here (PDF).
Environmental Justice Australia is using the study to draw attention to fact that something can be done; aside from shuttering these stations and switching to renewables + storage.
"The companies that own these power stations have the technology to reduce toxic pollutants from coal-fired power stations by up to 98% – they just don't bother to install it and the government doesn't make them," it says.
It's not just fine particulate matter that is of concern – compounds including sulfur dioxide (SO2) and oxides of nitrogen (NOx), plus mercury also have health impacts
EJA has previously called out the NSW and other state governments for lax coal power pollution regulations. The organisation is encouraging New South Wales residents to express their support for best practice pollution controls to the NSW Environment Protection Agency.
Coal power wreaks a heavy toll around the world – premature deaths attributed to coal-related air pollution alone have been previously estimated at 800,000 – annually.