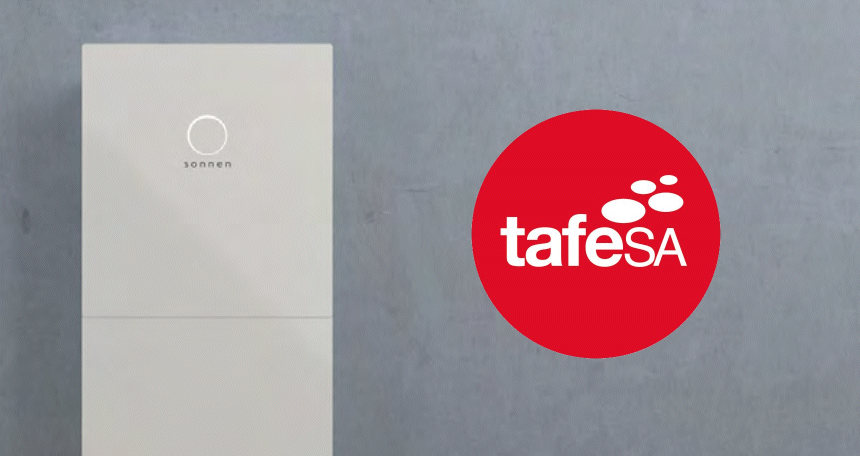 TAFE SA has signed a Memorandum of Understanding with German battery maker Sonnen to be the preferred accredited training partner of Sonnen solar battery installers.
Sonnen was the first manufacturer eligible to participate in South Australia's Home Battery Scheme, which will see 40,000 households provided a grant of up to $6,000 to install solar battery storage – low interest loans are also available.
TAFE is expecting a significant increase in enrolments for its battery installation courses as a result of the scheme and several Sonnen batteries are being installed at TAFE SA's Tonsley and Elizabeth campuses to assist with training.
"The Marshall Liberal Government's Home Battery Scheme is delivering immediate job opportunities, and this partnership with sonnen presents a significant opportunity for TAFE SA students to capitalise by receiving quality training in an area where skills are needed in the workforce," said Education Minister John Gardner.
Sonnen has had a head start on other battery manufacturers through an initial 9-week period when only battery systems that are or will be manufactured/assembled in the state are eligible for the subsidy. Sonnen is setting up production facilities at the former Holden site in Elizabeth, where it aims to produce 10,000 battery systems a year for the Australian and Asia-Pacific markets.
"Sonnen's investment in TAFE SA is part of our broader strategy to deliver a quality product to meet the growing demand for reliable and affordable residential energy storage systems across Australia," said Marc Sheldon, Managing Director, Operations and Finance of Sonnen Asia Pacific.
Sonnen No Longer Robinson Crusoe
While Sonnen had no competition for the first couple of weeks of the subsidy, that has recently changed.
Sonnen was joined last week by Alpha-ESS, which will  assemble systems locally in partnership with Minda Commercial Enterprises before moving to dedicated premises. Then earlier this week, Eguana Technologies announced it is setting up shop in South Australia (location unknown) and that its Evolve energy storage solution has been approved for the subsidy.
Whether other players will commit to SA manufacturing remains to be seen, but from January 1, battery manufacturers with energy storage solutions produced outside SA will also get a look-in.
By early next year there should be a good range of solar batteries available under the Scheme. SolarQuotes founder Finn Peacock is expecting quality 10kWh storage systems to be available for around $5,000 fully installed (including subsidy – assuming it remains at the current level), a pricing point at which it's more likely a battery will pay for itself within its warranty period.
Bill's Battery Bonus
In other news relate to solar batteries, it was all over the interwebs yesterday that Federal Labor has committed to offering a battery subsidy nationally should it win the next Federal election. The program would start from 1 January 2020 and involve a rebate capped at $2,000 per instance for 100,000 battery systems. Labor has its sights set on a target of one million new residential solar battery systems installed across Australia by 2025.
Sonnen was of course happy with the news and South Australian Premier Steven Marshall said that "imitation is the greatest form of flattery".
SQ's Ronald will be posting his thoughts on the Federal Labor announcement early next week (and he's still also working on his Alpha ESS battery review).