In this post you will discover:
Why – if you want tiny bills – buying a solar power system is about more than buying a good system from a reputable installer.
How to quickly estimate if any solar panel array is working well in 3 minutes, with or without monitoring.
How to work out if your electricity retailer is billing you correctly or ripping you off.
Just how hard-to-use most inverter manufacturer monitoring software is – and why you should always buy a good third party monitoring system such as Solar Analytics to go over the top.
How following the 7 steps in my book – The Good Solar Guide – virtually guarantees tiny bills and no surprises.
And how to read The Good Solar Guide for free.
So let's get started shall we…
Here at SolarQuotes a small team of people spend lots of time answering questions people have about solar power. We recently received a support query from a Tasmanian gent named Steve who had bought a 3.6kW solar power system with Enphase microinverters and Suntech panels from an installer we had recommended.
This is what he had to say about his experience:
"We are less than impressed so far. The returns have not been as we would have expected. We're hoping the summer months give us a more favourable result."
That's not the kind of feedback we like to get. So I went to work to help Steve by:
checking his system was working properly
checking he was being billed correctly
discovering why his first post-solar bill (over winter) was disappointing
What I discovered was:
his system was working properly
he was being billed correctly
the solution to a much lower winter bill is a bigger solar power system, upgraded hot water and moving his hot water from off-peak to the regular tariff
Interestingly, if Steve had had the opportunity to read my book, The Good Solar Guide, and followed my 7 steps, I'm confident he would now have the tiny bills promised on the book's front cover and be certain that his system was performing as it should. But you can't blame him for not reading it as, at the time Steve was buying his system, the book only existed on my editor's laptop, not to be published for another 3 months.
This is one reason why you now no longer have to shell out $25 to read the Good Solar Guide. The information is too important to lock away in a book. Last week I released the full text online, for free. Of course you can still buy the book in paperback if you don't fancy staring at a screen for hours.
Thankfully Steve had solar generation and household consumption monitoring installed. That was a smart move, because it means he has the data needed to check his system performance, verify his billing and to identify ways to get his electricity bills lower. If Steve had no monitoring, the only way to analyse his system would be for me to spend a few days at his home taking meter readings. Burnie isn't too far from the mountain bike mecca of Blue Derby – so I really wouldn't mind an excuse to go there, but this time I can do it all from my desk here in Adelaide.
Please: never buy a solar power system without generation and consumption monitoring – and don't let the installer leave until he has configured and commissioned it and shown you it working. Be aware that you usually have to pay extra for consumption monitoring hardware and a bit more again for good third party monitoring software, but it is well worth it.
The Good Solar Guide gives 7 reasons why solar monitoring is so important – and further it recommends paying more for third party monitoring, because the monitoring software provided by the inverter manufacturer is usually pretty hopeless. Steve has monitoring, which is good – but it was the Enphase monitoring software: "Enlighten" which is not so good. It had all the data I needed, but as you'll see it required some serious data wrangling get it into a useful format1.
In this post I'll explain:
How I took Steve's monitoring data and massaged it to give me a picture of his system's health.
Then massaged it even more to check his electricity retailer was billing him correctly
Then worked out a plan to get Steve's power bills so low he's happy with them
Checking the system performance: the 3 minute Solcast method
The very first thing I like to do when someone asks me if their system is performing properly is this 3 minute check to see if the system is even close to where it should be. Here's how to do it:
Go to the system's production monitoring system and look at the generation right now. Steve gave me the login to his Enphase Enlighten monitoring system and here's what production view looked like on that particular day:
Remember I said inverter manufacturers' monitoring is usually crappy? This is a case in point. I'm not sure that the Enlighten software engineers have ever used their software to actually check the performance of a solar power system. Look at the units of that graph! Watt-hours every 15 minutes!? That is not an intuitive unit.  To understand our system performance we need a graph of' kW vs. time.
Unfortunately Enlighten does not give us the option2 of displaying the solar system performance in kW. So we have to do a manual conversion. Luckily all we have to do is multiply by 0.004 to get useful units3.
So at this moment in time our system is generating 679 x 0.004 = 2.716kW.
What should it be generating? Luckily there is a fantastic, free Canberra-developed solar power production and forecast tool called Solcast.
If we go there we can choose our:
location
system size
panel tilt
solar panel direction
and Solcast will use a network of real time satellite measurements to tell us what power we should be producing right now, what the solar production should have been in the past, and magically what it should be in the future.
Using the tool, it tells me that we should be getting about 2.43kW of power right now. That's within 10% of Enlighten's measured figure, so I'm confident Steve's system is operating OK.
If you want a quick 3 minute check on your system performance, Solcast is a good way to do it. Even if you don't have solar monitoring you can do it with an instantaneous power reading from your inverter's display.
UPDATE 29 NOV 2018: Just after I published this post Solcast updated (improved) their free tool. It now looks like this – so don't freak out when it looks different to my example…
But I think Steve deserves a more thorough check based on more than one measurement – so let's do that too.
A more rigorous check: The 10 minute PVWatts method
PVWatts is a free web-based tool from the US Government's National Renewable Energy Laboratory (NREL). We can use it to get an estimate of how much energy Steve's system should have generated (based on NASA irradiation records) over the whole billing period and compare that with what was actually produced according to the Enlighten monitoring.
Here's what I did.
Go to PVWatts
Enter Steve's location: Burnie, TAS.
PVWatts tells me that the nearest irradiation measurement data point is 70km away. Close enough.
Enter Steve's system information: 3.6kW, panel direction (azimuth) = 0º, tilt 20º from horizontal
Get the results tabulated as energy generated per month over a year.
The steps are shown here: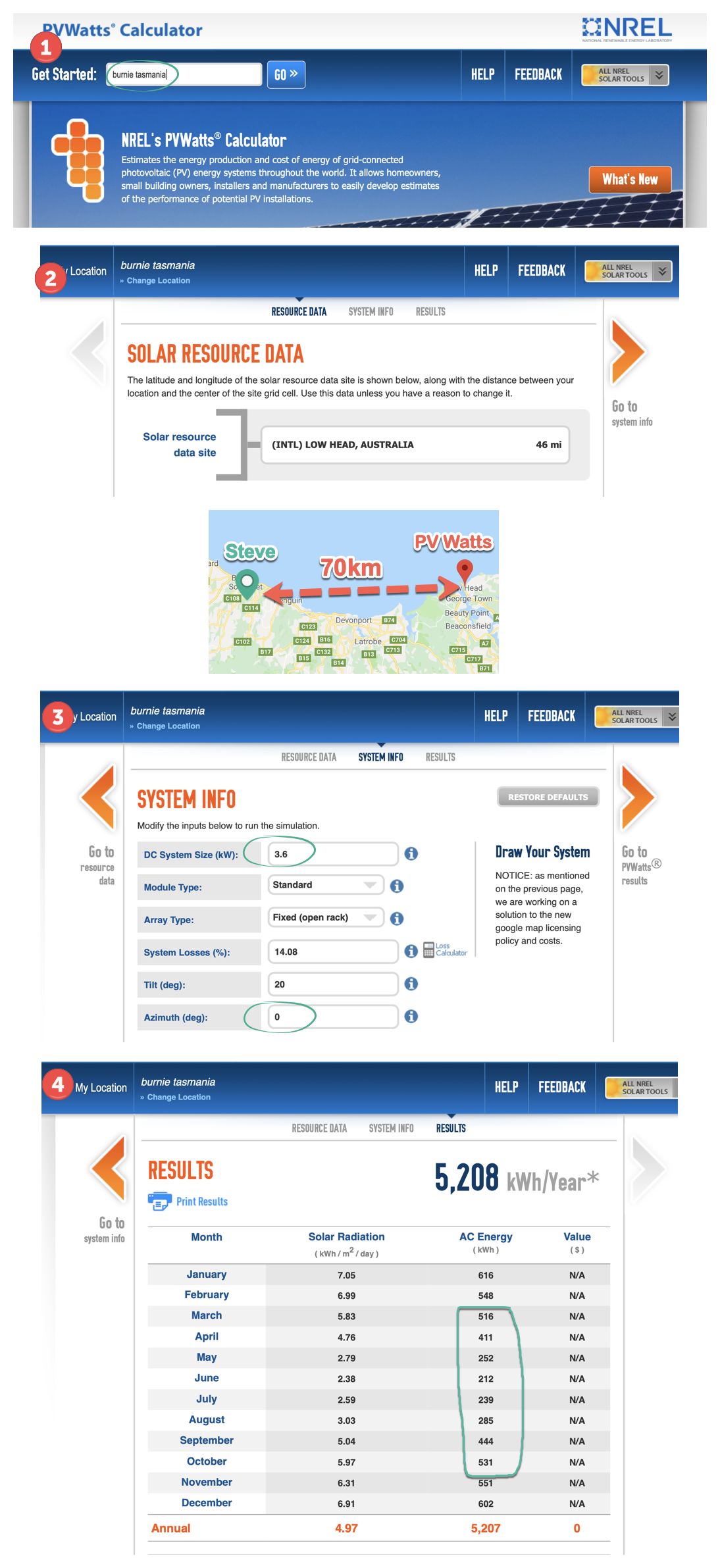 Looking at PVWatts' results table, the months I've circled in green cover the full months that Steve has had his system. The formatting of the results make it easy to copy and paste the figures directly into my spreadsheet program of choice: MS Excel.
Unfortunately it is a little trickier to get the data out of Enlighten. The data is displayed clearly enough, but I'll be buggered if I can find a way to copy or export it to a nice file. So I literally had to type out each month's result into excel manually.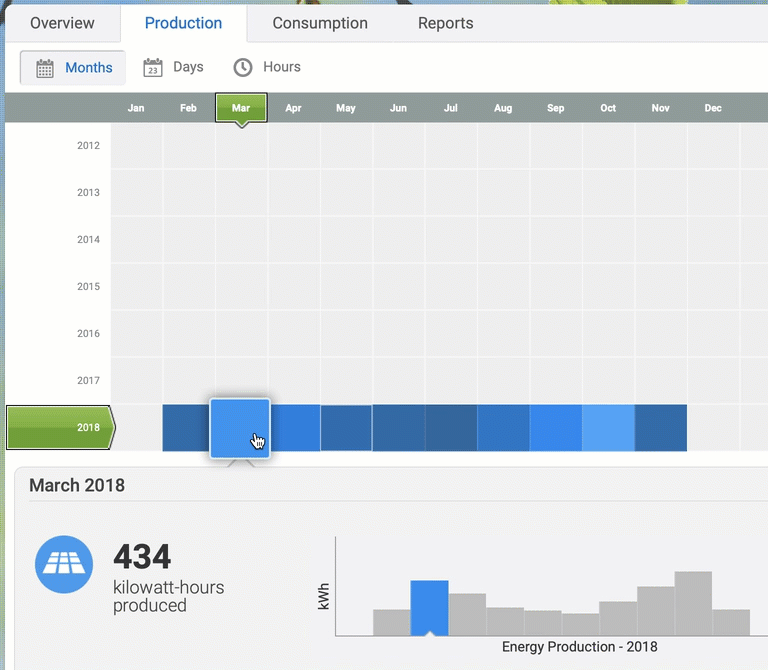 I only had to type out 8 numbers, but for a lazy bugger like me that is hard work. But enough moaning. Finally I have my data in Excel: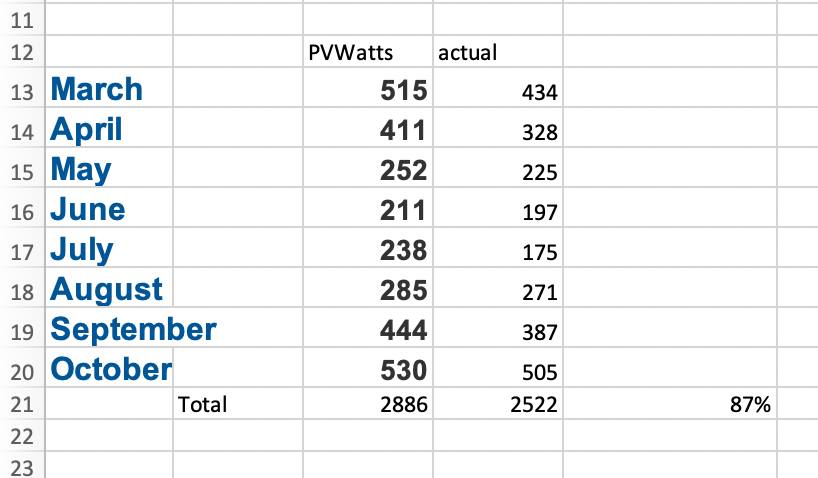 And I can graph it: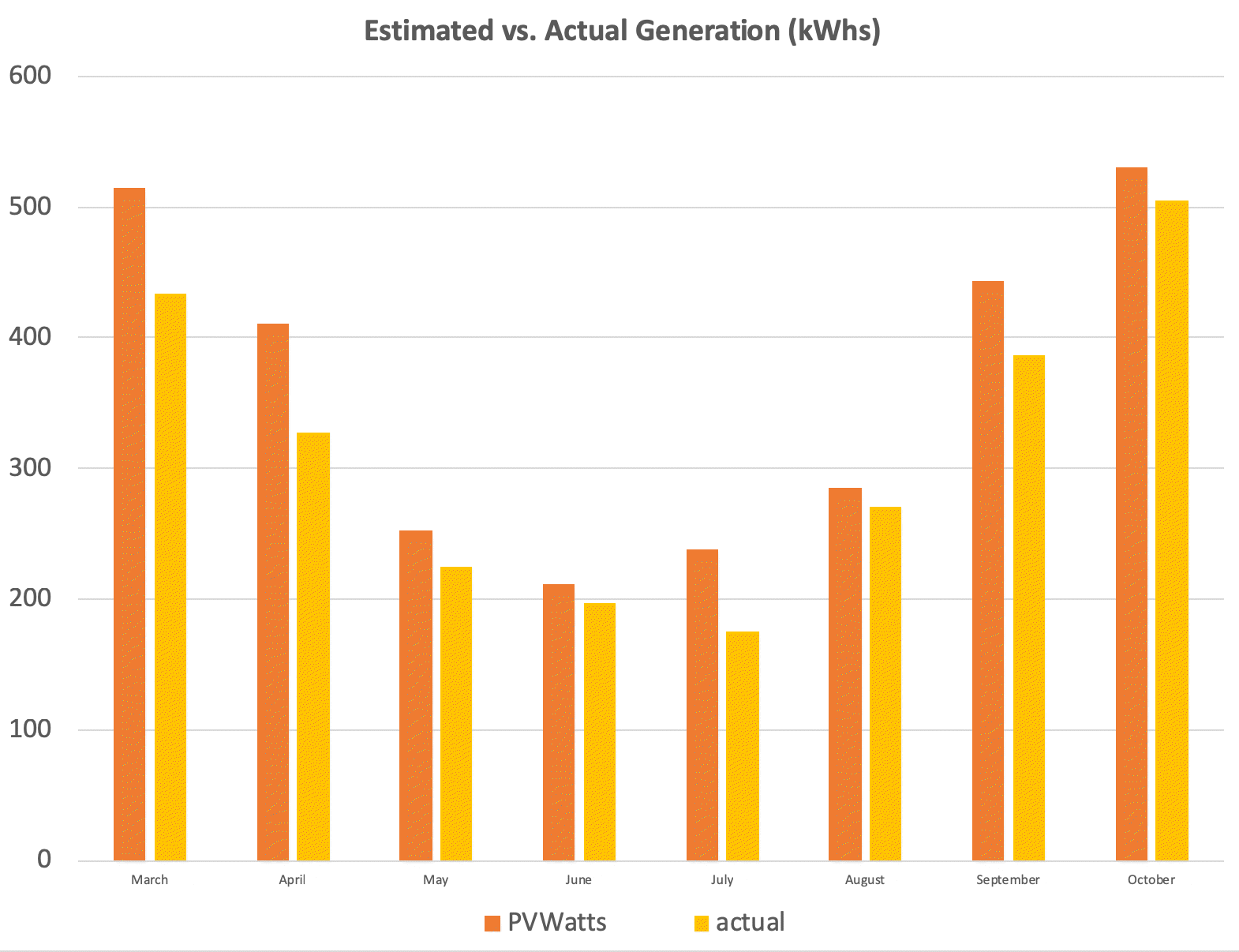 Steve's system is at 87% of PVWatts' estimates. Close enough for me to say that it seems to be working OK. I can't really be more precise than that because PVWatts is using averaged historical data, not actual weather data from those months, and the nearest measuring point is 70km away.
If we compare Enlighten with a good 3rd party monitoring system, Solar Analytics, here's what my home monitoring system shows me with one click:
With one click I can see that my personal system is consistently in the normal performance range. I can be confident that the numbers are precise because it uses actual weather data for the period measured. I'm happy that I'm getting the energy I paid for. If it does ever go out of the zone, I'll get an email alerting me, and it will even try to diagnose the exact issue with some very funky algorithms. Solar Analytics rocks.
But back to Steve's system. We have established that the system is working OK. Now it's time to check that Steve is being billed correctly.
Is the bill correct?
Here's Steve's winter bill.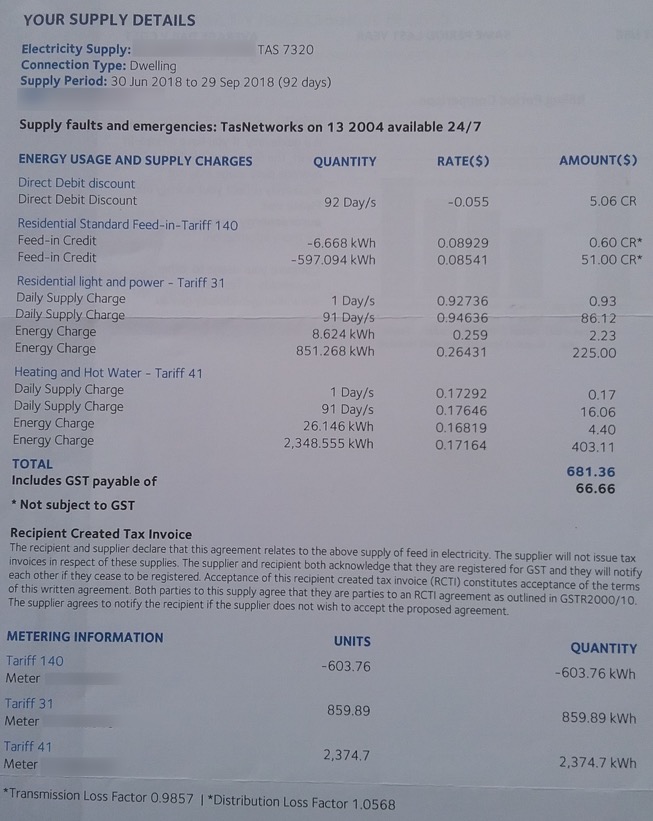 The electricity bill is for July, August and September 2018.
He was credited for 597+6 = 603kWh of electricity export.
He was charged for 851+8 = 859kWh of electricity imports on the regular tariff.
He also has a 'Heating & Hot Water' tariff that used a whopping 2,348+26 = 2,374kWh.
The solar power system is connected into the regular tariff's meter.
Now I need to find out Steve's measured imports and exports using Enlighten.
What I need to do is use Enlighten to find out:
a) what was exported to the grid so we can check he was credited the correct amount
b) what was imported from the grid so we can check he was charged the correct amount
Here's how I did that:
1. In Enlighten, create a 'Monthly Net Energy' report for each month of the bill.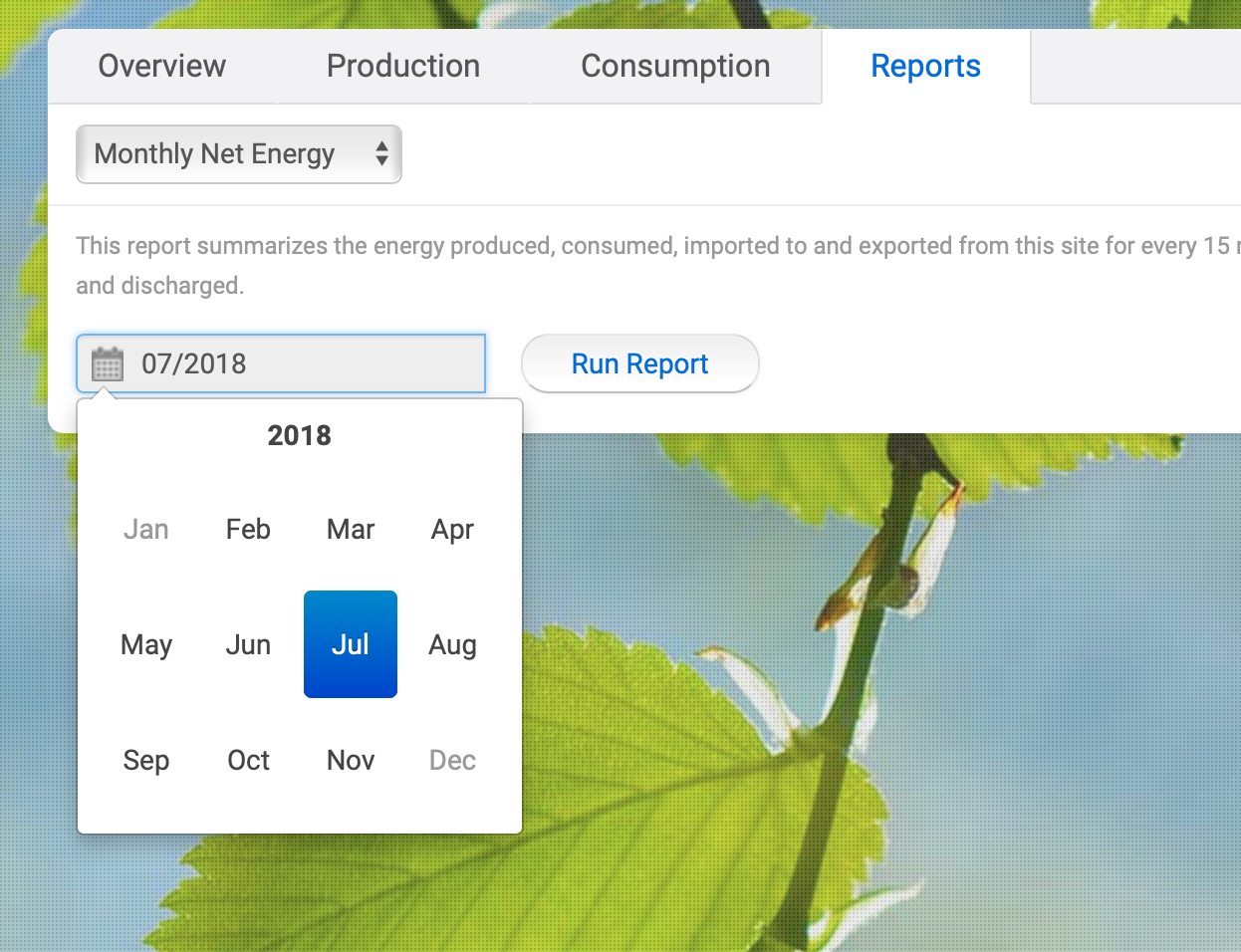 The result is 3 'csv' files emailed to me with the following columns:
Energy Produced (Wh)
Energy Consumed (Wh)
Exported to Grid (Wh)
Imported from Grid (Wh)
The files contain a data point (row) every 15 minutes for the whole month.
2. Import each file to Excel.
3. For each month, find the sum of Exported to Grid (Wh) column
4. For each month, find the sum of Imported from Grid (Wh) column
5. Convert to kWh (divide by 1000)
6. Create a new spreadsheet to add the months' totals together: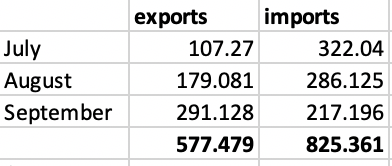 Phew, now I have some numbers to compare with Steve's bill.
The bill credits Steve for 597kWh of exports. Enlighten has measured 577kWh of exports. The difference is 3.5% or 20kWh difference or $1.80. Close enough.
Steve's bill is charging him for 859kWh of imports. Enlighten has measured 825kWh of imports. A 4% difference, or $8.84. Again, close enough to be confident the meter is working properly.
That was quite an effort. My Solar Analytics monitoring provides the same numbers over those dates with 2 mouse clicks. Just saying.
What would Steve's electricity bill have been without solar power?
So now that I'm happy that the electricity bill is correct – I want to advise Steve how much money his solar power system has saved him over the winter's quarter. We know he's earned $51.60 through his exports, but what about his savings from self consumed solar power? His bill cannot show those savings because there is no way for the billing meter to measure self consumed solar electricity: that solar goes straight into his house, bypassing his meter.
Unlike Solar Analytics, which gives the self-consumption savings for with one click (the yellow circle in the image above), I need to do some more Excel number crunching to get the data from the Enphase Enlighten software.
I know that:
Self consumed solar = energy generated – energy exported
So I need to put the solar production numbers from Enlighten into my spreadsheet, and subtract that from the exports to generate a new column: "self-consumed".

Now I can see Steve generated 832kWh total, and self consumed 254 of those, giving him a self-consumption ratio of 30%.
At 26c per kWh +GST Steve has saved $72.64 with self consumed solar.
So Steve's total savings for the billing period = $72.64 + $51.60 (for exports) = $124.24.
I know. Not particularly impressive.
How can Steve get his winter bill much lower using solar?
Tasmania is the most challenging state to get good payback with solar power. It has a low feed-in-tariff, less sun and expensive solar installs compared to the mainland states.
But that doesn't mean it is impossible. Just harder.
I maintain that any reasonably efficient house in Australia should be able to get tiny bills with a reasonably sized solar power system and basic energy efficiency measures. You just need to follow the correct steps.
That's why I wrote The Good Solar Guide: 7 Steps to tiny bills for Australian Homeowners.
Let's look at the the steps and see how Steve could have approached solar power differently if the book had actually been published back then.
Here are some key takeaways that Steve might have picked up and implemented.
Step 1 – The basics: Understanding a few key solar concepts increases the probability that you'll buy a system that makes you happy. One of the reasons Steve's electricity bills are still high is simply that his self-consumption ratio is very low for a smallish 3.6kW system. One of the many concepts explained in Step 1 is the importance of self-consumption.
Step 2 – Measuring your energy use: This step would have identified that Steve had a second meter – an off peak/controlled load meter. It would have encouraged Steve to consider the costs of that off peak energy as part of the solar buying process. It would have also encouraged Steve to measure his regular tariff consumption in daylight hours by taking a morning and evening meter reading. He would have seen his daytime usage is bugger-all, as shown here: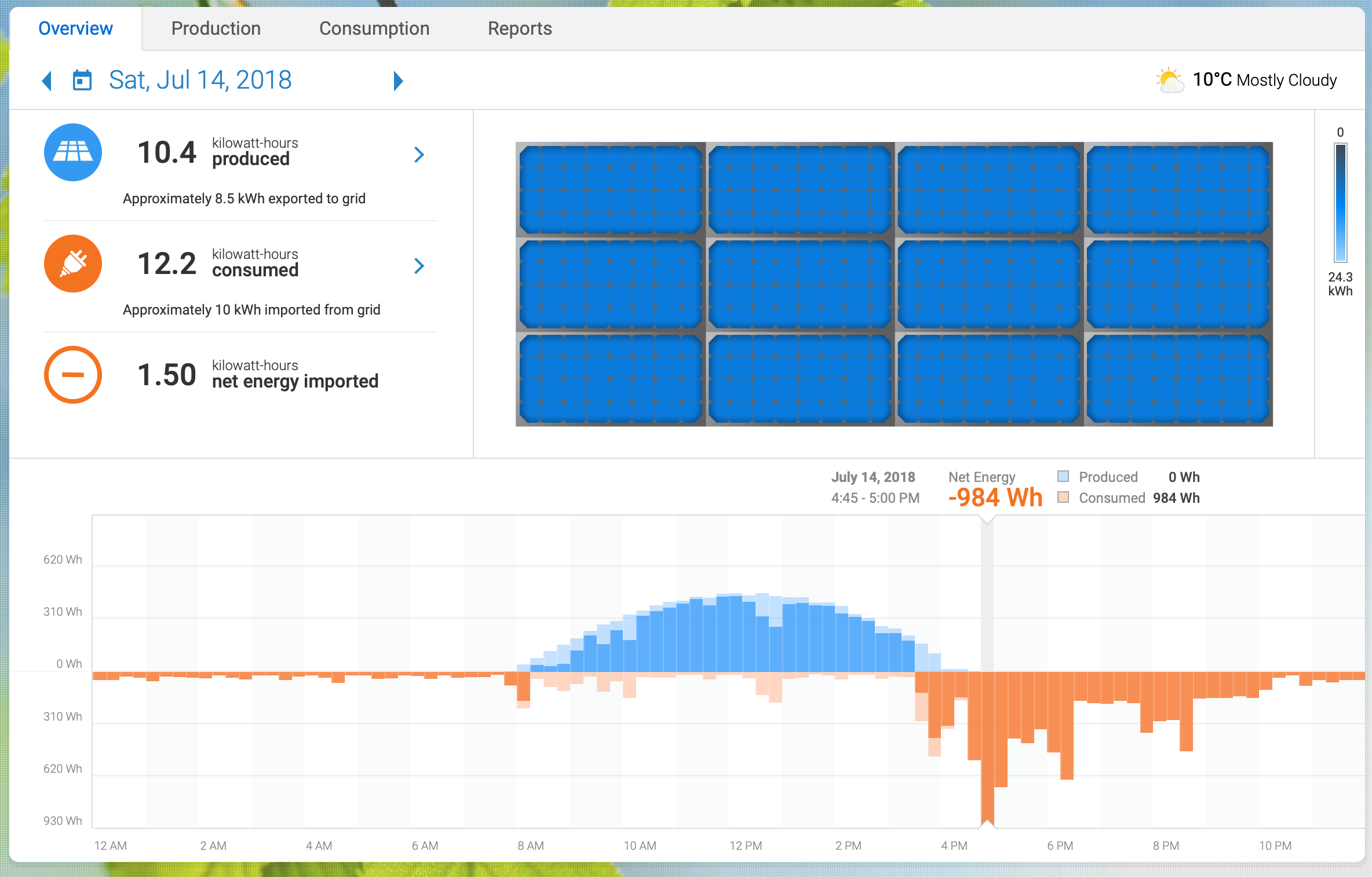 Step 3 – Hot water: This step would have identified hot water as an issue that needs addressing before even looking at solar panels. It would have suggested either a heat pump or a hot water diverter as a solution.
Step 4 – Show me the money: This step would have shown that a 6.6kW solar power system is almost always the sweet spot for a house on single-phase, and explained how the last 3kW of panels would be much cheaper than the first 3.6kW.
Step 5 – Hardware: This step would have explained that if you are on a budget and there is no shading, expensive microinverters are not needed. Steve could have spent the microinverter premium on extra solar panels, potentially getting the suggested 6.6kW system for only a little more than the 3.6kW microinverter system he actually bought. It would have also recommended he invest in Solar Analytics, which as we've seen is very handy. Solar Analytics has 3 channels allowing him to monitor:
Solar
Regular tariff
Off-peak Tariff
on the same screen.
Step 6 – Getting quotes: This step would have suggested that Steve insisted on quotes that showed Steve's predicted generation in every season, so much lower winter electricity generation would not have been a surprise.
Step 7 – After the install: This step would have explained how Steve could use the monitoring to identify opportunities to move electricity consumption into the daytime. It could have also shown that his two-star heat-pump heating system is quite inefficient.
What would Steve's system look like if he'd had this information?
Firstly, Steve would have likely heeded this advice in the book:
"Key point: If you have a big enough roof, my advice is to go for at least 6.6 kW of panels, no matter where you are in Australia and no matter how small your daytime consumption. It will almost certainly will give you a better return than a smaller system."
So Steve would have bought almost double the solar generation capacity – especially useful over a Tasmanian winter.
Obviously 6.6kW will cost more than 3.6kW – but as the book points out, the last 3kW of solar should be much cheaper than the first 3.6kW thanks to the way the solar rebate works. That and the grid connection rules make 6.6kW the best way to minimise the cost per kW of solar installed while still buying a quality system.
Further, Steve chose to install microinverters. Now there's nothing wrong with that – microinverters have lots of advantages over string inverters. I have micros on my roof. But they do add 20% or so the the cost. As far as I can see from Google Maps, Steve has no shade issues. If he had chosen a string inverter over micros, then a 6.6kW string system would have not been much more than a 3.6kW micro system – but delivered much lower bills.
But there is more to low electricity bills than just getting more solar panels.
Have a look at what makes up Steve's bills. This is a graphical representation of the bill he sent me:
The blue bars are his costs and the yellow bars are his solar savings.
Sticking out like my friend Lee's second toe is the Off Peak Consumption. If we can reduce or eliminate this, we are making a big difference to the bill.
The only appliances connected into this meter are:
Steve's old Rheemglas 1125007 electric storage hot water heater.
A 2 star-efficient reverse-cycle air conditioner that is used as a heater.
I'm going to guess that of the daily 25kWh of off peak energy used, 18kWh is for the hot water and 7kWh is for the heating.
That means he is using about 18kWh per day to heat water over winter. This is a lot but not unrealistic if the cylinder is old and inefficient.
In the Good Solar Guide I devote a whole chapter to hot water because it can easily make up 30% of your energy use; so related considerations should be part and parcel of any solar installation.
The chapter goes through all your hot water options. Because Steve has an old cylinder that looks like it is due for replacement anyway, my number one recommendation would be to replace it with a high quality heat pump hot water system. This would drop his hot water energy requirements down to closer to 4kWh per day over winter. They really are that much more efficient.
Combine heat pump hot water with a bigger 6.6kW solar system, and he should be able to run it from 10 am to 2pm almost every day on solar power alone. He would need to connect the heat pump into his regular tariff meter so it is solar powered.
So upsizing to 6.6kW (very cheaply if he chose a string inverter architecture) and investing in a heat pump are the 2 big takeaways from my 7-Step process.
Add to that the book's advice to do some time-shifting: moving as much consumption from the evening to the day helped by the installation of better monitoring software, and Steve could be looking at a winter bill that looks more like this:
Solar electricity self-consumption has increased – mostly due to the heat-pump running during the day – on the regular tariff, but also due to the bigger system offsetting more appliance usage on overcast days. The bigger system also generates more exports.
I guesstimate this scenario would lead to a winter bill of closer to $300 than $660. And I'd guess his summer electricity bill would be between $100 and $150 (depending on his summer consumption).
He could get that down even further by upgrading his space heater to a 6-star efficient one, which should use at least half the energy of his old 2-star one. He should also look at the "gaps, glazing and insulation" in his home to ensure his thermal envelope keeps the house warmer for longer in winter and cooler in summer.
And Steve could use his Solar Analytics software to easily check that his system was performing without reaching out to me for help (although I don't mind helping at all) and to verify that his retailer was billing him correctly.
Of course there is an extra cost to buying a heat pump and a bigger system. A top-of-the-range Sanden heat-pump will cost about $4000, or a Bosch/Stiebel Eltron one around $2,000. His upgrade to 6.6kW of panels could cost as little as $1,000 if he had changed his system design to a string inverter.
But that big solar power system combined with a heat pump should comfortably save Steve over $1,000 extra per year for decades to come.
Back in the real world
Of course Steve can't turn back the clock. So what should he do now?
As a priority he should upgrade his hot water system to a heat pump. That will immediately reduce his water heating bills by about 75%.
He should also look for opportunities to move consumption into the daytime.
I'd also look at quick and cheap efficiency fixes like gap sealing, secondary glazing and insulation.
Then I'd look at upgrading the air-conditioner to a six-star efficient unit.
Finally I'd consider adding a 3kW system to the west facing roof of the main house.
Once that's in place I'd move the hot water to the regular tariff so it can be solar powered.
How to buy solar well
We lead busy lives. But if you want small bills then it is worth taking few hours to consider the big picture before buying solar.
As mentioned, The Good Solar Guide is now available online for free. I have made it free because I want as many people as possible to have access to the information before they buy a solar power system. If you are considering solar, I recommend going through it first, so that instead of disappointment, you are pleasantly surprised when you get your first electricity bill.