As I'm sure you're aware, in this country we pay through the nose for grid power.  Electricity bills are so high I'm surprised the police aren't required to random drug test them. 
Using the SolarQuotes electricity retailer comparison tool I looked up the cheapest retail plan available in Adelaide and found it charges 33.4 cents per kilowatt-hour.  Add in supply charges for a home that uses 5,000 kilowatt-hours of grid electricity a year and it comes to a total of 38.7 cents per kilowatt-hour.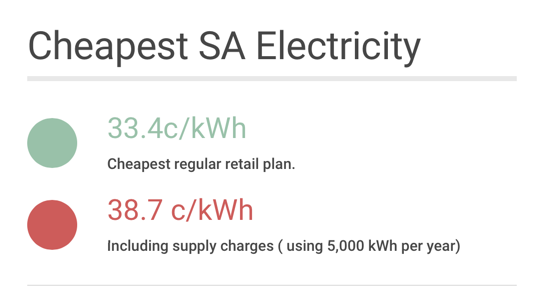 If you stole a generator from a hospital or orphanage that amount might be all you'd need to spend on diesel to make your own power1.  Fortunately for the energy security of hospitals and orphanages across the state, a new, relatively low cost, electricity retailer has just started operating in South Australia.  It's called Amber Electric and is already available in the Ausgrid network that covers eastern Sydney and Newcastle.
They say they can provide electricity in SA for an average of 29.2 cents per kilowatt-hour (37 cents per kilowatt-hour with supply charges).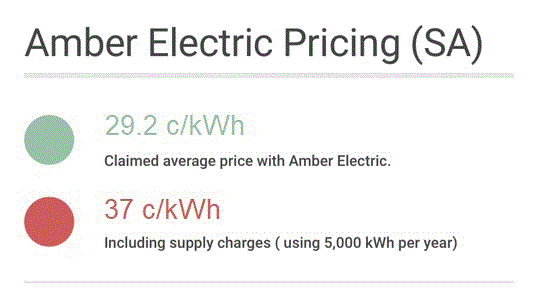 You may not find this too impressive since it's only about 4% less than the cheapest plan.  But I haven't told you what's cool about it yet.
It's greener than the usual retail plan.  They buy carbon credits to offset emissions for the electricity you buy.  In South Australia this costs 0.9 cents per kilowatt-hour.  If you subtract that from the price it comes to 36.1 cents per kilowatt-hour, which is 7% less than the cheapest plan.
They don't charge you a flat rate per kilowatt-hour. They charge you the real-time wholesale electricity cost – which changes every 30 minutes depending on market conditions.
By tracking the wholesale spot price online you can alter your consumption to use more power when it's cheap and less when it's expensive.  Amber Electric estimates if you are careful with your electricity use you can reduce what you pay by 3 cents per kilowatt-hour.  This would drop the total cost to 33.1 cents beating the cheapest electricity plan available by over 10% — provided you put the effort in.
The bad news is the solar feed-in tariff is lower than what's available from a number of other retailers offer, so Amber Electric is unlikely to be the most cost effective option for homes that export a considerable amount of solar electricity.  But it may suit solar homes with batteries.
Available Locations
Last week Amber Electric was only available in the Ausgrid Network area.  The map below shows how it runs through Sydney's eastern suburbs up to Newcastle and then makes a huge leap inland.  Also, it's shaped like a man in a hat called Barry who is karate kicking:
Amber Electric began operating in South Australia on Friday.  Now they're in the best state in Australia they'll no doubt fix their gaze upon the other eastern states, for on their website they have declared they will soon be coming there.  As for Western Australia and the Northern Territory… they're not going to come there.  They have separate grids and are separate markets.  The Northern Territory doesn't even have much of a grid.  It's really just a gr at best.  But while NT and WA may not be able to get Amber Electric, electricity from amber is still available from men in tight jeans everywhere.
Cost Breakdown
Amber Electric has interactive graphs giving breakdowns of their charges for the Ausgrid area and South Australia.  I've included the SA one below and it shows a historical, average cost per kWh every week for a year in South Australia.  It includes GST and assumes you make some  effort to avoid high prices but don't get too carried away.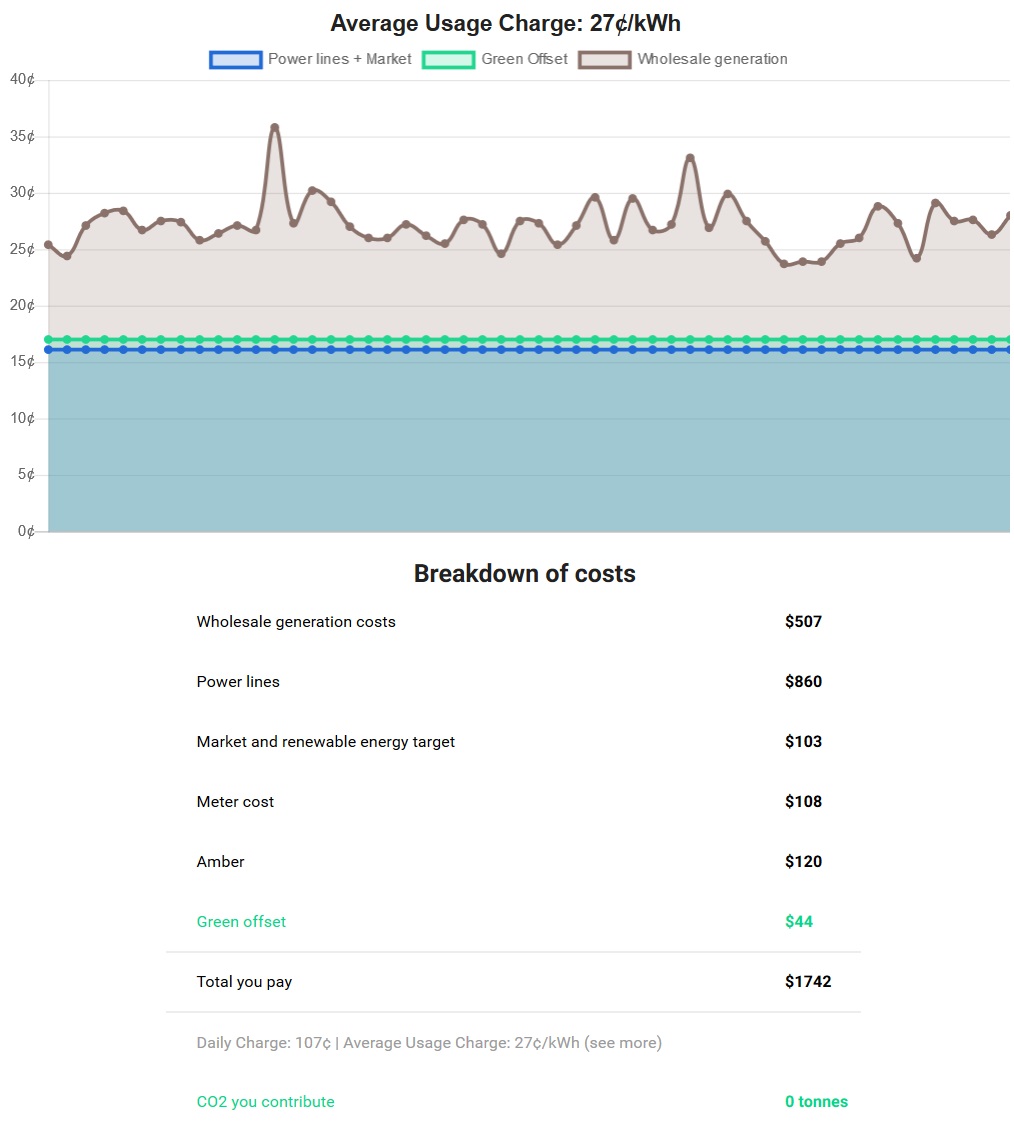 By putting the cost breakdown into a pie chart2 we can see transmission and distribution through power lines is just a smidgen under half the total cost while generation is a little over a quarter.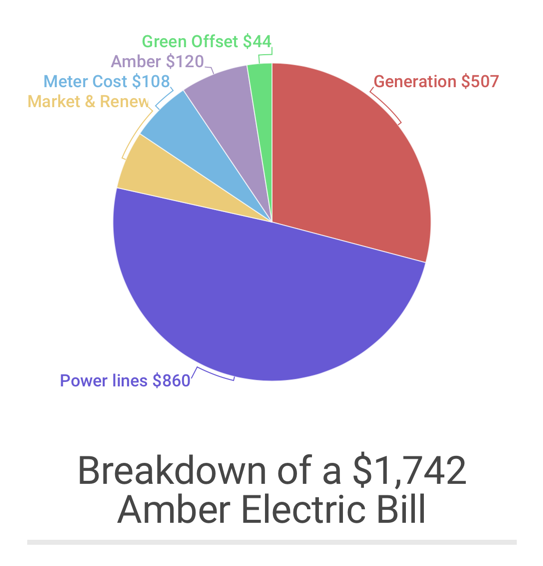 I tried to use the information above to see how they calculated the daily supply charge, but I became confused because they squished fixed and variable charges together.  So I sent Amber Electric an email and they sent me back a spreadsheet giving a breakdown of the daily charge and usage charge.  This makes it easy to see exactly what goes into them.  Next to "Usage charge breakdown" where it says "Never use power at cheaper times" that means they have assumed the household doesn't change its electricity consumption to use more when it's cheap and less when it's expensive.  It doesn't mean the household doesn't use power when it's cheap.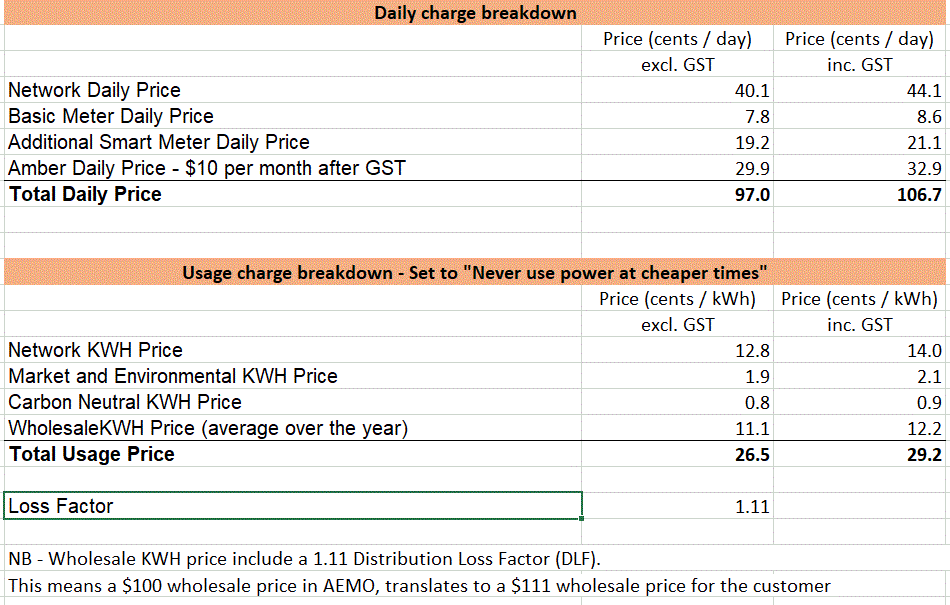 Daily Variation In Wholesale Price
While the graph above shows how the wholesale component has its weekly ups and downs, it doesn't show the variation that can occur in a single day.  I took the graphs below from the AEMO site on Thursday.  The first highlights the lowest wholesale spot price over a 24 hour period and the second highlights the highest:
The lowest price was $61.91 per megawatt-hour, which comes to 6.191 cents per kilowatt-hour.  The highest price was almost three times that at $181.41 per megawatt-hour or 18.141 cents per kilowatt-hour.  Most people won't be too worried about a 12 cent difference between high and low prices but at times — often during heatwaves — wholesale spot prices can soar over $10 per kilowatt-hour.  At this price most people would consider it worthwhile to cut back on electricity consumption.
Electricity Prices Can Go Negative
It is possible for electricity prices to go negative and in South Australia they sometimes stay negative for hours at a time, as this graph shows:
When this occurs it reduces your electricity bills.  It is possible, although very unlikely, for wholesale spot prices to become so negative you would be paid for using grid electricity.  The bad news is, because Amber's solar feed-in tariff is equal to the wholesale spot price of electricity at the time it is sent into the grid, you will have to pay for every kilowatt-hour of solar electricity you send into the grid at these times.  Periods of negative electricity prices are rare and often happen at night, so the amount of money you'll have to pay for solar exports will be insignificant.  As more energy storage capacity is built periods of negative electricity prices may disappear.
The Solar Feed-In Tariff Is Not High
Thanks to high wholesale electricity prices, feed-in tariffs in South Australia are the highest of any state.  (The Northern Territory is not a state, otherwise their high feed-in tariff would win.)  Here are the highest feed-in tariffs offered by three largest electricity retailers in South Australia:
Origin 18 cents3
Energy Australia 15 cents
Amber Electric's solar feed-in tariff will average less than this as they only pay the wholesale price of electricity at the time it is sent into the grid.  They told me in Sydney the feed-in tariff averages 11-12 cents and they expect it to be slightly higher in South Australia.  This is better than I would have expected as wholesale spot prices are often lower than this in the hours around noon when solar output is usually at its highest.  This graph from Saturday shows the wholesale spot price in the middle of the day for South Australia at only 5.4 cents per kilowatt-hour.
But wholesale prices are usually higher on weekdays than weekends and the greatest opportunity for solar export earnings will be in summer when solar power output is at its highest and wholesale electricity prices can be very high.  Because electricity usually costs more early in the morning and late in the afternoon, homes with east and/or west facing panels will earn more per exported kilowatt-hour than those with north facing solar panels, with west facing panels will earning the most.  As more solar capacity and energy storage is built the average amount paid will fall, although it's likely to fall for all retailers.
Because there are higher feed-in tariffs than Amber's, if you have rooftop solar power you should take care to make sure you'll come out ahead.  But the majority of homes in South Australia still don't have solar panels so there are plenty of people who should find it cost effective.
Electricity Plan Comparisons
If a South Australian household has the following characteristics:
A solar system that is 5 kilowatts or more in size and produces 7,500 kilowatt-hours a year.
Exports 5,000 kilowatt-hours of solar energy a year.
Has a solar self consumption rate of 20% and uses 1,500 kilowatt-hours of solar electricity a year.
Purchases 4,000 kilowatt-hours from the grid for a total annual electricity consumption of 5,500 kilowatt-hours.
Then which plan would be the most cost effective?  Looking at the plans with the highest feed-in tariff offered by the 'big 3 retailers', their annual bill would be:
AGL  $996 (20c FiT)
Origin  $890 (18c FiT)
Energy Australia  $1,098 (15c FiT)
As you can see, just because AGL has the highest feed-in tariff doesn't make it the most cost effective choice in this situation.  But to compare these results to Amber Electricity we will have to estimate Amber's average feed-in tariff.  Amber Electricity says they expect it to average over 11-12 cents in South Australia, so I'll use a figure of 13 cents — but I suggest you consider the possibility it will actually be lower.  With an average feed-in tariff of 13 cents then the annual cost with Amber Electric in SA will be:
Amber Electric  $917 to $1,037
The lowest figure is for a household that always reduces electricity consumption when wholesale electricity is expensive and the highest figure is if no change is made to electricity consumption habits.
As you can see, in this example, Amber Electric isn't the best choice.  However, if you think your west facing panels will earn you an extra one cent per kilowatt-hour of exported solar electricity, then the annual cost of Amber Electric will range from $877 to $997; so it could be the lowest cost plan, but only if you put effort into changing your electricity consumption patterns.
Batteries & Amber May Get On Together Like A House On Fire
Solar households with batteries export less solar energy because they store some of it for use at night.  A battery can also eliminate grid imports during periods of high prices.  A smart battery can be charged from the grid when it's cheap.  And finally, a battery can export electricity to the grid for a good feed-in tariff when the wholesale spot price is high.  So a solar household with a battery may find Amber Electricity worthwhile, although the battery will need software smart enough to trade its energy on the wholesale market. I know of no residential battery system that can do this yet.
In two years it should be possible to buy and sell electricity on the wholesale market in 5 minute periods instead of the current 30 minute settlement periods.  In this case being with Amber Electricity may become even more profitable for battery households
Cranking Up A Generator Could Be Cost Effective
If you have a generator, running it during periods of high wholesale prices could be an effective way to save money.  It won't be environmentally friendly as generators generally have worse emissions than power plants, but you will be reducing the load on the grid and that will help keep costs down for everyone.
Amber Alert — They'll Tell You When Wholesale Prices Are High
Amber Electricity alerts customers by email or SMS when wholesale spot prices are expected to rise over $2 per kilowatt-hour so they can reduce their electricity consumption if they wish.  They are looking at how to further in prove notifications in the future — such as alerting people of negative electricity prices — and are looking at having smart devices automatically turn on or off based on electricity prices.
Smart Meters
To join Amber Electricity requires a smart meter.  If you don't have one they will arrange for one to be installed.  You won't have to pay for this as it's already included in what they charge and you can leave at any time without having to pay smart meter or exit fees.  If you are a renter you do not require your landlord's permission to have one installed.  Note that if you get a smart meter in Sydney's Ausgrid area they will not let you use a standard tariff.  This is because of the two things we were promised electricity privatization would give us — lower prices and freedom of choice — we are allowed neither.
Smart Arses
If you go to the Amber Electric site and start reading you will see they have the temerity to use humour.  As you can probably tell from my staid, serious. and mature writing style, I don't approve of that sort of thing.  When I called them their answering machine told me they were busy out the back digging for electricity.  That's obviously ridiculous because, as everyone knows, you make electricity from amber by rubbing it, as this amber boy demonstrates:
Green Option
Amber Electricity automatically buys carbon credits to offset greenhouse gas emissions from the electricity you buy from them.  This is built into the price.  But if you're not entirely convinced carbon offsets are effective or you want to do even more for the environment then you can get a green power option of the sort offered by many retailers.  This is done by paying an additional 9 cents per kilowatt-hour which is used to buy Large-scale Generation Certificates representing energy generated by wind turbines and solar farms.  Even though South Australia already produces a lot of clean energy it is still necessary to pay the same amount as in NSW because by law the green energy has to be in addition to what would otherwise be produced.  The cost of Large-scale Generation Certificates is expected to collapse in a year or so which should make this option much cheaper.
Electrification Gamification
The solar feed-in tariff offered by Amber Electricity is not as good as some, but I am still tempted by the the idea of joining them for two reasons:
They are an electricity retailer that appears to be refreshingly transparent in an industry that is otherwise plagued by obfuscation and trickery.
 I am overconfident I can game the system and come out ahead by organising my electricity consumption to avoid periods of high wholesale prices.  During a heatwave I could simply switch everything off at the mains in the evening.  I have a couple of solar powered torches and my laptop battery is good for 8 hours.  Sure, this means I won't have any air conditioning, but I'm certain the fact temperatures can now reach 45 degrees after sunset won't be a problem.  I'm sure I'll be safe.  Human body temperature is 47 degrees, right?
Footnotes
At current prices it takes 38 cents worth of diesel to generate 1 kilowatt-hour of electricity using a 40% efficient generator.  But a diesel generator that you randomly steal isn't likely to be 40% efficient. ↩
The human eye is very bad at estimating the amount of area covered by a pie chart's sectors.  That's why I never use them — except when I'm hungry. ↩
You may see an Origin feed-in tariff of 20 cents when comparing retail plans.  This is not a normally available feed-in tariff as it only applies for a limited period of time after you buy a solar system from Origin. ↩