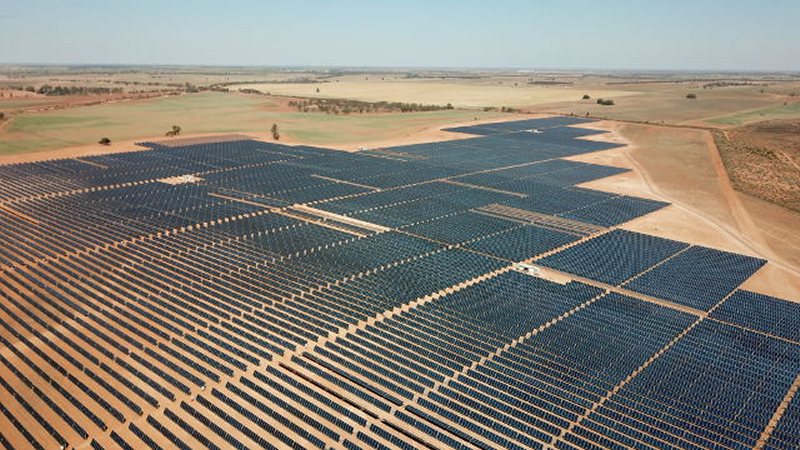 Renewables developer BayWa r.e. announced yesterday that Victoria's largest solar farm to date has started exporting energy into the national grid – and soon it will be helping to power beer production.
Karadoc Solar Farm is a 112MW PV power station situated on a 664 acre site 35 kilometres south of Mildura. 330,000 solar panels make up the facility and when it is fully completed at the end of this year, Karadoc will generate enough power to supply the equivalent of 65,000 Australian households.
"We are delighted that this landmark project for Australia, the state of Victoria and BayWa r.e. is now generating green energy," said Daniel Gäfke, Managing Director of BayWa r.e. Solar Pte Ltd. " It's a tremendous achievement and means our Karadoc solar farm is now contributing directly to Australia's renewable transition and sustainability goals."
Designed and constructed by Beon Energy, the project has employed around 300 workers during the construction phase, including 25 apprentices studying at the Sunraysia Institute of TAFE. 40 workers were hired through a partnership with Jobs Victoria Employment Network (JVEN).
Once completed, 74,000 MWh of Karadoc's output a year will be sold to Carlton & United Breweries (CUB), under a 12-year Power Purchase Agreement (PPA) announced in March this year.
In 2017, CUB owner Anheuser-Busch InBev announced a global commitment to source 100% of the company's purchased electricity from renewables by 2025 – around 6 terawatt-hours of electricity annually. As well as PPA's such as the one with Karadoc, CUB intends installing solar panels on the rooftops at each of its breweries in Australia.
BayWa r.e. has been involved with two other large-scale solar projects in Australia. The first was the 20MW Hughenden Solar Park in Queensland, which the company purchased, developed, sold and constructed within a period of six months.
The other project is Yatpool Solar Park, which is located 20km from Karadoc Solar Farm. Also expected to be completed by the end of this year, Yatpool's capacity is 106MW.
BayWa r.e. also has four wind energy projects in its Australian portfolio – Ferguson, Timboon, Yawong and Nhill – all of which are located in Victoria.
Headquartered in Munich, Germany, BayWa has brought more than 2 GW of renewable energy online (wind, solar, bioenergy) and manages 5 GW of renewable assets around the world.
Karadoc solar farm may not hold the title of Victoria's largest operational PV facility for long – construction of the 200MW Kiamal solar farm near Ouyen has commenced.