Update 16th January 2020: Yesterday we were sent a screenshot of what a home owner in the Ausnet area were told by Ausnet customer support.  It states that Ausnet never allows solar homes to have a standard tariff in their area.  This is different from what they told me on the phone.  Here is the letter they sent: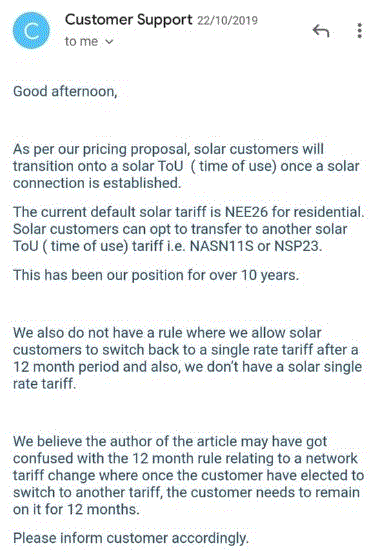 The letter says the default tariff for solar households is NEE26 but they can change to another time-of-use tariff and mentions two specifically, NASN11S and NSP23.  I've put these three tariffs below exactly as they appear in Ausnet's "Schedule of Network Use of System Tariffs" effective 1st January 2020:

Because that's difficult to read, here's a version I've shortened:

Looking at the NEE26 tariff it appears Ausnet is fine with a two rate tariff that that charges the same amount for peak and shoulder periods with a lower rate for off-peak periods.  This is likely to be the best tariff for solar households in the Ausnet area, but this is likely to change if a home battery is installed.
Note what you will actually have to pay depends on what plans retailers offer.  The Ausnet restrictions just limit the plans you can choose from to time-of-use tariff plans. 
AusNet Services — formally known as SP AusNet — is a Victorian Electricity distributor1 that covers most of Victoria east of Melbourne, along with some of Melbourne's outer suburbs.
If you get rooftop solar panels installed, AusNet will force you to change to a time-of-use tariff regardless of your personal preference.  So I guess your freedom to choose means nothing to them.
You won't just be stuck with this for a single, one month, billing cycle because AusNet will only let you change your tariff type once every 12 months.  While you can change your retailer or retailer electricity plan every month, you will be locked into a tariff type that may not suit you for one full year.
While Victorian time-of-use tariffs generally aren't as bad for solar households as in other states, Victorian households are still being discriminated against for installing solar power. Solar is something that can reduce demand on the grid and lower grid costs for everyone, while people who buy electrical devices that normally only increase demand and grid costs, such as air conditioners and electric stoves, aren't affected at all.  This is blatantly unfair.
What Is AusNet?
AusNet is a Distributed Network Service Provider (DNSP).  They take electricity from high voltage electricity lines and distribute it locally, as this graphic of theirs shows: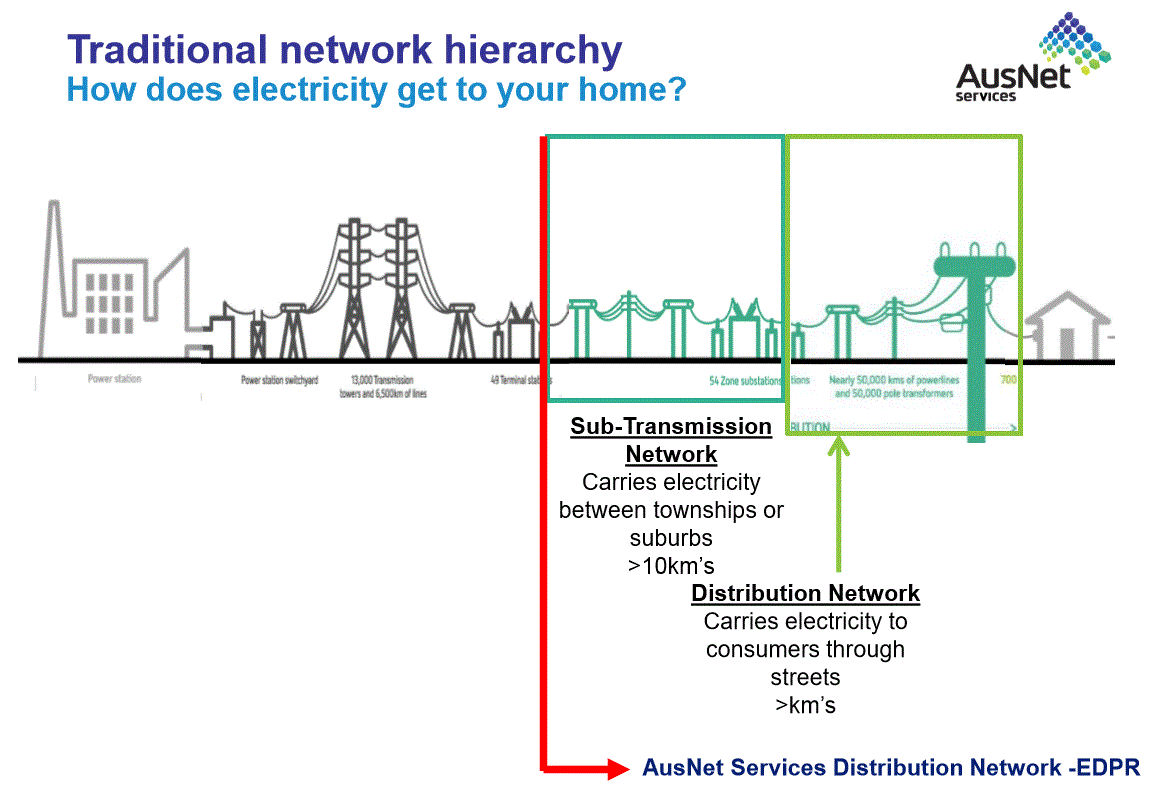 In some states distributors only manage the local power lines and substations, but AusNet owns the actual poles and wires.  AusNet itself is owned 31.1% by SP Group (formally Singapore Power), 19.9% by the State Grid of China, and 49% by private investors, a number of whom may even be Australian.  You can buy shares and directly participate in this glorious capitalist enterprise yourself if you wish.  When the Chinese Communist Party controlled State Grid of China owns nearly 20% you can be certain they're capitalicious!2
The AusNet Area
The AusNet Service area is shown here: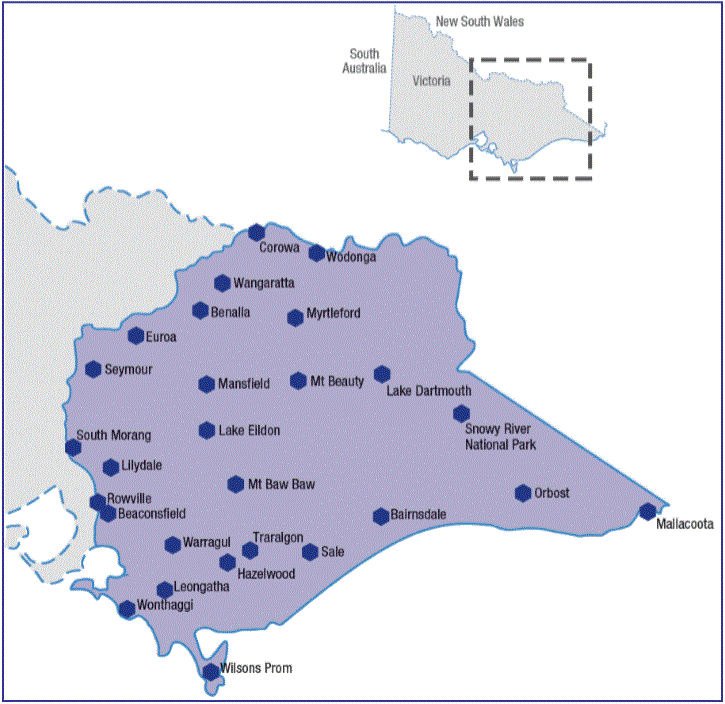 AusNet says they serve over 713,000 consumers.  After looking at the map, I think they mean they supply electricity to over 713,000 different addresses — otherwise there would be a lot of people sitting in the dark in Eastern Victoria on account of their being a lot more electricity consumers than addresses.
AusNet And Solar Power
If you are on the main grid, AusNet will normally allow 10 kilowatts of inverter capacity per phase3, but will only allow you to export a maximum of 5 kilowatts of power per phase.   You can apply for permission to install or export more than this, but it may not be given.  There is an application fee of $171 for this and it can take up to 3 months to be approved or denied.
In rural areas electricity is often provided by Single Wire Earth Return (SWER) transmission and in these areas AusNet will generally limit solar electricity export to 3.5 kilowatts.
Solar Homes Are Often Better Off With A Standard Tariff
Most solar homes in Australia are better off on a standard tariff where they pay a flat rate for each kilowatt-hour of grid electricity used, rather than a time-of-use tariff where the cost of electricity varies according to the time of day.  I explain why in this badly written article.  But Victorian time-of-use tariffs can be an exception, because:
The peak period can include most of the time the sun is up, which is when solar households use little grid electricity.
The difference between peak and off-peak rates may only be 5.5 cents, although it can be up to 20 cents.
Because of these differences it is possible for a solar household to come out ahead with a time-of-use tariff but it will depend on individual circumstances.  If you are better off on a standard tariff, as many will be, you're out of luck as you will have to wait 12 months for AusNet to no longer have tariff power over you.
But, once you do change your tariff, they'll regain power and you'll be stuck with it for another 12 months.
Time-Of-Use Tariffs That Are Really Standard Tariffs
In the past I have noticed electricity plans that are described by their retailer as being time-of-use, but which only charge a flat rate for electricity exactly like a standard tariff.  These plans could be a way to get around the requirement to have a time-of-use tariff.  I have specifically looked for them in the AusNet area and couldn't find any, but that doesn't mean they don't exist.  So you can ask your electricity retailer if they will give you a "time-of-use" plan with a flat rate.
Forcing New Solar Homes Onto Time-Of-Use Tariffs Is Lousy
Most Victorians already have smart meters.  They were forced into getting them years ago, possibly because some politician didn't understand that even though they were called smart meters, they were still pretty dumb.  Or maybe it was because retailers saw a chance to charge households and businesses for something that lowered their meter reading costs.  But there's no reason why it couldn't have been both.
Because smart meters have already been rolled out, most Victorians have their grid electricity consumption automatically read every month, giving them a one month billing cycle.  This means they can change their electricity retailer 12 times a year if they want, but because of Ausnet's rules they can only change the type of tariff they have once a year.  As changing the tariff type is a trivial matter that's no more difficult than changing retailer plans, this doesn't seem fair to me.
More 'Flies With Honey' Than Abuse Of Monopoly Power
If households change to a time-of-use tariff and change their electricity consumption patterns as a result, it can benefit the grid as a whole by reducing consumption when electricity demand is high.  But individual households themselves may not benefit from changing, so people are often, quite reasonably, reluctant to try.
If AusNet wants more homes on time-of-use tariffs, rather than have a privately owned company use its monopoly power to force Australian citizens to do what it wants, it should act more like a real business that actually has to put effort into keeping customers. It should use good, old-fashioned, bribery.4
There is the obvious approach of simply lowering the rates of time-of-use tariffs so more people will find them attractive.  But AusNet could also make offers to high electricity consumption households along the lines of, "We will give you a slow cooker5 and free energy monitoring equipment if you commit to using a time-of-use tariff for 12 months."
That's how you get people to do what you want.  You make it worth their while.  But if you use force provided to you by your monopoly status, people will just end up hating your guts.