The three most populous states — and South Australia — all have electricity retailer choice.  This gives people the freedom to choose the electricity plan that's best for them, while electricity retailers do their best to stop that from happening. They don't want you getting the cheapest electricity available, so they offer plans that are confusing and impossible for the casual consumer to easily compare.
Fortunately, there's no need to panic.  I'm going to help you out by determining the lowest cost electricity plan for solar households in every capital with retailer choice.  It took a lot of hard work, but when it comes to helping you I'm not afraid to let Finn do most of it.  I used  the retailer comparison tool he created to — hopefully — find the most cost effective plans.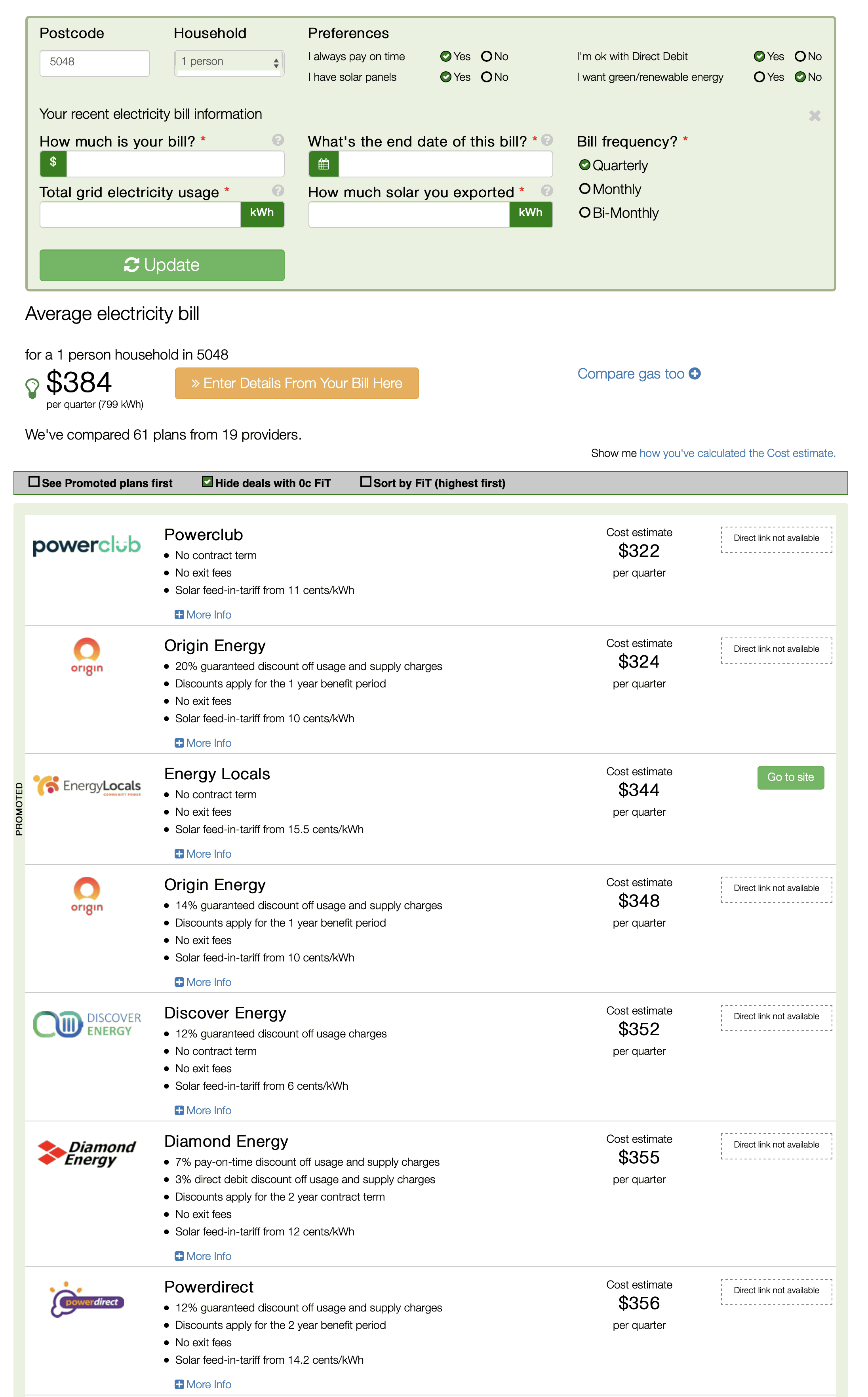 You can use it yourself and enter details from your bills to personalise the results.  It doesn't show time-of-use tariffs, but most households with solar panels are better off without them.  Be aware it can only use information retailers make available, so we can't be certain it's always correct or that plans won't have annoying conditions tacked on.
I'm even going to save you the effort of using the comparison tool by working out the lowest cost electricity plan for a typical solar household in all states where you have a choice.  I'll assume the most commonly installed solar power system size today, 6.5 kilowatts, and an average electricity consumption.  If your consumption is less than average, don't worry, the results don't change.  Provided you are exporting more energy to the grid than you import, it makes little difference.
If you have a small solar power system this can change the lowest cost retailer, so I'll also work out the cheapest plan for households with 3 kilowatts of solar.
Who Has Electricity Retailer Choice?
There is retailer choice throughout New South Wales, Victoria, South Australia, and the ACT.  It's only in the south-east of Queensland, but that covers most of the state's population.  Capitals with retailer choice are:
Adelaide
Brisbane
Canberra
Melbourne
Sydney
Tasmania technically has retailer choice, but it's not much of a choice.  There are only two retailers and if you have solar panels, just go with 1st Energy (the state's second energy retailer – oh the irony) as they have a higher solar feed-in tariff but otherwise appear the same as the other retailer.
Variables To Consider
To find the best retail plan for typical solar households, for each capital I'll need to determine:
Solar power system size
Annual solar electricity generation
Average self consumption of solar energy
Average household electricity consumption
I was going to be lazy and not put much effort into working out the characteristics of a typical solar household, but then Solar Analytics very kindly gave us some interesting figures on solar electricity self-consumption.  They are an energy monitoring company so I can be certain their numbers are spot on and it would be a shame not to use them.  But this did mean I had to make the effort to also get good figures for average household electricity consumption.  After all, I can't allow good numbers to come into contact with vague ones.  Otherwise they could contract statistical imprecision and that would — probably — be bad.
Assume A 6.5 Kilowatt Solar System
I am going to assume a typical solar household has a 6.5 kilowatt system installed.  This is around the most commonly installed size at the moment.  It's also close to the 6.66 kilowatt maximum the majority of households can easily install without complications.
Solar Generation By Capital
The United States has blessed the world by making the PVWatts site freely available to all.  (Whatever you do, don't tell Donald Trump that Mexicans can use it for free.)  I've used it to calculate how many kilowatt-hours a 6.5 kilowatt solar system is likely to generate in each capital we're looking at over a year.  I have allowed for the fact that most solar power systems don't have all their panels perfectly arranged for optimal output by reducing generation by 7% from what it would be if all panels were facing north.1  So 6.5 kilowatt systems in the given locations should be producing around this many kilowatt-hours annually: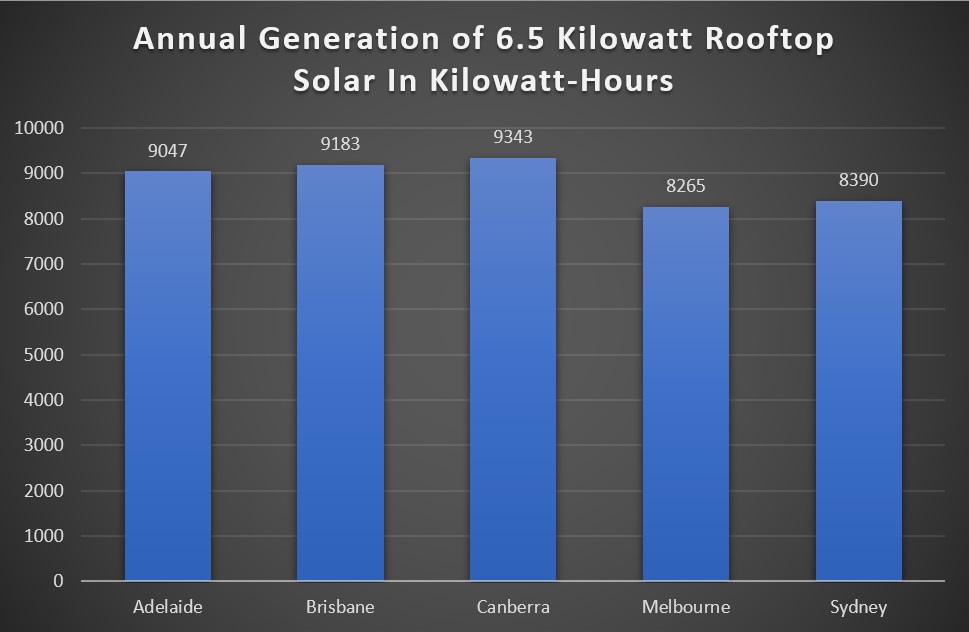 Solar Electricity Self Consumption
Savings on electricity bills depend upon how much solar electricity you consume yourself.  If no one's home all day you'll generally have low self-consumption, as most of your solar electricity will be sent into the grid for a feed-in tariff. If power-hungry people are home during the day then solar self-consumption will be high.
I was pleasantly surprised to find the figures Solar Analytics sent us on self-consumption were higher than I expected.  For systems sized 6-8 kilowatts, median self-consumption percentages were:
South Australia  28%
Queensland 40%
ACT  27% ?
Victoria  31%
NSW  34%
This is much better than the conservative 20% I generally use.  Queensland's is exceptionally good at 40%.  This is likely due to high electricity consumption in summer and less seasonal variation in solar electricity output thanks to dry and sunny winters.
I put a question mark next to the ACT's figure of 27% because the sample size is too small to have confidence in it.  My hunch is it should be considerably higher, but rather than guess I'll simply replace it with the figure for South Australia as the climate and electricity consumption in that state's main population centre is similar to the ACT.  This boosts their self-consumption by 1 percentage point to 28%.
The figures are for states and not capitals, but as the majority of solar power systems are in and around capitals they should still be fairly accurate.  I'm using the results for solar power systems sized 6-8 kilowatts, but the large majority of those systems will be from 6 to 6.6 kilowatts as 6.7-8 kilowatt systems are rare.
Solar Analytics users may be richer than the average solar owner2 and this could mean they have higher electricity consumption that boosts solar self-consumption rates above the median.  It is also likely they use the information provided by their Solar Analytics energy monitor to increase self-consumption.  However, my beliefs about human nature — specifically laziness — make me suspect this will only boost self consumption mildly.
Solar Self Consumption & Export Figures
By using the solar generation and self-consumption figures we can determine how much solar electricity a typical household will self-consume and how much they will export to the grid for a feed-in tariff: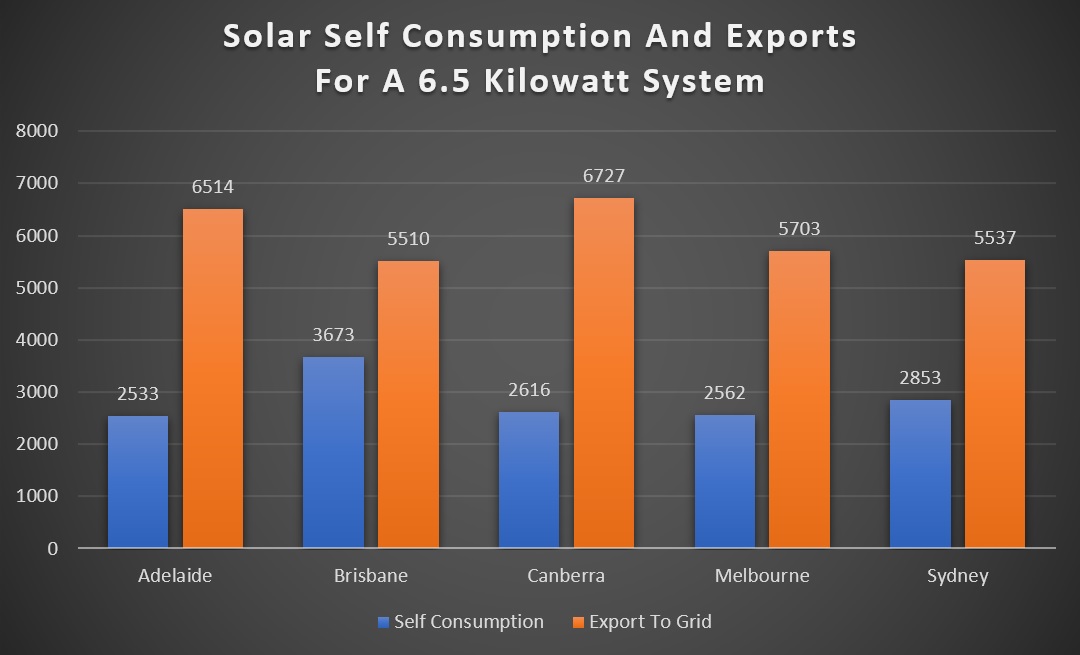 Average Electricity Consumption
I wanted to find the average electricity consumption for homes without solar panels, but I couldn't find any up to date information I trusted.3  I ended up using figures from a 2014 ACIL Allen report.  These should have declined slightly over the past 5 years due to improving energy efficiency, but I expect they're still reasonably accurate.
Because only Canberra and Melbourne have a majority of homes with gas, I have used the figure for gas households in those cities and non-gas households for the others.  I've used the average consumption for 3-person households because the average Australian household has 2.6 people and that's closer to 3 people than 2 and I really dislike dealing with bits of people.
The graph below shows average grid electricity consumption for 3-person households before and after solar self-consumption is accounted for: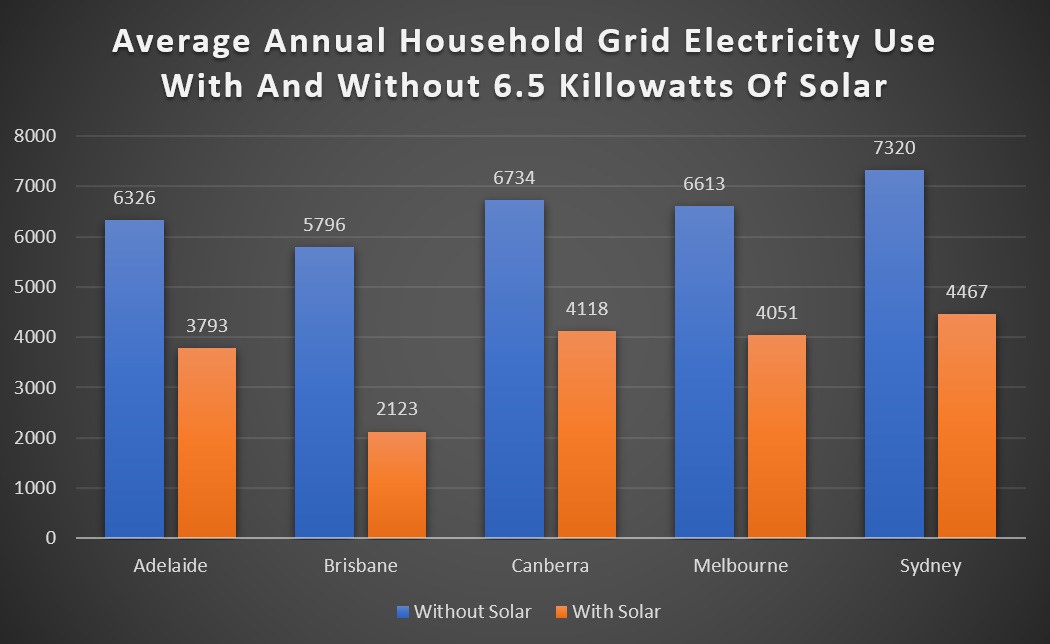 Now I have household grid consumption and solar export figures I can work out the lowest cost electricity plans.  As the homes we are looking at all export considerably more solar electricity to the grid than they import from it, electricity plans with a high feed-in tariffs are likely to be the most cost-effective.  But first I need to warn you that good looking feed-in tariffs aren't always available.
Origin's Highest Feed-In Tariff Isn't Available To Sensible Households
Web sites for comparing electricity plans, including our own, can only make use of information retailers provide to them.  The information Origin Energy provides makes it appear their highest solar feed-in tariff is available to everyone, but it only applies for a limited period to people who buy a solar system from them.  This means you have to ignore their highest feed-in tariff on comparison sites and only consider Origin plans with lower feed-in tariffs.4
Retailers May Have Inverter Or Kilowatt-Hour Limits
Retailer plans may have limits on the size of the solar inverter they allow.  For example Amaysim can limit you to a 5 kilowatt inverter, which means you can have a maximum of 6.66 kilowatts of panels.5
Another thing to watch out for are plans that limit your solar feed-in tariff by the number of kilowatt-hours you export.  For example, depending on location, Energy Locals can reduce their feed-in tariff if you export more than 15 kilowatt-hours in a day.  If you don't have a smart meter it's not possible to tell what your daily exports are and an average has to be used, but in summer months most solar power systems will average will over 15 kilowatt-hours of exports a day.
Lowest Cost Electricity Plans By Capital with 6.6 kilowatts
After crunching the numbers I have been able to determine the lowest cost electricity retailer plans in capitals for homes with 6.5 kilowatts of solar and average electricity consumption are provided by only three companies — Amaysim, Origin Energy, and Energy Australia:
Adelaide:  Amaysim with 22 cent feed-in tariff.  Annual cost $464
Brisbane:  Energy Australia with 16.1 cent feed-in tariff.  Annual benefit $59 Credit
Canberra:  Origin Energy with 15 cent feed-in tariff.  Annual bill $209
Melbourne:  Amaysim with 18 cent feed-in tariff.  Annual bill $428
Sydney:  Origin Energy with 21 cent feed-in tariff.  Annual bill $355
I find it interesting that Origin Energy and Energy Australia — Australia's largest and third largest energy retailers — are now the lowest cost retailer for many solar households when not long ago it was often AGL — Australia's second largest retailer.  I suspect they are taking turns in winning over solar households and then relying on consumer loyalty and inertia to fatten their profits when they change to no longer being the most cost-effective retailer for them.
Amaysim also did well, providing the lowest cost plan in two of the five capitals6
Note that, thanks to high self-consumption, the Brisbane household is in credit and comes out $59 ahead each year.
If your electricity consumption is less than average it should make no difference to the results.  Provided more electricity is exported to the grid than imported, the lowest cost retailer is unlikely to change.  If your solar power system is over 6.66 kilowatts and you have typical consumption, the most cost effective plan for you will almost always be the one with the highest feed-in tariff you can get.
Update 12:40 pm:  I originally had Origin Energy as the most cost effective plan in Brisbane but in the comments Chris pointed out they only offer a maximum feed-in tariff of 15 cents to normal households.  I'm afraid Origin fooled me.  While I had eliminated their highest feed-in tariff their second highest feed-in tariff wasn't available either. 
Lowest Cost Plan With 3 Kilowatts Of Rooftop Solar
If you have a small solar power system it can change which plan will be cheapest for you.  For simplicity's sake I will keep all my previous assumptions the same apart from reducing the solar system size down to 3 kilowatts.  This means the homes will be consuming more grid electricity and exporting less solar electricity.  The lowest cost retailers in this case are:
Adelaide:  Energy Locals 15.5 cent feed-in tariff.  Annual bill $1,624
Brisbane:  Energy Australia with 16.1 cent feed-in tariff.  Annual bill $1,026
Canberra:  Origin Energy with 15 cent feed-in tariff.  Annual bill $1,609
Melbourne:  Amaysim with 18 cent feed-in tariff.  Annual bill $1,332
Sydney:  Discover Energy with 11.5 cent feed-in tariff.  Annual bill $1,732
While the cheapest plans in Brisbane and Canberra are still from Origin and from Amaysim in Melbourne, it has changed to Energy Locals in Adelaide while in Sydney Discover Energy is the lowest cost standard tariff.  However, it is possible Powerclub's non-standard tariff based on wholesale electricity prices could be better.
With smaller solar power systems there is usually less difference between electricity plans.  For example, Red Energy in Brisbane only came to a few dollars more than Origin, so if you have a smaller system don't be too surprised if you crunch the numbers and come up with something different from the retailers above.
Go Big!
Looking at the difference between electricity bills for 3 kilowatt and 6.5 kilowatt solar systems you can see that getting a larger system can really pay for itself. No wonder only 3.5% of SolarQuotees ask for 3 kW systems.
Don't Let Them Rip You Off!
You may have reasons for not wanting to go with the lowest cost retail plan available and that's fine.  It's also possible to bargain with retailers and get a better deal than what they normally offer.  Additionally, it's always possible that one of the innovative new electricity retailers that don't offer standard tariffs such as Powerclub or Amber Electric will turn out to be cost-effective once you've crunched the numbers.  But if your goal is to save money, then the retailer plans above are likely to be the best for you.
Personally, I say don't pay electricity retailers any more than you have to.  It simply makes me furious to think of extra money needlessly going to waste lining the pockets of suit-wearing, BMW-driving, latte-sipping smarmy bastards.  I sincerely believe it should instead be going into the pockets of T-shirt-wearing, horse-wrangling, Pepsi-swilling sarcastic bastards like me.