Power is boring.
But the struggle to obtain it?  That is interesting.
In 10 year's time powering homes with batteries may be so commonplace it will be boring.
But at the moment it's not so dull.
One company that is giving people power over their own electricity consumption is Deep Cycle Systems or DCS:
DCS are an Australian company located at Mount Tamborine in Queensland, which is the greatest state in Australia1.
They have developed a solar battery using proprietary Sino-Japanese2 technology.
Their first units were assembled in Australia, but they now manufacture in China.
They claim to have over 300 systems installed across the country.
For the benefit of those who may want to get their power hungry hands on them, I'll tell you what I know about the batteries made by DCS:
The DCS PV 10.0W And DCS PV 5.0W Batteries
Deep Cycle Systems produce the DCS PV 10.0W battery with 10 kilowatt-hours of storage and the DCS PV 5.0W battery with 5 kilowatt-hours of storage.  Their names have the letters PV in them because they are made for use with rooftop solar.  (As for the W, I'm afraid I don't know watt that could mean.)
They are high power batteries and can be fully charged or discharged in one hour.  This makes their power output 10 kilowatts for the large battery and 5 for the smaller one.
They are lithium iron phosphate (LiFePO4) which is the most durable type of lithium battery and also the safest by virtue of being the least likely chemistry to start shooting out flames.
DCS sells their 10 kilowatt-hour solar battery, including GST, for $10,000.  Their 5 kilowatt-hour battery is $5,900.
They have a 10 year warranty and unlike Tesla Powerwalls, LG Chem RESUs, BYD B-Boxes, and numerous other energy storage contenders, it is a real 10 year warranty that gives enough kilowatt-hours of use to last 10 years when cycled once per day.
For those who want a solar and battery package deal, DCS will arrange for 6.24 kilowatts of solar panels, a 4.6 kilowatt SolaX multimode (hybrid) inverter, and their 10 kilowatt-hour battery, to be installed for $20,000.
Their Technical Specs Are A Bit Technical
I swiped this table of technical information on DCS's batteries and then scrawled on it in green for the benefit of people who may not know what 1C means3.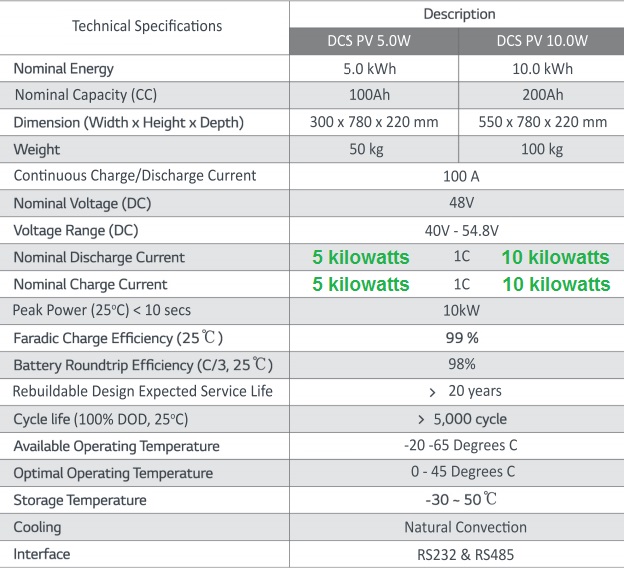 Can Be DC Coupled Today
The DCS battery system consists of a weather proof box containing batteries and a battery management system or BMS.  In order to work as a home energy storage system other hardware will be required.
In normal use these batteries would be DC coupled to solar panels using a multimode inverter, also known as a hybrid inverter.  These are more expensive than standard inverters whose modes are far less multi.4
DCS says any inverter that accepts 48 volt batteries will work and gives a long list of them:
Victron
Schenider
SMA
Redback
Ingeteam
GoodWe
Sungrow
Solax
Solis
DCS 5kW BMU
Can Be AC Coupled Soon
DCS says they will soon release a version of their 5 kilowatt-hour solar battery that can be directly AC coupled.  Unfortunately, it may be difficult to install under new Australian standards unless your local DNSP allows an exception.
Size, Weight, And Location
The 10 kilowatt-hour DCS PV 10.0W is is 55 cm wide and 78 cm tall.  That about as wide as a stove but not quite as high.  At 22 cm it is about as deep as one Pringle container.  And that's a rubbish modern Pringle can.  When I was younger they were big enough for me to fit my whole hand inside.  Nowadays if I want a Pringle I have to hire Peter Dinklage to feed me.
The 5 kilowatt-hour version is the same size except for the fact that it is smaller.  The height and depth are the same but it is only 30 cm wide. Which is the length of a 30 cm ruler.
Its weatherproof case is made to be wall mounted and can be installed indoors or outdoors.
It Can Handle Extreme Temperatures – But Not According To Its Warranty
The battery's optimal operating temperature range is 0 to 45 degrees.  And that's very convenient, making it suitable for most locations in Australia.
But the tech specs give its available operating temperature as -20 to 65 degrees.  While not be optimal, with that temperature range it should work anywhere in Australia5.  I would say it is the best temperature range of any battery available – except for the fact that it's not actually that good in practice. Let me explain.
On their website they say:
"Widest operating temperature range in the industry"
But its warranty says:
"The ambient temperatures during the operation of the subject of the warranty must not fall below -5 degrees C or exceed 45 degrees C."
While that's still an excellent operating temperature range, if you like keeping your written warranty intact, then the available operating temperature range mostly isn't available.  They should rename that section on the tech specs as "mostly not available operating temperature."  But it's still suitable for most locations in Australia as long as it's not in direct sunlight.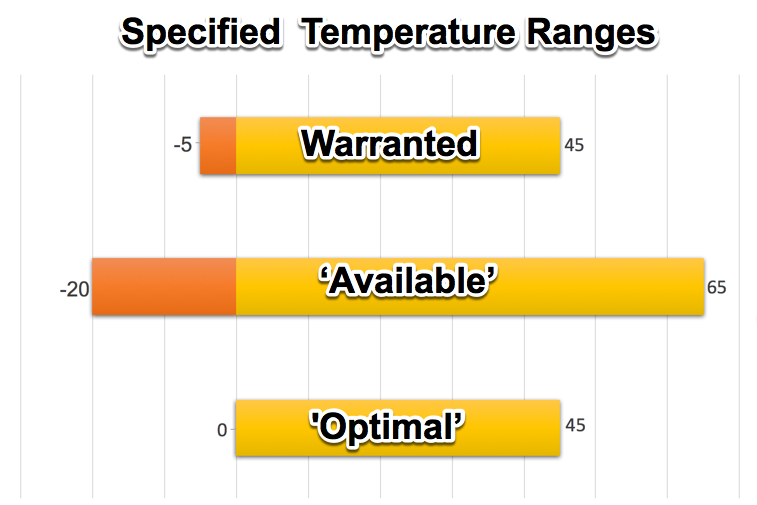 Its Claimed Efficiency Is Excellent
The tech specs give its round trip efficiency as 98%, which is wonderful.  Unfortunately, this is only at 25 degrees and one-third its full charge or discharge rate.  But DCS has informed me that even at its maximum charge and discharge rate, its efficiency will be over 96%.  If it averages 97% and losses from the inverter and wiring knock off another 4 percentage points, then users can expect an overall round-trip efficiency of around 93%, which is excellent.
The DCS Warranty Outlasts Tesla, LG, BYD, And Others
DCS warrants their batteries for 10 years. Unlike most solar batteries either on the market or coming soon, the DCS warranty allows enough kilowatt-hours for it to last the full 10 years even when fully cycled an average of once per day.  The warranty also states the batteries will have at least 80% of their original capacity by its end, which is far better than most.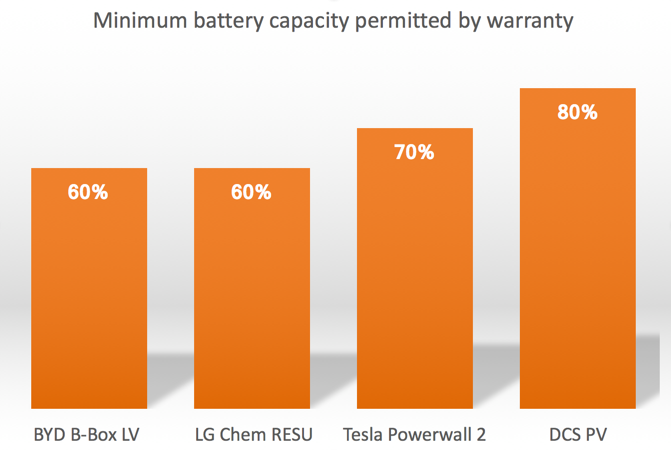 The graph below shows how many years a battery's warranty will last when cycled an average of 0.8, 1.0, or 1.2 times a day, assuming that its capacity declines linearly down to the minimum its warranty allows for by its end.
If the DCS capacity degrades linearly down to 80%, then it will last a full ten years for anyone who cycles them an average of 1.11 times or less a day. Which will be pretty much everyone.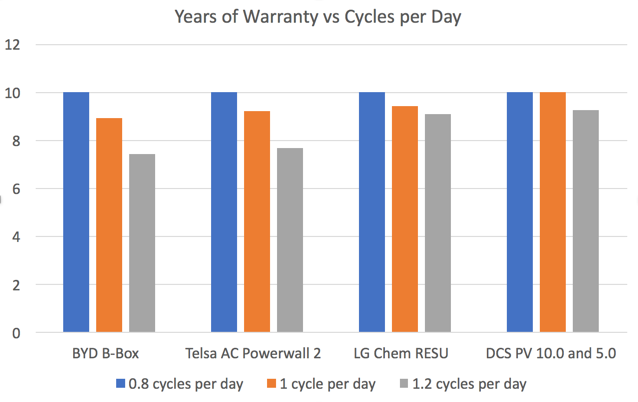 It Won't Save You Money
Despite their excellent warranty, DCS batteries still won't be able to save households that have remotely normal electricity use money.  This is despite the fact that I expect them to last well beyond their given warranty and longer than any other any other lithium battery that isn't LiFePO4.
While it is competitively priced compared to other batteries on the market, its cost per warranted kWh is be more than Tesla's Powerwall 2.  Even taking what Tesla's says at face value, the Powerwall 2 cannot realistically save people money and so DCS batteries can't either.
If you are interested in the details, I previously wrote about how the Powerwall 2 is likely to lose money for households.
DCS Installs PV, Inverter, & 10 Kilowatt-hour Battery For $20,000
If you live in the Brisbane, Sunshine Coast, or Gold Coast regions of Queensland, or in NSW or Victoria, DCS can arrange the installation of rooftop solar panels, a multimode inverter, and their 10 kilowatt-hour battery for $20,000 including GST.  The whole shebang consists of:
6.24 kilowatts of tier one Phono solar panels.
A 4.6 kilowatt Solax SK-TL5000E multimode (hybrid) inverter with a BMU 5,000 100 amp charge controller.
A DCS PV 10.0W battery.  (They say the battery is LiFePo4 instead of LiFePO4, which would make it a lithium iron polonium battery and highly radioactive, but I strongly suspect this is just a typo6.)
A 40 amp Automatic Transfer Switch that will activate battery storage within 20 seconds if a blackout occurs.
The inverter can charge batteries with up to 5 kilowatts of DC power but can only provide 4.6 kilowatts of AC power to the home.  When used for back up power it can only provide 4 kilowatts of AC power and DCS recommends loads be kept below 3.5 kilowatts.  While this system can be used off-grid, DCS recommends using a Fronius or SMA inverter for off-grid use to increase the amount of power available.
STC claim limit appears to be breached.
One odd thing about this package is the inverter's datasheet  clearly states it is a 4.6 kilowatt inverter which means it can be installed with a maximum of 6.133 kilowatts of solar and still receive STCs  (AKA the "solar rebate").  DCS says the cost of the extra 107 watts that doesn't receive STCs is included as part of the package.  As it is only a smidgen over the limit, DCS claim it won't cause a problem. But I have heard of installers having all the system's STCs knocked back because the installed panel capacity was over the limit by a few Watts, so I'm surprised they have been able to do this.
DCS Estimates Of How Much Money Can Be Saved Are Nuts
DCS describes how much money can be saved with their $20,000 solar and battery package, but unfortunately I don't find them credible.  They say:
"…you can generate somewhere between $3,285 to $4,380 per year (based on a $0.30 electricity tariff)."
That is completely nuts.  Even if the household self-consumed every kilowatt-hour of electricity the solar panels generated, it would still be impossible.  This is nuttier than the contents of my stomach after I've been sitting under a Queensland macadamia nut tree all morning with a hammer and a lump of concrete.
DCS states:
"This system is capable of producing around 30kWh of solar electricity per day on average…"
No it's not.  Not in the locations they say its available for installation.  Even if you located 6.24 kilowatts of solar panels in Goddamn Longreach, which is located next to Hell, it still wouldn't quite average 30 kilowatt-hours a day which is needed to get the 10,950 kilowatt-hours a year that would be required to be worth $3,285 if every single one of them reduced electricity bills by 30 cents each, which they won't.
It's not easy to find a place sunnier than Longreach.  My cousin grew up there and was 5 years old before he first saw rain.  The sight of it shocked him so much he passed out and they had to throw a bucket of dust over his face to revive him.  So where did DCS get the $4,380 a year figure from?  Well, I'll let them explain that themselves:
"This system is capable of producing around 30kWh of solar electricity per day on average combined with 10kWh of Lithium Ion battery storage.  Providing a total of 40kWh of electricity per day."
Now that's really astounding.  In our universe, solar panels generate electricity and batteries store it.  But in the DCS universe it appears that batteries can generate electricity and increase the total output of a solar system they are attached to.  Maybe it wasn't a typo when they wrote it was a radioactive polonium battery.  Or maybe they have just made a very silly mistake.
I asked DCS about this and they told me the 40 kilowatt-hour figure is because the solar panels could generate 30 kilowatt-hours and then the batteries could supply 10 kilowatt-hours that were stored the day before.  But that's not:
"Providing a total of 40kWh of electricity per day."
And it won't give their $4,380 figure they got from multiplying 40 kilowatt-hours a day over a year by 30 cents.
Blending Battery And Solar Return Hides Fact Batteries Don't Pay
The DCS site gives estimates of rooftop solar production in a variety of eastern state locations and these amounts are much more realistic.  They also provide estimates of how much solar plus batteries can reduce electricity bills, but it is impossible for me to work out how they arrived at these figures because they have blended the return from rooftop solar and from batteries together.  This allows the good return from rooftop solar to hide the poor return from batteries.  The moral of this paragraph is, be wary of a salesperson who only gives you figures for solar and batteries together and avoids giving figures for batteries alone.
Caveat Emptor
I mocked what DCS wrote about how much the electricity generated by their PV and battery package would be worth because it soundly deserved mocking.
But more importantly, it is simply unfair to mislead customers with information that is, at best, a mistake resulting from misplaced enthusiasm.  It does their business, and the battery industry as a whole, no good at all.
While they may have the most durable lithium battery available according to their warranty, if your grid electricity consumption is anything approaching normal it is not likely to save you money.
If you are on-grid, I have three pieces of advice:
If you want to save money, install rooftop solar.
If you want electricity during blackouts, buy a generator.
If you want battery storage, then buy battery storage.
Maybe it won't be that long before battery storage can save money.  I don't know what the future holds, but I presume I'll find out in time.