The Tesla Big Battery in South Australia came online last year on the first of December.  It's now one year and 18 days old.  Despite the involvement of Elon Musk and Tesla it's not actually called the Tesla Big Battery.  Its real name is the Hornsdale Power Reserve.  Personally, if I had been asked, I would have called it Elonia Princess of Power, but I wasn't consulted and so my naming talents continue to be squandered.
But what it's called is not important.  A rose by any other name would smell as sweet.1  The real question is, how well has the Hornsdale Power Reserve performed over the past year?  Has it been a massive waste of money or was it only a moderate waste of money?  Or has it actually been a sound investment?
The good news is that it works, and — despite my misgivings — it is making the company that owns it lots of money and helping lower the cost of electricity for all South Australians.  Whether or not we would have been better off with a different approach, such as getting a better price by waiting and not being in such a damn rush is not clear to me.  I've looked through the Hornsdale Power Reserve Year 1 Technical and Market Impact Case Study to try to find an answer and all I can come up with is a vague maybe.  If I was smarter I'd be able to give a better answer.  Perhaps a super definite maybe.  But I ate a few too many paint chips when I was a child — and for breakfast this morning — so a vague maybe is the best I can do.
I have put highlights from the report below so you won't have to read the whole thing yourself .  Unless of course you want all the details and would prefer not to be distracted when I start babbling about Princesses of Power2 and other nonsense.
In this article about the Hornsdale Power Reserve I will tell you:
Where it is.
How big and powerful it is.
How it was made by an American company and stuffed full of Korean battery cells.
Who owns it.
How much it cost.
How it supports the grid and protects us from blackouts.
I'll also complain about how stupid we were to let the electricity sector get into the state it's currently in, but that can probably be taken as given and safely ignored.
Location — It's In Hornsdale, Baby!
The Hornsdale Power Reserve is — prepare to be shocked — in Hornsdale.  While it was under construction some nong tried to tell me it was in a secret location, but as it was built right next to the Hornsdale wind farm's electrical substation — which was the only sensible position — it was basically the worst kept secret ever.  (Apart from the secret that resulted in my first divorce, but I'm sure you already know the details of that.  Everyone seems to.)
The Biggest Battery In The World!
It's been over a year and the Hornsdale Power Reserve is still holding firm onto its position as the world's largest battery.  This may change in a couple of years and depending on which big battery project gets completed first,  the one that deposes it could be a 120 megawatt battery in South Australia's Port Augusta.  It's enough to make you think the state has a big, beautiful battery fixation.
The Power Reserve can supply 100 megawatts of power.  That's easy to write, but the hard part is coming up with a way to put that in context and help you visualize it.  Sure, I could say it's more than the average power consumption of 100,000 homes or equal to the draw of 67,000 electric kettles, but that doesn't really tell you anything particularly useful.  I mean, how often do people run up to you and scream, "I have 66,000 electric kettles I need to boil all at once and the Hornsdale Power Reserve!  Give it to me straight, man!  Do I have enough power?"
Perhaps a useful way to look at it is, during a heatwave South Australia's grid maximum grid power draw tops out at around 1.7 kilowatts per person.  This means the Hornsdale Power Reserve could meet the needs of 59,000 people which is around 3.4% of the population.  That may not seem like a large portion of the people in the state, but every bit helps.  And trust me, if 59,000 thousand people went without power the amount of whinging we'd hear about it would be unbelievable.  And most of that whinging would come from Canberra rather than South Australia.
129 Megawatt-Hours Of Energy
The Power Reserve can supply up to 100 megawatts of power and can store 129 megawatt-hours of energy.  This means it could supply its maximum power output for 1 hour and 17 minutes.3  Or at least it could when brand new.  Like all lithium batteries its capacity will gradually deteriorate with time and use.  But mostly use.
American Ingenuity, Korean Guts
The Power Reserve was built by Tesla, but Tesla didn't have an adequate supply of the the battery cells they would normally use for this type of project, so they bought them from the South Korean company, Samsung.  Fortunately, there's no need to worry because Samsung has totally solved the battery problem shown below…
The battery cells in the Power Reserve aren't even the same type as the one exploding in the video.  And the factory that made the defective batteries caught on fire anyway.  Not that I'm suggesting exploding batteries are a problem that is self correcting, but the good news is it has been corrected.
French Owned
While it was built by Tesla the Power Reserve is owned by the French renewable energy company Neoen4, which owns the Hornsdale wind farm it's next to.  According to them it cost 56 million Euros.  At today's exchange rate that's $89 million Australian.  That comes to $690 per kilowatt-hour of storage, which is ridiculously expensive considering at the time the Tesla Powerwall 2 was selling for just $642 per kilowatt-hour.  You'd think such a large scale order would cost less, not more, wouldn't you?
But apparently no one made a better offer that fit the requirements — so if we wanted a big battery in 100 days from the contract being signed, as Elon Musk promised, that's probably what had to be paid.  I also doubt Tesla was making any money on Powerwall 2s at their original price, hence the multiple Powerwall price hikes since then.
We Pay A French Company To Use Their Battery
The South Australian government is paying the French company Neoen $4 million a year over 10 years to let the government use 70 megawatts of power and 10 megawatt-hours of energy storage of the Power Reserve to provide ancillary services that help stabilise the grid.  The remaining 30 megawatts of power and 119 megawatt-hours of energy storage can be used however Neoen wants.  One estimate is they will make a gross margin of around $18 million a year from storing electricity when it's cheap and selling when the price is high, which is generally in the late afternoon and evening when rooftop solar output is either low or zero.
So it looks like a battery that cost them $89 million will make them over $20 million a year.  This return will fall as more battery capacity is built, but it still seems pretty sweet.5  Just to be clear, the $4 million a year payment from the SA government appears to have been the only financial incentive Neoen needed to have Tesla build the battery for them.
Why Isn't It Government Owned?
You might be wondering why the SA government is renting battery space off a French company instead of having their own.  This is because they are not allowed to interfere in electricity markets.  If you are wondering who made that rule, they did.  The privatization of the electricity sector created a situation where the state government has next to no control over the provision of electricity but they still get the blame when something goes wrong.  This is one reason why I was concerned about the construction of the big battery.  I thought they might be willing to pay more than it was worth if it would help them avoid the political fallout from power failures.
It Protects Us From Blackouts
On December the 14th last year an old, unreliable, coal power generator in Victoria went offline and 560 megawatts of power was suddenly lost.  The Hornsdale Power Reserve, which had only started operation two weeks earlier, was able to provide power to help make up the shortfall in a fraction of a second.  This was far faster than the 6 seconds required by the coal power station in Queensland that had the job of providing spinning reserve6 to make up for sudden shortfalls in power supply.  While this wasn't necessary to prevent a blackout it did demonstrate the system worked.
But on the 25th of August this year the Power Reserve prevented load shedding.  Load shedding is how my first wife described our divorce.  It also refers to cutting grid power to customers.  There is voluntary load shedding where large users of electricity agree to have some of their electrical equipment automatically shut off and then there's blackouts where grid power simply stops.
The problem was apparently caused by lightning hitting powerlines in northern NSW.  This was enough to break the world's longest electricity grid into three pieces and really rub in that our grid isn't the most robust in the world.  Queensland and South Australia had their power interconnectors with other states shut down and were forced to get by on their own.  SA was importing power from Victoria at the time so there was a shortfall, but the Power Reserve was able to respond in around one tenth of a second.  (By pure coincidence, "one tenth of a second" was one of my first wife's nicknames for me.  That and "paint chip boy".)  The graph below shows what happened: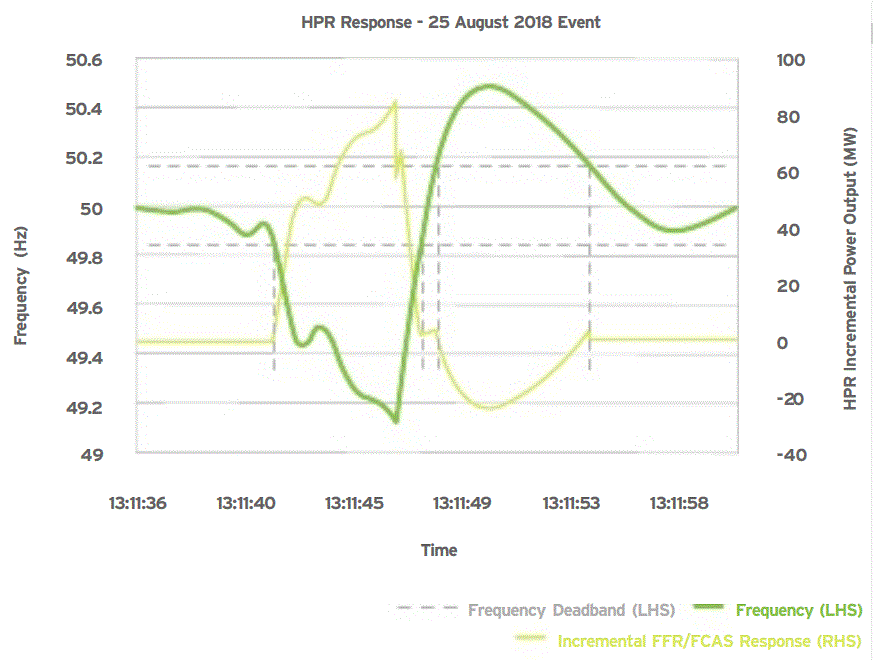 The green line shows the frequency of the South Australian grid dropping after power from Victoria was cut off.  The yellow line shows the Power Reserve rapidly reacting and dragging the frequency back up in under 10 seconds.  No load shedding was required in SA as a result, unlike what happened in Queensland, NSW, and Tasmania as a result of this event.
It Lowers The Cost Of FCAS
When the Hornsdale Power Reserve acts to keep the grid frequency within acceptable limits it provides Frequency Control Ancillary Service or FCAS for short.  FCAS is normally provided by fossil fuel or hydroelectric generators.  In South Australia limited competition greatly increased the cost of providing FCAS and this raised electricity prices by a small but real amount.  So one could quite honestly say South Australia's electricity prices were FCASed up.  But since the Power Reserve began operating FCAS costs have dropped dramatically as this graph shows:

As you can hopefully see, FCAS payments are low at first until decreased competition enables them to soar and then after the Hornsdale Power Reserve comes online they fall to a much more reasonable level.
The decreases in the cost of FCAS will reduce electricity bills.  It will only be a small change, but it will be passed on.  The electricity sector won't be able to keep it as extra profit for themselves because the system works.  It's a horrible, miserable system that causes a great deal of suffering that we never should have made in the first place, but it does function.  So it's quite similar to my first marriage.
It Makes The Electricity Market More Competitive
If we ignore that it slurps up electricity when it's cheap, the portion of the Power Reserve that is controlled by the French7 operates like a power station.  Because the South Australian electricity market is lacking in competition, this additional source of power helps keep electricity prices down.  It also helps increase electricity prices when it vampirically sucks up cheap energy, but it should help a lot more than it hurts.
It Aids Renewable Integration
In the past I have mentioned that even in South Australia where over half the electricity generated in the state comes from wind farms, rooftop solar, and solar farms, very little clean energy is lost.  Even when SA is producing far more energy than it can use the excess can normally be exported to Victoria.  But this won't last for long.  In just two years 73% of electricity generated in the state is expected to come from renewables and no new transmission capacity will come online in that time.  This means there is certain to be excess clean energy the Power Reserve and other batteries will be able to soak up and store for later use that otherwise would have gone to waste.
It Shows The Rules Need To Be Changed
The Hornsdale Power Reserve has demonstrated that when the grid frequency starts to drop batteries can FCAS things up faster than any traditional method.  But at the moment the payments received for a tenth of a second reaction time and six seconds are the same.  Because they provide a better service, batteries could receive a better payment.  On the other hand, batteries are clearly going to largely take over in this area anyway and so there may be no need to shovel extra money their way.  But generally speaking, getting incentives right will help improve efficiency.  It's just a matter of actually getting them right.
I mentioned earlier that as installed battery capacity increases returns will decline.  But there is one rule change already in the works that will provide a big boost to their profitability and this is the change from half-hour to 5 minute payment periods.  Because batteries can respond very rapidly this will give them an advantage over less nimble generators that have to make things spin in order to provide power.
The Hornsdale Power Reserve Is Not A Disaster
I was concerned the big battery would be a waste of money, but now I can see it has lowered the costs of FCAS and is being successfully used for electricity arbitrage and so it appears to be a success.  But I still can't be certain we wouldn't have been better off waiting for a lower price or building a smaller battery and expanding later as needed.
It's just a pity that a lot of its success is based upon the fact that we're so stupid.  If we hadn't allowed competition to become so limited, FCAS payments and wholesale electricity prices would never have risen so high.  And if our politicians hadn't created a system where they have next to no power over providing electricity to the people but still get the blame when things go wrong, then maybe the state could own a battery instead of only renting space on one from a French company.
But there's no point in crying over spilled milk, as my mother always used to say.  She'd tell me to make the most of it and eat my paint chips without it.