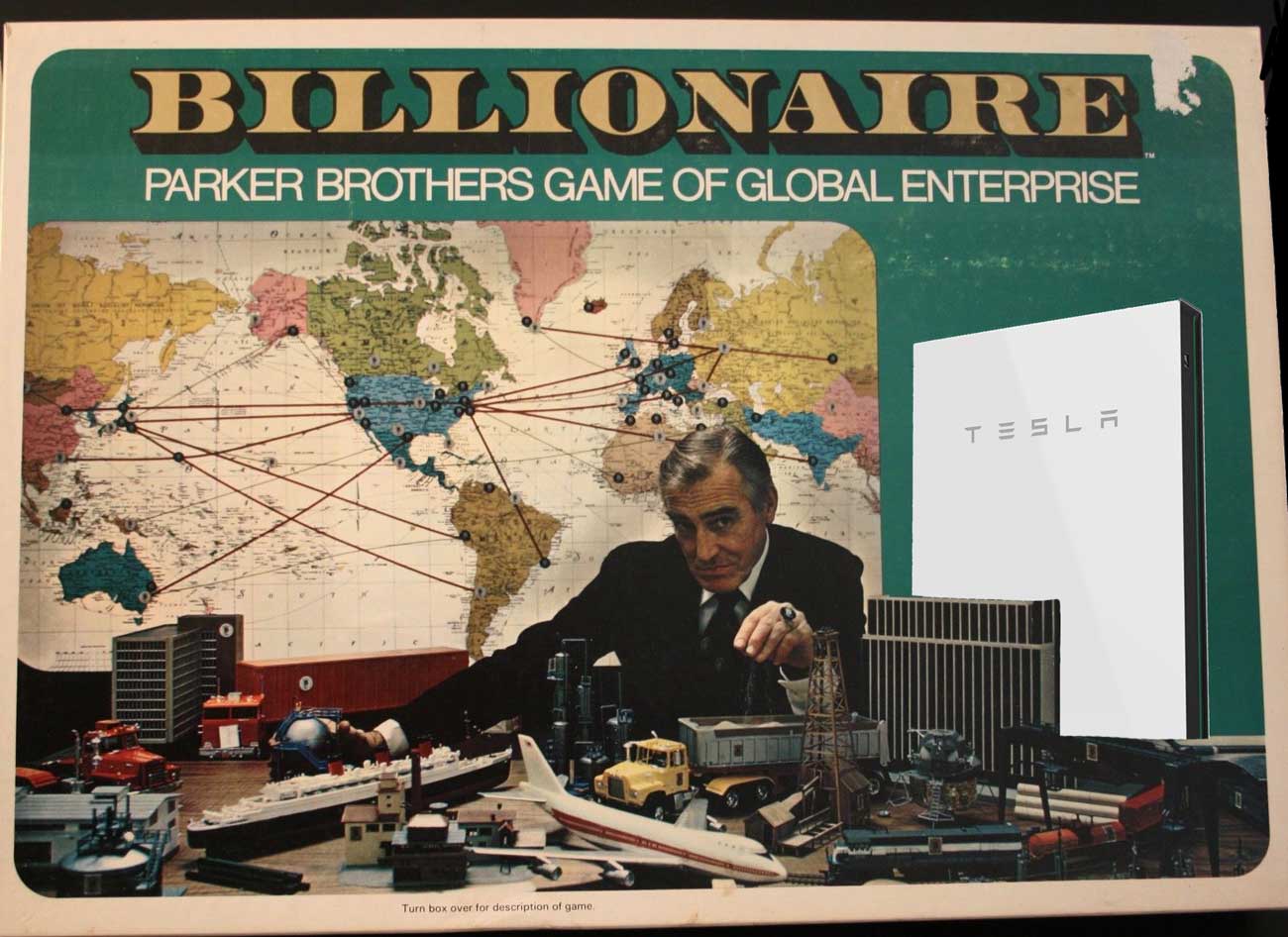 Note from Finn:
This post is Ronald's considered opinion of Elon Musk's offer. My personal opinion (with caveats) is that we should accept the offer. I'll publish a post later today with my reasoning.
---
Elon Musk has offered to sell South Australia large scale Tesla battery storage of 100 megawatt-hours or more.  He says it will cost $250 US dollars at the "pack level" per kilowatt-hour which is around $333 at today's exchange rate.  What's more, he has promised it will be installed within 100 days of the contract being signed or it's free.
This may be the best offer that has ever been made for large scale lithium battery storage.  But despite the small chance we would get it for free, I think our reply should be a polite, "No thank you."
South Australia doesn't need a large amount of battery storage to solve its current electricity supply problems and so there are better alternatives to spend the money on.  If in the future it turns out it would be useful we can get it then and it should be even cheaper.
Large Scale Battery Storage Is Not Necessary Right Now
The reasons for for getting large scale battery storage that I have seen so far have consisted of vague statements along the lines of,
"solve the state's energy problems"
or
"fix SA's power woes".
But South Australia's problem isn't a shortage of dispatchable power that can be provided by batteries.  South Australia's power woes have been:
While a big pile of large scale batteries could certainly help with these problems, by themselves they won't solve them. For now we would be much better off fixing the underlying problems with the grid.
For example, a very cheap way to fix to the problem of power stations not being turned on when their power is needed would be would be to turn them on when their power is needed.  It's really not that complex.  If we can't organize ourselves enough to do that, we're probably beyond help.
In my opinion, to really fix the basic problems that plague Australia's electricity supply requires nothing less than the renationalization of the grid.  If you don't think that is going to happen, then our only choice is to tweaking the system and treating the symptoms, but either way we have cheaper methods of improving the grid than buying utility scale batteries.
How "Cheap" Are Elon's Batteries?
Elon has said his batteries cost around AU$333 per kilowatt-hour at the "pack level" which means that's just the cost of the battery packs.  Unfortunately they need a whole heap of other stuff to work which is going to push up the price.
What will the actual price per kilowatt-hour be?  Clearly somewhere between AU$333 and AU$593 which is the cost per kilowatt-hour of the ready to rip Powerwall 2.  Large utility scale batteries should definitely be cheaper than the Powerwall 2 per kilowatt-hour, although perhaps not a great deal cheaper and may be $500 or more.  If we split the difference between the "pack level" and Powerwall 2 prices we get $463 which I feel is low, but I'm willing to run with it for now.  This means 100 megawatt-hours of batteries would cost around AU$46 million1.
I don't know what sort of warranty Elon's batteries will come with, but if they provide twice as much power over their lifetime as Tesla Powerwall 2 batteries are warranted for then dividing the estimated total cost by that number comes to around 8.3 cents a kilowatt-hour.2  Because there are other costs, including cost of capital, even at State Government bond rates and with other optimistic assumptions, the actual cost is going to be at least 10 cents per kilowatt-hour stored.
It will also be necessary to pay for the electricity that is used to charge the batteries.  Sometimes the cost of wholesale electricity in South Australia is zero or even negative, but this doesn't happen very often.  It will happen more often in the future and help make battery storage more financially viable, but it's not the future yet.  If the average cost of electricity used to charge the batteries is 3 cents then with a round trip efficiency of 91% the average cost per stored kilowatt-hour is going to be at least 13.3 cents.
Now that might not seem too bad given that at the current cost of natural gas (around $10 a gigajoule) it costs South Australia's most efficient gas generator around 7.2 cents in fuel alone to generate a kilowatt-hour of electricity.
But the actual price generators pay for natural gas is usually less than that and there are ways to both store and generate electricity that are less expensive.
There's No Need To Rush
The Australian Energy Market Operator (AEMO) says, at the moment, South Australia has enough generating capacity to meet demand without blackouts, provided we remember to turn the generating capacity on when it's needed.  Their projection is things will get worse in the future, but we don't need to rush into things and get stuff done within 100 days.  We have time to consider options.
Enhanced Hydropower
As solar generating capacity increases, less hydroelectric power needs to be used during the day, leaving more water in dams for use in the evening.  This means it may be practical to increase the number of turbines at existing dams so they can provide more power over less time and generate enough electricity to meet demand when renewable output is low.
Just how much this will cost depends on conditions at individual dams, but it does have the potential to be cheaper than building new pumped hydroelectric storage.  Because South Australia has no significant hydro power this will depend on state interconnectors operating properly.
Pumped Storage
In this article the Managing Director of EnergyAustralia says pumped hydroelectric storage using sea water could be built in South Australia at one fifth the cost of home battery storage.  But Elon's battery offer is probably less than half the current cost of installed home battery storage and is only going to get cheaper in the future.  If I was building a pumped storage facility, I would be very concerned batteries would win on price before it pays itself off.
Thermal Storage Without Solar
Thermal storage is where something is made hot and the heat is used to generate electricity as needed.  If the heat comes from electricity then the thermal energy storage will be inefficient but cheap to build.  As increasing renewable capacity results in more frequent periods of low or zero wholesale electricity prices, electric powered thermal storage may become cost effective.
Solar CSP With Storage
Neither batteries nor pumped hydroelectricity create energy, they only store it.  It is quite possible for them to be charged with electricity from Victoria's dirty brown coal power stations which will perversely improve their profitability and potentially prolong their lifespans.  But solar thermal power both generates and stores clean energy.
In Chile a 450 megawatt Concentrated Solar Power (CSP) project with three solar towers and 13 hours of storage is being developed that will supply electricity at around 8.4 cents a kilowatt-hour.3
There is a lot of local support for building a CSP power station with energy storage at Port Augusta in South Australia.   The place is not as sunny as Chile and I expect the cost of construction will be higher.  While it may not be as cheap as in Chile, it would have an environmental edge over batteries or pumped storage, as it would generate clean energy instead of merely taking energy from any source and storing it.  However, there are clean energy options that should be even cheaper.
Install More Rooftop Solar
On February the 8th 90,000 South Australian properties went without power during a heatwave because the power company Engie didn't feel like turning on 250 megawatts of gas generating capacity.  This was not a problem until late in the afternoon thanks to South Australia's increasing rooftop solar capacity. Residential solar has steadily been increasing the state's ability to avoid blackouts while the sun is shining and there was only a problem meeting demand when its output began to fall.  Rooftop solar went from supplying almost 15% of total electricity use at around noon to under 3% when the blackout started.  Occasionally rooftop solar in SA supplies over a third of total electricity use4.
Rooftop solar always generates a significant amount of power during the day in a heatwave.  Wind power is not so reliable because the basic definition of a heatwave is several clear summer days without much wind.  Clouds reduce solar output, but also lower temperatures and result in less power being used for air conditioning.
Increasing the amount of rooftop solar increases the state's resilience to blackouts during the day.  For additional energy security the state government could provide an incentive to install west facing solar panels to increase the amount of solar electricity generated late in the afternoon.  But panels facing in other directions also help and as north facing panels will generate more electricity overall they decrease fossil fuel use by a greater amount and result in more environmental benefit.
Solar Is The Cheapest Source Of Electricity For Homeowners
Because electricity from rooftop solar competes with retail rather than the wholesale prices, for those who own roofs it is normally the most cost effective source of electricity.  It's cost has fallen dramatically since home solar installations took off 6 years ago and looks set to continue to fall.
Both South Australia and the country as a whole have increased the rate of rooftop solar installations, so by the time summer rolls around again the entire nation will be more resistant to daytime blackouts.  While rooftop solar won't supply electricity after the sun goes down, South Australia has enough gas and diesel generation and interstate transmission capacity to meet demand in the evening for now.
By reducing the need to run fossil fuel generators flat out while the sun is shining, rooftop solar helps decrease the chance they will break down, catch on fire, or explode when their full output is needed.  It should also reduce the need to perform maintenance on generators in the middle of a heatwave, which is something that always seems to crop up for some strange reason5.  And finally, the less natural gas is used thanks to solar, the lower its price will be, so even the cost of generating electricity from natural gas will go down.
I suggest the South Australian state government immediately start installing solar on the roof of every government building that isn't shaded and doesn't already have it.  At its current cost it will save taxpayers money and also increase energy security and benefit the environment.
Eliminate Daily Supply Charges On Electricity Bills
There is a step the South Australian state government could take to immediately increase energy conservation, cut greenhouse gas emissions, make the cost of grid electricity fairer and less regressive, and increase the uptake of rooftop solar and home battery storage.  This step is to eliminate daily supply charges on electricity bills.
Some people mistakenly believe what they pay per kilowatt-hour covers the cost of generating electricity, while supply charges cover the cost of the grid.  This is not the case.  The reason supply charges exist is to maximize the profits of power companies and reduce the incentive to conserve energy.
Households would pay more for grid electricity per kilowatt-hour, but they would save money by not needing to pay supply charges.  Because this will increase the amount of money they save by reducing their electricity use they will have more of an incentive to be energy efficient, install rooftop solar, and install home batteries.  It would also remove the incentive for people to go off-grid which means they will continue to export their surplus solar power for others to use.
This could be phased in.  For example, from the 1st of July 2017 all electricity retailers in South Australia could be required to offer plans without supply charges6.  From the 1st of January no new residential electricity plan could have a daily supply charge greater than 50 cents a day and from the first of July 2018 no residential plan or new contract could have supply charges at all.7
Introduce Effective Demand Management
Demand management involves structuring the way people pay for electricity so they use less of it when the grid is under stress.  Currently they consist of time-of-use tariffs and demand tariffs.  Neither of them are very efficient at achieving their goals, because while they do change people's behavior, only a small portion of that behavior change actually results in a reduction in grid electricity use when it is most required.
Residential demand management is currently rare in South Australia as a smart meter is required and they are not common.  But now that smart meters are gradually being rolled out across the country it can increase.
The state government could take the opportunity to introduce more effective forms of demand management called dynamic tariffs.  One type is Critical Peak Pricing where people pay less for grid electricity for most of the year, but for perhaps 20 hours a year when the grid is under the most stress they pay several dollars per kilowatt-hour.  Another is called Peak Time Rebate which pays people for using less electricity than usual during critical times.
Besides reducing electricity use during critical periods, demand management encourages the installation of both household battery systems and west facing solar.
Should The State Government Just Buy A Gas Generator?
A Tesla Powerwall 2 apparently has 13.5 kilowatt-hours of storage but only has a continuous output of 5 kilowatts.  At the same power output 100 megawatt-hours of Tesla utility scale batteries could only supply 37 megawatts for a period of 2.7 hours.
Gas turbine generators cost around the same per kilowatt of output as one kilowatt-hour of Elon's battery offer, which is somewhere around $463.  Instead of spending $46 million on 100 megawatt-hours of batteries we could spend 17 million on a 37 megawatt gas generator and spend the other $29 million on installing rooftop solar.  The gas generator would be able to supply more energy security than the batteries, as it would be able to keep operating as long as gas was supplied to it and the rooftop solar would further increase energy security.  Also, by producing clean electricity when the sun is up it would reduce natural gas use.
Clearly, a gas generator plus rooftop solar is superior to Elon Musk's battery offer.
But I think buying a gas generator now would be a mistake.  The state doesn't need one at this time.  We just need to remember to turn on the gas generation we already have.  If in the future it looks like it would be of benefit, then we can get one.  In fact, 320 megawatts of open cycle gas turbine capacity has been proposed for future development in South Australia, but whether or not they will be built remains to be seen.
SA Is Going To Get A Lot Of Battery Storage Anyway
Sunwiz consulting recently estimated that around 5% of new household solar installations now include battery storage.  This is amazing figure because I'm quite confident that every single one of those battery installations that are on-grid and without subsidy will lose their owners money instead of saving it8.  But with the cost of batteries falling fast the economics of residential storage is rapidly improving9.  Given the number of households that are willing to install them while losing money, their uptake should increase rapidly as the economics improve.  So South Australia should end up with a considerable amount of battery storage anyway without taking Elon up on his offer.
In addition, a lot of potential storage capacity could come in the form of electric vehicles.  They could soak up surplus renewable production and potentially provide electricity to the grid when required10.  If 100,000 electric cars were plugged into normal power points, they could technically provide the grid with a total of 240 megawatts of power.  I'd like to ask Elon Musk if he will make all the cars Tesla sells in Australia have this ability11.
Because we are likely to get a considerable amount of battery storage anyway over the next few years, it may not be necessary to add any more.
Elon's Battery Offer Isn't Worth It At The Moment
Elon's offer of fully installed and commissioned energy storage at what is likely to be $500 or more a kilowatt-hour is a good price for lithium batteries.  But it is clear that South Australia has more cost effective options for both increasing energy security and decreasing greenhouse gas emissions, which is something the batteries won't do at this point in time.
The situation could definitely change as renewable penetration increases, and if in a few years it looks like we would benefit from large scale Tesla batteries we can get them then.  They will be even cheaper and it will probably still only take 100 days or less to get them installed.