German Solar Panels | Are they really made in Germany?
A lot of people believe that the best solar panel is a German solar panel, because our dear friends in Deutschland have an awesome reputation for quality.
But are the German solar panels really the best on the market?
Here's the rub: If you buy a solar panel that is made in Germany then you can be 99% sure that you are going to get a good quality solar panel. I've met a lot of German engineers in my career as an Electrical Engineer, and they appear to be genetically incapable of producing low quality stuff.
So if you are worried about being lumbered with a poor quality solar panel, then buying a solar panel that is made in Germany is one way to reduce that risk dramatically.
The downside, of course, is that you will pay a significant premium for the privilege. Just like if you choose to buy a BMW over a Kia when you go car shopping.
The other part of the question is of course: "Are all Chinese made solar panels crap?".
Well no, they aren't. You hear this line from a lot of unqualified solar sales people who only sell high priced solar systems. In fact I think that statement is borderline racist. Some of the best solar panels in the world come out of China. Some of them regularly outperform many German solar panels! The problem is that there is also a whole heap of cheap crap that comes out of China.
I'll leave how to sort the good from the bad Chinese panels to another article.
In the meantime here is a list of some Solar Panels that are made in Germany and are generally readily available in Australia:
Solar Panels Made In Germany
SolarWatt

SolarWatt are new on the Australian solar scene as of 2017. They hold the record of best warranty in Australia with a 30 year product warranty, which makes you think that they are pretty damn confident in the panel's quality. Expect to pay a hefty premium for these panels. At least double the cost of a regular Chinese tier 1 panel.
Other panels made in Germany, but not readily available in Australia include Heckert and Aleo.
Solar Panels Genuinely Engineered In Germany (but not made there)
Hanwha Q CELLS Solar Panels

Q CELLS was originally a German company but were bought out by Korean giant Hanwha a couple of years ago. They are still great panels in my opinion, but the supply to Australia is largely coming out of China, Malaysia and South Korean factories (but Q CELLS Australia advise that they still have existing G3 stock from Germany and Poland). Although their original German factories are no longer making panels, Germany remains responsible for product development, R&D and product testing.
I would say that Q CELLS are probably the only panel manufacturer making panels in Asia that can genuinely claim to be 'German Engineered'. Their VDE Quality Testing Program is implemented in all their factories (which are all fully automated) and should ensure that the Asian panels are on par with the German made ones.
Q CELLS R&D centre and joint Head Office is in Thalheim, Germany where a workforce of 350 work on improving current products, new product development and quality testing for all international manufacturing locations.
Solar Panels Not Made In Germany
There are a few companies that like to play to the German reputation for quality, but who make all their panels in China. I personally think the marketing is a bit close to the line, because their names and marketing do confuse a lot of people into thinking they are getting a solar panel made in Germany.
German Solar AG
Many companies promise you are getting "German Solar" panels, but may not be completely clear that they are supplying Chinese made panels from a company called "German Solar". So the name is deceptive whichever way you look at it.
Munsterland Solar
These guys go so far as splashing "Made In Germany" graphics all over their website. That's just plain deceptive, because the solar panels are made in China.
Here's a screenshot. It's outrageous!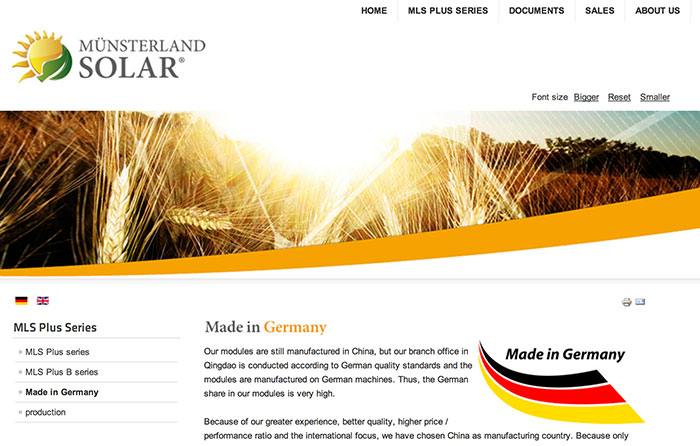 So, to sum up, if you have your heart set on German solar panels, please make sure that the panels you are offered really are made in Germany or have genuine German heritage. Avoid any panel that has been given a German sounding name with the express purpose of fooling Aussie consumers in to thinking they are getting something German.
Other panels which sound like they are made in Germany, but are not, include Munchen Solar and Hanover Solar.
To get quotes for solar from installers in our trusted network (who don't try to hoodwink customers into thinking that they're selling genuine German-made panels when they're not), simply click the button below: