Green Engineering

Reviews
5 star

18
4 star

53
3 star

27
2 star

19
1 star

17
Average Customer Review
Value

3.80

System Quality

3.81

Customer Service

3.02

Installation

3.67
No images of Green Engineering Installations.
Green Engineering Pty Ltd is a large solar installation company with an office in Queensland, New South Wales, Western Australia and the Northern Territory.
They are a different company to "Green Engineering (Vic) Pty Ltd" who operate in SA and Victoria.
I cannot in good conscience recommend them as an installer. This is not just because of their relatively low overall rating and their large number of one and two star reviews, but also because they now engage in the very questionable practice of charging their customers to simply request they fix a problem with one of their installations.
Green Engineering fined $15,000 by the WA Government for flouting cold calling laws
The Perth Magistrates Court found Green Engineering guilty of flouting door to door trading laws and offering contracts which restrict consumer rights. They were fined $15,000 on 31 August 2016.
A Picture Is Worth A Thousand Words But Not Necessarily Good Ones
Currently on the main page of the Green Engineering website there is a prominently displayed picture of a group of buildings with their roofs completely covered in solar panels. I have placed a screen capture of it below in case it gets changed: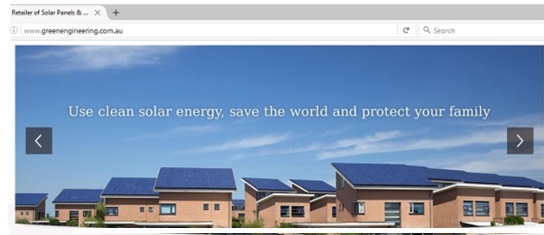 Looking at that picture a Dutch person might be forgiven for thinking that Green Engineering is an international company, because those buildings are in Langedijk in the Netherlands. However, Green Engineering did not install them. At some point someone took a picture which became a stock photograph that Green Engineering has used.
I understand why people use stock images, it makes putting a website together a lot easier, but if you are running a national solar installation company I don't think you should be putting pictures of other people's installations on your site. You may have noticed Mitsubishi doesn't try to sell its cars by putting up pictures of Teslas. I think in this day and age of mobile phones with built in cameras it is probably not that difficult to take some photographs of your own installations and use them on your site.
Green Engineering Sells Solar In Shopping Centers
If you've ever wondered where those people who try to sell you rooftop solar in shopping centers out of little booths come from, well, I can tell you that some of them come from Green Engineering. At the time of writing they appear to have 4 little shopping centre kiosks.
Green Engineering Warranty
Green Engineering provides only one year workmanship warranty on their rooftop solar installations. This is a very short workmanship warranty. It does not inspire confidence as there are other companies that offer 5, 7 or 10 year warranties for workmanship.
Note that under Australian Consumer Law, even if their 12 month workmanship warranty has expired, Green Engineering can still be required to repair problems caused by poor workmanship at their expense. So if you have issues with a Green Engineering installation, don't be afraid to take it to your local Consumer Tribunal.
Green Engineering Will Charge You $50 Just To Ask Them To Fix Their Mistakes
From the 18th of April 2016, Green Engineering started charging customers a $50 fee in order to ask them to fix a defective installation. If you find this hard to believe, I quote their own words which are currently on the front page of their website:
"In order to improve our service quality, our management has decided to impose a service fee of $50 inclusive GST for every service request executed. For more information, please visit our Service Request page."
If you go to their Service Request page they inform you:
"In order to improve our service quality, a service fee of $50 inclusive GST shall be payable upon submission of Service Request. The service fee will enable priority processing, reducing processing time from 30 working days to two weeks. Service fee shall be waived for installations within one year from date of installation.
Click our Payment page to make payment before you submit a service request."
I don't know how it is legally possible to charge people for talking to your company about fixing a problem with a product you've sold them.
Regardless of its legality, obviously you do not want to deal with a company that expects you to pay them in order to even discuss fixing a problem with a product they sold you.
Green Engineering's VIP Programme Charges Money To Do What They Should Do Anyway
Green Engineering offers its customers a "VIP Programme" where they charge $500 in return for giving you a phone number on which you can call them, dedicated after sales service, and not charging you $50 each time you ask them to do their job.
In my opinion this is not VIP service, it is called doing your job and meeting your obligations under Australian Consumer Law.
Green Engineering Pty Ltd Is Not A SolarQuotes Client
SolarQuotes has never included Green Engineering as one the installers who will contact you if you are seeking quotes. They come nowhere close to meeting my standards for being a reputable installer and I can't see that they ever will.
Full Disclosure: SolarQuotes is a commercial site, albeit one run by a solar enthusiast. We make money by referring you to installers we trust, if you ask for quotes through this site. When we make a referral we get paid by the installer. We have about 200 solar installer clients throughout Australia that we've built up slowly since 2009. Those clients pay us every month for those referrals whether they make a sale or not.
We would not have Green Engineering as a client because we would not be comfortable referring them to our friends. In the spirit of transparency, Green Engineering are welcome to respond to our criticism, and we'll link to that response here.
Green Engineering Solar Reviews