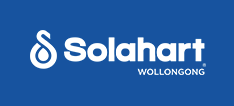 Solahart Illawarra

Reviews
About
From: https://www.illawarramercury.com.au/story/7421855/shining-new-light-on-renewables/

Natacha and her team, based in the heart of Wollongong, are determined to create value for their customers through personalised solar panel packages, standing by their products through their life on clients' homes and a local interest in the community.
It's a little known fact that Solahart has been Australia's solar pioneer for over 65 years, installing more than a million solar water heaters worldwide, and over 600,000 solar power panels in Australia and are here to support the nation as they embrace a smarter, cleaner and greener energy future.
"Solahart is an Australian brand, and only employs local teams familiar with the Illawarra community. With solar, the product is only as good as the installation, poor workmanship on the setup can affect the performance of the system by up to 80 per cent," Natacha said.
"Most people are not aware that many solar companies don't know their installers, their care ends when the install begins, at Solahart, we have a brand to protect and that means everything to us.
"I want our customers to know their journey starts and carries on with us for the 25 years their solar lives on their roof and produces electricity for their home. The industry has raised the warranty and customers can opt to cover their entire system with a 25-year warranty."
Like their customer June Hu has said, his only selection criteria is choosing a solar company who has been established longer than the warranty it offers. "Solahart fits the requirements and even better, Solahart Illawarra is a local company! It feels really safe when you know there are real people looking after you."
A lot of the solar companies installing in the Illawarra region do not have offices or installation teams locally or have just entered the industry. "We are local and customers can call, email or pop in for a chat any time, if you have any enquiries about solar power, solar hot water, battery storage and home energy management technology, we are here to help," explains Natacha.
"Solahart Wollongong's focus is on building relationships and provision of excellent customer service, we have partnered with a number of local community organisations and assisted them in accessing government grants, further enhancing the value and personal touch Solahart brings to our clients."
Panels, inverter and battery brands
Panel brands currently installed
Inverter brands currently installed
Battery brands currently installed
The views expressed by reviewers are theirs' alone, and do not necessarily reflect those of Peacock Media Group, which makes no representations as to the accuracy of the reviews. For our full disclaimer and further information, see our Terms of Use and our Review Guidelines.
Solahart Illawarra Reviews (
2

)

Show Most Recent reviews from All time
5 star

1

4 star

1

3 star

0

2 star

0

1 star

0
View Timeline