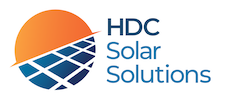 HDC Solar Solutions

Reviews
About
HDC Solar Solutions is a General Electrical and Solar Installation business based in the Yarra Valley. We concentrate our efforts in the Eastern, South East and Peninsula areas. We are a small business that handle 1 install per day - yours. We will compete to win your Solar installation and then be your local electrician for any additional electrical needs including Battery storage and EV connections. Solar installations began in 2017 after 10 years of general electrical work.
Cameron is the Head Electrician. He has done over 500 installs with other commercial/residential companies and importantly will be on your roof on the day of installation. HDC have not used SolarQuotes before but adding SolarQuotes to our business will allow us to build up our own clientelle with a dedicated residential team. It will be more personal, enjoyable and in the medium term will handle your battery install and electric vehicles connection.
Hugh looks after product and sales. He has been supported by Solar Quotes over the last 8 years. Expect a call immediately with a quote and a roof plan on the day of enquiry.
HDCs competitive advantage is the use of premium products at a fair price. We will attempt to get you up the SolarQuotes quality scale as much as your budget allows. We are not aligned to any one particular product so are more than happy to compare product and prices or price match. Just ask and get what is best for you
(Site visits are offerred after the quote and before installation)
Reviewers report paying: $3,400 - $5,321 for depending on hardware choice and installation difficulty ( how is this calculated? )
Panels, inverter and battery brands
Panel brands currently installed
Panel brands previously installed
Inverter brands currently installed
Inverter brands previously installed
Battery brands previously installed
The views expressed by reviewers are theirs' alone, and do not necessarily reflect those of Peacock Media Group, which makes no representations as to the accuracy of the reviews. For our full disclaimer and further information, see our Terms of Use and our Review Guidelines.
HDC Solar Solutions Reviews (
26

)

Show Most Recent reviews from All time  across Australia
5 star

15
4 star

11
3 star

0
2 star

0
1 star

0
View Timeline