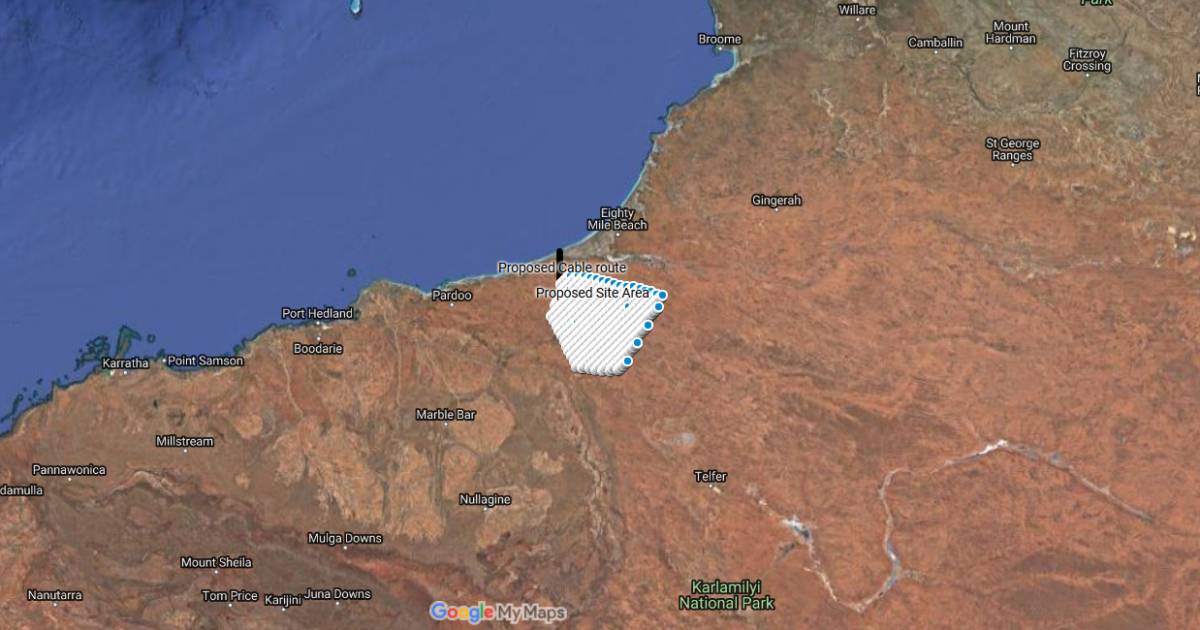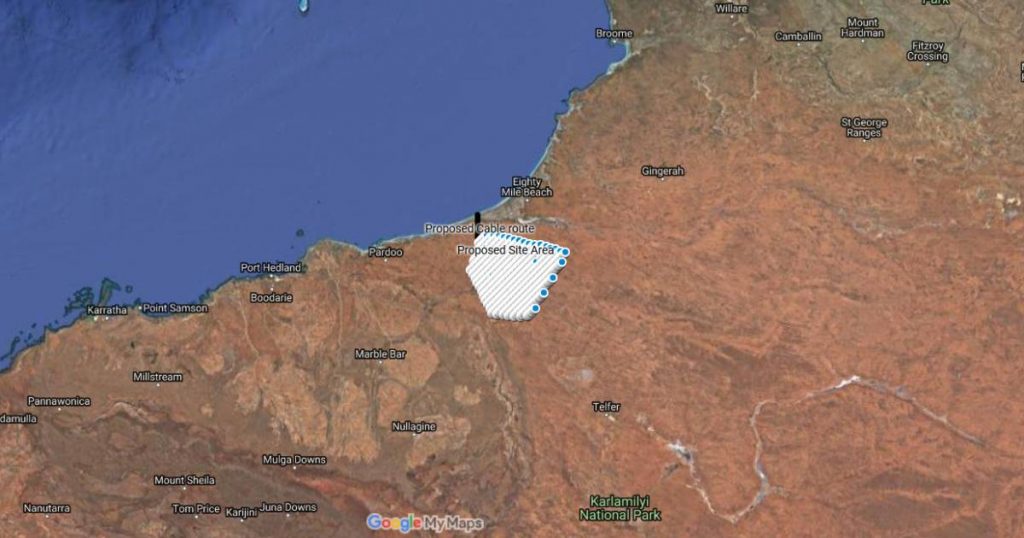 The Environmental Review Document for the Asian Renewable Energy Hub (AREH), an 11+ GW wind/solar project with storage proposed for Western Australia, has been made available for public comment.
The AREH web site states the overall project area will occupy 7,000 square kilometres in the East Pilbara region of Western Australia. Originally announced as 6GW capacity, that was revised upwards to 9GW, then to 11+ GW in October last year – 7.5+ GW of wind turbines and 3.5+ GW of solar panels.
Overseas Electricity Exports
The facility will generate electricity for large energy users in the Pilbara region, for export overseas and for use in hydrogen production.
"The project will generate very large volumes of cheap, clean renewable energy, which is ideal for the large scale production of green hydrogen, which will find markets both in Australia and overseas." 1
As for transmitting wind and solar power generated electricity overseas, AREH proponents NW Interconnected Power Pty Ltd  state Australia's abundant renewable energy resources combined with the latest High Voltage Direct Current (HVDC) transmission technology will enable the export of competitively-priced electricity from Australia to help countries such as Indonesia and Singapore meet their own renewable energy goals.
AREH will also incorporate battery systems to help manage power quality – up to 800 MW/1GWh of energy storage.
The project is expected to generate ~55 TWh of clean energy each year, avoiding ~46 million tonnes of CO2 annually – or 2.3 billion tonnes over the 50-year life of the project.
On the solar energy aspect, things get a little confusing in the Environmental Review Document. While the web site states 3,500MW capacity, the document notes "2,000 MW worth of solar PV capacity that will be divided into 37 x 55 MW modules, each of which will be up to 180 ha in size." This may have been an error in the document as 2GW of PV matches up with what was originally announced back in 2017.
Also noted in the document is the two phases (Pilbara phase and cable export phase) represent 15GW of generation, so there's a bit of conflicting information between the site and the document.
The project will require the permanent clearing of 11,962 ha of the site area (around 1.7% of the development envelope). In addition to the turbines, solar panels, inverters and mounting systems, up to 1,514 km of site access tracks will need to be constructed along with up to 37 step-up substations, overhead and underground power lines, a HVDC converter station, four subsea HVDC cables to the edge of State waters and various buildings associated with operations. NW Interconnected Power also intends establishing a visitor centre to make the project a tourism destination.
The proposed site of AREH is on the traditional lands of the Nyangumarta people, who the project proponents say have been closely engaged in the project since its early days.
Renewable Energy Jobs Bonanza
Should the project go ahead, it will create bunch of jobs – an estimated 3,000 direct construction jobs and 400 direct operational positions.
The project was granted Major Project Status by WA's Government last year. After the period for public comment ends (June 24), Western Australia's Environmental Protection Authority will prepare an assessment report in which it will make recommendations on the proposal to the state's Minister for Environment.
Should the project get the green light, a financial investment decision on AREH is expected in 2022/3 and assuming that is positive, construction should commence in 2023/4 and first electricity generation is envisaged to occur in 2025/6.
The Environmental Review Document can be downloaded here.