In what's claimed to be a world first, New Zealand's Auckland Harbour Bridge is to have all its new LED lighting powered by solar panels and battery storage.
A NZD $10 million project involving energy distribution company Vector and Auckland City Council,  the 90,000 LED lights and 200 floodlights will get their juice from 630 solar panels installed close to the bridge that will charge a 500kW/1MWh battery system.
"The harbour bridge is an icon of Auckland. Lighting it up will make the city at night a more interesting and vibrant sight," said Auckland Mayor Phil Goff.  "Powered by solar energy, it will also reflect our commitment as a city to energy efficiency, sustainability and low carbon emissions."
Construction of the Auckland Harbour Bridge commenced in 1954 and the bridge was opened in 1959. Prior to that, the quickest way to travel from the north shore to Auckland was by ferry.
The solar + storage system will also be able to supply electricity for use in the Wynyard Quarter; a reclaimed piece of land on Waitemata Harbour that is rapidly undergoing changes. Once primarily an industrial area, it will be transformed into home to around 3000 residents and accommodate 25,000 workers..
The bridge LED lights will consume around half the electricity of standard lighting according to Vector and last five to seven times longer. This means they'll only need replacing every 10-15 years – with further cost savings in terms of maintenance.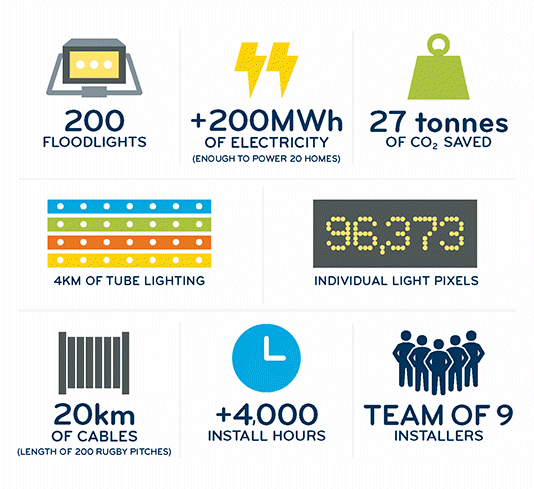 Vector is the biggest energy distributor in the land of the long white cloud. The company will be assuming the bulk of the costs in operating and maintaining the new lights and Auckland Council will pick up the tab for digital programming of the installation, special events activations and promotion.
"The newly lit harbour bridge will be a symbol of the new times we are entering," says Vector.
Not All Sunshine And Kittens For Solar In NZ
New Zealand has set a target of reducing carbon emissions to 30% below 2005 levels by 2030. The country already  has a very high level of renewables in its energy mix. In 2015, renewable sources made up 80.8% of New Zealand's electricity generation (PDF).
While solar power hasn't yet achieved the level of popularity it has across the ditch in Australia, it is starting to take off with our Kiwi cousins; with electricity generated by solar panels in NZ doubling from 2014 to 2015 to 33 gigawatt-hours.
As with Australian solar energy's ascent, in New Zealand it hasn't been without its struggles, with one network implementing what's been called a "sun tax". The charge was backed by New Zealand's Electricity Watchdog. At the time, Greenpeace said the Electricity Authority (EA) was "working with big energy companies to destroy the future of rooftop solar power in New Zealand."
The fight isn't over – the charges will be challenged in an Electricity Rulings Panel hearing.