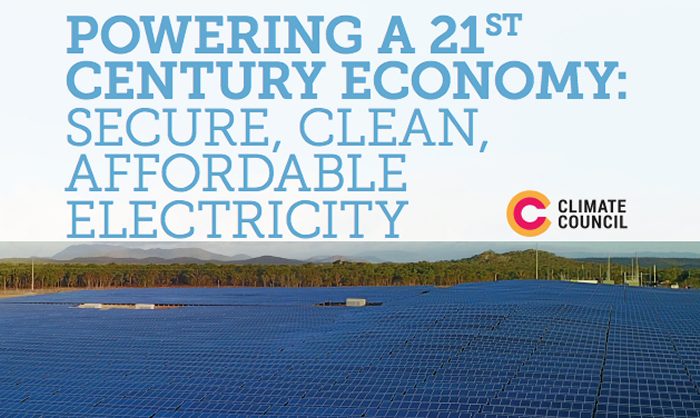 Australia's transition to a grid powered by renewable energy and supported by storage is only being held back by ongoing climate and energy policy deadlock states a new Climate Council report.
The report says there are no technical barriers to Australia achieving a secure, economical and reliable supply of electricity from a high level of renewables. This isn't just the opinion of the Council, but also of  CSIRO, AEMO, the Finkel Review and other authorities.
The direction of Australia's energy future is becoming increasingly pressing, partly due to the fact that within a decade, a majority of coal-fired power generators in  the National Electricity Market will be at least half a century old – and really showing their age.
An example of this is Liddell Power Station. Although a significant amount of money has been thrown at it, the facility failed during a heatwave in February this year. Liddell owners AGL recently stated they were fighting a losing battle in keeping the clunker cranking, yet the Federal Government wants it continue operations.
"You wouldn't try and salvage a broken down, 50 year old clunker of a car – so why is our government attempting to do the same with old coal fired power stations?," said Climate Councillor Andrew Stock.
A recent survey carried out on behalf of the Council found 77% of Australians believe public money should not be used to keep  Liddell Power Station gasping past 2022, its intended closure date.
Inevitable coal closures provide a critical opportunity to modernise Australia's electricity system with more sustainable solutions says the Council, but politicians digging in their heels in favour of fossil fuels is hampering the process.
"So much energy is wasted debating issues of yesteryear while the rest of the world has moved on," said Mr. Stock. "It's time for the Federal Government to stop playing politics and start moving on our renewables future, not the solutions of the past."
'Powering a 21st Century Economy: secure, clean, affordable electricity,' can be downloaded here (PDF).
Poll : Majority Of Australians Think A CET Is Important
Results from another recent poll released by the Climate Council indicate 77% of Australians recognise the importance of a Clean Energy Target (CET). Majority support is across the political spectrum, including among 61% of Liberal voters who believe CET is important.
"The public opinion is very clear – renewable energy technologies are the most affordable, reliable, way to power our 21st century economy. Every day that national action is delayed is a day wasted," said Climate Council CEO Amanda McKenzie.
The survey of  2,176 residents across Australia was conducted on 20th September 2017 by ReachTEL on behalf of the Climate Council. Further details can be viewed here.