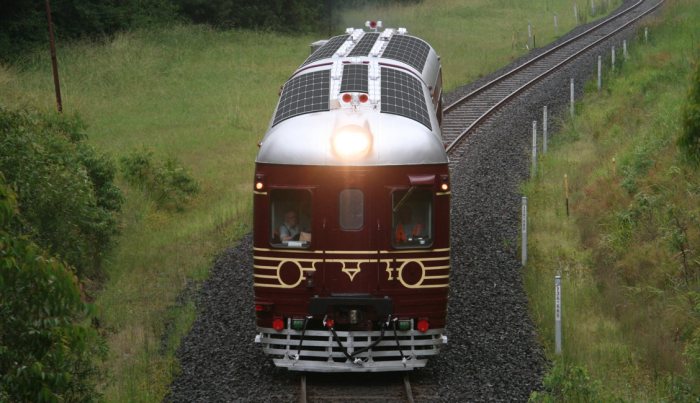 It's full steam ahead (so to speak) for Byron Bay's solar powered train, which will start offering train rides to the public from this weekend.
Touted as the world's first "truly solar train", Byron Bay Railroad Company (BBRC) has restored a derelict heritage train and three kilometers of railway line for the project. It won't be a long ride, but it should be a fun and interesting one.
The train features 6.5kW of flexible solar panels on its roof that help to recharge the on-board battery bank; which has sufficient storage for 12-15 runs off a single full charge. The batteries power dual electric 220kW AC traction motors. Dual AC traction inverters also provide battery charging through regenerative braking.
The train is no lightweight and can carry up to 100 passengers, so the rooftop solar panels aren't enough to keep it fully charged. A 30kW solar array on the train storage shed provides most of the energy for recharging, with surplus electricity exported to the mains grid. In periods of prolonged unfavourable conditions, the batteries will be charged from the mains grid  using 100% green energy from local community based energy retailer Enova Energy.
The train hasn't cut ties totally with fossil fuels – there's a single Cummins 14 litre NT855 diesel engine on board, but that is there as a back-up and won't be used as part of normal operation. BBRC says the Cummins has a solid reputation as a clean burning engine and the track section the train runs on is quite level with just one small curve.
"During diesel operation, with a capacity of 100 seated passengers the train will use only 3.2 litres of fuel for the 6km return journey," states BBRC. "This is less than a Sydney bus with a capacity of 50 seated passengers*"
The Northern Star reports public train rides from the North Beach platform on Bayshore Drive will run from 12:30 – 5:00pm this Saturday (December 16), and there will be live music and celebrations throughout the afternoon. Rides will cost $3 for ages 14+, $2 for children 6 – 13 and kids 0-5 years ride for free. The train will operate as a limited service until January, when it will then commence a full schedule.
Byron Bay Railroad Company hopes this initial project will be a catalyst for possible future service extensions, but in the meantime will focus on making this stage cost-neutral. The company says it did not receive any sort of government funding for the project.