I had a cracking couple of days at Narnu farm, 1hr south of Adelaide, a coupla weeks ago.
We go there with the kids who love it. It's a hobby farm where the kids can feed the animals and go horse riding and all that good stuff.
As soon as you drive in, you can't help but notice their 2kW Solar System made up of about 30 60W Kaneka Solar Panels on the roof of the office building.
So is this blog post going to be singing the owners' praises for getting solar and doing their bit for the planet?
Short answer: no.
Being the grumpy old contrarian that I am, I've got 2 big problems with this particular install.
Here's the first error with this install:
This photo of the solar system (see the panels on the roof on mounting frames) was taken at 10:30 in the morning. Can you spot the problem?
The tree on the right is casting a bloody huge shadow across almost all the panels! Ouch!
That's bad. However my real problem with the install is this:
They have made zero attempt at energy efficiency before or after installing solar.
It is about five times cheaper to perform energy efficiency than it is to install solar to save the same amount of electricity.
So, although solar is a wonderful thing, you should always do everything you can to maximise the energy efficiency of your home or business first.
Here are some examples of really bad energy wastage that could have been addressed with minimal time or investment:
1) They are still using incandescent bulbs! Check out the photo – I haven't seen these old things in years.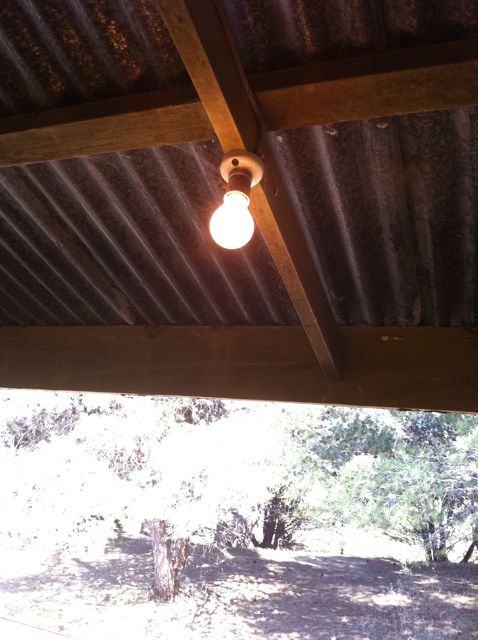 I counted about 16 of these energy guzzling devices of satan. Let's do some really simple sums:
Assume each one is on for 4 hours per night (a conservative assumption – I saw lots of them left on all day).
The amount of energy they will consume in 1 year is: 60W x 4 hours x 365 = 87.6kwh per year per bulb = 1401.6kwh per year total.
A CFL bulb will use about one tenth of the electricity of the incandescents, so they are wasting about 1250kWh per year, for the sake of spending about $60 on new bulbs.
That energy that is being wasted is probably close to the amount of electricity generated by 1kW of solar panels – half of their solar system!
Next: Check out the fridges…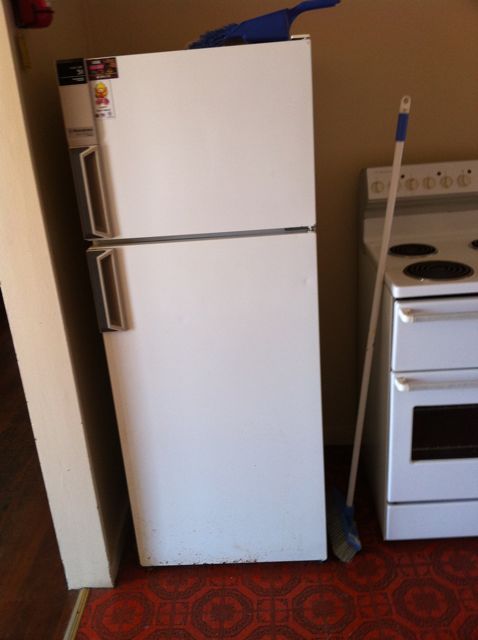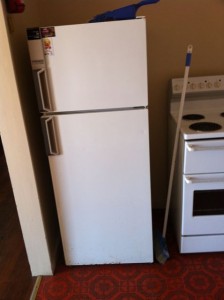 They have at least 6 of these antiques.
A modern fridge of a similar size can be had for about $500 and will use a quarter of the electricity!
So for about $3,000 they could be saving about 3000kWh per year. That combined with the bulbs should easily give them energy savings greater than the output of their entire solar system (which probably cost them about $20,000 when they bought it).
Other shockers which should have been replaced are the antique window rattler Air Conditioners and the electric storage hot water systems. The latter is especially crazy for accommodation that is most likely empty for many weeks a year, because you get hot water whether the place if fully occupied or not.
The moral of the story is: Yes – solar is fantastic. But before you get that solar system at least do the most basic energy efficiency measures: i.e. bulbs, appliances, hot water, draft sealing, window shading… Otherwise you are getting a much bigger system than you really need.
A good solar installer will talk you through all this before selling you a system.