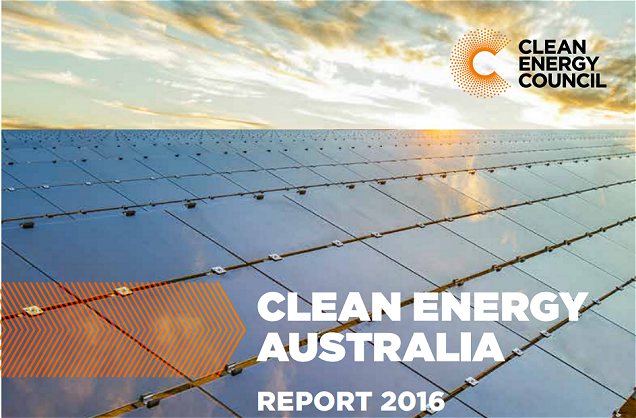 In its latest report, the Clean Energy Council states a record share of Australia's electricity came from renewable sources in 2016 – 17.3%; the highest level this century.
Hydro provided the biggest contribution with 42.3 per cent of the total renewables-based electricity generated; followed by wind power (30.8%), small-scale solar PV (16.0%), bioenergy (8.6%), large- scale solar PV (1.2%), medium-scale solar PV (1.1%) and solar thermal (0.1%).
Clean Energy Australia 2016 states the amount of electricity generated by renewables last year was sufficient to power the equivalent of almost 8 million average homes. The level contributed by small-scale solar panel systems was enough to fully power 1,276,305 average Australian homes for the period.
Across small, medium and large-scale installations, solar electricity output rose 29 per cent last year. The average size of small-scale solar power systems increased to 5.56kW, pushed up by the growing popularity of commercial systems in the 75-100 kW range.
2017 Off To A Solid Start For Australian Renewables
"Every month brings new project announcements. While total investment in large-scale renewable energy was $2.56 billion last year, $5.20 billion worth of projects have secured finance in just the first five months of 2017 and have either started construction or will begin this year," said Clean Energy Council Chief Executive Kane Thornton.
Projects progressed to go to construction this year represent more than $6.9 billion of investment, 3725 direct jobs and 3150 megawatts in new power generation capacity – nearly half of what's required to reach the 2020 Renewable Energy Target (RET). The CEC says renewable energy is now the cheapest new power generation that can be constructed today – less than new coal and new gas-fired power generation plants.
The small scale solar power sector is also enjoying a busy 2017.
"The installation of rooftop solar systems was steady during 2016, with 135,370 systems installed throughout the year. This has also accelerated in 2017 with the industry posting its largest ever March quarter for rooftop solar, and the biggest of any quarter since August 2012," said Mr. Thornton.
6,750 battery systems were installed last year, 13 times the level of 2015 – and this year battery storage could see triple 2016's figure says the report.
"There is no doubt it will play a huge role in the future as new technologies are developed and prices continue to tumble," states Mr. Thornton in the report's executive summary.
Clean Energy Australia 2016 can be downloaded here (PDF).