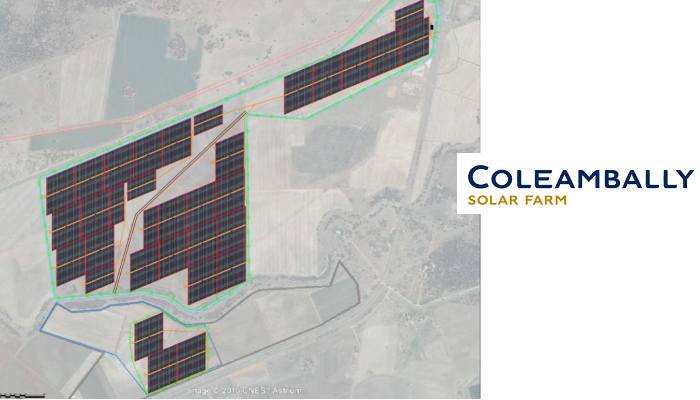 Australia's Clean Energy Finance Corporation (CEFC) announced yesterday it had committed $30 million in debt finance to the Coleambally Solar Farm project.
Being developed by Neoen Australia, the 150MW (AC) facility will consist of approximately 560,000 solar panels installed at a site 5km north- east of the small town of Coleambally in New South Wales' Riverina region.
Expected to deliver 380,000 megawatt hours of renewable electricity to the grid each year, Coleambally Solar Farm will avoid around 300,000 tonnes of carbon emissions annually. The project will connect to an existing substation located very close to the site – approximately 150 metres from its northern boundary.
The construction phase of the plant (9-12 months) will see up to 300 jobs created.
Neoen Australia says it intends to operate the facility for 25 to 30 years, and may consider replacing equipment with newer solar power technologies once the initial project has been decommissioned.
This isn't the first support from the CEFC for Neoen's solar ventures. The Corporation has provided debt finance for a total of four Neoen projects that will deliver an additional 260MW of renewable energy capacity from solar facilities. The other solar power stations are:
55MW – 10km west of Parkes, NSW
30MW – south-east of Griffith, NSW
25MW – over two sites, one east of Dubbo and the other north of Narromine in New South Wales.
The Griffith and Parkes solar farm projects are already fully constructed and currently undergoing commissioning.
"As well as driving lower emissions and regional employment, these investments are delivering renewable energy to large population centres," said CEFC Large-Scale solar lead Monique Miller.
Neoen is also the owner and manager of the DeGrussa solar + storage facility in Western Australia, the Hornsdale Wind Farm in South Australia and Hornsdale Power Reserve (home of the Tesla Big Battery). Across the world, Neoen says it has 1,525MW of assets installed or under construction, including 916MW of solar capacity.
The company has certainly been busy and so too has the CEFC. In mid-December last year, it announced $207 million in debt finance to accelerate the development of two utility-scale PV facilities; marking a significant CEFC milestone – supporting more than 1GW of solar capacity. With the latest announcement, plus more support for Queensland's Oakey Solar Farm announced on December 30, the CEFC now has more than 1.3GW of solar PV in its portfolio.
It's an important time for the CEFC, which is under increased scrutiny. As we mentioned earlier this month, the Department of the Environment and Energy is overseeing a review of the CEFC that will examine its effectiveness in mobilising finance in Australia's clean energy sector. Unlike previous witch-hunts, this is a statutory review required by the Clean Energy Finance Corporation Act 2012.