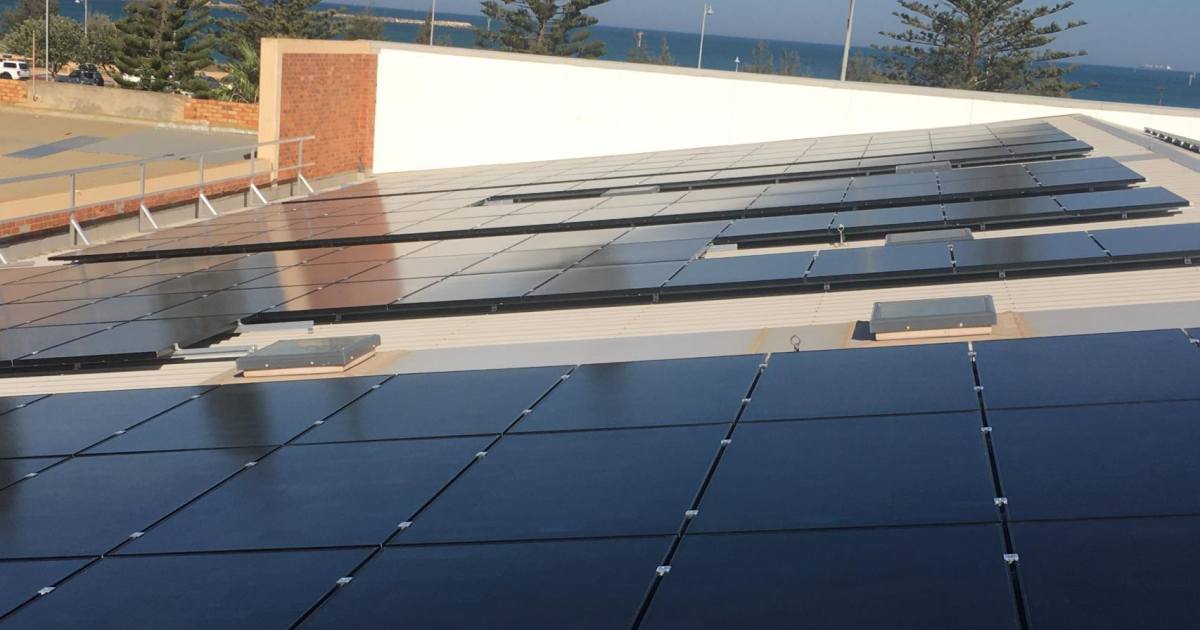 Western Australia's City of Greater Geraldton Council says it is reaping "mega" returns from solar panels recently installed on the Library and Aquarena.
City of Greater Geraldton Mayor Shane Van Styn said the systems were designed to generate more electricity than the facilities consume1.
"They have already generated more than $31,000 worth of excess electricity that has been fed back into the grid since they were commissioned just a few months ago," said the Mayor.
The release doesn't mention the size of the systems, but Council's 2018/19 annual report put the capacity of what was to be the Aquarena installation at 160kWdc / 120kWac; which would provide forecast annual electricity bill savings of around $50,000. The Aquarena is located in Pass Street and features 4 pools, a cafe, a creche and other facilities, so it would be a significant consumer of electricity.
The Library system (pictured above) was noted as 80kW, with annual savings on energy of $22,000. Just as a side-note, it looks like the panels on the Library project may have been SunPower Maxeon modules.
Both systems, installed by Behind The Meter Energy, were expected to achieve payback within six years. The Library installation began generating electricity in December last year and the Aquarena project around late January/early February this year.
Other Council assets with solar panels include the QEII Seniors and Community Centre, the Geraldton Regional Art Gallery, Queens Park Theatre and the Geraldton Multipurpose Centre. The QEII Seniors and Community Centre appears to be Council's oldest installation, dating back to 2012.
Geraldton Council has also used solar technology for lighting projects at Pages Beach, Point Moore and the Queens Park Theatre Forecourt.
"Retrofitting the existing QPT light poles with solar powered light fixtures cost $30,000 but achieved many times this amount in savings as the replacement of underground cables to power traditional lighting was no longer required," noted Mayor Van Styn earlier this year.
City Of Greater Geraldton Solar Statistics
The City of Greater Geraldton is located 424 kilometres north of Perth and has a population of more than 40,000. Within the city itself (postcode 6530), there are more than 4,138 small-scale solar panel installations in Geraldton (<100kW systems), with a collective capacity of 18,030 kW as at March 31, 2020.
Given a population of 28,942 (Census 2016), this works out to around 623 watts of small-scale solar power per person in Geraldton, against an Australian average of approximately 420 watts per capita.
Footnotes
Whether the Mayor meant overall, just during daylight hours on average or during daylight hours when conditions for generating solar energy were favourable wasn't made clear ↩